Vapers Digest February 19th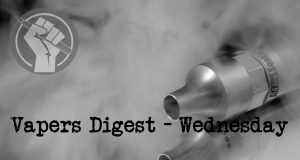 Wednesday's News at a glance:
Junk study on vaping and heart attacks retracted ~ Junk Vape Heart Attack Study Pulled – But Damage is Done ~ Journal retracts hotly contested paper on vaping and heart attacks ~ American Heart Association Journal Finally Retracts Study ~ E-cigarettes confiscated from UK tourists to India ~ Trump's Good Idea: Get Drug Regulators Out Of Vaping ~ Coronavirus is a boon, says 'public health' expert ~ Coronavirus ~ SRNT Vape Workshop ~ Obstetric Outcomes ~ Forensic Analysis from Bates ~ New nicotine science and policy Q & A published ~ Doctors want to ban smoking AND vaping outside hospital buildings ~ Did Somebody Leave the Gaslight On? ~ The great vape debate: are e-cigarettes saving smokers or creating new addicts? ~ E-cigarettes and similar products get banned from Indian airports, and aeroplanes
Christopher Snowdon, Velvet Glove, Iron Fist
Stanton Glantz has finally had his study on vaping/heart attacks retracted. It is hard to imagine that this his first retraction but given the gutter standards of the field he works in, it may be.

Brad Rodu and others have been calling for the Journal of the American Heart Association to retract this piece of junk for months. The study claimed that vaping increased the risk of heart attack among a group of ex-smokers.
James Dunworth, Ashtray Blog
A vape study co-published by Stanton Glantz which claimed vaping causes heart attacks was finally retracted yesterday by the Journal of the American Heart Association (JAHA).

The study had incensed vape researchers after it claimed that using vape products caused heart attacks – while failing to mention that most of the subjects in the study had heart attacks BEFORE starting vaping.
, Retraction Watch
The Journal of the American Heart Association (JAHA) today retracted a paper it published last year claiming that vaping was linked to heart attacks.

The paper, by Dharma Bhatta and Stanton Glantz of the University of California, San Francisco, has faced a barrage of criticism since its publication last June — and Glantz's claims, in a blog post, that the study was "More evidence that e-cigs cause heart attacks."
Eight months after the Journal of the American Heart Association published a study implying that e-cigarettes magically cause heart attacks before people even try them, it has retracted the article. "The editors are concerned that the study conclusion is unreliable," JAHA says in a notice posted today.
---
NNA writes to UK government advising update to travel advice
NNA – New Nicotine Alliance
For immediate release

The Indian government has passed a law banning e-cigarettes, but it excludes personal consumption
The Indian Civil Aviation Ministry has misunderstood the law and is seizing and destroying the property of unsuspecting UK visitors
Thousands of UK citizens potentially affected; the NNA has asked the Foreign and Commonwealth Office to update travel advice
---

---
Sally Satel, Forbes
"I should never have done that f- – -ing vaping thing," President Trump said in January on a phone call with Health and Human Services, HHS, Secretary Alex Azar. Mr. Trump was likely referring to having publicly pushed for a ban on flavored electronic cigarettes, rather than leaving the matter to the Food and Drug Administration, FDA.

Yet last week, the White House fiscal 2021 budget plan proposed an interesting move: taking the Center for Tobacco Products, CTP, out of the FDA to create a new agency within HHS to focus on tobacco regulation.
---
For a more complete account of the back and forth that led to @JAHA_AHA retracting the e-cigarettes and myocardial infarction paper (including the very serious problems with the original paper) read this @PubPeer thread… https://t.co/72pOldnpWf

— Marcus Munafò (@MarcusMunafo) February 19, 2020
---
Christopher Snowdon, Velvet Glove, Iron Fist
Australia is a nanny state basket case. We've known that for a while, but there could be no better illustration of how the 'public health' movement has been debased and corrupted by puritanical fanatics than this tweet from an Aussie 'public health' 'expert'…
---
An unexpected benefit of #coronavavirus #COVIDー19 ? #Vaping supplies from Shenzhen to Australia are dwindling @SarahWhisar @SimonChapman6 https://t.co/9sfsVwX1cc

— Jane Bourke, PhD, FThorSoc, ATSF (@jane_bourke64) February 17, 2020
---
THREE FOUR from Dave Cross, Planet Of The Vapes
The coronavirus outbreak in China is hitting parts of the global vape industry that source products from the region as the country struggles to contain the spread of the disease. Experts are saying that smokers are a high-risk group and could suffer from coronavirus complications, thus switching to vaping would be beneficial, but Maurice Swanson, Executive Director at the Australian Council on Smoking and Health, is celebrating their choice to reduce harm being restricted.
SRNT Europe (SRNT-E), is the European Chapter of the Society for Research on Nicotine and Tobacco. It has announced its 2020 SPECTRUM Nicotine and Tobacco Workshop that will take place on "the beautiful University of Stirling campus". The Continuing Professional Development (CPD) module and Knowledge Exchange Workshop is aimed at professionals and charities with an interest in public health and policy.
A new study by researchers at the Coombe Women and Infants University Hospital in Dublin and the Royal College of Surgeons in Ireland has looked at how vaping compares to non-smokers/vapers during pregnancy. They found that vaping has no impact on birth weight and is vastly better than the birth weight of smoking mothers.
Clive Bates is one of the world's foremost experts on alternative nicotine products. In fact, he is so knowledgeable and adept at applying logic to tobacco harm reduction that the United States Surgeon General blocked him on Twitter. He has just published a lengthy question and answer resource on nicotine science and policy, including a section debunking common myths surrounding vaping.
---
Clive Bates, The Counterfactual
I have just published a new question and answer (Q & A) resource on nicotine science and policy.  It is available as a page accessible from the top menu of this blog and also at this address: Nicotine science and policy Q & A.  I am hoping to keep it up to date… the questions as they stand at present are as below.  My answers are on the Q & A page above – please visit, leave comments, suggestions for other questions, better answers or further reading.
---
Simon Clark, Taking Liberties
The Royal College of Physicians of Edinburgh wants to ban smoking AND vaping outside hospital buildings.

Today's Scottish Daily Mail (print edition) reports that the RCPE wants smoking banned in order to 'protect patients, staff and visitors from the harmful effects of tobacco smoke'.
---
Saddle Horse Blues
Feeling a little crazy, vape fam? A bit emotional or off your game? Maybe even beaten down or depressed? It's probably the nonstop gaslighting. Wikipedia defines gaslighting as "a form of psychological manipulation in which a person or a group covertly sows seeds of doubt in a targeted individual, making them question their own memory, perception, or judgment, often evoking in them cognitive dissonance and other changes such as low self-esteem. Using denial, misdirection, contradiction, and misinformation, gaslighting involves attempts to destabilize the victim and delegitimize the victim's beliefs." If you've been advocating for your right to vape, something you've likely chosen to do for your health to displace smoking,chances are you've been subjected to this kind of manipulation.
---

---
Sarah Boseley, The Guardian
Gone With the Smoke is already no more than a distant whiff of bubblegum-flavoured vapour. The vape shop and lounge, one of many in San Francisco, has been forced to close. So have Vapor Den ("eclectic lounge & hipster go-to") and Happy Vape. From late January, it became illegal to sell e-cigarettes and e-liquids in San Francisco. Even online sales to addresses within the city limits have been stopped. Stores outside the city that dispatch e-cigarettes to an SF postcode will face prosecution.
---
Visit Nicotine Science & Policy for more News from around the World

Times of India Travel
Vaping is no more cool, as studies now say that it is potentially more harmful than smoking a regular cigarette. Now, the Bureau of Civil Aviation Security (BCAS) has banned e-cigarettes, and other such products from Indian airports. The ban is of course extended to airlines as well.
---