Vaping Digest 17th February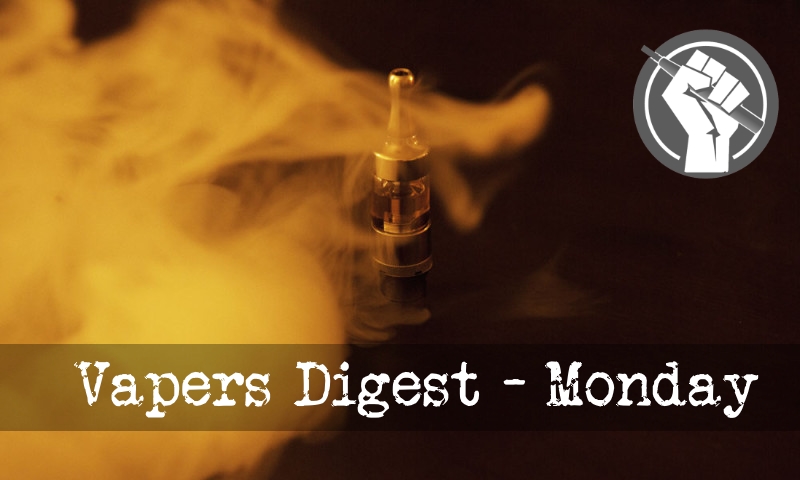 Monday's News at a glance:
Nicotine science and policy Q & A – Virus hammers vape producers – and taxes boost smoking – Petitions, Petitions – News From Parliament – Vaping In The News – February 15th – Canadian Vapers Rally – B.C. Vapers Call for Balanced Regs – AVI condems BCAS move – Conflict of Interest – Flavored tobacco bans lead to unintended consequences – Can technology lower exposure to tobacco linked ailments? – Many questions, few answers – Could tobacco cure coronavirus? – Nicotine Science and Policy Daily Digest
Clive Bates, The Counterfactual
Welcome, this is my substantially upgraded 2020 Q & A on nicotine science and policy.

It mostly focusses on nicotine vaping as an alternative to smoking, but most of the argument also applies to heated tobacco products, modern smokeless tobacco and new oral nicotine products.  It consists of about 60 questions and builds on a brief Q & A that I submitted to a consultation, a critique of an absurd anti-vaping Q & A by the WHO and my critique of numerous false and misleading claims made by Professor Stanton Glantz.

Please propose new questions and new themes, or suggest better answers or additional recommendations for further reading in the comment section. Help make this better!
And taxes boost smoking – Fergus Mason
Vapers in the USA – and potentially around the world – are facing the threat of shortages as the coronavirus epidemic continues to paralyse swathes of the Chinese economy. Meanwhile a new study of US sales data shows that high taxes on vapour products are pushing ex-smokers back to harmful tobacco – just as harm reduction advocates have warned for years. This doesn't seem to matter to lawmakers, though, as they continue to push for taxes and bans using ever more dishonest methods.
---

---
Simon Thurlow, Midnight Musings
A recent blog entry on Simon Clark's Taking Liberties website brought to my attention the poor response that a European Union petition entitled 'Vaping Is Not Tobacco', which Simon reported that has apparently attracted less then 50,000 signatures across the whole European Union (which was, until recently, made up of 28 countries), with just 391 UK signatures.
I am not surprised for a number of reasons. Firstly, because the UK is leaving the European Union, most UK-based vapers would probably view it as not applicable in the UK.
Secondly, this petition was obviously not widely known amongst the Vaping community.
Dave Cross, Planet of the Vapes
Conservative Andrea Jenkyns, Deputy Chairwoman of the European Research Group, wanted to know when the Department of Health would investigate "deaths relating to vaping". Tory peer Michael Kerr, The Marquess of Lothian, a run of questions that he could have answered himself by reading the last Public Health England report.

The questions follow on from last week's concerning turn to focus on the negative and largely fictious aspects of harm reduction.
---
---
Kevin Crowley, Vaping Links
Attempt to Create a New Tobacco Agency Will Not Work ~ A New Vape Agency for America? ~ Could tobacco cure coronavirus? Don't laugh. ~ Smokeless Tobacco Users Are Not Dying from Diseases Associated with Smoking ~ Michelle Minton, FOIA Times Two ~ The CDC IS To Blame ~ What You Should Know About E-cigarettes and EVALI ~ New Study Suggests Raising Taxes On E-Cigarettes Could Encourage Traditional Smoking ~ The Effects of E-Cigarette Taxes on E-Cigarette Prices and Tobacco Product Sales: Evidence from Retail Panel Data ~ Think banning flavours will stamp out youth vaping? Think again
To Denounce Provincial Vaping Regulations – Rights 4 Vapers
Flavour bans, nicotine caps and restrictions at retail infringe on adult smokers' rights under the Charter of Rights and Freedoms, says Canada's leading vaping consumers rights organization Rights4Vapers. These extreme restrictions put life-saving alternatives out of immediate reach and, perhaps worse, make them unappealing to adult smokers.

"Adult smokers look to vaping as a way to quit. When governments make it more difficult to access vapour products, ban flavours and impose nicotine bans, they are putting the health and lives of smokers at risk," said Sherwin Edwards, vapour advocate, Rights4Vapers.

Regulator Watch
---

---
To ban e-cigarettes in airports, aircrafts
The consumer body for tobacco harm reduction, Association of Vapers India (AVI), has raised strong objection to the aviation security regulator's decision to ban e-cigarettes and similar products on all airports and aircraft in India.

AVI said that despite the health ministry as well as the Union health minister making it clear that the e-cigarettes prohibition law does not include consumption, the authorities are using it to harass users.
Mary Ann LL. Reyes
From time to time, people ask me if electronic cigarettes, in particular vaping, is bad for the health. Since I have attended a number of international seminars on e-cigs, I believe that I am in a position to say that it depends.

If you ask me if vape juices that are being sold in your friendly neighborhood store (one store in Cubao sells mobile SIMs, cellphone chargers, and vape juices) are safe, my answer would be I do not know. After all, the containers for these vape juices do not tell you what the ingredients are.

Lead to unintended consequences – A.J. Moll
Democratic Congressional Leader Steny Hoyer recently indicated that House leaders will bring a bill banning flavored tobacco products to the floor sometime in the next few months. The bill they are looking to have members vote on, introduced by Congressman Pallone, includes a ban on menthol products.

We all support preventing teens from having access to nicotine products, but a prohibition on flavored tobacco products for legal adults does not work and would have wide ranging negative effects on our community. While I understand the intention of members of Congress might be good, I was saddened to read that Congressman Lacy Clay has come out in support of this menthol tobacco ban.
To tobacco linked ailments? – Oliver Mathenge
In 2018, French Oncologist Professor David Khayat mounted a defense on the use of e-cigarettes to tame tobacco-related diseases.

According to Khayat at the time, the use of technology and innovation to tame smoking was more effective than the bans and high costs imposed by governments on cigarettes.

"I believe that technology will bring us the future, that is to say, that I believe in the fact that we will have less harmful and less carcinogenic means of smoking than cigarettes," Khayat said at the time.
Ahmad Syamsul
I read with great interest the recent Q&A issued by the World Health Organisation (WHO) on e-cigarettes. As a consumer, i find that this document is commendable and timely, especially given the heated discussion over the health implications of such devices as well as the high youth uptake. Governments globally are grappling with this vaping phenomenon given its increased in popularity in recent years.

However, I can't help but feel that the WHO's approach to this issue is repeating the same mistakes that it made when it came to tobacco control — namely the outright demonisation of the product altogether, without providing viable solutions to the real problem at hand.
Sarah Owermohle
One of the most criticized industries in America is joining the race to stop the coronavirus epidemic.

Reynolds American, the North Carolina cigarette giant behind the Camel, Newport and Pall Mall brands, is infecting fast-growing tobacco plants with a genetically modified coronavirus to see if they can produce antibodies for a possible vaccine.
---
A look back at how things have moved on or otherwise…
Data, Snippets, and Narratives – Kevin Crowley
Is access to public data an unreasonable request? What will the complete data reveal? Are snippets of data the best way to inform the public? If the full spectrum of the data is withheld, what is real, what is contrived?

"If you repeat a lie often enough, it becomes the truth."
The problem with research misconduct must be of epidemic proportions. So much so, the Department of Health and Human Services has its own division defining such misconduct called the Office of Research Integrity (ORI), and a definition of said misconduct.
Commission registers 'Let's demand smarter vaping regulation!' initiative'
The objective of the initiative is to: " create bespoke legislation which clearly sets vaping products apart from tobacco and pharmaceutical products". The organisers call on the Commission to "ensure new legislation [for vaping products] based on mandatory compliance with robust product quality, safety and manufacturing standards, together with responsible marketing practices that ensure youth protection".

The European Commission's decision to register the Initiative concerns only the legal admissibility of the proposal. The Commission has not analysed the substance at this stage.
---
Visit Nicotine Science & Policy for more News from around the World

---