Vaping Digest 14th February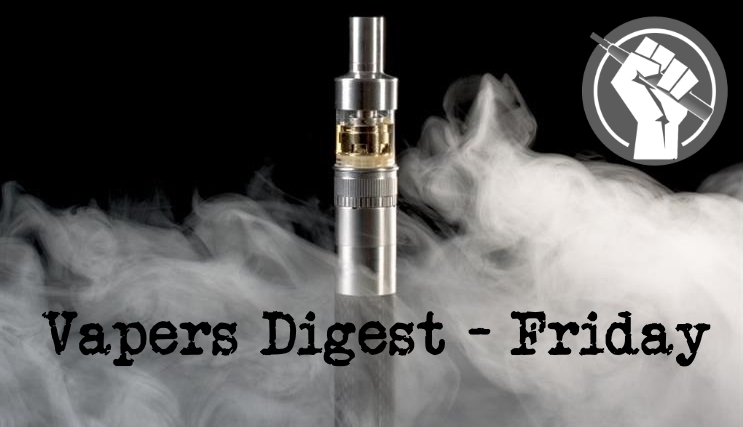 Friday's News at a glance:
Dr Lund corrects the misinformation – Smokeless Tobacco Users – Anti-Vape Attacks Fuel Big-T Stocks – Ecigs Help The Disadvantaged – Witless Whitty – WHO's Scientific denialism – Journal Doubles Down to Protect Glantz – Another Vaping Industry Court Loss – New Tobacco Agency Will Not Work – Dismantling NY Mag's Disgraceful Hit-Job on Vaping – Vaping Lies from the WHO – The Great Gaslighting – Vaping regulations could be subject to constitutional challenges – CDC Is to Blame – What do pharmacists need to know? – Nicotine Science and Policy Daily Digest
In Dagens Næringsliv's recent vaping article – ETHRA
In this hard-hitting post researcher Karl Erik Lund slams Dagens Næringsliv's (Norway's largest financial newspaper) biased and erroneous report on e-cigarettes. On 1st February the DN ran a hugely negative fourteen-page article on vaping. Prior to the article, the newspaper had published a dramatic video-trailer on its website. The newspaper received a lot of reaction from vapers, and Nikan wrote to the journalists responsible. However, no corrections were made.

Dr Karl Erik Lund, a senior researcher at the Norwegian Institute of Public Health, has researched tobacco harm reduction and e-cigarettes since they entered the market. Dr Lund wrote to DN to refute five of the claims made in the article. The editor agreed only to print a shortened and edited version so Lund gave Nikan permission to publish the full version.
Are Not Dying from Diseases Associated with Smoking – Brad Rodu
American health authorities for years failed to directly compare the health effects of smoking with those of smokeless tobacco (ST) use, as it would have meant acknowledging the large difference in deaths attributable to these products.

That changed last year, when Altria's Michael Fisher and colleagues published the first-ever follow-up mortality study of cigarette smokers and ST users, using the U.S. Government's national surveys and National Death Index.
---

---
Five from Dave Cross, Planet of the Vapes
The public has never been more misinformed about vaping with stories ranging from heart problems to lung disease. The corrupt MSA-fuelled (Master Settlement Agreement) American measures have been replicated around the world, and people (in ever growing numbers) actually believe ecigs are more dangerous than cigarettes. This has sparked a bizarre turn of events as investors pile their investment money back into Big Tobacco.

Investment specialists at The Motley Fool website have had a lot to say about putting money into tobacco companies recently. "British American Tobacco (LSE: BATS) shares have made a solid start to 2020, up 6% in just less than three weeks," it writes.
New research confirms that low numbers of young people are using e-cigarettes, with vaping more common in young people from disadvantaged households. The study was conducted by researchers at the University of Glasgow's Social & Public Health Sciences Unit and the Institute for Social and Economic Research at the University of Essex. It was published today in BMC Public Health.

The study also found that while disadvantaged adult smokers were less likely to have quit smoking, this inequality was smaller among those who vaped, suggesting vaping may be helping this group of smokers to quit.
Dame Sally Davies made numerous negative statements about vaping when she was Chief Medical Officer for England. Hopes of sanity returning to the office have evaporated with her replacement, Professor Chris Whitty, urging the Department of Health to seriously consider health claims made against electronic cigarettes.

The Chief Medical Officer for England is the UK government's chief medical adviser and head of the public health profession. It doesn't occupy all of his time as Whitty also serves as the Chief Scientific Adviser for the Department of Health and Social Care. He also continues to function as an NHS consultant at University College London Hospitals and the Hospital for Tropical Diseases (linking him with Martin McKee).
---
ITV program How safe is your vape has received the highest number of complaints on OFCOM's weekly broadcast report: https://t.co/8ohNarVgJq

— James Dunworth (@inijames) February 14, 2020
It's our birthday! Five years ago today we gained charitable status and we haven't stopped since. We still need your help and support, please visit our website and donate if you can, or sign up as a supporter which is free.

— NNAlliance (@NNAlliance) February 13, 2020
---
Published in French on Vapolitique, SOVAPE's Philippe Poirson's article has been translated by European consumer group ETHRA. In it, Poirson calls out the World Health Organisation (WHO) for its misinformation and scientific denialism. It raises a large question mark over whether the English and the French should "continue to finance this propaganda".

"Vaping took centre stage in what turned out to be a concerning briefing at the 146th session of the WHO Executive Board (EB146) in Geneva on 4 February," writes Poirson. "Put on the agenda by Iraq, a nation where vaping is not a priority, the subject was introduced by the Director-General of the WHO, Dr Tedros Adhanom Ghebreyesu. Although the session had only an informative and non-decision-making status, the direction desired by the Secretariat of WHO left no room for doubt."
The Journal of the American Heart Association published a study by Stanton Glantz last year. In it, he made the fallacious claim that vaping causes heart attacks. Professor Brad Rodu discovered serious flaws in the research, letters were sent to the Journal, but its editors are refusing to act responsibly and take down the work.

The study, conducted by Stanton Glantz and Dharma Bhatta, drew swift rebuke for its use of data. The headline finding was quickly embraced by the unquestioning media, but genuine experts could see the glaring flaws.

Department of Health and Social Care written question – 13th Feb. 2020.
Mark Hendrick Labour/Co-operative, Preston:

To ask the Secretary of State for Health and Social Care, what recent assessment he has made of trends in the level of vaping amongst children and young people; and what the implications are for the NHS with respect to the future treatment of young and adult patients with disorders associated with vaping.
Another Vaping Industry Court Loss – Jim McDonald
A federal judge has decided for the FDA and against several small vape businesses in three consolidated lawsuits challening the agency's Deeming Rule. The actions were filed in 2018 with legal help and funding from the Pacific Legal Foundation.

The cases were originally filed in U.S. District Courts in Minnesota, Texas, and Washington D.C., but were eventually consolidated to the D.C. district. Judge Christopher Cooper handed down his ruling Tuesday in three separate but identical memorandum opinions.
For More Americans Than Ever Being Misinformed About Vaping and E-Cigs
Guy Bentley, Reason Foundation
"Restricting access and appeal among less harmful vaping products out of an abundance of caution while leaving deadly combustible products on the market does not protect public health."

Months after the Centers for Disease Control and Prevention (CDC) identified THC cartridges as the main suspect in cases of vaping-related lung illnesses and deaths, more Americans than ever mistakenly believe e-cigarettes such as Juul are responsible for the outbreak.
---

---
Michael McGrady
The administration has requested a budget authorization to strip down the Food and Drug Administration Center for Tobacco Products. President Donald Trump, apparently, has the vision to create a new tobacco agency that isn't an administrative monstrosity like the FDA.

There's no chance that the administration will get their request from Congress. No lawmaker in their right mind would consider breaking down the FDA.
Helen Redmond
New York Magazine ran an article this month—in its "Intelligencer" vertical, of all places—with the provocative title: "Who Thought Sucking on a Battery Was a Good Idea? Vaping is a health crisis that has only just begun."

The author, Stephen S. Hall, produced an anti-vaping screed full of recycled lies heavily sourced from the mouths of three established tobacco harm reduction haters: researcher and tobacco control activist Stanton Glantz; his University of California, San Francisco School of Medicine colleague Jeffery E. Gotts; and Matthew L. Myers, president of the Bloomberg-funded Campaign for Tobacco-Free Kids.
Julie Gunlock
The misinformation about vaping is ubiquitous. From national news stories to misinformation about lung diseases, to small-scale events at schools around the country, which often feature speakers from anti-vaping organizations, the message is always the same: Vaping is dangerous!

And sadly, this lie was repeated last month by the World Health Organization, which published a dishonest update to its Q&A document on e-cigarettes. In it, the WHO lied about the risks associated with using e-cigarettes, saying "There is no doubt that they [e-cigs] are harmful to health and are not safe, but it is too early to provide a clear answer on the long-term impact of using them or being exposed to them." (Filter Magazine has a goods story on it here) That is completely false!

Controversial by Default
Health Canada and their Quebec counterparts are investigating Imperial Tobacco for possibly violating tobacco advertising laws. The campaign in question is the Facts Not Fear website that Imperial launched to counter misinformation around vaping. Unless you've been living under a rock the last year, you have probably encountered some of this misinformation. Whether you recognize it as misinformation or not depends on which side of the fence you sit on.

So what kind of information has Imperial Tobacco potentially violated tobacco advertising rules with? Are they advertising to children? Trying to convince adults that they can safely smoke alongside vaping or that they should consider vaping to relieve stress and unwind at the end of a long day?
Could be subject to constitutional challenges – Canadian Constitution Foundation
The Canadian Constitution Foundation today released the executive statement of an upcoming report by Dr. Leonid Sirota, professor of law at the Auckland University of Technology Law School, that outlines possible avenues for a constitutional challenge to current and proposed vaping legislation in Canada. The report highlights the rights of a specific but important—and vulnerable— group: current smokers who are looking to quit.

"While current and proposed legislation (especially at the federal level) sometimes distinguishes between vaping and smoking, it often fails to do so. Vaping is, according to the best available scientific data, much less dangerous than smoking, because it does not involve combustion or the generation of smoke,"
Is vaping really that bad? – Amelia Wade
Left unregulated for almost two years, the vaping industry has been described as the Wild West. Young people are on the receiving end of aggressive recruiting to the habit through flashy parties, catchy jingles on hit music stations and marketing by popular influencers. Everyone agrees – there needs to be rules but the Government is struggling to find the right balance between attracting smokers to switch without encouraging teens to pick up the habit. But there could be an upside to the vaping revolution, Amelia Wade investigates.

From his converted ambulance which he rolls around Taranaki, Graham Peters is trying to convert as many smokers he can.
Sheshtyn Paola
Australian researchers have reviewed the evidence behind nicotine vaping products as a harm reduction tool and provide advice for pharmacy staff Pharmacists play a critical role in delivering harm reduction interventions, but not all are confident in providing guidance on the use of nicotine vaping products (NVPs), say researchers.

A recent survey conducted in Brisbane found more than one in three pharmacy staff (39%) had been asked about 'e-cigarettes' by their customers. Meanwhile nearly all pharmacy staff (91%) reported that they felt uninformed and needed more information regarding the safety, efficacy and regulation of NVPs.
---
A look back at how things have moved on or otherwise….
Alex Berezow,

 American Council on Science and Health (ACSH)
The CDC is one of the finest public health institutions on the planet. Because they fearlessly march into "hot zones" to battle deadly infectious diseases, we microbiologists think of the good folks at the CDC as real-life superheroes.

But not everything the CDC does is equally praiseworthy. As Dr. Josh Bloom explains, their portrayal of the opioid crisis has been unhelpful at best and lethal at worst.
Michael McGrady, Real Clear Policy
Hundreds of countries have signed and ratified the World Health Organization Framework Convention on Tobacco Control (FCTC). Passed and entered into force almost fifteen years ago, the landmark international agreement is genuinely the most crucial global effort to combat widespread combustible tobacco use. Heralding tobacco harm reduction as a public health strategy to reduce the consumption of tobacco products, the framework explicitly outlines the importance of offering legacy smokers the support they need to live healthier lifestyles.

While the FCTC is often considered a global success, I believe that it fails to accomplish a crucial goal: offering a more holistic acceptance of harm reduction strategies that have been proven to reduce combustible tobacco use and lead to cessation.
---
Visit Nicotine Science & Policy for more News from around the World

---