Vapers Digest February 12th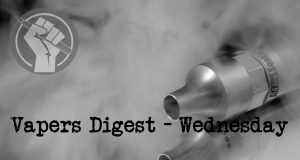 Wednesday's News at a glance:
E-cigarettes may be helping disadvantaged smokers to quit ~ Smoking cessation 1: interventions to support attempts at quitting ~ Former smoker describes dramatic impact of his switch to vaping ~ What You Should Know About E-cigarettes and EVALI ~ Poll: Most Blame Nicotine Vapes for Deadly Lung Injuries ~ NNA Writes to Matt Hancock ~ A New Vape Agency for America? ~ Economist on Ecigs ~ IBVTA statement on comments made by the Chief Medical Officer ~ WHO leadership pushes back against science in defence of Indian tobacco interests and Bloomberg's electoral agenda ~ Local vaping groups slam WHO for 'erroneous' data on e-cigarettes ~ WHO softens stance on vaping amid criticism ~ Is the traditional tobacco industry about to go up in smoke? ~ E-cigarette taxes may drive vape users to traditional smokes, study says ~ New Study Suggests Raising Taxes On E-Cigarettes Could Encourage Traditional Smoking ~ British American Tobacco looking into cannabis vape flavours
University of Glasgow
New research confirms that low numbers of young people are vaping (using e-cigarettes), with vaping more common in young people from disadvantaged households who had never smoked before.

The study, led by the MRC/CSO Social and Public Health Sciences Unit, and published today in BMC Public Health, also found that while disadvantaged adult smokers were less likely to have quit smoking, this inequality was smaller among those who vaped, suggesting vaping may be helping this group of smokers to quit.
Nursing Times
Advising patients on how to stop smoking is part of a nurse's role. Patients can be resistant to the intervention and this article, the first of five on smoking cessation, offers insights on the importance of creating optimism about stopping smoking. It describes how to give very brief advice to encourage patients to make a life-changing decision to quit, the role of stop-smoking services, and the use of products and behavioural interventions that nurses can use to help reduce smoking prevalence and improve patients' health.
Tom Morawetz, The AM Show
Before taking up vaping, he tried to give up smoking six times but always returned to cigarettes. He says his health has improved dramatically since making the shift. His lifestyle has also changed for the better and he has saved a considerable amount of money.
---

---
Consumer Advocates for Smoke-Free Alternatives Association (CASAA)
A January 2020 poll by Morning Consult  of 2,200 adults found that 66% mistakenly believe that nicotine e-cigarettes are the cause of the EVALI outbreak. Despite the fact that the CDC announced January 16, 2020 that the strongest link to the outbreak was illicit THC vapor products tainted with vitamin E acetate, the number of adults who believe nicotine products are the cause has risen 8 percentage points since the height of the outbreak in September 2019. Here's what you need to know about EVALI.
Jim McDonald, Vaping 360
Most Americans believe nicotine vaping products caused of the recent vaping-related lung injuries that have killed 60 people and hospitalized more than 2,700 others. According to a recent Morning Consult poll, just 28 percent of the public understands that illicit adulterated THC vape cartridges are responsible for the injuries, and not nicotine products.

The poll, released last week, measured the beliefs of 2,200 adults during the last week of January. Morning Consult did a similar poll last September, just as the lung injury outbreak was beginning to peak. Both polls have a two percent margin of error.
---
THREE from Dave Cross, Planet Of The Vapes
The New Nicotine Alliance (NNA) has written to the Rt Hon Matt Hancock MP, Secretary of State for Health, on the subject of non-tobacco nicotine pouches. Britain's nicotine consumer charity is keen to engage with the government to inform and educate officials about its tobacco harm reduction potential.
The Food and Drug Administration (FDA) has been trying and failing to regulate alternative nicotine products like vaping for years. According to documents released yesterday, it looks as though time is possibly up for the agency. Plans to set up a new dedicated tobacco products agency forms part of the Trump Administration's budget proposals for 2020.
A video on The Economist's YouTube channel contains Professor Robert West and the message that "E-cigarettes could be a game changer in public health helping millions of people quit smoking". It marks a stark contrast to outlier Martin McKee's nonsense being regurgitated by the Sunday Times.
---
Independent British Vape Trade Association, IBVTA
The IBVTA welcomes Chief Medical Officer Chris Whitty's confirmation that vaping is "definitely safer" than smoking in a Mail Online article on 12th February 2020.

However, we question whether the small increase in youth experimentation with e-cigarettes since 2014 is evidence that vaping businesses are aiming at a youth market, as over the same period there was an even larger increase in adult uptake and this may be a corresponding effect due to wider availability of vape products in general. The number of adult vapers in the UK increased by over 70%, from 2.1 million to 3.6 million over the same period. IBVTA members, in common with all responsible vape product vendors, commit to upholding the law and to only selling to adults.
European Tobacco Harm Reduction Advocates, ETHRA
What follows is an English translation of Vape: la direction de l'OMS pousse pour la défense du tabac indien et l'agenda électoral de Bloomberg contre la science, written by Philippe Poirson and published on Vapolitique, here.

Vaping took centre stage in what turned out to be a concerning briefing at the 146th session of the WHO Executive Board (EB146) in Geneva on 4 February. Put on the agenda by Iraq, a nation where vaping is not a priority, the subject was introduced by the Director-General of the WHO, Dr Tedros Adhanom Ghebreyesu. Although the session had only an informative and non-decision-making status, the direction desired by the Secretariat of WHO left no room for doubt. Tedros has taken up the language of the billionaire candidate for the White House, Michael Bloomberg, by repeating the unsupported belief that vaping is toxic and a threat to young people. "We know enough to have to protect our children from their harmful effects," says Dr Tedros as a policy line for the WHO. This was without discussing harm reduction in the context of smoking, nor relevant scientific work of independent organizations, notably those in the UK.
Manila Standard Business
Local vaping groups criticized the World Health Organization for publishing "an atrociously erroneous" question and answer page on electronic cigarettes.

"The Q&A has nine questions and every answer the WHO provides is filled with false, misleading or simplistic information," said Peter Paul Dator, president of The Vapers Philippines.
Daily Pakistan
E-cigarette advocates are now accusing the World Health Organization (WHO) of misrepresenting the science about vaping risks by exaggerating claims of e-cigarette harmfulness in the wake of a warning issued by WHO.

The warning about e-cigarettes was released by WHO in a series of questions and answers on January 20. Amid the criticism, the Organization revised its Q&A on January 29, softening some of its claims.
---
Barney Cotton, Business Leader
Despite Brexit, from 20th May 2020, The EU revised Tobacco Products Directive (2014/40/EU) will make it an offence to produce and sell products that allow consumers to modify the smell and taste of tobacco products. This will include:

Menthol cigarettes
Skinny cigarettes
Flavoured tobacco
Flavoured rolling papers
Flavoured filters or capsules
---
Brian P. Dunleavy, UPI
Policies designed to discourage vaping may have unintended consequences — namely, encouraging other forms of tobacco use — a new study has found.

In an analysis posted online Monday by the National Bureau of Economic Research, the authors conclude that raising taxes on e-cigarettes, or vaping devices, as a disincentive to consumers may drive people to purchase more traditional cigarettes.
Kelly Phillips Erb, Forbes
Sin taxes are excise taxes imposed on goods or behaviors – like booze and cigarettes – that lawmakers deem harmful. In addition to raising revenue, the idea is that bumping taxes high enough should trigger a slowdown in the behavior. But what happens if taxpayers simply exchange the "sinful" behavior – not for a "better" response – but for another bad behavior? That's precisely what a new study funded by the National Institutes of Health suggests: raising taxes on e-cigarettes in an attempt to curb vaping may cause people to purchase more traditional cigarettes.
---

---
A look back at how things have moved on or otherwise….
Lee Johnson, Vaping 360
Before vaping came along, quitting smoking wasn't a particularly exciting thing to do. Most smokers tried to quit "cold turkey," with no support whatsoever. The few that opted for additional support tended to go with nicotine replacement therapy products like patches and gums, or pharmaceuticals like Chantix.

For cold-turkey quitters, the low success rates and general difficulty meant it was often a disheartening experience. After a few days of itching for a cigarette, "I'll just have one…" turns back into a pack a day pretty quickly….
Lee Johnson, Vaping 360
Vaping is much safer than smoking. Along with the Royal College of Physicians and Public Health England, the National Academies of Sciences, Engineering, and Medicine recently released a report saying it too. We aren't at the point where we can be absolutely certain about the precise level of risk, but the evidence is quite clear that vaping is substantially safer than smoking.

So why doesn't the public know it? Research from the U.S. and the U.K. shows that most people don't know that vaping is safer than smoking. Even more troubling, the perceptions of risk are moving in the wrong direction.
---
Visit Nicotine Science & Policy for more News from around the World

---