Vapers Digest February 12th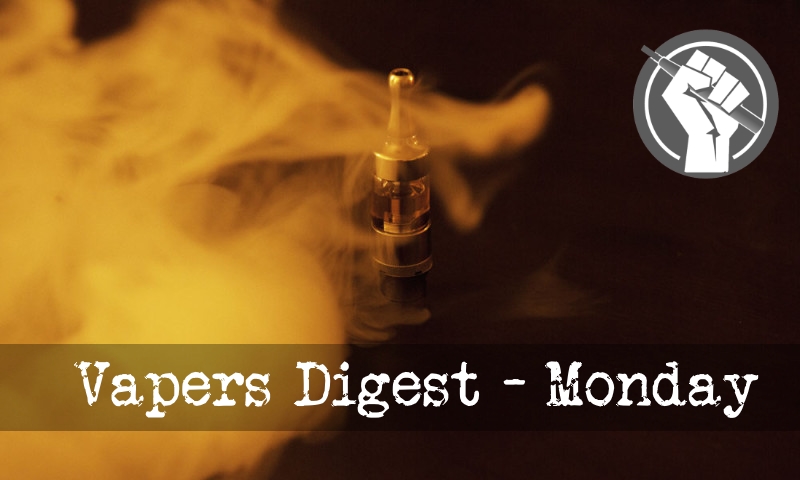 Monday's News at a glance:
Victoria Coren Mitchell ignores the science behind vaping in her Observer column – Chadderton couple join Cancer Research UK campaign – Changes At The Top – Harm Reduction Scholarship Programme – U.K. Vape Shops Help Smokers Quit – Coverage Of National Academies Report – Vapers Still Trust CDC and FDA – Vaping advocacy group visit Bega – Vaping to be banned indoors – Experts' advice on e-cigarettes pushed – Anti-smoking groups want government to control sales – Nicotine Science and Policy Daily Digest
Andrew Allison, The Freedom Association
After reading Victoria Coren Mitchell's column in yesterday's Observer, I can see that she doesn't have a clue what she is talking about when it comes to vaping. She has her own prejudices and has either not bothered reading about the science behind vaping, or has decided to ignore it. She didn't take long to get revved up:

"In my opinion, it's appalling that a state-funded, state-sanctioned public health body should recommend vapes to people who want to stop smoking. E-snout would probably be available on the NHS already, were it not for the fact that medical licensing requires them actually to justify health claims made on their behalf…"
After using e-cigarettes to quit smoking
Lucy Williams, Oldham Times
AFTER smoking for more than 30 years, a Chadderton couple made the life changing decision to give up the cigs to improve their health.

Roy and Jackie Knight switched cigarettes for e-cigarettes as part of their quit attempt and haven't looked back since.

The couple are now encouraging others to do the same as they support a Cancer Research UK campaign to raise awareness among smokers of the relative safety of e-cigarettes compared to smoking.
---

---
New Nicotine Alliance
It seems like a good time to remind you of the interview I did with both Sarah Jakes and Gerry Stimson last summer.

We discussed everything from the why and how the NNA was formed and as to why vapers in particularly should support the charity's work.

On that last point Sarah said at the time:
---
---
Knowledge Action Change (KAC) and the Global Forum on Nicotine
We are seeking proposals that will make a difference! We want people to learn from GFN and have the opportunity to implement the learning in their home countries. There will be 15 scholarships for the year, with funds available to support agreed projects up to the value of $7500. The scholarships will commence at the GFN Conference in Warsaw, Poland on 13th June 2018.
---

---
Lee Johnson, Vaping 360
Before vaping came along, quitting smoking wasn't a particularly exciting thing to do. Most smokers tried to quit "cold turkey," with no support whatsoever. The few that opted for additional support tended to go with nicotine replacement therapy products like patches and gums, or pharmaceuticals like Chantix.

For cold-turkey quitters, the low success rates and general difficulty meant it was often a disheartening experience. After a few days of itching for a cigarette, "I'll just have one…" turns back into a pack a day pretty quickly….
BBC Radio 4 –  Thanks as always to @dnglos for the YouTubage
Focuses On Negatives – Carl V. Phillips
The recent National Academies report on vapor products and vaping provoked a strangely mixed reaction from vaping supporters. Many lauded it for explicitly stating that vaping is less harmful than smoking; while long-since obvious, the report — which did not actually involve any new scientific research — was a good excuse to repeat the message. Other observers focused more on the misinformation. This includes the report's claim that evidence shows there is gateway effect, with vaping causing teenage smoking…
Lee Johnson, Vaping 360
Vaping is much safer than smoking. Along with the Royal College of Physicians and Public Health England, the National Academies of Sciences, Engineering, and Medicine recently released a report saying it too. We aren't at the point where we can be absolutely certain about the precise level of risk, but the evidence is quite clear that vaping is substantially safer than smoking.

So why doesn't the public know it? Research from the U.S. and the U.K. shows that most people don't know that vaping is safer than smoking. Even more troubling, the perceptions of risk are moving in the wrong direction.

Alasdair McDonald
Legalise Vaping's Brian Marlow and Kyle Williams were in Bega on Thursday to collect signatures ahead of an event at Parliament House in Canberra on Tuesday.

In Western Australia vaporizing nicotine can land you a $45,000 fine, and in Tasmania up to two years prison.

While in Bega the pair were approached by one 50-year-old "vaper" who said it had helped him move away from a cigarette addiction he has had since his early teens.
Andrew Clennell
The use of electronic cigarettes is set to be banned indoors under changes NSW Health Minister Brad Hazzard is expected to take to cabinet this week.

The Australian understands NSW is set to go down the road of Victoria and put a ban on the practice of vaping indoors by imposing some of the tightest restrictions in the country on the practice.

Last year, Victoria outlawed vaping in Victoria's smoke-free spaces and banned e-cigarette advertising.
Re-affirms findings of e-cigarettes being significantly less harmful
Neyla Zannia
PHE, an executive agency of the Department of Health and Social Care in the United Kingdom, commissioned leading independent tobacco experts to review evidence on e-cigarette use among young people and adults, public attitudes, the impact on quitting smoking, an update on risks to health and the role of nicotine. The report also reviews heated tobacco products.
Want government to control sale of electronic cigarettes
ALARMED by the rising use of electronic cigarettes in the local market, anti-smoking groups want authorities to control the sale of the product as it leads to health hazards.

The People's Health Foundation (PHF) and its partner organisations held a meeting last December and are planning to submit their findings to the relevant ministries to take action on the sale of the product.
---

---
Philippine vapers say that the latest Public Health England (PHE) report validated their position that e-cigarettes are far less harmful than smoking, and that it should form part of the country's tobacco control program.

The new e-cigarette evidence review, undertaken by leading independent tobacco experts, provides evidence that vaping poses only a small fraction of the risks of smoking, and switching completely from smoking to vaping conveys substantial health benefits.
Neil H. ECig Click
Vape News Headlines: Public Health England Backs Vaping Again! – Norway's Huge Decline In Smoking Rates – Juul Under Fire AGAIN! – Singapore GP Calls For Change – Totally Wicked Expansion and MOM! There's A Chicken Kiev In My Vape Pen!
---
A look back at how things have moved on or otherwise….
On reduced risk products – New Nicotine Alliance
The EU consultation on excise duties applied to manufactured tobacco  ends on 16th February and includes proposals to tax reduced risk nicotine products. It's vital that nicotine consumers respond to make their feelings known. If the EU permits taxation on reduced risk products the prices will go up and many people will be discouraged from switching. It's simple and quick to respond to the consultation – it only takes around 15 minutes. Vapers in Power has done a useful guide to it, here. The Clive Bates/NNA briefing is here.
The EU Commission is currently collecting consultations about a proposed revision of the Tobacco Excise Directive, changes which would include the taxation of harm reduction products such as electronic cigarettes.

Many Health experts and anti-tobacco organizations have spoken up about the consequences that would come about with the implementation of this tax, with many pointing out how as in the case of the TPD, including tobacco alternatives in this directive will lead to creating confusion in the consumers' minds.
Stealth Vape
Hands up everybody who enjoys paying tax so much that they'd like to pay even more tax in the future? Hmm, it doesn't seem as though there are many who would qualify as tax lovers. The EU Commission is currently asking for European citizens (of which we still are) for their ideas regarding placing an extra tax on vape equipment and liquids. If you haven't already let them know what you think then you'll need to hurry to beat the deadline.
---
Visit Nicotine Science & Policy for more News from around the World

---