Vaping Digest February 15th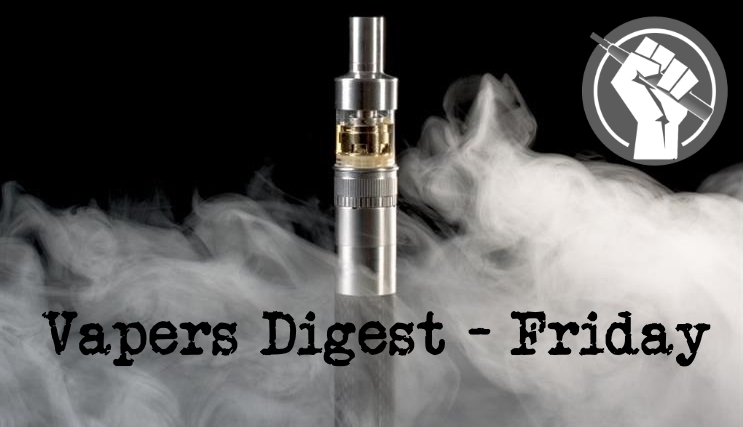 Friday's News at a glance:
Surgeon General Watch: Data, Snippets, and Narratives – Let's demand smarter vaping regulation!' initiative – Respiratory Study Fail – Vaping Hit by Double Tragedy – Did Vaping Stop the Downward Trend in Adolescent Smoking? – Examining the relationship of vaping to smoking initiation – Hong Kong is Set to Ban Vapes – Terry Mills MP passionately opposes NT vaping legislation – Why fining parents for smoking in cars isn't the answer – Addicted to fear, the FDA is hurtling toward a historic mistake – Don't 'narrow the off-ramp' – Nicotine Science and Policy Daily Digest
Data, Snippets, and Narratives – Kevin Crowley
Is access to public data an unreasonable request? What will the complete data reveal? Are snippets of data the best way to inform the public? If the full spectrum of the data is withheld, what is real, what is contrived?

"If you repeat a lie often enough, it becomes the truth."
The problem with research misconduct must be of epidemic proportions. So much so, the Department of Health and Human Services has its own division defining such misconduct called the Office of Research Integrity (ORI), and a definition of said misconduct.
Commission registers 'Let's demand smarter vaping regulation!' initiative'
The objective of the initiative is to: " create bespoke legislation which clearly sets vaping products apart from tobacco and pharmaceutical products". The organisers call on the Commission to "ensure new legislation [for vaping products] based on mandatory compliance with robust product quality, safety and manufacturing standards, together with responsible marketing practices that ensure youth protection".

The European Commission's decision to register the Initiative concerns only the legal admissibility of the proposal. The Commission has not analysed the substance at this stage.
---

---
Dave Cross, Planet of the Vapes
Wills, Pagano, Williams and Tam are four researchers from Hawaii. At the tail end of last year they released a woefully poor study linking vaping to COPD online. It's now been published in a journal and acclaimed by Stanton Glantz (damning enough in itself). Michael Siegel has called the paper "ridiculous".
In "E-cigarette use and respiratory disorder in an adult sample", the researchers went back to fiddling with the data obtained from The 2016 Hawaii BRFSS, a cross-sectional random-dial telephone survey.
Dave Cross, Planet of the Vapes
The hearts and thoughts of vapers will go out to the family and friends of those who lost their lives in vape-related incidents recently. Tobacco controllers have been quick to use these tragedies to further their ends in blocking vaping for tobacco harm reduction.
It is being reported from Australia that an infant has lost its life following exposure to liquid nicotine. The coroner's office in Victoria is looking into the death after it was exposed to lethal levels of nicotine.
---
Thema der Woche:
Die deutschen Pneumologen drehen sich weiter im Kreis.

Facelift der Ausgabe Internationale Dampfer-Welt(en). Eure Meinung dazu bitte in den Kommentarbereich.

weiterlesen:… https://t.co/SptRpfXIN1

— IG-ED (@ig_ed) February 15, 2019
Censoring lawful speech based on its content?

I'm with the First Amendment. I'm a no. https://t.co/yutRToeHrp

— Brendan Carr (@BrendanCarrFCC) February 13, 2019
---
In Adolescent Smoking? – Jacob Sullum
Survey results published this week indicate that cigarette smoking was about as common among high school students last year as it was in 2017. Is this evidence that the surge in adolescent vaping is finally reversing the decline in adolescent smoking that began in the late 1990s? Probably not.

In the 2018 National Youth Tobacco Survey (NYTS), which is sponsored by the U.S. Centers for Disease Control and Prevention (CDC), 8.1 percent of high school seniors reported smoking cigarettes in the previous month, compared to 7.6 percent in 2017. The difference was not statistically significant. Meanwhile, as the Food and Drug Administration revealed last fall, 20.8 percent of high school students reported past-month e-cigarette use in 2018, up from 11.7 percent in 2017.
To smoking initiation among US youth and young adults
Carrie Wade, Chelsea Boyd – RStreet
In 2018, the National Academies of Sciences, Engineering and Medicine (NASEM) released a report that examined the relationship between e-cigarette use and traditional, combustible cigarette use among young people. Essentially, the findings of the report supported the argument that e-cigarettes function as a gateway to combustible cigarette use. However, such a conclusion is contradicted by long-term population trends, which show that the rate of smoking is decreasing as the rate of vaping increases, an observation noted in the NASEM report.
---

---
Jim McDonald, Vaping 360
Last October, Hong Kong's chief executive promised a total ban on e-cigarettes, and now a bill has been introduced to do just that. The proposed law will have its first reading in the Legislative Council on Feb. 20.

If passed into law, the bill will ban sales, manufacture, importation, distribution, or promotion of vapor products and heat-not-burn (HNB) tobacco products in Hong Kong, according to the South China Morning Post. A conviction for any of these crimes could result in up to six months in jail and a fine of 50,000 Hong Kong dollars (about $6,370 U.S.). The stated purpose of the ban is to prevent youth use leading to uptake of combustible products.
Colin Mendelsohn, ATHRA
The Northern Territory parliament passed laws on Wednesday 13 February to regulate the sale, supply, promotion and use of e-cigarettes and heat-not-burn devices as strictly as conventional tobacco products. The legislation will commence on 1 July 2019.

The Northern Territory has the highest smoking rates in Australia and has missed an opportunity to endorse vaping and hnb products as safer alternatives for smokers who cannot quit. The legislation was supported by both the government and opposition parties, but was opposed by some individual members.

The FDA is hurtling toward a historic mistake – Guy Bentley
Food and Drug Administration Commissioner Scott Gottlieb is threatening "unprecedented" action against America's most popular tool to quit smoking.

Cheered on by a cacophony of moral entrepreneurs, an increasingly hysterical FDA is lunging towards policies that will cripple the e-cigarette industry, which is now the biggest challenger to traditional cigarettes.
Brad Rodu
Smokers need all the help they can get to quit cigarettes. New research reported in the prestigious New England Journal of Medicine confirms that e-cigarettes are significantly more effective than FDA-approved nicotine medicines in helping smokers end their deadly habit.

This study is impressive proof of the scientific concept known as tobacco harm-reduction: the substitution of vastly safer smoke-free tobacco products like e-cigarettes and smokeless tobacco by smokers who are unable or unwilling to become nicotine and tobacco abstinent.
Isn't the answer – Kyro Selket
The government recently announced that it would ban smoking in cars when children under 18 are present, making the act a fineable offence. But social scientist Dr Kyro Selket argues the decision isn't all it's cracked up to be.

On Sunday, I stopped at my local Franklin takeaway for one of their exceptional butter chicken pies. As I sat satisfying my growing addiction, a number of cars pulled up and within seconds, passengers – mostly women – jumped out and lit up. They'd have a few quick puffs, pinch off the hot tip of their rollie, saving the rest until later, and head into the store.
---
A look back at how things have moved on or otherwise….
Dick Puddlecote
It's long been a tactic of fraudulent, debate-phobic, anti-smoking organisations to react to a threat to their propaganda by simply pointing a Neanderthal finger and grunting "ug, Big Tobacco". It's just far easier than ​defending their extremist quackery with reasoned argument, just as their stock-in-trade junk science is easier than actually doing the proper stuff.

The problem for them, though, is that methods which worked to dupe a gullible public with smoking don't help achieve the same confidence trick for the plethora of reduced risk products increasingly coming to the market, and they are too stupid to realise that. So it puts them in a position of often being left with impotent arguments which, quite frankly, make them look extremely silly.
Dan Whiteway, Basingstoke Gazette
A STOP smoking scheme piloted in Basingstoke is now being rolled out across Hampshire.

Quit4Life, Hampshire's NHS stop smoking service, is offering innovative support to help smokers who are interested in vaping as a means to give up cigarettes, by helping them to access e-cigarettes effectively and safely.

By supporting vaping as a means to quitting tobacco, Quit4Life is offering a new voucher scheme in Hampshire, for those who choose to give up tobacco through switching to vaping.
---
Visit Nicotine Science & Policy for more News from around the World

---