Vaping Digest February 18th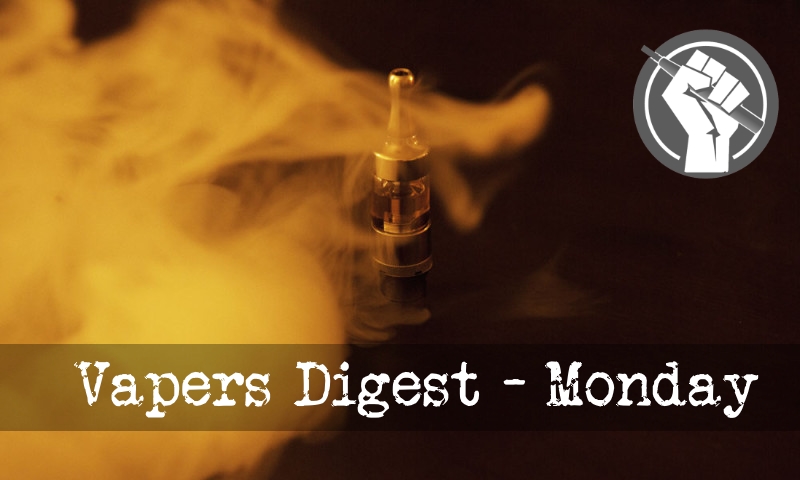 Monday's News at a glance:
Landmark Study Fails to Find Any Evidence – US regulators keep the pressure on – Vaping in Pregnancy – Lynne Dawkins' Evidence – EU Health Commissioner Says Vaporizers Are Poison – Vaping In The News – February 16th – Will vaping help smokers quit? – UAE is Ending its Ban on Vape Product Sales – How to switch to vaping – How many adults vape in Australia? – Retailers fear e-cigarette clampdown – Hong Kong's proposed e-cigarette ban is wrong – Regressive Tax in New Mexico – Alternative Nicotine Products Imperative – Nicotine Science and Policy Daily Digest
That Vaping is a Gateway to Smoking among Youth
The Rest of the Story, Michael Siegel
A landmark study, published on January 25 in the Journal of the National Cancer Institute, found no evidence that vaping is a gateway to smoking among youth. The data come from the largest, longitudinal study of youth smoking initiation — the PATH (Population Assessment of Tobacco and Health) study — and include two waves of observations on nearly 12,000 U.S. youth.

The surveys asked numerous questions about both vaping and smoking behavior, including the frequency of these behaviors. It also assessed numerous risk factors for smoking that can be controlled for in multivariate analyses of smoking initiation rate differences between various groups.
Fergus Mason, Vaping Post
News from the USA dominated vaping headlines this week, with multiple states and cities either putting forward new anti-THR legislation or taking legal action against the industry. Chicago is suing 27 vape shops after an amateurish sting operation, while Connecticut is working on nearly 20 bills to restrict access to safer nicotine products. A rogue official is pushing for an advertising ban, while the CDC and others manufacture a "rise" in teen tobacco use.
---

---
Dave Cross, Planet of the Vapes
Cardiff University researchers have discovered that the number of woman stating that they smoke at their first pregnancy assessment has risen. It calls into question the social stigma they face when in public. In addition, a study by the Royal College of Surgeons in Ireland (RCSI) discovers vaping is not associated with low birth weight or preterm delivery.
The Cardiff research team discovered a 21.1% rise in mothers-to-be smoking, and the participants of the study expressed irritation and alienation due to negative reactions if they smoke or drank in public.
Dave Cross, Planet of the Vapes
Dr Lynne Dawkins, the Centre for Addictive Behaviours Research, London South Bank University (LSBU) presented a myth-busting lecture on vaping that drew on the most recent evidence and updates since 2013. The lecture took place at the LSBU before Christmas but the video has recently gone online.
Lynne began proceedings by saying: "Public perceptions are still confused, there's incredible naivety and ignorance about e-cigarettes. I thought it was about time," having last given a lecture on the subject of research findings five years ago, "that I gave an evidence update on what we know now."
---
---
Head of the cabinet of EU Health Commissioner Arūnas Vinčiūnas, was speaking at an event last month, in which participants called for a broader dialogue with policymakers on sensitive health topics like tobacco. When asked why the Commission had systematically refused to meet with tobacco industry representatives to discuss safer alternatives during the current term, Vinčiūnas said that there is a reluctance towards the industry, also saying that there are better ways to quit smoking than via vaping.
Kevin Crowley, Vaping Links
Researchers Try Nicotine To Treat Memory Loss ~ Federal Communications Commission and the children™ ~ CDC Misleads by calling E-cigarettes a 'Tobacco Product' ~ Vape Radio ~
The Arrogance of Public Health Advocacy ~ Vaping Taxes ~ Vaping Hit by Double Tragedy ~ Respiratory Study Fail ~ Surgeon General Watch: Data, Snippets, and Narratives ~ Vaping in the Mic
---

---
Jim McDonald, Vaping 360
After several months of review, the government of the United Arab Emirates has announced that it will lift its ban on the sales of vapor products. The first approved products are expected to be available in mid-April.

We reported last fall that the UAE regulatory agency Emirates Authority for Standardisation and Metrology (ESMA) was taking a second look at the rules that have been in place since a 2009 law banned sales. Possession and use of vapes is not illegal.
Suchitra Bajpai
"Eventually, cessation of smoking is the objective. But there are three lines, or methods, to reach this. The first option is to quit smoking without any aid, which only 5 per cent of smokers achieve; the second is to use aids like patches, gums lozenges or prescription medication which research has shown achieves success in only 20-25 per cent of smokers. The quit rates are disappointing. Smokers need a third line or option to slowly help them wean off the habit. Introducing [vaping] option to the UAE residents might help the cause of smoking de-addiction," said Dr Farsalinos.
---
Questions on Quora:
Answers from Roberto Sussman Livovsky
---
Advice from experienced users – ATHRA
Smokers wishing to switch to vaping should first do their research, find the right combination of device and liquid, and allow for a period of time to adjust to vaping.

This is the advice of 384 experienced Australian vapers in a study published this week in the journal Drug and Alcohol Review by Australian researchers.

Information for smokers wanting to make the switch to vaping is not readily available in Australia as vaping is discouraged by many health organisations or government sources. Here are the key tips from those who have already made the transition:
In spite of the legal restrictions on vaping nicotine in Australia, 227,000 or 1.2% of the population aged 18 years or above reported current vaping in 2016.

The report was published this week in the journal Addictive Behaviors by Queensland researchers, and analyses data from 22,354 people in the 2016 National Drug Strategy Household Survey.
Could leave businesses up in smoke
New vaping laws coming into effect across Australia have created big problems for some e-cigarette retailers, with businesses moving their operations out of states they claim are too heavy-handed.

The Northern Territory this week became the last jurisdiction in Australia to regulate the use and sale of e-cigarettes.

Can help Europe's smokers make the switch – Giovanni Carucci
Tobacco harm reduction is a public health policy focused on reducing the adverse health effects associated with smoking. For smokers who want to continue using tobacco or nicotine products, it includes encouraging them to switch to an alternative source of nicotine with lower health risks than conventional cigarettes. Many in the public health community believe, based on science, that e-cigarettes offer this potential.
Stephen Vines
There are many do-gooders in Hong Kong who will not welcome the suggestion that the government's plans to curb e-cigarettes are plain stupid and, by the way, the proposed law on e-cigarettes is fundamentally wrong in principle.

Let's start with the lack of logic in a proposed law that bans the sales and importation of vaping products but does not ban their use. Yes, that's what is seriously being proposed. Vapers can freely smoke e-cigarettes but cannot buy them.. go figure.
Will Punish Low Income Tobacco Users and Threatens Harm Reduction
Lindsey Stroud, Heartland Institute
Proposed increase in the excise tax on cigarettes and other tobacco products is regressive, fosters black markets and negatively impacts the public health gains tobacco harm reduction products provide.

Lawmakers in New Mexico introduced legislation that would increase the state's cigarette and other tobacco products (OTP) taxes. The bill would also apply the OTP tax to e-cigarettes. Revenue from the proposed legislation would be distributed to the public school fund in 2020.
Michael McGrady
Hundreds of countries have signed and ratified the World Health Organization Framework Convention on Tobacco Control (FCTC). Passed and entered into force almost fifteen years ago, the landmark international agreement is genuinely the most crucial global effort to combat widespread combustible tobacco use. Heralding tobacco harm reduction as a public health strategy to reduce the consumption of tobacco products, the framework explicitly outlines the importance of offering legacy smokers the support they need to live healthier lifestyles.
Gadgets that monitor health, from wearable step-counters to apps tracking sleep and diet, have exploded in popularity in recent years, and now even the tobacco industry is trying to jump into the fray.

While health promotion and Big Tobacco appears incongruous, Philip Morris International (PMI) says the technology in its new "vaping" products could be used to offer users activity-tracking services and even life insurance rebates.
---
A look back at how things have moved on or otherwise….
Paul Barnes, Facts Do Matter
Two surprising pieces of news appeared in my timeline this week. First, the Czech Republic are planning to reverse parts, if not all of the smoking ban. Secondly, Austria are planning to do the exact same thing.

Naturally, this has prompted a lot of screaming from the usual suspects, labelling the proposed reversals as "a public health disaster".

Well, yes. As with the UK smoking ban, it went too far. Remember, it was only meant to be in certain places – such as those places serving food. Initially, there weren't any plans to have a wide-scale ban on all 'indoor public places'. Exemptions were discarded almost as soon as they were proposed. Now, at least two countries have decided that enough is enough.
Andy Morrison – New Nicotine Alliance
On 28th January, I was delighted to welcome friends up to Scotland to attend the Glasgow School of Vape in my home city. It was a lively event which attracted many keen vapers along with fellow NNA trustees, associates and supporters, plus a delegation from Cancer Research UK recruiting e-cigarette users for a study. However, the weekend was soured on hearing from those who flew in that Glasgow Airport has installed poor and misleading signage outside the arrivals terminal.
---
Visit Nicotine Science & Policy for more News from around the World

---