Vaping Digest March 11th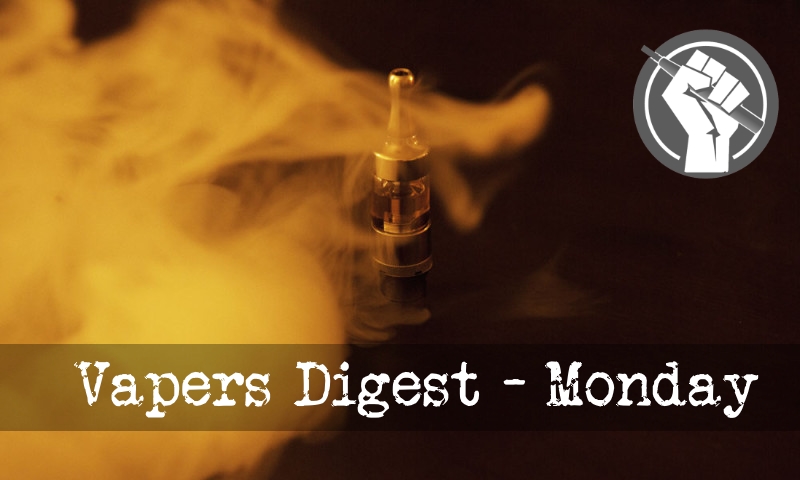 Monday's News at a glance:
UCL Vape/HNB Study – New report: smoking and vaping policies in NHS hospital trusts – Boston Study UKECRF'd – Vaping In The News 9th March – The vaping industry speaks up – Vaping Helped Resolve a Chronic Nasal Infection – Trump wants the e-cigarette industry to pay $100 million a year in user fees – Nicotine 101: The Truth About What It Is and What it Does – Legalising vaping in Australia – Why will Big Public Health only fight smoking on their terms? – Ben Pryor: Clarity on vaping needed – Access to e-cigarettes will improve Australia's health – Vape products help smokers quit – Nicotine Science and Policy Daily Digest
Dave Cross, Planet of the Vapes
University College London's Hannah Proudfoot is conducting a study looking at the possible health effects of vaping or using a heat-not-burn device. If selected, participants will have to attend one or two sessions in London. They will be reimbursed with a £20 Amazon voucher and up to £5 in cash towards travel costs.
Hannah writes: "We want to investigate the possible health effects of using novel nicotine and tobacco-containing products, i.e. e-cigarettes and heat-not-burn devices (e.g. IQOS), compared with smoking conventional cigarettes. To do this, we want to assess what potentially harmful chemicals enter the bodies of people using these products compared with those not using these products."
In NHS hospital trusts – Simon Clark
Brexit will dominate the news this week so today may not be the best moment for Forest to publish a new report.

Nonetheless the snappily-titled 'Prejudice and Prohibition: Results of a study of smoking and vaping policies on NHS hospital trusts in England' is topical for two reasons.

One, it's No Smoking Day on Wednesday. Two, on Friday (March 15) Labour MP Tracy Brabin will present the second reading of the Smoking Prohibition (National Health Service Premises) Bill.
---

---
Dave Cross, Planet of the Vapes
The UK E-Cigarette Research Forum (UKECRF) is an initiative developed by Cancer Research UK in partnership with Public Health England (PHE) and the UK Centre for Tobacco and Alcohol Studies (UKCTAS). The UKECRF looks at new studies on electronic cigarettes and provides a critical overview of each of them. This week it critiques research by the Boston University School of Public Health.

The UKECRF brings together policy-makers, researchers, practitioners and the NGO community to discuss the emerging evidence and knowledge gaps about e-cigarettes.
Kevin Crowley, Vaping Links
Gottlieb Resigns from FDA; the Future of Vaping Remains Uncertain ~ Rendez-vous #23 with Kim Shilling Manor ~ E-Cigarettes Help Military Service Members Quit Smoking ~ FDA Targets Illegally Marketed Pods and Nic Salt Liquid ~ NATO Responds on FDA E-Cig Action Statement ~ Do bad facts make smokers avoid safer snus? ~ Extension of Certain Tobacco Product Compliance Deadlines Related to the Final Deeming Rule ~ Health advocates, businesses divided on raising age to buy tobacco, e-cigarettes ~ E-Cigarettes: Myths Vs. Facts ~ E-Cigarette Puritans Risk Lives ~ Smoking is not addictive ~ Federally Funded Authors
---
I mean, it really is as simple as this. You'd imagine this level of common sense was easy to come by in Public Health – it's not. https://t.co/uUEgSYy9yK

— Lorien (@CaeruleanSea) March 10, 2019
"Public health activists know the difference between fact and fantasy, but they believe the fantasy-that vaping is as bad as smoking—because they themselves have invented and ornamented it. And who is so strong as not to believe his or her own invention?" https://t.co/2Xh7b9xAha

— Joodi💨G 🇪🇺 (@JoodiG) March 9, 2019
---
The vaping industry speaks up – Michael McGrady
Big tobacco companies have announced their support for raising the minimum age to purchase nicotine products in jurisdictions all over the United States. This creates a dangerous precedent as these large companies claim that they speak on behalf of the vaping industry regarding this issue. Now, the vaping industry speaks up.

Large tobacco companies have never been consistent when it comes to the acceptance of electronic nicotine delivery systems and other alternative nicotine products on the market. Corporate powerhouses like Altria and Reynolds American have all worked, in some capacity, against the rising consumer phenomenon that is vaping.
Diane Caruana, Vaping Post
Recent studies have documented cases of chronic respiratory bacterial infections being resolved via vaping.

A 2017 paper titled, "Resolution of recurrent tonsillitis in a non-smoker who became a vaper. A case study and new hypothesis", by Joanna Miler and Peter Hajek, had documented the case of a never-smoker who experienced a complete resolution of chronic tonsillitis and a marked improvement in tonsilloliths after taking up vaping.
---

---
To pay $100 million a year in user fees – Laurie McGinley
The e-cigarette industry would pay $100 million a year in user fees under the Trump administration budget proposal released Monday. The funds would go to beefed-up regulatory oversight by the Food and Drug Administration.

E-cigarettes are not subject to such fees now, but several other types of tobacco products are, including cigarettes, cigars and snuff. The agency is expected to collect an estimated $712 million in user fees in the current fiscal year, with cigarettes accounting for more than 86 percent of the amount.
The Truth About What It Is and What it Does – Carrie Wade
In July 2017, an announcement by the FDA declared that the agency "places nicotine, and the issue of addiction, at the center of the agency's tobacco regulation efforts."

It's no surprise that with this renewed focus on nicotine—and ensuing FDA-driven fear-mongering surrounding products that contain the substance, even if they don't involve combustion of tobacco—people are more confused than ever about what nicotine is and what it does.

Does it cause cancer? Will smoking a cigarette or vaping instantly make you addicted? Does it cause brain worms?

A report by the McKell Institute – ATHRA
The McKell Institute published today a report titled 'Legalising Vaping in Australia' which explores the regulatory framework surrounding vaping as a means of tobacco harm reduction in Australia.

The report finds that 'legalising vaping has enormous potential to improve public health, particularly for disadvantaged smokers who are disproportionately affected by smoking-related diseases'.

The McKell Institute is an independent, not-for-profit, public policy institute dedicated to developing practical policy ideas and contributing to public debate.
Only fight smoking on their terms? – Michael McGrady
All states and territories in Australia have adopted tobacco control policies that make the possession of nicotine e-cigarettes or vaporisers, a criminal offence. A vaper in Western Australia could face a fine of  $45,000 while another could be imprisoned for up to two years in the Australian Capital Territory or Tasmania for possessing nicotine e-cigarettes.

Australia has a complex system of laws around vaping.  Under Commonwealth law it is illegal to possess or use liquid nicotine in Australia for vaping without a prescription.
Our Government Chokes – Kevin Glancy
'I'm supposed to be dead yet, despite the government's best efforts, I'm still alive and well.'

The prognosis was grim. A heavy smoker for fifty plus years, my lung capacity had been reduced to 41%. The way they explained it, was that the lung is like a sponge and most of mine was useless, drenched in thick black tar. There was no coming back. Over half of my lung was, to all intents and purposes dead and more of it would soon die.

The prognosis? Seven to ten years. By then I would be at best, dragging an oxygen tank around or I too, much like my lungs, would be dead. That was in 2008 – ten years ago.
---
Questions on Quora:
---
"It's great the Government has announced it's committed to amending the 1990 Smoke-free Environments Act. This follows Associate Health Minister Jenny Salesa submitting a paper to Cabinet in November titled "Supporting smokers to switch to significantly less harmful alternatives." The Cabinet paper makes clear the main intentions of any legislative changes would be "to improve smokers' access to quality vaping and smokeless tobacco products, while protecting children and young people" as well as "improving publicly available information on vaping"."
Will improve Australia's health – Professor Tony Blakely
Here in Australia, it's currently illegal to buy e-cigarettes that contain nicotine without a prescription. That's not the case in countries like the UK, USA, Canada or New Zealand. And there's a lot of debate about the issue.

Whether or not Australian adults should be able to access nicotine-containing e-cigarettes in the same way they buy tobacco cigarettes was considered by the Therapeutic Goods Administration (TGA) in 2008, 2011 and again in 2017.
Dimitris Agrafiotis
Hundreds of Tennesseans who visit our independently-owned shops have shared stories about how vape products helped them reduce or eliminate smoking altogether.

One of our member shops has a wall of customers' last pack of cigarettes, signed and dated. A former smoker myself, I found freedom through vaping when other quit methods failed. So it's no surprise, with such compelling stories, that vaping has grown in popularity with adult smokers.
---
A look back at how things have moved on or otherwise….
Dick Puddlecote
In September last year Derek Yach, former World Health Organization cabinet director and developer of the Framework Convention on Tobacco Control (FCTC) – so basically a tobacco control hero – announced the formation of the Foundation for a Smoke-free World (FSFW). As I wrote at the time, the massed ranks of state and pharma-funded tobacco controllers were outraged at this because it is funded by a tobacco company which has stated that it will have absolutely no input into how the money is spent.
The mob behaviour of tobacco control
Clive Bates, The Counterfactual
The bloodlust of the critics of the Foundation on display here is vile – an unethical and mindless reflex response to innovation.  The tobacco warriors are now explicitly defining their mission as a war on Big Tobacco, and not a war on disease.  While these may have been one and the same some years ago (it was never the case for smokeless tobacco), now is exactly the wrong time to double down on a war with Big Tobacco (see David Sweanor's post: Tobacco control and the tobacco industry – a failure of understanding and imagination).
The Irony From The World Conference On Tobacco Or Health
Carl V. Phillips, Daily Vaper
This week, tobacco controllers from all over the world gathered in Cape Town, South Africa for the largest of their hate-filled pep rallies. You can check out the Twitter tag #WCTOH2018 for a view into the unfettered id of tobacco control, because in these echo chambers any modest restraint ultimately dissolves. The tag also offers a collection of responses to what is being presented there — cogent criticisms, hilarious quips and damning accusations.
---
Visit Nicotine Science & Policy for more News from around the World

---