Vapers Digest 22nd March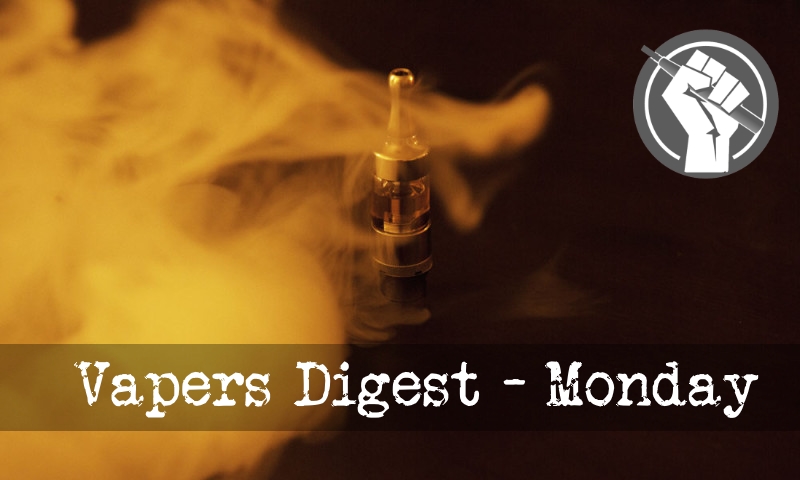 Monday's News at a glance:
Study Shows How Much Vapes Can Help Smokers With Schizophrenia – Today Is the Deadline to Submit Comments on the USPS Shipping Ban – Shameful Stuff From Indiana – Ban on Safer Nicotine Products in LMICs to Inflame Smoking Epidemic – Voices4Vape Webinar – Kiwi Leads Petition Imploring WHO To End Lies On Vaping – Fewer than a quarter would back restrictions on sales – UK report sounds alarm over insufficient tobacco harm reduction efforts – China mulls bringing e-cigarette regulation – European Studies Point To A Gateway Out Of Smoking – Nicotine Science and Policy Daily Digest
Smokers With Schizophrenia – Helen Redmond
A groundbreaking study from Italy with adults who have schizophrenia spectrum disorders found that using JUUL vapes helped some 40 percent of participants to stop smoking traditional cigarettes by the end of 12 weeks. This finding is of enormous importance because smoking prevalence among people with this diagnosis is a staggering 60 to 90 percent, and there are no signs of the numbers decreasing.

"Smoking is the primary cause of the 15-25 years mortality gap between users of mental health services and the general population," said Riccardo Polosa, one of the lead researchers.
On the USPS Shipping Ban – Jim McDonald, Vaping360
Today is the deadline for commenting on the U.S. Postal Service's proposed rule banning delivery of vaping products through the U.S. Mail. A final rule could be issued at any time after today.

You can email USPS directly, or use the CASAA call to action to send your comment. The CASAA page also offers the opportunity to send a comment to your U.S. Representative and both U.S. Senators. (The "vape mail ban" was passed by Congress in December.) There is no deadline for commenting to members of Congress.
---

---
Dave Cross, Planet of the Vapes
Aeschylus, the so-called Ancient Greek father of tragedy, reputedly said, "in war, truth is the first casualty." The United States has been waging an insane war on vaping and tobacco harm reduction and truth has become redundant to authorities which no longer care about educating the public or being seen to tell the truth. The Indiana High School Athletic Association and the Indiana Department of Health are the latest tragic exponents.

"The Indiana Department of Health and the Indiana High School Athletic Association are joining forces to communicate the risk of serious lung disease caused by vaping to every high school athlete, student and community in Indiana," they say.
---
Dr Lion Shahab, professor of health psychology at UCL, said: "Achieving a 'smoke-free' Scotland by 2034 requires a concerted effort by public health bodies as well as civic society. E-cigarettes have an important role to play in achieving this aim.https://t.co/pIEB5bjCpB

— European Tobacco Harm Reduction Advocates (@europethra) March 22, 2021
---
In LMICs to Inflame Smoking Epidemic – CAPHRA
Consumer groups in the Asia-Pacific region warned that a blanket ban on e-cigarettes and heated tobacco products (HTPs) in low- and middle-income countries, as proposed by an anti-tobacco non-government organization funded by Bloomberg, will only inflame the smoking epidemic and result in higher death toll from smoking-related diseases.

The Coalition of Asia Pacific Tobacco Harm Reduction Advocates (CAPHRA) issued the statement in support of a report released by the International Network of Nicotine Consumer Organisations (INNCO) that tobacco harm reduction (THR) alternatives like e-cigarettes and HTPs would help, and not hinder, the aims of global tobacco control.
---
The Attacks on Our Right to make Informed Choices
---
Imploring WHO To End Lies On Vaping
World Health Organisation (WHO) to respect consumer rights and end lies against innovative nicotine products.

"Stop lying to us and only provide guidance based on sound scientific facts, methodologies and principles," the Coalition of Asia Pacific Tobacco Harm Reduction Advocates (CAPHRA) and other consumer advocacy groups said in the Right2Switch petition.

The petition was launched during the 2021 Voices4Vape webinar on 21 March. The petition can be viewed and signed at https://change.org/v4v-petition

On sale of e-cigarettes
Research for the Scottish Grocers' Federation (SGF) found only 24% of people agreed that access to such products, or information about them, should be restricted.

With almost half those questioned were opposed to this – with 24% saying they "strongly disagreed" and a further 24% who said they "tended to disagree".

That includes 66% of 16 to-24-year-olds who were opposed to such restrictions.
---

---
Over insufficient tobacco harm reduction efforts
A LANDMARK report from a United Kingdom-based harm reduction organisation has shed light on the alarming need for tobacco harm reduction efforts to be scaled up, particularly in getting more smokers to switch to better alternatives.

These alternatives, known as safer nicotine products (SNP) include vaping devices, heated tobacco products, and pasteurised oral snus. They are less harmful to their users, resulting in improved health and fewer deaths compared to traditional cigarettes.

But despite numerous studies pointing to the benefits of switching from cigarettes to SNPs, the report from the Knowledge Action Change (KAC) in the UK found that a mere nine out of every 100 smokers are SNP users.

In line with traditional tobacco products
Two of China's regulators plan to bring the rules governing the sale of e-cigarettes and other new tobacco products in line with those for ordinary cigarettes.

The Ministry of Industry and Information Technology (MIIT) and China's State Tobacco Monopoly Administration, posted online the draft regulations that could potentially curb a fast-growing industry.

In 2019, a string of Chinese e-cigarette companies emerged targeting the domestic market, following the overseas success of the Juul.
Out Of Smoking – Soko Directory
MAJOR new international research proves Kenya is trailing the rest of the world in embracing the latest technology to reduce deaths from smoking.

A study by Public Health England (PHE) found there is growing evidence that alternative nicotine delivery products play a crucial role in helping people to give up smoking.

The PHE report comes less than a month after a study by the European Commission found that the number of smokers using nicotine alternatives to successfully kick their cigarette habit has doubled in just three years.
---
A look back at how things have moved on or otherwise…
James Dunworth, Ashtray Blog
As Coronavirus continues to impact life across the UK (and, indeed, the world), we thought you might appreciate an update from a vaping perspective.

There's rumours to quash, vape hygiene to consider and the need to think about the continued supply of vape products. Let's get started.

Will vape shops be shut in a lockdown? Maybe not… What's going to happen to vape shops?

We can look to the continent for some clues. In Spain most shops are closed, but tobacconists are open, and these do sell some vaping equipment. Meanwhile Italy initially closed vape shops, which lead to protests from Professor Polosa:
To keep vape shops open during coronavirus crisis
The UK Vaping Industry Association (UKVIA) is today calling on the government to keep vape stores open across the country, rather than forcing them to close as part of any intensification of its coronavirus containment strategy. Closing vapes stores, the industry argues, would be a potentially counterproductive move that could place a further strain on the already overstretched National Health Service.

In an open letter to Nadhim Zahawi, parliamentary under-secretary of state at the Department for Business, Energy and Industrial Strategy, UKVIA cites the experience of Italy, the country in Europe hit hardest by Coronavirus so far and where the government reversed its decision to close vape stores as part of its containment programme.
---
Visit Nicotine Science & Policy for more News from around the World

---