Vapers Digest 24th March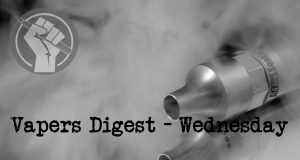 Wednesday's News at a glance:
Bloomberg's Millions Funded an Effective Campaign Against Vaping. Could It Do More Harm Than Good? ~ Why banning alternatives to smoking will do more harm than good ~ Fourth leading cause of death globally (COPD): smoking cessation new research ~ Smoke-free Society by 2030 ~ With Excess Menthol Use Affecting Black Americans, U.S. Policy Efforts Continue to Fall Short ~ Kiwi Tax Warning ~ Vaping Can Help Mental Health ~ Impact of The Menthol Ban ~ Ethnic Minorities Spurning Vaping ~ Biden's Short List For FDA Commissioner: Between A Rock And A Hard Place ~ The End Of Mail-Order JUUL: How Donald Trump (and Kamala Harris) Kneecapped Vaping ~ To Address Youth E-Cigarette Use, We Must Rely on Data ~ HSA confiscates $369,000 worth of e-vaporisers and components in largest seizure to date ~ Cambodia Bans e-cigarettes ~ Vermont's Dilemmas in Bid to Ban Both Flavored Vapes and Menthol Cigarettes
UK Parliament
Volume 691: debated on Tuesday 23 March 2021:

I beg to move, That this House has considered reduced-risk smoking products and proposals for a smoke-free society by 2030. It is a pleasure to serve under your chairmanship, Mr Rosindell, albeit from such a long distance. I am pleased to see the Minister there too. At the outset, I declare my interest as an honorary life fellow of Cancer Research UK.
---

---
, Morning Consultant
In the United States, menthol cigarettes rose to popularity during the 1950s. At about the same time, manufacturers began focusing their marketing efforts on Black Americans. The effects of these campaigns can be felt today, with Black smokers making up more than one quarter of all menthol users in the United States. Sadly, the country has been slow to adopt policies that might curb the rate of menthol cigarette consumption, and Black Americans have paid the price.
---
FOUR from Dave Cross, Planet Of The Vapes
Aotearoa Vapers Community Advocacy (AVCA) says plummeting tobacco tax revenue for the Government is "great to see", because it means more Kiwi smokers are binning cigarettes for reduced harm alternatives. The organisation warned that if the Ministry of Health makes vaping regulations too tough, "fewer smokers in the future will move to much safer and less expensive vaping products".
A new study from the Cochrane Library has finds there are mental health benefits in quitting smoking. Also, a new study in the journal Nicotine & Tobacco Research, featuring Professor Riccardo Polosa, says vaping has the possibility to help adults suffering from schizophrenia spectrum disorders.
While encouraging smokers to switch to vaping has witnessed a huge level of success here, the European Union is pushing in the direction of bans and high tax rates. One of the final impacts of belonging to the Union was to see the EU's ban on all menthol tobacco products. The Foundation for a Smoke-Free World (FSFW) has conducted a survey to identify changes in smoking behaviour resulting from the prohibition.
In work published by the journal Addiction, researchers at University College London (UCL) have found that ethnic minorities in England are less likely to vape to help them quit smoking. Emma Beard, Jamie Brown, Sarah Jackson, Harry Tattan‐Birch and Lion Shahab obtained the results by looking at data from UCL's Smoking Toolkit Study.
---
Henry I. Miller, Jeff Stier, Issues and Insights
As the Biden administration engages the COVID-19 pandemic, a public tug-of-war has emerged over who should be nominated to run the Food and Drug Administration, a pivotal participant in the effort.

An analysis of the two perceived front-runners illustrates that neither would likely introduce the kinds of reform needed at the agency.

One candidate is acting Commissioner Dr. Janet Woodcock, a long-serving top FDA official with widespread institutional respect, both inside and outside the agency.
How Donald Trump (and Kamala Harris) Kneecapped Vaping
, Forbes
Before he quietly and timely exited office on January 20, one of former President Donald Trump's last acts in office was to threaten the business models of both the nicotine and the marijuana vaporizing industries.

And it's quite likely neither Trump nor most of Congress knew what they were doing.

What happened?
Lindsey Stroud, Inside Sources
In 2018, the U.S. Food and Drug Administration (FDA) and then-Surgeon General Jerome Adams declared a so-called youth vaping epidemic. Lawmakers across the country, from city council members, to state leaders, to Congress, have been attempting to reduce youth use of e-cigarettes and vaping products ever since. Addressing youth use of any age-restricted product is laudable, but it should not come at the expense of adult users of such products. And all policies introduced by well-intended lawmakers threaten adult access either through bans, arduous regulations, or unfair taxation.
---
Zaihan Mohamed Yusof, The Straits Times
SINGAPORE – In the largest haul of electronic vaporisers to date, the Health Sciences Authority (HSA) on March 18 seized more than $369,000 worth of e-vaporisers and components.

Three men are assisting with HSA investigations, including an individual who is also being probed by police for allegedly possessing several scheduled weapons in his home, said the HSA and the Singapore Police Force in a joint statement on Tuesday (March 23).
Sar Socheath, Khmer Times
Electronic nicotine delivery system (EDNS), or e-cigarettes and heated tobacco products (HTPs) have been banned by Cambodian authorities, according to the National Authority for Combatting Drugs' (NACD) instruction.
Alex Norcia, Filter Mag
At a digital meeting of Vermont's Senate Health and Welfare Committee, Tina Zuk, the government relations director at American Heart Association in the state, seemed to have the kind of brief technical problem typical of the COVID era.

"We used to have a joke among our government relations people that we could do our job, but not math," she said to her colleagues in February. "And it's sort of the same with technology. So it takes me a little bit to get going here."
---

---
Protecting science from cranks, or activism from science?
Roberto A Sussman – Anti-THR Lies
In a recent statement of editorial policy the editors of the journal Tobacco Control declared that the journal's "Rapid Response" section will be henceforth the only legitimate space to express a scientific critique of articles published by the journal. In particular, the editors singled out (unnamed) internet bloggers as illegitimate critics.
Christopher Snowdon, Velvet Glove Iron Fist
The 2016 Tobacco Control Scale (TCS) was published yesterday. The TCS pats governments on the back for capitulating to the whims of the anti-smoking lobby, regardless of whether the policies actually work.

Charting each country's score against smoking rates show that obedience to 'public health' diktats is no guarantee of lower smoking rates, even if forcing people to stop smoking were ethically justifiable – which it isn't.
---
Visit Nicotine Science & Policy for more News from around the World

---