Vapers Digest 26th March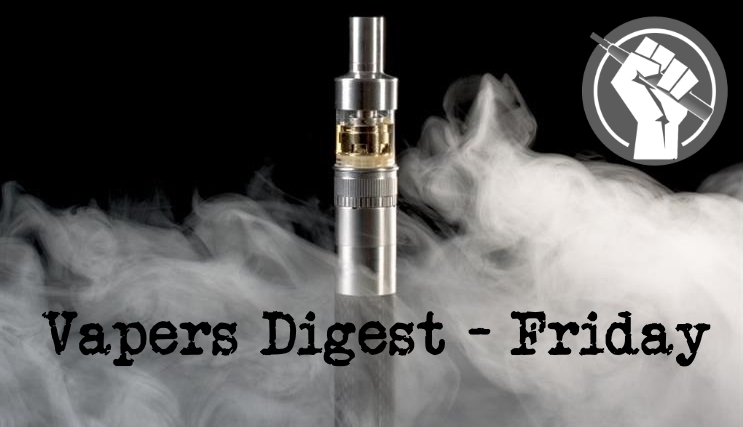 Friday's News at a glance:
Vaping – a quick win for Brexit – World-Class Case of Corporate Self-Cannibalization – EU MPs Tested on E-Cig Knowledge – What do MEPs think about new nicotine products? – Bringing Everyone to the Tobacco Table – Risk-takers predisposed to smoking and e-cigarette use – Grubby Money Corrupts Vape Legislation – The Battle Between Ecig Facts and Lies – Tell The Truth About E-cigarettes – Wild West SCHEERdown – TRPR: Consumer Bodies Comment – Cambodia Issues Asia's Latest Nicotine Prohibition – Cambodia Bans Vaping Again – Parliament Discusses E-cigs and Tobacco – Stop Ignoring the Science on Vapes – Canada Nicotine Cap: Experts Punch Holes In Proposed New Rule – Scandal in Mexico – Nicotine Science and Policy Daily Digest
David Jones – Former Welsh Secretary and is MP for Clwyd West
It isn't just the headline-grabbing freedoms that make our departure from the European Union the best outcome for this country; it's about the small print, too. Now Brexit is complete, we can reassess our current legislation that originates from transposed EU Directives.

The Department of Health and Social Care is currently reviewing the regulations that imposed the EU's Tobacco Products Directive into UK law and is, we are told, producing a new Tobacco Control Plan this summer.

I am using my Westminster Hall debate today to urge the Public Health Minister to take back control of our tobacco harm reduction policies.
Self-Cannibalization May Save Millions of Lives – Brad Rodu
Heat-not-burn (HNB) tobacco products – mainly IQOS from Philip Morris (PMI) – are eroding cigarette sales in Japan, as I recently noted.  Prevalence estimates from the Japanese Health and Nutrition Survey confirm the consumption numbers.

Because the Japanese survey only began tracking new products in 2018, no trend can yet be discerned, but HNB product use is impressive, as shown in the chart at left.  Depending on how dual users are counted, HNB accounted for 20 to 27 percent of all tobacco use in 2019.

The highly credible Japanese Health and Nutrition Survey is the world's oldest nutrition survey, implemented by Allied Forces after World War II.
---

---
Tobacco Reporter
How much politicians know about e-cigarettes and other novel tobacco products has a major effect on their perceptions of safety and risk, new research suggests.

A survey of members of the European Parliament (MEPs) found that those who were knowledgeable about novel tobacco products were far more likely than those with no knowledge to consider them less risky than smoking.

The survey conducted by ECigIntelligence and TobaccoIntelligence, independent data providers to the sector, found that:
What do MEPs think about new nicotine products?
Europe's Beating Cancer Plan was presented by the European Commission to the European Parliament on 4th February 2021. MEPs are currently developing a report on Beating Cancer which is set to be finalised by the end of the year. Tobacco – along with alcohol, poor nutrition and lack of physical activity – was highlighted as a common cause of cancer. One of the main topics of debate during future legislative discussions will be the role played by so-called tobacco harm-reduction products.
---
---
Derek Yach
Cancel culture is not unique to the age of Twitter. After all, we cancelled the tobacco industry decades ago. As such, the treatment of the sector may hold important lessons for navigating a world of wokeness and the potential pitfalls of absolute cancellation. In his new book, Good Business: The Talk, Fight, Win Way to Change the World, Bill Novelli describes, among other things, opportunities that may arise from working with a cancelled industry. Ultimately, however, Novelli's inconsistency on this stance reveals the power of cancel culture to stifle dialogue and impede clearheaded action.
And e-cigarette use – Jasmine Khouja
Research by the University of Bristol has found that the association between smoking and e-cigarette use could be explained by a broader genetic susceptibility to risk-taking.

The findings imply that the genetic influences associated with people taking up smoking also influence people being e-cigarette users; these were also found to be associated with risk-taking behaviours more generally, such as externalising disorders in childhood.

Six from Dave Cross, Planet of the Vapes:
Grubby money from Michael Bloomberg's assorted non-governmental organisations has been flooding into countries around the world. The cash came with strings and bit by bit the truth is starting to leak out; from the appointment of officials to the drafting of legislation, Bloomberg can be held directly responsible for poor working men and women being denied access to a Covid-19 vaccine.

Last month, The Philippine E-Cigarette Industry Association (PECIA), an organisation representing 200 members, submitted its proposals for fair, evidence-based regulations. The direction of travel for regulation had been influenced by Bloomberg funded lobbyists and, PECIA said, would inevitably lead to an increase in the price of vape products.
Lies and half-truths are corrupting the reputation of tobacco harm reduction products. In South Africa, zealots are claiming vaping doesn't help smokers quit – a clear distortion of the truth. Stopping Tobacco Organizations and Products (STOP) is a Bloomberg funded organisation has published a document full of smears and falsehoods. Is there anything that can be done to improve vaping's reputation?

"A recently published Eurobarometer survey reveals widespread ignorance about e-cigarettes," writes Christopher Snowdon in an article on New Europe(1). "The evidence shows that vaping helps people quit smoking. This has been shown in a series of randomised controlled trials, the gold standard of scientific evidence."
The Coalition of Asia Pacific Tobacco Harm Reduction Advocates (CAPHRA) has launched a petition demanding the World Health Organization (WHO) telling the truth about vaping and other reduced harm products. The vape advocates for the Asia-Pacific region say it's time to respect consumer rights and end the lies against innovative nicotine products.

"Stop lying to us and only provide guidance based on sound scientific facts, methodologies and principles," CAPHRA(1) and the other consumer advocacy groups say in the Right2Switch petition, which was launched during the 2021 Voices4Vape webinar(2) on 21 March.
The Scientific Committees on Health, Environmental and Emerging Risks (SCHEER) has conducted two committee meetings where it spoke about the feedback it received on its "preliminary opinion on electronic cigarettes". SCHEER's work would probably feature in 'wild west' of research, as described by Scottish academics last week.

SCHEER's 17th Plenary meeting(1) didn't exactly spend a lot of time thinking about the wide ranging criticism its opinion paper produced. It stated(2) a number of half-truths and outright lies ranging from vaping causing damage to the respiratory tract, posing harm to the cardio-vascular system, that there's a gateway into smoking and vaping doesn't work as a quit tool.
Consumer groups The New Nicotine Alliance (NNA) and the European Tobacco Harm Reduction Advocates (ETHRA) have made submissions to the UK government as part of The Tobacco and Related Products Regulations 2016 (TRPR) consultation exercise. The government will now factor all of the responses into how it revamps post-Brexit vape legislation.

"We're asking for feedback on the effectiveness of the legislation in achieving its objectives along with any unintended consequences that may have occurred. TRPR(1) and SPoT require the Secretary of State for Health and Social Care to complete a review of the legislation within 5 years of the regulations coming into force…."
In the House of Commons, John Spellar MP was concerned about vaping in public. In the House of Lords, Baroness Hayman was worried about littering and Viscount Ridley inquired about the reasons for the continuing ban on snus, a product that has delivered a huge reduction in Scandinavian smoking rates.

Warley's John Spellar asked the Secretary of State for Health and Social Care if there were plans to issue further instructions to the public about vaping in public spaces. Spellar has not commented on vaping before so little is known about his motivation for posing the question.
---

---
Alex Norcia
On March 23, Cambodia issued a ban on heated tobacco products (HTPs). The move, as reported by the English-language newspaper The Khmer Times, was announced by the National Authority of Combating Drugs.

Confusingly, the directive also prohibits electronic nicotine delivery systems like vaping products—while making the unfounded assertions that these device don't help people to stop smoking and are not safer than conventional cigarettes. This comes despite the fact that consumption and sales of shisha and e-cigarettes have already been prohibited since 2014. Some local reports suggest that vapes remain available and that the ban has so far been widely ignored.
Jim McDonald, Vaping 360
The government of Cambodia hates vaping so much that the country's leaders have prohibited the practice twice. Apparently not satisfied with its original 2014 ban on use, sales and imports, the Cambodian National Authority for Combatting Drugs (NACD) has banned the products again.

The NACD says online sales of e-cigarettes and heated tobacco products (HTPs) have led to widespread youth vaping, according to the Khmer Times. The newspaper says the anti-drug authority believes that vaping is a gateway to other drugs, and that it can "lead to spreading deadly diseases through sharing devices." The latter talking point was promoted last year by the World Health Organization (WHO).

Derek Hosford
There is good news for America's smokers hoping to quit. A new study authored by researchers at Kansas University, California State and San Marcos University revealed when smokers switch to non-combustible alternatives, such as electronic cigarettes, they are more likely to quit and experience better health outcomes. This finding should be no surprise to those who are familiar with past studies on e-cigarettes showing their viability as a smoking cessation device.
Experts Punch Holes In Proposed New Rule – Jeffrey Buckley
Health Canada recently put forth a proposal to cap nicotine levels in vaping products at 20mg/ml. The move comes after provinces like British Columbia and Nova Scotia implemented caps on nicotine products in their respective jurisdictions.

The nicotine cap is also primarily motivated by the supposed "increase" in teen youth vaping in Canada. The government is planning to hold a 75-day listening period where members of the public can comment on the proposal. This outreach led two US nicotine scientists to lend their expertise to the agency via a strongly worded memo outlining the flaws inherent in Health Canada's request.
Vaping Today
In addition to the arbitrariness in the legislative process, it was discovered thanks to the document metadata that a prediction of the Mexican Parliament that proposes bans on vaping was written by an Argentine lawyer advising the Campaign For Tobacco Free Kids, an anti-vaping NGO financed by Michael Bloomberg.

Civil society organizations tend to have a quantitative and qualitative influence on states and play an important role in the social, sociocultural and political foundations of democratic societies. They promote initiatives necessary for development and well-being, agendas for discussion, social participation and bring the interests of citizens closer to state decision-making processes, breaking the monopoly of governments and creating an environment of diversification in the centrality of power.
---
A look back at how things have moved on or otherwise….
Sally Satel, National Affairs
In 2014, the Oxford English Dictionary christened "vape" the Word of the Year. The designation was a tribute to the impressive rise of the electronic cigarette, a battery-powered device that heats a flavored solution containing nicotine and converts it into an inhalable, or "vape-able," aerosol. By the close of 2013, six years after e-cigarettes became available in the United States, sales had surpassed $1 billion, prompting financial analysts to proclaim them a threat to cigarette sales. Observers hailed e-cigarettes as "among the most significant public-health innovations of modern times" and a "disruptive technology" poised to "revolutionize" public health.
That Got Me Thinking
As the Covid 19 pandemic has spread we have seen some of the most stringent restrictions imposed on a population, outside of wartime. Closure of pubs, schools, sporting events. Banning gatherings and the abandonment of once immovable annual events like the Eurovision.

It is essential that all of us follow the advice of government and health departments, keeping 'social distance' and minimising leaving our homes.
James Dunworth, AshTray Blog
Just a week ago I speculated that vape shops might not close in the UK.

It was not to be.

Last night vape shops, along with all other non-essential shops, were ordered closed by the government.

That's despite lobbying from both vape trade associations (IBVTA / UKVIA), who called for vape shops to remain open to help people stay away from smoking.
---
Visit Nicotine Science & Policy for more News from around the World

---