Vapers Digest 29th March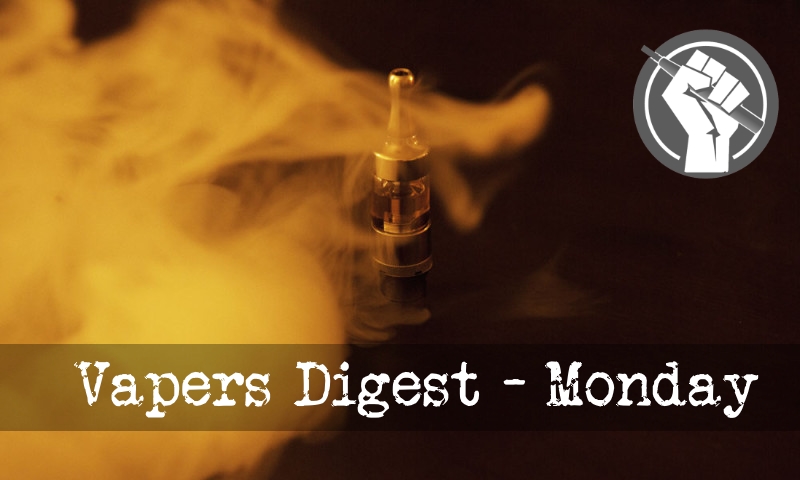 Monday's News at a glance:
"Well, well, if it isn't the consequences of my own actions" – Focusing Minds – COVID-19: advice for smokers and vapers – Quebec Plans to Ban Vape Flavours – UK's Vapemail Ban – VApril 2021 – Members of Congress Take Aim at E-Cigarettes – Cheerleader Harassed with "Deepfake" Vaping Video – Long March | Unpacking U.S. Vape Mail Ban – No Shame | Bloomberg's War on Vaping Pt. 1 – Nicotine Science and Policy Daily Digest
Of my own actions – Christopher Snowdon, Velvet Glove Iron Fist
It's been a while since we had a laugh at Simon Chapman on this blog. He used to bring us so much entertainment. Australia's leading vaping prohibitionist is still knocking about in his nursing home shouting at clouds. He's been recently complaining about a "tsunami" of black market e-cigarettes. This is not a problem we have in Britain for some reason.

Meanwhile, Australia's black market for real cigarettes continues to flourish. Industrial scale tobacco smuggling and vast illegal tobacco farms didn't exist Down Under until the government fell under the spell of Chapman and his buddies and made the legal product unaffordable and unattractive.
Tobacco Reporter
The post-Brexit review of tobacco regulations provides an opportunity to hasten smokers' transition to less-harmful nicotine products.

Writing in The Guardian on Jan. 13, associate editor and columnist Martin Kettle wrote that "in almost every material respect the U.K. is currently worse off than before 1 January." He was, of course, commenting on Brexit, about which the government, in the words of the late music hall comedian, Billy Russell, can be said to have "promised us everything, given us nothing and, before we got it, taken it off us." There is no Brexit dividend, only a growing Brexit deficit, which can be clearly seen even though the government is trying to brush it under the carpet laid down by the Covid-19 pandemic.
---

---
Public Health England
In the time of the coronavirus pandemic, taking action to protect and improve your health is particularly important.

Smoking causes damage to the lungs and airways and harms the immune system, reducing your ability to fight infection. Smoking is also very harmful to the cardiovascular system (the heart and the blood vessels that carry blood around your body), which has many negative impacts on health including increased risk of heart attack and stroke.
---
---
And Restrict Nicotine Levels – Diane Caruana
"With the growing popularity of vaporization products, especially among young people, it becomes imperative to act to prevent a new generation from becoming addicted to nicotine because of these products," said Dubé in a statement. "Numerous studies show that flavour is the main reason why young people are more inclined to vape," added a recent public health report.

Released last August, the public health report, blamed flavour cartridges for a surge in vaping among high-schoolers. "Indeed, flavours, especially sweet ones, and the way they are marketed increases the attractiveness of the product and decreases the perception of health risks," said the report.

Two from Dave Cross, Planet of the Vapes:
Following the government banning the carriage of vape products by the US Postal Service (USPS), a number of courier companies announced they would be joining the ban on shipping devices and e-liquids too. A number of British vapers announced they were experiencing problems shipping products in and out of the UK with a well-known company – its response to Planet of the Vapes indicates an unjustifiable stealth ban.

The 2021 Omnibus Appropriations Bill(1) banned USPS shipments of vape products, coming into effect this week. The American Vaping Association called the wording of the bill "sloppy" and advised businesses to look to other providers – but the options have narrowed by the week
VApril enters its third year with gusto having been a huge success in 2019 and 2020. Unfortunately, brick-and-mortar stores will be unable to open to the public until April 12th, but the organisers say this does mean they have more time to get their displays and product lines ready to make a big impact. Also, this year sees another change as Planet of the Vapes joins the VApril campaign as an official media partner.

UK Vaping Industry Association's John Dunne told Vape Business: "From the beginning, VApril(1) has been about sharing the transformational potential of vaping, as well as telling the inspirational stories from the industry. Participating in VApril is a way to show you care about the vaping sector and what it stands for, as well as the thousands of people who use it to stop smoking each year."
---

---
Promoting Myths and Misinformation – Karl Abramson
On March 23, 2021, U.S. Representatives Debbie Wasserman Schultz (D-Florida) and Diana DeGette (D-Colorado) led a call by forty-four Democratic members of Congress, urging the U.S. Food and Drug Administration (FDA) to "prioritize the need to protect youth from nicotine and tobacco products".

This letter follows a previous one, authored a month earlier by a bipartisan group of seven members of Congress, calling on the FDA to focus on "reducing nicotine addiction", and "preventing tobacco-caused diseases like cancer and heart disease".
With "Deepfake" Vaping Video – Jim McDonald
A Pennsylvania woman has been charged with creating "deepfake" videos and photos of at least three teenage girls—including a video of one girl vaping—and sending them to the girls' cheerleading coaches. The woman apparently considered the girls to be rivals of her daughter.

Raffaela Spone of Bucks County, PA, is accused of sending manipulated photos and videos to coaches at a private cheerleading training facility, possibly trying to get the girls removed from the cheer program, which her daughter was also part of. Spone denies the bizarre behavior. (There is no evidence that Spone's daughter was involved in the harassment.)

Brent Stafford, Michelle Minton
Is Bloomberg doing more harm than good?
---
A look back at how things have moved on or otherwise…
Dave Cross, Planet of the Vapes
The New Nicotine Alliance (NNA), Britain's leading tobacco harm reduction charity, has joined in with the calls for the nation's vape shops to be allowed to remain open. The NNA mirrors statements from trade bodies the Independent Vape Trade Association (IBVTA) and the UK Vaping Trade Association (UKVIA) in highlighting the desperate need for the nations smokers and ex-smokers to continue to be able to reduce their exposure to harm from smoking.

It writes: "There is much talk of further measures to control the outbreak of Coronavirus, but closure of vape shops should on no account be considered."
Roberto Sussman and Carmen Escrig
The spread of the SARS-CoV-2 pandemic provides fertile ground for spreading misinformation on vaping. Vapers must be equipped with solid information and data to counterargue.

The relation between smoking and the progression to severe conditions of COVID-19 is still uncertain, though identified vulnerability conditions for this progression (cardiovascular and respiratory disease, diabetes) in mostly senior patients are strongly correlated with long term harms from smoking.

There is no evidence that vaping (intrinsically) increases the risk of infection or progression to severe condition of COVID-19. When evaluating risks on vapers it is necessary to consider that most are ex-smokers or still smokers. Vapers with a long previous smoking history could exhibit conditions seen in vulnerable patients. However, this would not be an effect of vaping but of previous smoking.
---
Visit Nicotine Science & Policy for more News from around the World

---