Vapers Digest 31st March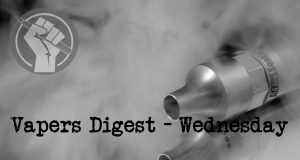 Wednesday's News at a glance:
Martha Mwase, Chimwemwe Ngoma, Tobacco Harm Reduction Malawi

In the modern day, a participatory approach to development is said to be the most effective pathway to achieving sustainable development. Unlike the top – bottom approach where interventions are imposed on people, participatory approach considers people's active participation right from problem identification to implementation of the derived solutions. In a participatory approach, the interventions are likely to be effective and sustainable.
---

---
Interesting conundrum brought to us by #Australia's leading tobacco control thinker.

Is nicotine a medicine (prescribed) OR dangerous poison?

If it's a dangerous poison, then why do they prescribe it?

If it's a medicine, then why do they call it a dangerous poison?

Thoughts? pic.twitter.com/W3Qm8LuDQA

— You Don't Know Nicotine (@KnowNicotine) March 31, 2021
---
TWO from Dave Cross, Planet Of The Vapes
The House of Commons considered reduced-risk smoking products and proposals for a smoke-free society by 2030. It features politicians attending the House in-person and those taking part virtually from home, under the gaze of Chair Andrew Rosindell. Of real note was the opening speech which pushed for a positive approach to changing vaping regulation at home and shouting about our successes at the forthcoming World Health Organisation's framework convention on tobacco control Conference of Parties.
Cliff Douglas, a veteran public health advocate and attorney, has issued a plea to tobacco controllers to cease their "internecine divide" over tobacco harm reduction and begin acting with collaboration, honesty and integrity. The member of the University of Michigan's School of Public Health feels it is vital for the sake of all stakeholders
---
Ian Irvine, C.D. Howe Institute
From: Ian Irvine

To: Health Minister Patty Hajdu

Date: March 30, 2021

Re: Smart Youth Drive Enormous Smoking Declines

Last week, Statistics Canada reported that Canadians in their twenties are butting out at an unprecedented rate. Smoking among them fell from 13.3 percent to a mere 8 percent – a 40-percent drop – between 2019 and 2020 according to the Canadian Tobacco and Nicotine Survey.

This is a historic achievement and augurs well for Health Canada's smoking prevalence target of 5 percent for 2035. Since smoking among those aged 15-19 is currently no more than 5 percent, that cohort has already reached the 2035 target – 14 years before the due date, and the 20-24 group is not far away.
---
Alex Norcia, Filter Magazine
Last week, dozens of United States Congress members demanded that the Food and Drug Administration (FDA) strip flavored vaping products from the market by halting a long-awaited federal product review process.

In March 23 letter to acting FDA commissioner Janet Woodcock and director of the FDA Center for Tobacco Products director Mitch Zeller, the representatives wrote that "flavored e-cigarettes are putting a new generation of kids at risk of nicotine addiction and the serious health harms that result from tobacco use."
Siddharth Cavale, Yahoo Finance
Imperial Brands Plc said on Tuesday it is off to a "good start" this year as the maker Gauloises and Winston cigarettes looks to capitalise on higher tobacco prices and "significantly reduced" losses in vaping.

On aggregate it has started to increase its tobacco market share in its top five markets with gains in the United States, UK and Spain offsetting declines in Germany and Australia, the FTSE-listed company said.
---

---
From Puddlecote Inc:
There must be an organisational problem at the British Medical Association because they seem to have trouble finding spokespersons who can tell the truth on the radio.

We've seen the embarrassment that is Vivienne Nathanson before, a BMA mouthpiece who insisted that one cigarette smoked in a car emitted 23 times more toxins than in a pub prior to the smoking ban – despite it being complete and utter nonsense – and now we have Dr George Rae….
I think this study is being widely misunderstood or spun …It may actually may be showing something that is a good thing.  Let's examine four things that must be considered when assessing the implications of this survey – then some expert reaction and consumer reaction:
---
Visit Nicotine Science & Policy for more News from around the World

---