Vapers Digest 2nd April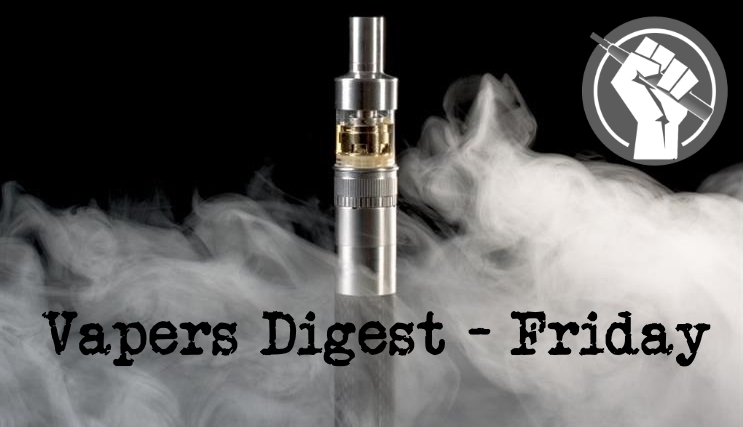 Friday's News at a glance:
ETHRA March news roundup – The APPG on Vaping's report about the WHO – Holding the Bloomberg anti-vaping propaganda complex to account – Vaping, Covid and the Precautionary Principle – Europe must embrace harm reduction post-pandemic – UK Parliamentary Inquiry Challenges WHO's Anti-Vaping Stance – For Smokers With Schizophrenia: The JUUL in the Crown – APPG for Vaping's COP Inquiry Submissions – Imperial Brands Talks About THR – Think Tank Considers Cancer Plan Feedback – What It's Like to Be a THR Advocate in Taiwan – Hypocrisy, Health and Quebec's Flavored Vape Ban – A conversation with philanthropy journalist – Vaping Prohibitionists Threaten Harm Reduction Efforts – Call for Britain to Make Its Mark – Wide variety of vape flavors can actually help smokers quit – Call It Colonialism | Bloomberg's War on Vaping Pt. 2 – Up in Smoke: the Future of UK Tobacco Harm Reduction – Nicotine Science and Policy Daily Digest
Tobacco harm reduction news from Europe
The tax directive consultation is out – time for you to give your views on taxation for safer alternatives to smoking. The Swedish government is proposing a flavour ban for e-liquids. Germany is advancing with their tax plans, which will make vaping more expensive than smoking. Customs seizures of smuggled snus reached a record high in Finland. Read on for more on that and lots of other news.
Christopher Snowdon, Velvet Glove Iron Fist
The All Party Parliamentary Group on Vaping has published its report on the WHO's secretive tobacco conferences, the latest of which is due to be held in the Netherlands in November. Known as COP meetings (conference of the parties), they have become a hotbed of anti-vaping agitation in recent years. The WHO encourages member states to impose the strongest regulation on e-cigarettes, preferably including prohibition. They made the wrong call early on and has been doubling down ever since…
Clive Bates, The Counterfactual
Bloomberg scrutinised. Unusually, a journalist decided to take a sceptical look at Bloomberg Philanthropies and its many proxies and the impact of their war against vaping.  The result is an excellent must-read piece by Mark Gunther (@MarcGunther) in the Chronicle of Philanthropy: Bloomberg's Millions Funded an Effective Campaign Against Vaping. Could It Do More Harm Than Good? (web archive) (23 March 2021).

It is first-class public-interest journalism, with some hard messages for Bloomberg but plenty of balancing comment too.
---

---
 James Dunworth, Ashtray Blog
Opposition to vaping is driven by a complex web of factors. These include money, anti-nicotine morality and a justified distrust of anything related to tobacco companies.

To get further into the web, it's important to understand the precautionary principle.

What is the precautionary principle? The precautionary principle applies across different fields of science.

It informs policy when:
EU-Policies
Irish policymakers are facing quite a dilemma ahead of an April 5 decision date on what coronavirus control measures to loosen. On one hand, the population is weary after months of stringent restrictions; on the other, the public health situation in Ireland is now "far worse" than it was shortly before the country reopened for Christmas.

Encouragingly, the measures on the table—scrapping the ban on going more than 5 kilometres from home and encouraging outdoor activity—are precisely those recommended by leading medical experts.
---
---
Challenges WHO's Anti-Vaping Stance – Jim McDonald
A parliamentary study group in the United Kingdom has called on the British government and health authorities to challenge the World Health Organization (WHO) position on vaping at an upcoming international treaty conference. The UK is the largest and most prominent country to advocate for vaping as a harm reduction tool for people who smoke, but until now has not pressed the WHO to change its prohibitionist stance.

The recommendation came in a report by the All-Party Parliamentary Group (APPG) on Vaping, issued after a four-month inquiry into the Framework Convention on Tobacco Control (FCTC). The FCTC is an international treaty organization with 182 member states that serves as the anti-tobacco arm of the WHO. The parliamentary investigation came in response to the WHO "encouraging and applauding bans on vaping."
The JUUL in the Crown – Brad Rodu
The vast majority of people with mental illness also smoke – a lot.  In fact smoking, which delivers to tortured brains the soothing drug nicotine, is considered by many sufferers, and their doctors, as not optional.

More than 60 percent of schizophrenia patients are current smokers (here), but hope may be found in a small open-label Italian clinical trial, reported by Pasquale Caponnetto at the University of Catania and his colleagues.

Caponnetto et al. recruited 40 people with schizophrenia who did not intend to reduce or quit smoking; they were given JUUL e-cigarettes and pods for 12 weeks. ..

Three from Dave Cross, Planet of the Vapes
The All-Party Parliamentary Group (APPG) for Vaping has been holding an evidence gathering inquiry in advance of the next World Health Organization (WHO) Framework Convention for Tobacco Control (FCTC) Conference of Parties (COP9). As well as hearing from experts, organisations have been uploading evidenced documents to the APPG's website.

In the past, the UK was tied to the European Union's collective position on vaping and tobacco harm reduction as laid out in the Tobacco Products Directive which meant the COP's participants didn't get to hear about our huge successes. Later this year, the government's representatives will be free to sing about how vaping has driven an exceptional shift away from tobacco consumption.
Imperial Brands attended this year's Endoprothetik-Congress for the first time, through its Reemtsma Germany subsidiary. The annual event is hosted by the Charité Berlin and was moved online this year due to Covid-19 restrictions. Senior Cluster Officer, Scientific And Regulatory Affairs Dach & Nordics, Dr Thomas Nahde reports on the virtual event.

The Endoprothetik-Congress is an annual platform for around 400-500 surgeons, ranging from top key opinion leaders in orthopaedic surgery to early-career professionals and physiotherapists. The event encourages exchange of medical and scientific knowledge on a broad range of subjects, focusing on knee and hip arthroplasty, but include other orthopaedic topics such as post-operatic complication management and prevention.
The European Parliamentary Research Service (EPRS), a think tank, has produced a quick overview covering the initial reactions to the European Commission's Beating Cancer plan. Initial feedback from nicotine consumer organisations was far from positive as the plan looked to tax vape products like cigarettes, to extend bans on vaping in public areas, and to ban flavours.

The EPRS says its mission is, "to provide Members of the European Parliament, and where appropriate parliamentary committees, with independent, objective and authoritative analysis of, and research on, policy issues relating to the European Union, in order to assist them in their parliamentary work."
---

---
In Taiwan – Michael McGrady
Vaping captures headlines in the United States, where outcry over a perceived youth "epidemic" drives health misinformation and efforts to restrict products that could save smokers' lives—with international implications.

But tobacco harm reduction's most important battleground, where more than half of the world's smokers live, is Asia. The continent is home to a diverse range of nicotine policies, ranging from innovative approaches that the world should watch to harsh prohibitions.
Marc Gunther (Part 2 of 2) – Michael E. Hartmann
Marc Gunther does the hard work of both understanding that on which he reports and, when offering commentary, of thinking through the deeper and wider implications of various positions on issues.

Gunther's incisive work has long included coverage of philanthropy and the nonprofit sectors. It is now featured at his Nonprofit Chronicles and Medium, and he is a regular contributor to The Chronicle of Philanthropy.
Dawn McSweeney
When I walk into my local major chain grocery store, one of the first fridges I see is filled with bright, fun cans, chock full of sugar and alcohol. One in particular looks just like those red, white, and blue rocket popsicles, and hits me in the nostalgia.

They share the fridge with rows of stylized kombuchas, beckoning to shoppers in an all ages space to take their pick. You can also buy cigs there of course, tucked out of sight these days, but like an old timey speak easy, say the right words and show the right ID, and they open the secret doors. This feels normal now, though I'm old enough to remember when smokes were not only proudly displayed at pharmacy check-outs, but also sponsored just about all our noteworthy festivals.

Saddle Horse Blues
March was a big month for vaping (and tobacco harm reduction more generally) in the news. There are a lot of great articles to peruse and even a video in the mix. As always, an excerpt is provided for your convenience. Follow the links for the full content.
The Future of UK Tobacco Harm Reduction
Threaten Harm Reduction Efforts – Lindsey Stroud
April 1 is April Fools' Day and it also marks the 26th annual Take Down Tobacco National Day of Action hosted by the nanny-state organization Campaign for Tobacco-Free Kids (CTFK). The prohibitionist nonprofit uses the day as a "signature platform for empowering people to stand up and speak out against the tobacco industry." Having its event on April Fools' Day is only appropriate considering the foolish science it's peddling to prevent people from using tobacco harm reduction products.
In Fight to End Smoking – Tobacco Reporter
In a report released March 31, the All-Party Parliamentary Group (APPG) on Vaping calls upon the U.K. government to make the most of Brexit by challenging the World Health Organization's (WHO) opposition to vaping at the upcoming Framework Convention on Tobacco Control (FCTC) Conference of Parties (COP).

The call follows a four-month Inquiry into the FCTC by the APPG which investigated the FCTC's history, governance and approach to evidence-based decision-making. It was prompted by the WHO encouraging and applauding bans on vaping.
Bloomberg's War on Vaping Pt. 2 | RegWatch
Of vape flavors can actually help smokers quit – Karina Ramos
There is a great amount of misconception about flavors among the public and even among policy circles, and one would be surprised to know that flavors are actually a crucial component for an e-cigarette user to quit smoking altogether.

Numerous independent studies have provided strong evidence that the use of e-cigarettes are the most effective pathway for a typical smoker to quit the habit. Studies as recent as the Cochrane review published in October 2020, found that nicotine-containing e-cigarettes were far more effective than gums and patches. This has been confirmed by users themselves in the most recent study by Public Health England in February 2021 where smokers cited their most common reasons for using e-cigarettes as wanting to quit, stay off, and reduce smoking tobacco.
---
A look back at how things have moved on or otherwise….
Paul Barnes, Facts Do Matter
Well, these are crazy times no? Practically every country worldwide has some kind of lockdown, either voluntary or enforced. Extreme authoritarian measures are rife (I'm looking at you Hungary) with police completely misinterpreting the law (I'm looking at you UK).

All the while, intensive care unit beds (ICU) are being filled at a rapid pace. Unlike previous pandemics, COVID-19 is a bastard. A right, real bastard. It is highly contagious for one and, if the various statistics are to be believed, a real killer – though I suspect that, in some countries, COVID-19 is simply being attributed as the cause of some deaths – just as smoking is attributed to cancer related deaths.
Underdogs Bite Upwards,
Philip Morris, the baccy sellers (and lately iQOS sellers too) have donated a load of respirators to a Greek hospital. The Greek health minister has thanked them for this. The antismoker response?
Christopher Snowdon, Velvet Glove Iron Fist
It's been encouraging to see the private sector using its money, ingenuity and supply chains to help tackle the coronavirus pandemic. Mercedes F1 has been producing breathing aids. Dyson is manufacturing 10,000 ventilators. Diageo and several e-cigarette companies have been turning their skills towards producing hand sanitiser.
---
Visit Nicotine Science & Policy for more News from around the World

---