Vapers Digest 7th April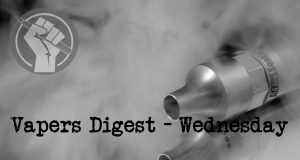 Wednesday's News at a glance:
RELX: Widely Used Coolant Not Toxic ~ Interest in Quitting e-Cigarettes Among Adult e-Cigarette Users With and Without Cigarette Smoking History ~ E-cigarettes help smokers quit for good ~ Is Vaping A Safe & Successful Way For Cigarette Smokers to Quit? This European Study Says YES ~ Understanding tobacco and health policy ~ Associate feature: Changing direction: vaping's role in achieving Scotland's 2034 smoke-free target ~ Marvel At The FDA's Idiocy ~ VApril Is Here! ~ Questions About Vaping In Parliament ~Ecigs Have Fewer Toxins Than A Spanish Street ~ Scrutinized | Bloomberg's War on Vaping Pt. 3 ~ Singapore: Four Serve Prison Terms for Selling Vapes ~ State Bans on Tobacco Products Are a Disaster ~ Regina vape shop owner worried about possible upcoming regulations ~ Victim of vape store robbery blames heavy-handed regulation for uptick in thefts ~ Vape Shop Security Will Worsen If Draft Regulations Pass ~ Retailers warn vape regulations will see a return to smoking
Jack Thomson, Holyrood
It is the hope of the Scottish Government that in just over a decade's time it will have created a tobacco-free generation.

The aim is for children born since 2013 – when the target was first set – to come of age in 2034 in a Scotland that will remain tobacco-free for generations to come.
---

---
Four from Dave Cross, Planet Of The Vapes
America's tobacco controllers have long demonstrated their separation from the things they say they care about and the things they actually do. Nothing highlights this more than claims they care about the health of teens – but they continually market a risky lifestyle directly at them. The Food and Drug Administration's "The Real Cost" initiative has teamed up with Marvel to produce a comic.
VApril 2021, the largest campaign worldwide aimed at helping smokers quit through switching to vaping, has launched in the UK for its fourth year. The annual awareness campaign was launched four years ago by the UK Vaping Industry Association (UKVIA) to help educate smokers on how to successfully quit conventional cigarettes by transitioning to vaping. This year it is partnered by Planet of the Vapes as an official media partner.
The wealth of current activity surrounding vaping and tobacco harm reduction is evidence that parliament has truly returned to normal. Nobody has been more active in this sphere than Labour's Mary Glindon who has posed a number of questions. Vapers and harm reduction advocates will be delighted with the themes running through her questions, all of which were very positive and urged the kind of changes we wish to see from the Tobacco and Related Products Regulations review.
Cadena de Ondas Populares Españolas, otherwise known as COPE, associated with the number one newspaper in Madrid, is carrying a story about vaping. In it, a professor of chemistry says that driving down any street in Madrid exposes a person to more toxins than vaping an e-cigarette.
---
Brent Stafford, RegWatch
"Show yourself and your conflicts" is the call from Dr. Roberto Sussman, an advocate for consumers of non-combustible nicotine products in Mexico and Latin America, to the billionaire philanthropist, and anti-vaping crusader, Michael Bloomberg.

To an extraordinary extent, Bloomberg through a complex network of non-profit organizations he funds influences public health policymaking at multiple levels of government in many nations across the globe.
---
Jim McDonald, Vaping 360
The government of Singapore announced today that it has convicted eight people since November 2020 of selling vaping products, handing out fines and prison terms. A 25-year-old man has been convicted of simple possession and fined.
Related: 8 people in S'pore found guilty of selling vapes online, fined S$172,500 in total
---
Katherine Revello, Inside Sources
Attempts by regulators to modify behavior rarely have their intended effect.

That's what New England is finding out, as residents exploit the region's geography and skirt state bans on tobacco by purchasing their preferred products in neighboring states. As part of an initiative to end juvenile smoking, Massachusetts banned menthol cigarettes and flavored vape products last June 1. And, by that state's data, the policy worked: Between June and September 2020, tax stamp sales declined 24 percent from the same period in 2019.
Dominick Lucyk, 980 CJME
A Regina vape shop owner is worried possible new restrictions could force people back to smoking cigarettes, along with destroying the industry. Health Canada is considering a limit on how much nicotine can be in vaping products. Vape advocates have speculated that a ban on flavours could also be in the works.
---

---
TVNZ, One News
A store selling vape products is blaming heavy-handed regulation for an increase in violent robberies. It comes after CCTV captures a dramatic robbery at a vape crew store in Matamata. The violent smash and grab saw robbers flee with thousands of dollars worth of products two weeks ago.
Nancy Loucas, Aotearoa Vape Community Advocacy (AVCA)
Concerns raised in the vaping industry about shop security could become a wider reality if proposed regulations add more cost and scarcity to vaping products, says a leading Kiwi tobacco harm reduction advocate.
The government is cracking down on who can sell what vape products in the hopes of stopping young people from picking up a nicotine habit. But retailers warn this will have a bigger impact on current smokers trying to quit.

Proposed regulations would limit general retailers to selling tobacco, menthol or mint flavoured vape products. Anyone wanting a vape flavour unrelated to cigarettes would need to go to a specialised vape store.
---
Paul Barnes, Facts Do Matter
Undercover investigation finds 9 in 10 vape shops prepared to sell to non-smokers

This is news according to the Royal Society of Public Health. According to the quotes in the media, there is an industry wide 'Code of Conduct' that, apparently, all vape shops supposedly abide by. Thing is, that really isn't the case.
Dick Puddlecote
This week saw the publication of the WHO Framework Convention on Tobacco Control's (FCTC) Global Progress Report following their seventh Conference of the Parties (COP7) in November.

For those not familiar with COP7, it was an event where around a thousand grey, soulless, anti-smoking extremists from all over the world jetted to India on tax-funded expenses and – during the worst lung-choking smog that Delhi has seen for 17 years – spent two days discussing whether or not to ban e-cigs. I went along too out of morbid curiosity; you can read my account here.
---
Visit Nicotine Science & Policy for more News from around the World

---