Vapers Digest 9th April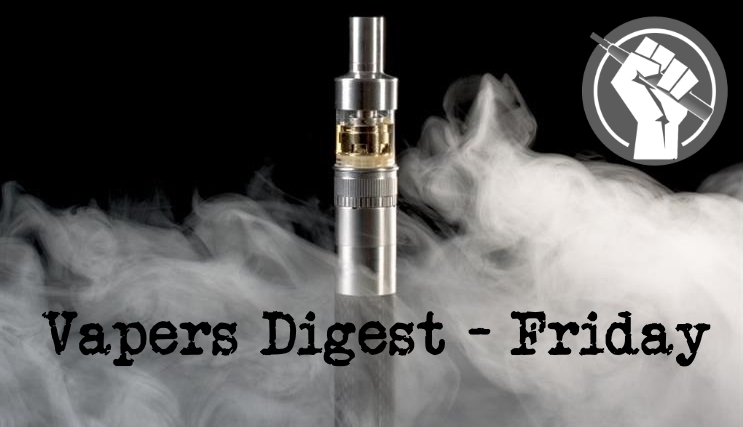 Friday's News at a glance:
URGENT CALL TO ACTION FOR EU TAX CONSULTATION – Smoking Rates Tumble Across UK and EU – Vaping Prohibitionists Host Conference – Marvel Comics Creates Anti-Vaping Propaganda for FDA – "Mind Control Menace" – Vape Mail Ban Will Cause More Harm Than Good – IBVTA Welcomes Return Of Vape Store opening – Consumer Organisation Concerned About Vape Shop Security – VApril: Win By Switching To Vaping – UKVIA's VApril Webinar – The APPG Report on the FCTC COP9 – Tobacco Harm Reduction: is there a "philanthropic colonialism" – Happy Unicorn Day – Misinformation and disinformation against THR – Vaping and e-cigarettes might actually help – Anti-Vaccine and Anti-Vaping: – Saskatchewan vape store owners upset – Lawmakers Want the FDA to Remove Vaping Products – Nicotine Science and Policy Daily Digest
FOR EU TAX CONSULTATION – ETHRA
The next phase of the review of the Tobacco Taxation Directive has started.  A public consultation is now open, ending on 22 June.  The Roadmap consultation earlier this year only received 134 submissions. It is really important for consumers to give their views now. 

Most of the consultation questions are about smoked tobacco products but there are some questions relating to "new products", such as vaping products and heated tobacco products.

The reasoning for including new products:
Thanks To Vaping – Neil Humber
According to the latest EU own statistics, smoking rates tumble across the UK and Europe thanks to vaping.

The numbers don't lie and show a whopping 121% increase in the number of smokers making the switch to safer nicotine products such as e-cigarettes and SNUS.

The Eurobarometer is a series of public opinion surveys run by the EU and shows without doubt, vaping, and other safer nicotine products such as SNUS, are proving the very best way to quit smoking.

Speaking of SNUS, thanks to those little nicotine pouches, Sweden has almost created a smoke free society – amazing news.
---

---
To Confirm Their Own Views – Alex Norcia
On April 7, the organization Parents Against Vaping E-Cigarettes (PAVE) hosted a day-long virtual conference called "Clear the Vapor: The Way Forward."

For the relatively sparse numbers who tuned in live, it was a call to arms. Prohibition-minded academics, lobbyists, parents and elected officials got together on Zoom to confirm their own beliefs about the dangers of vaping and the necessity of banning flavored e-cigarettes. They also charted a path for the future, as the Food and Drug Administration (FDA) evaluates the premarket tobacco product applications that vaping companies had to file last September.

Completely absent from the conversation, of course, were tobacco harm reductionists and adults who used vapes to quit cigarettes.
Will Cause More Harm Than Good – Craig Donofrio
Tucked away into the 5,500-page federal COVID relief legislation that passed in December 2020 was a provision that banned the United States Postal Service from shipping virtually any kind of vaping or e-cigarette product to individuals. The legislation is called the Prevent All Cigarette Trafficking (PACT) Act. You probably know it as the "vape mail ban."

While the bill only covers the USPS, the passage of PACT triggered all major U.S. shipping providers to jump on board with banning vape products. Here's the breakdown:
---
---
Jim McDonald, Vaping 360
The FDA Center for Tobacco Products will collect more than $700 million in tobacco company users fees this year, and it has committed to spending a big chunk of that booty on "anti-tobacco" messaging—which nowadays means anti-vaping messaging. The Real Cost ads are supposed to be targeted at teenagers.

Advertising agencies bid for the opportunity to wow the FDA with their clever ideas for driving home the message that vaping and nicotine are bad, abstinence is good, and it's cool to just say no. However, since the adventurous kids who are likely to try vaping aren't generally receptive to these messages, the process is repeated every year with no discernible effect. It will continue until the FDA stops collecting money from tobacco companies or the sun explodes.
The FDA's Comic Attempt to Terrify Teen Vapers –  Alex Norcia
A terrible menace has descended on a small town… It appears to be a plague, an ever-spreading green vapor that targets high school students and transforms them into zombies. Soon, half the students in the school are walking around with frighteningly blank, pale-green eyes.

"No one noticed at first," the comic reads in the beginning. "The changes were subtle." So subtle, in fact, that a basketball player emanates billowing clouds of green gas from his body as his teammate, terrified, looks up at him from the floor. It only gets worse. A girl who "usually maps out her whole year before breakfast" has no summer plans. The basketball player can't make a shot.

Five from Dave Cross, Planet of the Vapes
Trade body The Independent British Vape Trade Association (IBVTA) held a Zoom webcast last week to celebrate the forthcoming reopening of British vape stores on 12th April, following an enforced period of closure due to the latest Covid-related lockdown. The webcast was aimed at those planning on reopening their stores and other people interested in what is going on behind the scenes to make the transition as seamless and successful as possible.

Chief Executive Gillian Golden opened proceedings by giving an overview of The IBVTA(1). It is a non-profit, non-political trade body, set up in 2016 by some of the UK's leading independent manufacturers, importers, distributors, and vendors. It has been established to support the independent vape industry irrespective of company size or operation.
Aotearoa Vapers Community Advocacy (AVCA) has raised concerns that the vaping industry is worried about shop security and the implications if proposed regulations add more cost and scarcity to vaping products.

AVCA(1) was formed in 2016 by vapers across New Zealand wanting their voices heard in local and central government. All members are former smokers who promote vaping to help smokers quit – a much less harmful alternative to combustible tobacco products. AVCA does not have any affiliation or vested interest in industry – tobacco, pharmaceutical and/or the local vaping manufacturing or retail sectors.
John McFadden from Southampton proved that there's more than one way to win by switching from smoking to electronic cigarettes this VApril. The meat delivery man also pocketed £1 million on a National Lottery Scratchcard when he stopped off at his local shop to stock up on a new vape.

According to his local newspaper, the East London and West Essex Guardian, McFadden purchased his vape to help him quit smoking and was left with some change that he used to buy the Scratchcard.
Trade body the UK Vaping Industry Association (UKVIA) hosted a webinar to celebrate the launch of VApril and discuss wider issues surrounding vaping and tobacco harm reduction. Experts spoke about the legislative review being undertaken by parliament, the World Health Organization's COP9 coming later in the year, misinformation, and how VApril plays into regulatory challenges.
Trade body the UK Vaping Industry Association (UKVIA) has responded to the publication of the All-Party Parliamentary Group (APPG) report on the Framework Convention on Tobacco Control's Conference of Parties (COP9). The report strikes out in favour of the UK's world-leading approach to tobacco harm reduction and advocates a stronger line from the UK government given that we are the largest funders of COP9.
---

---
Is there a "philanthropic colonialism" towards developing countries?
In September 2019, Bloomberg Philanthropies allocated $ 160 million for a three-year campaign to promote anti-smoking policies among American teenagers. Among the objectives of the initiative, the ban on the marketing of electronic cigarettes (and related flavours) and the blocking of the activities of all ECIG manufacturing companies in the country.

In subsequent years, the anti-vaping message dominated the political discussion in the US media along with the growing fear of health risks incorrectly linked to the use of e-cigarettes. Together with the states that banned the marketing and use of these devices tout-court, a progressive campaign of demonization of e-cigs and the risks associated with their use mounted.
Celebrating Unicorn Poop and Other Tobacco Harm Reduction Products
Lindsey Stroud – Taxpayers Protection Alliance
Even though most people think of Tax Day when April arrives, there is another tradition called National Unicorn Day, a day to celebrate the mythical creature, that is recognized every April 9th. As a strong advocate for tobacco harm reduction products, I'd prefer to celebrate Unicorn Poop – a real vaping flavor loathed by politicians that seemingly confuse it with JUUL and tobacco companies' vapor products.

At a 2019 White House roundtable with then-President Trump and members of the pro and anti-tobacco and vaping communities, Senator Mitt Romney(R-Utah) turned his attention to cotton candy and Unicorn Poop-flavored e-liquid and erroneously declared that "most adults are not using flavors."
Against tobacco harm reduction – Vaping Today
Access to information is a human right. And the quality of the information depends on the authenticity, reliability, and factual precision of the data set that compose it so that it can be delivered, objectively, and without dogmatic nuances.

In a global study conducted in 2019, 62 percent of respondents felt that there was a large amount of fake news on websites and online platforms. And it is easy to perceive that they are right.
Might actually help smokers quit – Bianca Healey
The prevailing story around vaping — particularly after a spate of vape-related respiratory hospitalisations and deaths across the US in 2019 — suggested that the promise of vapes and e-cigarettes as clean and consequence-free had been severely misrepresented.

But new research out of the University of Queensland could challenge those assumptions.

Most e-cigarettes are battery operated vessels that mimic the experience of cigarette smoking. Liquid, which can contain nicotine, is heated and inhaled as a vapour.

Against Science and Innovation – Federico N. Fernández
Among the many problems originated by the Covid 19 pandemic, one of the most important is the resurgence of the anti-vaccine movement. Conspiracy theories, ridiculous arguments and unfounded accusations have given renewed fuel to one of the most anti-scientific and destructive trends we have ever seen.

The nefarious contemporary anti-vaccine movement originated at the behest of a paper published in 1998. Former physician (his license has since been revoked) Andrew Wakefield claimed  that the measles, mumps and rubella vaccine cause autism. Although the paper was eventually refuted and retracted, the damage was done.
Upset over new 20 per cent tax on products
Vape store owners in the province aren't thrilled after Saskatchewan introduced a new tax on vape products in its 2021-22 budget Tuesday.

The vapour products tax (VPT) is a 20 per cent tax on the retail price of all vapour liquids, products and devices effective Sept. 1.

As of that date, the province said only retailers with a VDT licence are allowed to sell those products.
Remove Vaping Products From the Market Again – Michael McGrady
House Democrats have asked acting Food and Drug Administration (FDA) Commissioner Janet Woodcock to remove all vaping products from the market during an ongoing product approval process, despite evidence showing millions of Americans have used these alternatives to stop smoking traditional cigarettes.

"Flavored e-cigarettes are putting a new generation of kids at risk of nicotine addiction and the serious health harms that result from tobacco use. And these products are widely available and popular with kids," notes the letter signed by Reps. Debbie Wasserman Schultz, D-Fla., Diana DeGette, D-Colo. and 40 of their colleagues.
NST Business
KUALA LUMPUR: 88 per cent of Malaysian vapers who used to smoke cigarettes have successfully quit smoking with the aid of vape, according to a survey commissioned by Malaysian Vape Industry Advocacy (MVIA)

The survey, conducted by market research company Green Zebras Sdn Bhd (GZSB) also found that 79 per cent, who currently vape and also smoke traditional cigarettes at the same time, have reduced smoking since taking up vape.

66 Per cent of current smokers will start vaping or continue to vape to quit smoking completely, the survey further showed.
---
A look back at how things have moved on or otherwise….
Health, Risk & Society, Taylor & Francis Online
Abstract: Framed both as a solution to and as an additional part of the tobacco problem, e-cigarettes have been the subject of risk controversies since they were launched in 2006, followed by massive divergence in media, public health approaches and regulations across the world. This study explores vapers' risk perceptions and accounts of the public risk communication and regulation of e-cigarettes in a Norwegian context were nicotine-containing e-liquids are prohibited from being sold by domestic retailers.
Lynne Dawkins, The Psychologist
Lynne Dawkins explores the role of nicotine and non-nicotine contributions to smoking and considers a promising new device for kicking the habit. Also, listen to our interview with Lynne.

Smoking is the single most preventable major cause of illness and early death, with nearly one in five deaths (in those aged 35 or above) caused by smoking. Smoking has a multitude of effects on health, that most smokers are aware of. So why do more than one in five adults continue to smoke? And why is it so hard to give up?
Jane Allman, Hospital Healthcare
E-cigarettes containing nicotine are illegal in Australia. Some health experts believe they shouldn't be, arguing that e‑cigarettes are an effective smoking-cessation tool. Others say that vaping is harmful and warn of an uptake in vaping by young Australians. So what is Australia's best path to achieve the best public health outcome: legalise vaping or not?
---
Visit Nicotine Science & Policy for more News from around the World

---