Vaping Digest April 8th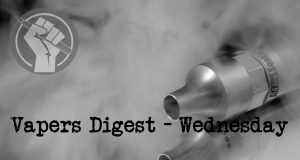 Wednesday's News at a glance:
Bottom-up meets top-down: exploring vapers' accounts of risk in a context of e-cigarette controversies ~ Why is it so hard to quit smoking? ~ Vaping: risky business or sensible quit strategy? ~ Vaping-linked lung injury less common in states with legalized marijuana ~ Vaping Bill Could Create More Community Harm ~ Thai Group Demands Rethink ~ South African Association Demystifies Vaping ~ Healthcheck UK Live ~ Dear Mitch ~ Finland: Consumers demand access to snus during COVID-19 restrictions ~ Federal Regulators Sue to Stop Altria's $13B Investment in JUUL  ~ NY's New Vape Flavor Ban Attacks Public Health Amid Public Health Crisis
of risk in a context of e-cigarette controversies
Health, Risk & Society, Taylor & Francis Online
Abstract: Framed both as a solution to and as an additional part of the tobacco problem, e-cigarettes have been the subject of risk controversies since they were launched in 2006, followed by massive divergence in media, public health approaches and regulations across the world. This study explores vapers' risk perceptions and accounts of the public risk communication and regulation of e-cigarettes in a Norwegian context were nicotine-containing e-liquids are prohibited from being sold by domestic retailers.
Lynne Dawkins, The Psychologist
Lynne Dawkins explores the role of nicotine and non-nicotine contributions to smoking and considers a promising new device for kicking the habit. Also, listen to our interview with Lynne.

Smoking is the single most preventable major cause of illness and early death, with nearly one in five deaths (in those aged 35 or above) caused by smoking. Smoking has a multitude of effects on health, that most smokers are aware of. So why do more than one in five adults continue to smoke? And why is it so hard to give up?
Jane Allman, Hospital Healthcare
E-cigarettes containing nicotine are illegal in Australia. Some health experts believe they shouldn't be, arguing that e‑cigarettes are an effective smoking-cessation tool. Others say that vaping is harmful and warn of an uptake in vaping by young Australians. So what is Australia's best path to achieve the best public health outcome: legalise vaping or not?
---
Brian P. Dunleavy, UPI
Severe lung illnesses caused by vaping are more common in states where consumers do not have legal access to recreational marijuana dispensaries, an analysis published Monday by JAMA Network Open suggests.

A spate of e-cigarette- or vaping-associated lung injury, or EVALI, in 2019 was associated with use of marijuana-based products and more than half of the documented cases occurred in people 25 years of age and younger, according to the U.S. Centers for Disease Control and Prevention.

---
India should emulate the success of smoke-free products in the EU, UK, USA and Japan as an effective tool for nicotine replacement under a regulated environment. @MoHFW_INDIA @ICMRDELHI @NITIAayog @WHOSEARO https://t.co/afFLeuzzJZ

— AVI (@vapeindia) April 7, 2020
Having donated life-saving ventilators to the people of Greece, tobacco companies are now trying to help homeless smokers by offering them free vaping gear. But apparently it's all a dastardly plot to undermine the almighty Article 5.3https://t.co/Hk2zVDRKCt pic.twitter.com/s3HcvL0qHp

— David Newell (@dnglos) April 3, 2020
---
Welcome to our twitter chat as we host @ChaunceyGardner to discuss 'Innovative approaches to support smoking cessation '. Use the hashtag #SaferAlternatives to join in the conversation pic.twitter.com/XVdz9FKWm1

— Campaign for Safer Alternatives (@GoingSmokefree) April 8, 2020
---
The Aotearoa Vapers Community Advocacy (AVCA) will challenge Parliament's Health Select Committee tomorrow morning, saying the Government's vaping bill in its current form runs the risk of protecting Big Tobacco.

Director of AVCA, Nancy Loucas, says the submission highlights some glaring omissions that prevent the bill from being comprehensive and risk proportionate. It also warns that vaping must be regulated differently to smoking, given it's considerably safer and effective in helping smokers quit tobacco.
---
Three  Four from Dave Cross, Planet Of The Vapes
A heart 'study' by Stanton Glantz was used by anti-vape activists to push for a ban on vaping in Thailand. Now, following its retraction for academic malfeasance by the publishing journal, the Ends Cigarette Smoke Thailand (ECST) group has called for a rethink and pressed for the use of responsible research in future discussions.
The Vapour Products Association of South Africa (VPASA) represents manufacturers, wholesalers, and retailers of smoke-free vapour products in South Africa. Facing up to misinformation being spread about vaping, the organisation speaks out to demystify vape.
BBC's Healthcheck UK Live follows bartender 'Ace', a smoker, as he successfully uses vaping to improve his health and reduce his tobacco-related harm. Along the way we meet Dr Nick Hopkinson from the British Lung Foundation, who issues some no-nonsense facts about vaping.
Thomas Miller, the Attorney General of Iowa has written to Mitch Zeller, the Director of the Centre for Tobacco Products at the Food and Drug Administration (FDA). He and a number of other tobacco harm reduction advocates are concerned about recent statements linking vaping to the COVID-19 pandemic.
---
European Tobacco Harm Reduction Advocates
With the onset of COVID-19, governments around the world are frantically trying to put measures in place to deal with the greatest crisis we have faced in a generation. In many countries all but non-essential businesses have been shut, mass gatherings have been banned, countries have closed their borders and strict travel restrictions have been put in place. These measures, together with social distancing, are vital to ensure we 'flatten the curve' and slow down the spread of the virus, but they have also presented some challenges and had unintended consequences of their own.
Jim McDonald, Vaping 360
The Federal Trade Commission is suing to stop Altria's $12.8 billion investment in JUUL Labs, claiming that the two companies engaged in anti-competitive practices. That deal, which was announced in December 2018, gave the Marlboro cigarette manufacturer a 35 percent stake in e-cigarette market-leader JUUL.
Helen Redmond, Filter
On April 3, at 3:38 am, the New York State Assembly passed a budget that includes a ban on the sale of vapor products in flavors other than tobacco. The ban was passed with no public debate; the State Capitol has been on lockdown for weeks because of the COVID-19 pandemic.

Governor Cuomo hates vaping and has made it his personal project to pass a flavor ban. Last fall, he directed the state health department to impose an emergency ban of flavored vaping products. That action was first put on hold by the courts, and eventually struck down entirely.
---
---
A look back at how things have moved on or otherwise…
Carl V. Phillips, Anti-THR Lies
As regular readers know, I have written a fair bit about the nature of lies. I make a serious study of it as part of the mission of this blog and my larger approach to the politics of harm reduction and real public health. I do this with as much scientific rigor as is possible for such a question. Recently a confluence of events — the ongoing attempts of the press to deal with Trump's claims, dealing with my ex's lawyer, and most importantly the "vaping causes seizures" controversy — reminded me that I have not updated my thinking on this for a while. So here goes.
A new survey suggests that very few smokers know there is sugar added to cigarettes to reduce the harshness of the smoke, and that the added sugar also increases toxins in cigarette smoke.

This is according to a study published in the journal Nicotine and Tobacco Research.

"Knowledge is power and there is a clear gap in awareness," said lead researcher Andrew Seidenberg, a public health doctoral student at the University of North Carolina at Chapel Hill. He added that in addition to increasing the amount of harmful chemicals in smoke, the sugar additive also adds to the addictive potential of smoking.
---
Visit Nicotine Science & Policy for more News from around the World

---