Vaping Digest April 8th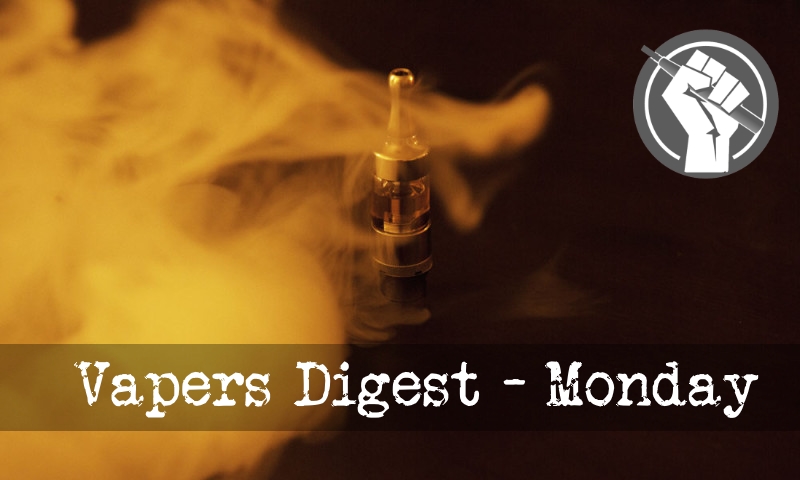 Monday's News at a glance:
Myth and misunderstanding around vaping – What is a lie?, revisited – THR In The Lords – Bus man Burnt By Battery – Vaping In The News April 6th – Proposed bill would raise national legal sales age – Added Sugar in Cigarettes – Did You Know? – Vaping is attracting cautious support – Potential of Snus in Malawi/ Africa – Wrestling with Curiosity and Fear About Nicotine – Diagnosing the Youth Vaping 'Epidemic' – Bill to regulate cigs, e-cigs in pipeline – NGO writes to PMO for regulations on vaping products – Regional consumer group backs local vapers – Nicotine Science and Policy Daily Digest
Dr Roger Henderson, The Hippocratic Post
I am, in my bones, a law-abiding sort of chap. I was brought up to respect the law and in turn have done the same with my children. I have also spent much of my medical career doing my best to help smokers quit their habit using all the methods available to me.

You might wonder what links these two statements and the answer lies in Hong Kong where – if I was a smoker trying to quit their cigarettes – I would now be wondering if I was going to be sent to prison for up to six months simply by carrying an e-cigarette in my pocket.
Carl V. Phillips, Anti-THR Lies
As regular readers know, I have written a fair bit about the nature of lies. I make a serious study of it as part of the mission of this blog and my larger approach to the politics of harm reduction and real public health. I do this with as much scientific rigor as is possible for such a question. Recently a confluence of events — the ongoing attempts of the press to deal with Trump's claims, dealing with my ex's lawyer, and most importantly the "vaping causes seizures" controversy — reminded me that I have not updated my thinking on this for a while. So here goes.
---

---
Dave Cross, Planet of the Vapes
Tobacco harm reduction was the subject of debate in the House of Lords, where Baroness Blackwood, The Parliamentary Under-Secretary of State for the Department of Health and Social Care, took questions from other members of the second chamber. While vaping received supportive comments the same can't be said for snus.
Viscount Ridley opened the proceedings but raising the subject of snus: "What assessment [the department has] made of the levels of smoking and incidence of lung cancer in Sweden as a result of steps taken by that government; and what plans Ministers have to visit that country as part of their forthcoming review of tobacco harm reduction?"
Dave Cross, Planet of the Vapes
Berkshire bus driver James Barnes swapped smoking for vaping but forgot to follow the simple safety steps to ensure he didn't short his batteries. While driving to work last week, he had to pull over and hop out as a lithium-ion cell began to vent, causing serious burns to his leg.
Three months into his vaping journey, everything had been "fine", according to Barnes. This was until his morning commute to work on Thursday, March 26…
---
---
Kevin Crowley, Vaping Links
Some FDA Claims About Teen Vaping Confirmed, Others Evaporate ~ Changing Perceptions ~ Unfair advantage ~ Vaping Taxes Do Not Deter Youth Use of E-Cigarettes ~ FDA's Fake E-cigarette News ~ Bye, Felicia: Gottlieb Leaves FDA After Bizarre Seizure Warning ~ School district randomly testing for vaping paraphernalia ~ Wrestling with Curiosity and Fear About Nicotine ~ Dimi Rant
Michael McGrady, Vaping Post
A bill with bipartisan support could increase the national minimum legal sales age (MLSA) to buy tobacco and nicotine products from 18 to 21. Altria and Juul Labs support such policies.

Reps. Robert Aderholt (R-Ala.) and Juan Vargas (D-Ca.) have introduced legislation meant to increase the national minimum legal sales age (MLSA) to purchase tobacco and other non-medical nicotine products from 18 years to 21 years.
A new survey suggests that very few smokers know there is sugar added to cigarettes to reduce the harshness of the smoke, and that the added sugar also increases toxins in cigarette smoke.

This is according to a study published in the journal Nicotine and Tobacco Research.

"Knowledge is power and there is a clear gap in awareness," said lead researcher Andrew Seidenberg, a public health doctoral student at the University of North Carolina at Chapel Hill. He added that in addition to increasing the amount of harmful chemicals in smoke, the sugar additive also adds to the addictive potential of smoking.
---

---
Ruth Nichol
Mel Morris tried to give up smoking using all the usual nicotine-replacement products – gum, patches and lozenges – without any success.
Then in 2015, she joined a pilot programme in which eight Māori women used e-cigarettes (vaping) in an attempt to stop smoking. Within a few weeks of starting the Vape2Save programme set up by public health advocate Rebecca Ruwhiu-Collins, Morris felt healthier and more energetic. After eight months she was also debt-free – vaping is 90% cheaper than smoking ready-made cigarettes.
Chimwemwe Ngoma and Vitta Mithi
Smoking rates continue to rise in Africa and its low income countries such as Malawi while in the rest of the world they are falling[i]. Accessibility and affordability of Safer Nicotine Products such as electronic cigarettes remain a challenge in the continent. Do economically and culturally acceptable Safer Nicotine Products have potential to drop smoking rates in Africa? Snus availability in Sweden appears to have contributed to the unusually low rates of smoking among Swedish men by helping them transfer to a notably less harmful form of nicotine dependence[ii]. Can Africa borrow a leaf from the Swedish snus?
Brent Stafford, Regulator Watch
To harm reduction information should be considered
Lynn T. Kozlowski, University at Buffalo
While a human right to health-relevant, harm reduction information even for youth has been widely accepted for sexual health for decades by major national and international agencies, such a human right has more often been ignored for youth who are using tobacco/nicotine products. This commentary reflects on the need for public health ethical assessments that include genuine consideration of a human right to health-relevant information for both youth and adults.  Such consideration would not necessarily mean that the human right determines the right course of action, especially when the net utility for population health is being debated . But the failure to even consider human rights as a critical prima facie issue constitutes an incomplete bioethical assessment.
Joe Gitchell
As Conscienhealth recently wrote, we need more curiosity in the fields of nutrition and obesity. That includes a willingness to challenge our pre-existing beliefs. I submit that this is true in nicotine research, too, even among our most capable researchers.

Risk Perceptions: Last week, JAMA published a report on trends in relative risk perceptions between e-cigarettes and conventional cigarettes held by the American public from 2012 to 2017, relying on two different repeating, cross-sectional surveys. Huang et al noted:

Jerry Choong, Malaysia
The Health Ministry is currently working on a new Bill that will address both traditional tobacco cigarettes and electronic alternatives, which they aim to complete by the year's end. Minister Datuk Seri Dzulkefly Ahmad said at the present, tobacco cigarettes and vape come under different laws.

"Cigarettes are regulated by the Control of Tobacco Products Regulation 2004, itself under the Food Act 1983, while e-cigarette liquids containing nicotine fall under the Poisons Act 1952," he said during the World Health Day 2019 celebrations at the ministry complex.
New Delhi: An NGO has written to the Prime Minister's Office highlighting the need for a regulatory framework for vaping products, so that they can be used as an alternative to combustible tobacco products like cigarettes. The Heart Care Foundation of India also marked the letter to the Ministry of Health and state health departments on policies and regulations of vaping products, including e-cigarettes, based on a consensus statement signed by leading medical practitioners, which is scheduled to be published in the April edition of Indian Journal of Clinical Practice.
Manila Standard
An alliance of consumer tobacco harm advocates in the Asia Pacific region expressed firm support to local vaping groups advocating for fair and reasonable regulation of electronic cigarettes in the Philippines.
"Access to safer nicotine products such as e-cigarettes among adults who wish to use such products in lieu of combustible tobacco is a human right. We urge the Department of Health and Philippine Food and Drug Administration to acknowledge the scientific evidence supporting the reduced harm of electronic cigarettes and to not severely restrict their availability to adults based on outdated and scientifically flawed opinions," according to a position paper released by the Coalition of Asia Pacific Tobacco Harm Reduction Advocates.
---
A look back at how things have moved on or otherwise….
A guide to the sophistry of anti-vaping activists
Clive Bates, The Counterfactual
This puts it nicely:

Life is short and shorter for smokers. Just legalise vaping.

That statement is a plain-speaking and hyper-concise dissenting report from Andrew Laming MP, one of two dissenting reports from Australia's recently-completed parliamentary inquiry into vaping  (The other dissenting report provides a model clear, concise reasoning too, and, unusually, the dissent came from the committee chairman, signalling a welcome fracture in Australia's political support for prohibition)
Dick Puddlecote
There may well come a time where the name Glantz is used as a byword for production of the worst kind of deliberate junk science, such is his expertise in the practice.

Just like we derive the term gerrymandering from the grubby antics of Elbridge Gerry, so we may – nay, should – in future refer to research fraudulently contorted to achieve a preconceived conclusion in any discipline to have been 'Glantzed'.
Simon Thurlow, Midnight Musings
I have been holding my tongue over the last few days, though the temptation to lash out and say a few choice words has actually been overwhelming. I have watched as vapers have attacked other vapers, watched smoking advocates attack harm reduction advocates and vice-versa, then watched everyone attacking everyone over the new sugar tax. Now today, I have seen some people going ballistic over seeing an advert for Heat Not Burn at a Vape convention.
---
Visit Nicotine Science & Policy for more News from around the World

---