Vaping Digest April 5th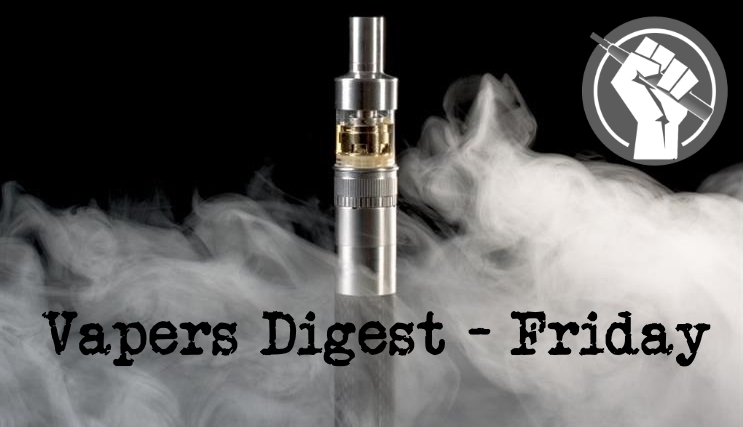 Friday's News at a glance:
Urgent need for health professionals to be better educated – Harry's blog 85: The truth deficit – A Guide for Stop Smoking Services – Don't just sit there and let Hong Kong ban vaping – Fear of Vapor Rules the Schools – FDA Fearmongering – Bye, Felicia: Gottlieb Leaves FDA – CTFK Lobbying in Bangladesh – JUUL Evidence Renders Attacks Toothless – Gottlieb's Parting Shot At Vaping – Radical Research Is Positive – Vape Jam 2019 – Vaping Taxes Do Not Deter Youth Use of E-Cigarettes – Sharpless Shouldn't Stop Snus – Where Anti-Vaxxers and Anti-Vapers Meet – Cannabis Vs. Nicotine Paradox – Youth smoking in New Zealand continues to fall – Tobacco industry facing 'difficult' times – Nicotine Science and Policy Daily Digest
To be better educated about nicotine – New Nicotine Alliance
Just last month, we published a blog describing how government messages on reduced risk products are not getting through to the NHS. You can read the whole thing here but this was the summation.

We are in the second decade of the 21st century but NHS trusts seem to be stuck in the past and not yet caught up on where the government is going. If NHS England truly seeks to reduce smoking by any means, it should be more imaginative in its approach and, if nothing else, at least listen to the messages coming from government and its institutions.

This week, we were also contacted by the Daily Express about new research that revealed only a pitiful 7% of GPs felt confident enough to recommend e-cigarettes to smokers who present themselves to surgery. The NNA was quoted in the article.
Harry Shapiro
When I was in Australia, my very good friend Dr Alex Wodak took me to one side and, in his typically low key, gentle manner, berated me for my attack on public health prompted by Ron Dworkin's article on how public health messaging has taken on the mantle of moral crusading (see Blog 83). Alex pointed out all the good that public health has done in improving health in many different areas, not least in tobacco control.
---

---
James Dunworth, Ashtray Blog
It's official – electronic cigarettes are now the most popular way to quit. And when electronic cigarettes are combined with advice and support from stop smoking services, incredible quit rates are achieved.

Unfortunately, the most effective way to quit smoking is highly underused. In 2016/17 just 4% of people using stop smoking services were also using electronic cigarettes.

That could be about to change. Public Health England is challenging stop smoking services to offer vaping devices, and we're seeing an increased number of enquiries from services, local housing associations, mental health organisations and more looking to offer electronic cigarettes to their users.
And let Hong Kong ban vaping – Christopher Snowdon
In February, the government of Hong Kong announced the prohibition of e-cigarettes and heat-not-burn tobacco products. As CNN reports…

Under the sweeping draft law, which begins its path through the legislature on February 20, anyone who imports, makes, sells or promotes new smoking products could face six months in jail or a HK$50,000 ($6,370) fine.

Imagine jailing people for helping someone give up smoking. Imagine thinking that prohibition works. This is an incredibly stupid and harmful idea. I'm particularly annoyed by it because I would like to visit Hong Kong one day.
---
---
Jim McDonald, Vaping 360
Across the country, school officials are engaged in what appears to be a kind of collective insanity over student vaping. Schools are holding emergency student assemblies and meetings with parents where often-shocking misinformation is distributed. Principals are sending letters to students' homes filled with horrific hyperbole about popcorn lung and nicotine addiction. Some schools are removing the doors from restrooms to reduce illicit vaping. And in some cases, students caught vaping are even being turned over to the policefor criminal prosecution.
Gregory Conley, AVA
This morning, outgoing FDA Commissioner Scott Gottlieb issued a press announcement on a "potential safety issue" relating to vaping products and seizures. According to the FDA, over the last nine years, 35 seizures have reported to the FDA's Adverse Event Reporting System (AERS) by the doctors of individuals who reported that they vaped at some point prior to suffering a seizure or convulsion.

Commissioner Gottlieb repeatedly noted in his announcement that no link has actually been established. Indeed, the FDA acknowledged that "a few" of these individuals reported a prior history of seizure diagnosis, "a few" reported the use of marijuana or amphetamines, and some suffered seizures after just "a few puffs" or "up to one day after use."
After Bizarre Seizure Warning – Jim McDonald
Based on 35 self-reported incidents over nine years that connect vaping to seizures, the FDA issued a press release and a statement from the commissioner claiming that the reports "warrant scientific investigation." Of course, there are a few problems.

"We want to be clear that we don't yet know if there's a direct relationship between the use of e-cigarettes and a risk of seizure," said the commissioner in a joint statement with Deputy Commissioner Amy Abernathy. "We can't yet say for certain that e-cigarettes are causing these seizures."
---

---
Five from Dave Cross, Planet of the Vapes
The Campaign for Tobacco-free Kids (CTFK) is using its Bloomberg millions to push its ignorant agenda in foreign fields. Not content with foisting lies and misinformation on the American public, the lobby group is now shoving its poisonous agenda on Bangladesh.
"You can't make this stuff up," says Foundation for a Smoke-Free World's Charles Gardner, PhD. "The Campaign for Tobacco-free Kids makes this stuff up."
The Harm Reduction Journal has published a behavioural study looking the reasons for using a JUUL device. The results showed JUULs, flavours, and other factors were good at predicting past 30-day abstinence from cigarette smoking. JUUL Labs commissioned and funded the Centre for Substance Use Research (CSUR) to independently design and administer the survey.
People were invited to participate in this study through email invitations and inserts in JUUL starter kits. The research was conducted in the United States where there has been vitriolic opposition to tobacco harm reduction and vaping.
Scott Gottlieb is spending his remaining hours as commissioner of the Food and Drug Administration (FDA) launching a new volley of lies and smears at tobacco harm reduction. In a desperately gutless and immoral manner, Gottlieb ignores reason and evidence to accuse vaping of potentially triggering seizures in teenagers.
"We know that nicotine isn't a harmless substance, especially in the developing brains of our youth," says the FDA press release. A single rodent study is all Gottlieb has to support this claim.
Mikhail Shein, and Gunnar Jeschke have conducted a study, "Comparison of free radical levels in the aerosol from conventional cigarettes, electronic cigarettes, and heat-not-burn tobacco products". They discovered that free radical levels are substantially reduced in vaping and heat-not-burn (HNB) products when compared to those found in cigarette smoke.
Vape Jam 2019 takes place at ExCeL London, from the 11th to 13th of April. Business-to-Business days take place on Thursday and Friday (for trade customers only), with Saturday open to the general public.
It is the fifth consecutive year for Vape Jam and the organisers promise, "Plenty of entertainment, giveaways, raffles, vendor awards & many more." While non-vapers are welcome, it is important to note that this is strictly an 18+ event – no children will be allowed inside.

Lindsey Stroud
Lawmakers in dozens of states are attempting to curb youth e-cigarette use by introducing excise taxes on vaping products. Typically, these include wholesale taxes determined by price and per-milliliter taxes based on product volume. Some of the proposals introduced would tax e-cigarettes that do not contain nicotine.

The use of electronic cigarettes by young people needs to be addressed. However, taxes are an ineffective measure for deterring youth e-cigarette use. Moreover, excise taxes are typically used by lawmakers to discourage the use of dangerous products and should not be applied to tobacco harm reduction products.
Eric Boehm
Even as the Food and Drug Administration (FDA) seems poised to continue cracking down on e-cigarettes and vaping as alternatives to smoking, the agency might be loosening its hardline stance on another nicotine product.

That's good news for public health, and something that the next FDA commissioner should encourage.
Michelle Minton
You might have more in common with anti-vaxxers than you want to believe. You might feel the need to reject the possibility because you would never maintain a belief so obviously out of touch with the facts. All the evidence points to the fact that vaccines don't cause chronic disease and that any risk vaccination does have is worth taking to prevent the spread of deadly infectious diseases. Anti-vaxxers know all this, but it doesn't change their minds. Maybe you think this is because they are dumb. But, anti-vaxxers aren't stupid: they're scared.
Brent Stafford, Dr. Mark Tyndall
Public health has a penchant for demonizing the use of particular products that it considers to be unhealthy.
And while the practice is recognized as an effective method to modify behavior, there are unintended consequences.

In this RegWatch Special Series Snippet hear what Dr. Mark Tyndall, Professor at the University of British Columbia's School of Population and Public Health and former Executive Director of the BC Centre for Disease Control thinks about the way cannabis is treated Vs. nicotine in Canada: Is there a paradox?
Hapai Te Hauora
Associate Health Minister Jenny Salesa released new data showing that daily smoking among students (aged 14-15) has dropped below 2% for the first time. Only 1.9% of students reported daily smoking.

Since 2015, the survey has also asked about youth vaping. The latest results found that only 1.8% of students use e-cigarettes or vape daily. A slight decrease from 1.9% in 2017. Less than 0.5% of students who had never smoked vape daily.
As cigarette use slumps in UAE
The number of cigarette smokers in the UAE is on the decline as global sales of vaping products get set to rise sharply, a Dubai conference has heard.

An expert told the World Tobacco Middle East event that cigarette sales now account for less than 90 per cent of the tobacco industry.

Ivan Genov, a drinks and tobacco analyst at Euromonitor International, said growth in the industry will be "difficult" in the years to come.
---
A look back at how things have moved on or otherwise….
Kelly Funderburk, The Regulatory Review
Surveys show that the majority of the millions of Americans who smoke want to quit. With cigarette use continuing to be the leading cause of preventable death in the United States, exchanging cigarettes for electronic cigarettes—or e-cigarettes—could go a long way toward reversing this fatal trend. But one scholar argues that the U.S. Food and Drug Administration's (FDA) regulations keep smokers from learning about e-cigarettes' harm-reducing potential.

In a recent paper, Jonathan H. Adler, a professor at Case Western Reserve University School of Law, calls e-cigarettes "the most promising smoking alternative to enter the market to date." Many varieties of nicotine replacement therapies (NRTs), such as gums and patches, are designed to aid smoking cessation by satiating smokers' nicotine cravings, but these traditional options have failed to make a significant dent in levels of addiction.
Brad Rodu, Tobacco Truth
Some published articles are so flawed that they deserve retraction.

A case in point is the Pediatrics article by University of California San Francisco's Benjamin W. Chaffee, Shannon Lea Watkins, and Stanton A. Glantz (here) that features a totally baseless claim: "Among adolescent cigarette experimenters, using e-cigarettes was positively and independently associated with progression to current established smoking."
---
Visit Nicotine Science & Policy for more News from around the World

---