Vapers Digest April 4th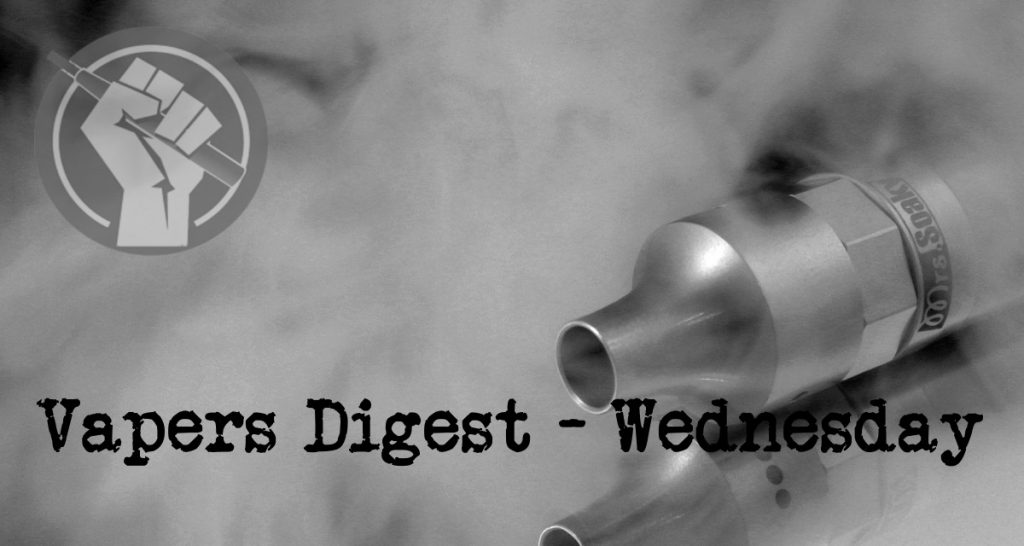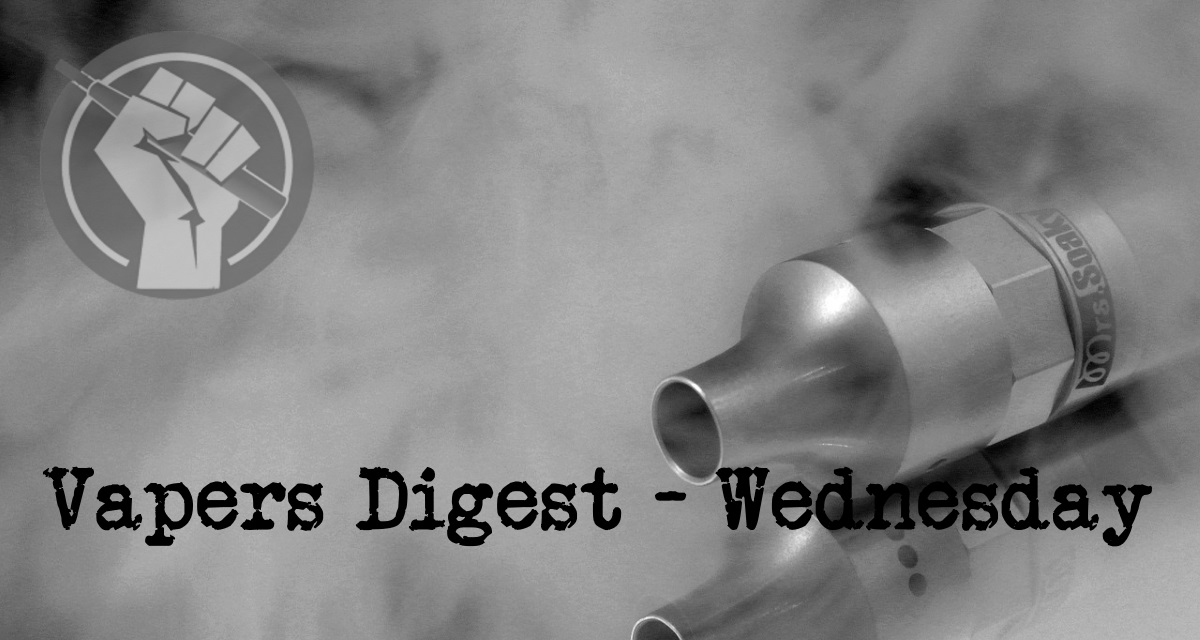 Wednesday's News at a glance:
For Smokers Trying to Quit, Information Could Be Key ~ U.S.A. Only Survey ~ Vapers Help Needed on Flavour Survey ~ Retract the UC San Francisco E-Cigarette "Gateway" Study ~ Next Steps After the ANPRM by the FDA ~ Available Soon: NIDA's E-Cigarette ~ Dr. Attila Danko: How Tobacco Control Saved Big Tobacco ~ Why shouldn't footballers use snus? ~ Health Concerns About Vaping Are Growing—Here's Why ~ Senator Leyonhjelm challenges Greg Hunt's stance on vaping ~ Plain Packaging, Scott ~ Greater Victoria, CA: Vaping May Soon be Banned in Public Spaces ~ Australian Committee Divided Over E-Cigarette Regulations ~ Aurora IL, Raises the Legal Age to Purchase E-Cigs to 21 ~ It's official… vaping is safer than cigarettes
Kelly Funderburk, The Regulatory Review
Surveys show that the majority of the millions of Americans who smoke want to quit. With cigarette use continuing to be the leading cause of preventable death in the United States, exchanging cigarettes for electronic cigarettes—or e-cigarettes—could go a long way toward reversing this fatal trend. But one scholar argues that the U.S. Food and Drug Administration's (FDA) regulations keep smokers from learning about e-cigarettes' harm-reducing potential.

In a recent paper, Jonathan H. Adler, a professor at Case Western Reserve University School of Law, calls e-cigarettes "the most promising smoking alternative to enter the market to date." Many varieties of nicotine replacement therapies (NRTs), such as gums and patches, are designed to aid smoking cessation by satiating smokers' nicotine cravings, but these traditional options have failed to make a significant dent in levels of addiction.
Kevin Crowley, Vaping Links
U.S.A. participants only: Via Dimitris Agrafiotis "Spread it like wildfire".
Via Bill Tarling: "ALSO IMPORTANT: Only 1 submission per person — don't set up multiple fake accounts (we don't want FDA to have any excuse claiming bot or fake submissions were used)".
Via Dr. Konstantinos Farsalinos: Of crucial importance, we need absolute honesty in your responses so that we have realistic and representative results. Best regards to all vapers in the US.
Mawsley, Planet Of The Vapes
A clarion call has gone out to the vaping community to help with the collation of evidence. The FDA is consulting on the subject of flavours in eliquids, and it could impact the future for American vapers. A study involving Konstantinos Farsalinos could help vapers around the world, not just those seeking to influence the FDA.A clarion call has gone out to the vaping community to help with the collation of evidence. The FDA is consulting on the subject of flavours in eliquids, and it could impact the future for American vapers. A study involving Konstantinos Farsalinos could help vapers around the world, not just those seeking to influence the FDA.
Brad Rodu, Tobacco Truth
Some published articles are so flawed that they deserve retraction.

A case in point is the Pediatrics article by University of California San Francisco's Benjamin W. Chaffee, Shannon Lea Watkins, and Stanton A. Glantz (here) that features a totally baseless claim: "Among adolescent cigarette experimenters, using e-cigarettes was positively and independently associated with progression to current established smoking."
---

---
Tony Ottomanelli II, Vaping Post
Just this weekend, Vaping Post published an article discussing the Reality of the FDA flavor ban ANPRM. Concluding that we do not need to speculate or get distracted by the vague terminology used by the FDA.

For instance when the FDA announces that they wish to collect information, they will surely seek to use whatever information they acquire not to better understand vapers necessity to use flavors, but to find perhaps some other area to provide credibility to their argument against this life-saving method and contemporary cultural phenomenon. The FDA opens up, by announcing:

"The Food and Drug Administration (FDA) is issuing this advance notice of proposed rulemaking (ANPRM) to obtain information related to the role that flavors play in tobacco products."
---
Wow! Okay, if you actually believe Big#Tobacco's behavior to be exemplary, I'm thrilled, because I have several bridges in the San Francisco area for sale at very reasonable prices!! I remain mystified as to why vaping advocates have become avid supporters of tobacco companies https://t.co/uQJUpjuY49

— Ruth Malone (@MaloneRuth) March 31, 2018
---
NIDA, National Institute on Drug Abuse
NIDA and NJOY, LLC, have developed a Standard Research E-Cigarette (SREC). The device will help researchers resolve many outstanding questions about how e-cigarettes affect health.

As e-cigarettes rapidly became an established feature in American life in the past decade, they raised many health issues: Are e-cigarettes addictive? Are they harmful to health? Will rates of combustible cigarette use fall because smokers switch to e-cigarettes, or might they rise because people initiate nicotine use with e-cigarettes and transition to combustible tobacco? What population groups find e-cigarettes most appealing? Is secondhand exposure to e-cigarette aerosol a health risk?
---

---
Dr. Attila Danko, Vaping 360
Hatred is never a good strategy.

From 2012 to 2014 vaping was taking off at an exponential rate worldwide. A community of underground hardware hacking pioneers had already been working for years to improve the early e-cigarettes. Using their distributed intelligence they connected through Internet forums freely just like open source software developers, but their work was creating open source, unpatented nicotine delivery systems.

They tinkered in their sheds to increase the power, capacity and e-liquid delivery. Almost every innovation in vaping can trace its origin to these unsung, unpaid public health heroes. Their inventions were adopted by new nimble Chinese e-cigarette companies who started mass producing the devices and millions of smokers began using them.

The products had become good enough, cheap enough, and easy enough to use. Vaping created communities of ex-smokers as this far safer, far cheaper way of enjoying nicotine went viral, spreading person to person. But then this disruption came to a screaming halt.

---

---
, Vogue
On a recent visit to Vape Town, a purveyor of e-cigarettes in Manhattan's West Village, I find a culture in flux. The store is equal parts Game of Thrones and The Matrix. One display features slender white boxes, so minimally branded they could easily house an eco-chic skin-care elixir; another is lined with squat little apothecary bottles boasting lurid labels of demonic warlords and filled with tinctures of liquid nicotine in flavors like Unicorn Milk and Ménage à Trois.

If I were just seeking any old vape shop, there'd be no need to leave my Brooklyn neighborhood. Rare is the five-borough block where one can't be found these days.
Senator David Leyonhjelm, Medium
Senator Leyonhjelm discusses Health Minister Greg Hunt's opposition to legal vaping. He also discusses his Crossbench plan to block bills proposed by Minister Hunt until he changes his stance.
Switch To Ecig
Say what you will, but I don't believe that any of you would like to be in Scott Gottlieb's shoes these days. It's getting increasingly uncomfortable in there. Vapers on one side, writing reams of virtual paper on what flavoured e-liquids mean to them, and tobacco control addicted orgs on the other, ready to sue poor Scott's pants off for prolonging the deadline set for premarket review of vapor products to 2022.

Come on people, it will probably take him that long to read War and Peace that vapers will have written on their damn flavors by June 19. In the middle of it all Scott is doggedly pursuing his goal to make cigarettes less addictive by reducing nicotine in them to tomato levels, but we all know it won't work for smokers.
---
Diane Caruana. Vaping Post
Last Wednesday, a Capital Regional District committee gave its preliminary approval to a proposal that would extend the existing clean air bylaw to include e-cigarettes and a number of tobacco products including cannabis. If this proposal is approved, vaping would be banned in parks, and within seven metres of public buildings such as school establishments. The ban proposal is passed for consideration by the full Capital Regional District board of directors on April 11.
Diane Caruana. Vaping Post
The members of an Australian committee appointed to look into e-cigarette use have differing opinions on the right regulatory approach to e-cigarettes, yet its chairman recommends permitting the use of nicotine in the devices. Parliament's Health, Aged Care and Sport Committee has released its Report on the Inquiry into the Use and Marketing of Electronic Cigarettes and Personal Vaporizers in Australia. The Chair of the Committee, federal member for North Sydney, Trent Zimmerman, says that the Committee was divided on what the right regulatory approach to e-cigarettes.
Diane Caruana. Vaping Post
The city of Aurora, a suburb of Chicago, is the latest Illinois municipality to raise the legal age to be able to purchase tobacco and vaping products, from 18 to 21. Placing e-cigs on the same shelf as regular cigarettes and regulating them in the same way, could prove detrimental to public health.
, The Times
Doctors should tell smokers that e-cigarettes are safer than tobacco, NHS guidance will say for the first time after a compromise over conflicting advice.

Vaping is "substantially" less harmful than smoking and GPs should ensure patients know this, the National Institute for Health and Care Excellence (Nice) has accepted.
---
Visit Nicotine Science & Policy for more News from around the World

---