Vapers Digest April 6th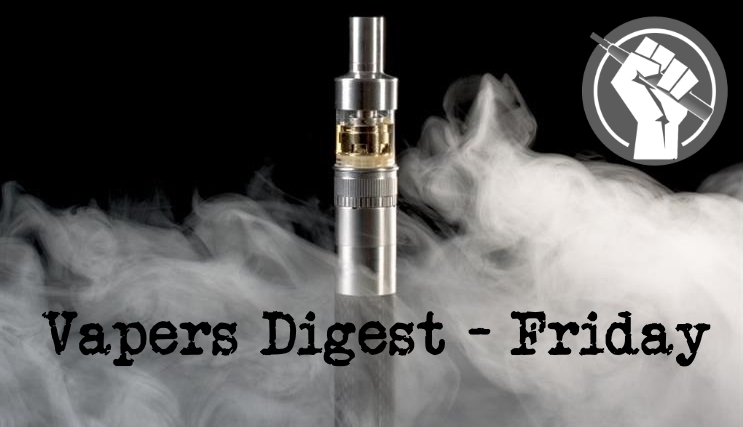 Friday's News at a glance:
Ten perverse intellectual contortions: – More Junk Science From Glantz – Splinter Cells – Failure To Quit Smoking Causes Vaping – UC San Francisco Authors – Labour MP Speaks About VApril – Nurses Given Quit-with-Vape Tips – Doctors urged to recommend e-cigs  – Opposition to e-cigs is running out of puff – Health Organizations Criticized – Why E-Cigs Should Be Legalized – Vape Bill for Kiwis – Govt to study ill-effects of e-cigarettes – Vaping Banned in Redmond's Parks – Elmhurst City Council – Rhode Island Sets The Stage – U.S. Vaping Industry Roiled by Setbacks – Nicotine Science and Policy Daily Digest
A guide to the sophistry of anti-vaping activists
Clive Bates, The Counterfactual
This puts it nicely:

Life is short and shorter for smokers. Just legalise vaping.

That statement is a plain-speaking and hyper-concise dissenting report from Andrew Laming MP, one of two dissenting reports from Australia's recently-completed parliamentary inquiry into vaping  (The other dissenting report provides a model clear, concise reasoning too, and, unusually, the dissent came from the committee chairman, signalling a welcome fracture in Australia's political support for prohibition)
Dick Puddlecote
There may well come a time where the name Glantz is used as a byword for production of the worst kind of deliberate junk science, such is his expertise in the practice.

Just like we derive the term gerrymandering from the grubby antics of Elbridge Gerry, so we may – nay, should – in future refer to research fraudulently contorted to achieve a preconceived conclusion in any discipline to have been 'Glantzed'.
Simon Thurlow, Midnight Musings
I have been holding my tongue over the last few days, though the temptation to lash out and say a few choice words has actually been overwhelming. I have watched as vapers have attacked other vapers, watched smoking advocates attack harm reduction advocates and vice-versa, then watched everyone attacking everyone over the new sugar tax. Now today, I have seen some people going ballistic over seeing an advert for Heat Not Burn at a Vape convention.
---

---
Carl V. Phillips, Daily Vaper
In the 1960s, epidemiologists created lists of factors to consider when trying to infer if an observed association between an exposure and outcome is causal, as opposed to being a product of confounding. There was no magic to these lists; they were basically just scientific common sense, sketching out for the young science some of the thought process that proper scientists use in the inference process.
Inadvertently Validate Our Call for Retraction
Brad Rodu, Tobacco Truth
In the previous post I described fatal flaws in a study by University of California San Francisco's Benjamin W. Chaffee, Shannon Lea Watkins and Stanton A. Glantz in the journal Pediatrics (here).  Their published response (here) validates my criticism.

Chaffee et al. correctly observed that I have frequently challenged flawed research, and they kindly provided three examples of my published letters to editors of scientific and medical journals.  My professional blog is replete with fact checks of published claims by federal officials
---
---
Mawsley, Planet of the Vapes
Mary Glindon MP, the Labour Shadow Minister for Environment, Food and Rural Affairs, spoke to parliament about the dangers posed by fentanyl before highlighting the benefits conferred by vaping and the great opportunity VApril offers British smokers.

"It is my honour to be a co-chair of the drug, alcohol and justice parliamentary group, which is just one of the many parliamentary groups founded and facilitated by Simeon Andrews, who died suddenly last month."
Mawsley, Planet of the Vapes
The NHS has moved a staggeringly long way since ecig became a mainstream product. Even as recently as 2015, experts were still experiencing resistance across the NHS to accept vaping as a quit tool. Advice in this month's Nursing In Practice helps nursing staff make better quit advisors.

Some may find it strange that advice isn't being directed at doctors, but this is because nurses and healthcare assistants operate stop smoking clinics and also give advice during appointments at medical centres (where they are increasingly being relied upon).
---

---
Sian Powell
Written by University of NSW conjoint associate professor Colin Mendelsohn, and published today in the Internal Medicine Journal of the Royal Australian College of Physicians, the paper cites research that found smokers who switched to e-cigarettes had significant health improvements, including improvements in asthma, chronic obstructive pulmonary disease, blood pressure, cardiovascular health, lung function and pneumonia risk.
Ross Fitzgerald
In 2003 Hon Lik, a Beijing pharmacist, developed an electronic cigarette which attracted interest from industry. Decades before, Hon Lik had become a heavily-addicted smoker after authorities banished him to the countryside. All his attempts to quit smoking failed. Hon Lik knew that it was the nicotine in the cigarettes that had kept him smoking but it was the tar in cigarette smoke that would eventually kill him.
---
---
Brent Stafford, Regulator Watch
The vaping industry is in "desperate need of help" says Schell Hammel a long-time national vaping advocate and retail vape store owner. With the defeat of the Cole-Bishop Amendment which promised to save the vaping industry and a reinvigorated attack by non-profit public health groups, the future of vaping in the U.S. is in serious doubt.

In this special edition of RegWatch we interview Hammel in her home state of Texas where she is fighting to save the industry
For 'Insane' Attempts to Stop 'Safer' Cigarettes
Big Tobacco companies like Philip Morris are investing billions in a new type of cigarette which heats tobacco, rather than burns it, and is thought to be much safer. Sputnik spoke to Professor Marewa Glover, who said some public health organizations were taking a very strange attitude to these new products.

Tobacco companies, alarmed at the fall in traditional cigarette smoking and the rise of vaping, have come up with a new idea of retaining market share.

Vapers in Thailand are faced with some of the harshest regulations worldwide. A ban on the import, export, sale and possession of vaping products has been in place since November 2014. Anyone caught breaking this law will have their items confiscated and fined or sent to prison for up to 10 years if convicted.
Mawsley, Planet of the Vapes
The New Zealand National Party's Nicky Wagner has put forward the Smoke-free Environments (Regulation of Electronic Cigarettes) Amendment Bill. In it she seeks to set about correcting a situation where the sale and supply of nicotine e-cigarettes and e-liquid as consumer products is illegal.

In a press release, the party writes that the aim of the bill is to provide help for smokers to quit. It quotes National MP Nicky Wagner as saying: "The Members' Bill I lodged this week, the Smoke-free Environments (Regulation of Electronic Cigarettes) Amendment Bill, designed to allow electronic cigarettes containing nicotine to be sold to persons over 18 years of age."
JAIPUR/KOTA: Health department will conduct study on e-cigarettes to find out their ill effects on Thursday. Health minister Kalicharan Saraf said that if it is found harmful in the study, directions will be issued to ban it in the state. He said that in the investigation, it will be find out if e-cigarette contains nicotine.
---

---
A new regulation banning vaping all together with smoking, in parks all over Redmond, a city in King County, Washington, went into effect on the 31st of March.

An article on Q13Fox, pointed out that this is the first change ever made to the city's park rules since they were established 24 years ago, and the initiative to ban vaping along with smoking, came as a result of public outreach.
Adds e-cigarettes to tobacco ordinance
The Elmhurst City Council amended its ordinance on tobacco products April 2 to include alternative nicotine products such as e-cigarettes. Aldermen passed the amendment as part of the meeting's consent agenda, which was approved 14-0.

Illinois passed a law in 2016 to further prohibit the sale, use and possession of alternative nicotine products by minors, according to the related March 12 Public Affairs and Safety Committee report.
As technology moves ahead, state-level plans for sin taxes rush to keep up with it. That seems to be what's happening in Rhode Island this year, where their 2019 budget has taken aim at the vaping industry, planning a staggering 80% tax on all vaping products, including the liquid nicotine required to make them operate. This seems like a highly effective plan if you want to completely sink a relatively new and growing industry.
---
A look back at how things have moved on or otherwise….
Mawsley, Planet of the Vapes
Teresa Wang was a contributor to the Surgeon General's abysmal report on electronic cigarettes, and now gives the world a laughable piece of U.S. Centres for Disease Control and Prevention research. The results of which, in a letter published in the 'JAMA Pediatrics' journal, claim shocking levels of second-hand vape exposure in American schoolchildren.
For Proposed FDA Smokeless Tobacco Rule
Brad Rodu, Tobacco Truth
The FDA on January 23 published a proposed smokeless tobacco (ST) regulation that would require a radical reduction in levels of N-nitrosonornicotine (NNN), a tobacco-specific nitrosamine.  I documented (here) that the rule is based on erroneous calculations of ST risks; others have since raised additional concerns.
---
Visit Nicotine Science & Policy for more News from around the World

---