Vapers Digest April 9th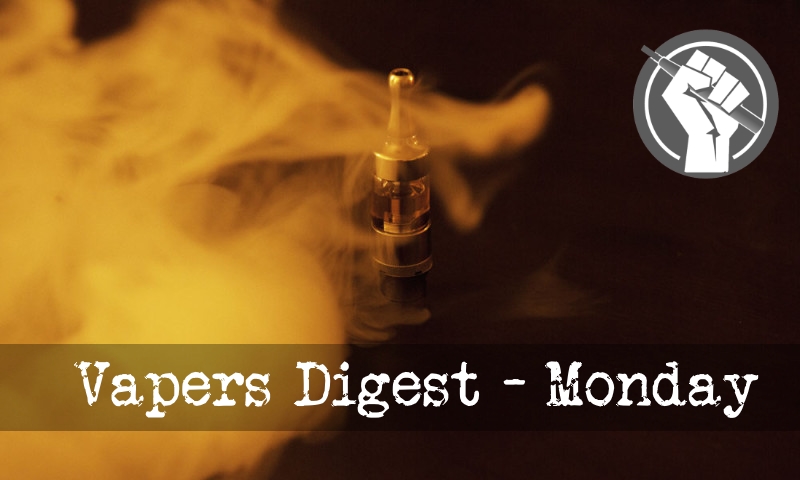 Monday's News at a glance:
The US media is losing its mind over vaping and Juul – America's JUUL panic reaches new peak – Harry's blog 56: A marathon not a sprint – Researchers Call For Retraction – Stanton Glantz Accused Again – Formaldehyde And Seek The Truth – Indian State of Rajasthan Considering an E-Cig Ban – Electronic cigarettes in physician practice – Anti-Vaping Op-Ed Is A Portrait – Regulatory confusion regarding e-cigarettes – Law Review Calls Out FDA – Stop smoking services called upon – Vaping products help smokers quit – Vaping In The News April 7th – Nicotine Science and Policy Daily Digest
Over vaping and Juul – the questions a credible journalist should ask
Clive Bates, The Counterfactual
Over the weekend in an aside in my long blog about the sophistry of anti-vaping activists,  I mentioned the unfolding moral panic about vaping and, especially, Juul e-cigarettes among teens (see the quote from the blog below for background). I want to add to this with some views on appropriate journalistic inquiry and suggest a line of sceptical questioning a credible journalist could use.
Fergus Mason, Vaping Post
The US media's obsession with "Juuling" continued this week, with multiple news stories spreading alarmist claims about the popular compact vaporiser. Meanwhile, in the UK, a new pro-vaping campaign organised by the industry plans to use vape shops to steer smokers towards safer alternatives. The country's health service is also continuing to move in a positive direction, with new guidance to doctors on the benefits of switching. Finally, in a bid to overturn a draconian new tax on e-cigarettes, New Jersey vapers are appealing for signatures on an online petition.
Harry Shapiro
Brisbane's Gold Coast is not the only venue for fun and games in a land down under. In March, the Australian Parliament published its enquiry into e-cigarettes. Clearly the 'status quo' outcome was a major disappointment, but there were some positive takeaways and hopefully Australian tobacco harm reduction activists might feel that the argument has moved on.
---

---
Of Glantz Gateway Effect Paper – Carl V. Phillips
Two researchers at the University of Louisville have revealed a fatal flaw in a paper out of Stanton Glantz's shop and called for its retraction. Glantz and his coauthors analyzed a survey of American teenagers and concluded that the results suggest that vaping causes teens who have tried a cigarette to progress to being smokers. In an online comment at the journal, Brad Rodu and Nantaporn Plurphanswat identified a variable in the dataset that when controlled for — as it clearly should have been — makes most of the reported association disappear. Rodu then published two blog posts explaining the flaw in the Glantz study and calling for it to be retracted.
Of Sexual and Academic Misconduct – Jim McDonald
For the second time in just four months, anti-tobacco (and anti-vaping) activist Stanton Glantz is facing sexual harassment and academic misconduct accusations from a former subordinate at the University of California-San Francisco.

Juliette Jackson, a former research associate at UCSF, has filed a lawsuit claiming that Glantz created a "sexually-charged" and hostile work environment, according to the San Francisco Examiner. The lawsuit charges that Glantz "repeatedly leered at Jackson's and other females breasts."
---
"The cap on nicotine concentration at 20 mg/mL set by the EU-TPD may therefore have the unintended consequence of encouraging use of lower nicotine concentration e-liquid, in turn increasing exposure to carbonyl compounds through compensatory puffing" https://t.co/R4whiL3gwt

— Sarah J (@Twigolet) April 9, 2018
"The decision on Swedish snus to be allowed in Europe is now in the hands of the European Court of Justice. On 12 April, the preliminary ruling will be determined."https://t.co/kG2MM4Wbq0 #EUforSnus #snus

— NNAlliance (@NNAlliance) April 9, 2018
---
Mawsley, Planet of the Vapes
Doctor Joseph Allen is an assistant professor at the Harvard T.H. Chan School of Public Health. He has been linked to flawed and debunked studies and conducted himself in a questionable manner when it comes to tobacco harm reduction. Now he uses the platform of the New York Times to push formaldehyde back in to the public consciousness in a duplicitous manner.
Considering an E-Cig Ban – Diane Caruana
The health department of Rajasthan will conduct a study on e-cigarettes, to determine whether the devices are unsafe for human consumption. If the research confirms that e-cigarettes are harmful, directions will be issued to ban them in the state.
---

---
Colin P Mendelsohn
There is growing evidence for the effectiveness of e‐cigarettes as a quitting aid and, although not completely harmless, the scientific consensus is that they are substantially less harmful than smoking tobacco. More research is needed, but there is now sufficient empirical evidence and real‐world experience over more than a decade to consider their use as a legitimate tobacco harm reduction tool for smokers who are unable or unwilling to quit with conventional strategies. Smokers should be advised that the highest success rates occur with daily use with nicotine e‐liquid and newer e‐cigarette models.
In Inexpertness And Dishonesty – Carl V. Phillips
Harvard's School of Public Health and the New York Times op-ed page have storied histories. Both were once highly respectable institutions. But a recent op-ed by on the Times op-ed page by Joseph G. Allen, an assistant professor at the Harvard school, demonstrates how far both have fallen. The piece is astonishingly bad, reading like an article in a medical office pamphlet, written in 2014 by an intern at a local public health agency who just completed her undergraduate in sociology.

Vapour Product Association
Confusion continues to surround legislation regarding e-cigarettes and vaping. But, as more organisations publish findings regarding the use of vaping to reduce tobacco smoking and its health risks, so the regulatory tide is beginning to turn, says South Africa's Vapour Product Association (VPA).

The irony surrounding the categorisation of e-cigarettes and vaping is that both electronic devices and vapours-which contain varying levels of nicotine – are treated as tobacco products, although they contain no tobacco at all.
Continues its commitment to transform tobacco with glo launch in Italy
Italy has become British American Tobacco's first market to offer consumers products from both its innovative vapour (Vype) and tobacco heating products (glo) ranges following the launch of glo in Turin, Italy this week.

glo is BAT's flagship tobacco heating product brand. It's a device which heats – rather than burns – tobacco. The vapour formed during the heating contains around 90% to 95% less toxicants than a standard cigarette* and thus has the potential to be less risky than smoking. Italy is BAT's seventh glo market – joining Japan, South Korea, Canada, Switzerland, Russia and Romania.
---

---
To support switch to vaping
Government funded stop smoking services will keep losing customers if they refuse to help people who want to try vaping, new research has found. The services are in a bind however because the legality of selling nicotine vaping products in New Zealand remains in doubt.
To e-cigarettes in New Zealand: vapers' perspectives
Trish Fraser, Marewa Glover and Penelope Truman
Using a naturalistic approach, we sought to understand how the current law was experienced by e-cigarette users (vapers). Twenty-nine vapers were interviewed by telephone, between May and September 2016, using a semi-structured interview schedule. Open-ended questions covered: initiating vaping, the experience of stopping smoking, technical problems encountered, reasons for vaping, acceptability of vaping, addiction to vaping and advice given to smokers about vaping. The audio recordings were transcribed and then independently coded using a general inductive thematic analysis.
Jimmy Hafrey, Churn Mag
The deeming rule is one of the most controversial topics concerning vaping today. When they were first passed back in 2016, many in the vaping community saw it as a significant issue for the industry. But others claimed that it was a needed adjustment that would ultimately be fine. Now a new detailed breakdown of the FDA's deeming rule has concluded that these rules are indeed likely to cause a massive disruption in the growing industry.
Greg Conley
With the Centers for Disease Control and Prevention demonstrating that vaping products are among the most used quit-smoking tool in the U.S., many in public health recognize the need to have an adult conversation about nicotine and harm reduction.

Last year, Food and Drug Administration Commissioner Scott Gottlieb attempted to do so when he announced a comprehensive nicotine and tobacco regulatory strategy. Much of his framework, particularly plans for the FDA to be much more aggressive in regulating combustible cigarettes, was met with cheers from health activist groups.
Kevin Crowley, Vaping Links
For Smokers Trying to Quit, Information Could Be Key ~ Dr. Attila Danko: How Tobacco Control Saved Big Tobacco ~ U.S.A. Only Survey ~ NIDA's E-Cigarette ~ Tobacco Alternative Gums Market: Sales Volume, Revenue and Growth Rate Forecast ~ Huh ~ Explaining the discontinuation of a non-tobacco nicotine project at Philip Morris: obstacles to innovation. ~ Nicotine As An Addictive Substance ~ Public Health Implications of Raising the Minimum Age of Legal Access to Tobacco Products ~ Patent Filings Increase for E-Cigarettes, 3-D Printing and Machine Learning ~ Law Review Calls Out FDA For Destroying Vaping Industry ~ Harvard Public Health: "E-cigs are safer than cigarettes, no question." ~ Global Forum On Nicotine ~ UCSF professor faces second sexual harassment lawsuit
---
A look back at how things have moved on or otherwise….
Royal Society of Public Health sounds a fake alarm about a non-problem
Clive Bates, The Counterfactual
Today the Royal Society of Public Health is pitching its 'undercover investigation' into vape shops selling stuff to adults who don't smoke. Naturally, the primary purpose of this exercise has little to do with public health but is a publicity stunt for an ailing organisation in a declining field that offers ever less to the public or to health.
Paul Barnes, Facts Do Matter
Undercover investigation finds 9 in 10 vape shops prepared to sell to non-smokers

This is news according to the Royal Society of Public Health. According to the quotes in the media, there is an industry wide 'Code of Conduct' that, apparently, all vape shops supposedly abide by. Thing is, that really isn't the case.
New Nicotine Alliance
The Royal Society of Public Health (RSPH) today released a policy paper in response to an undercover investigation that has seemingly identified that nine out of ten vape shops are knowingly selling to non-smokers. The basis of this 'news' is found in the IBVTA Code of Conduct with focus on item three:

Vape products are for current or former smokers and existing users of vaping devices, therefore never knowingly sell to anyone who is not a current or former smoker, or a current vaper.

The IBVTA have guidelines for their own members, however it is not known or clear if the shops that were involved in this undercover investigation are members of the IBVTA.
---
Visit Nicotine Science & Policy for more News from around the World

---