Vapers Digest April 11th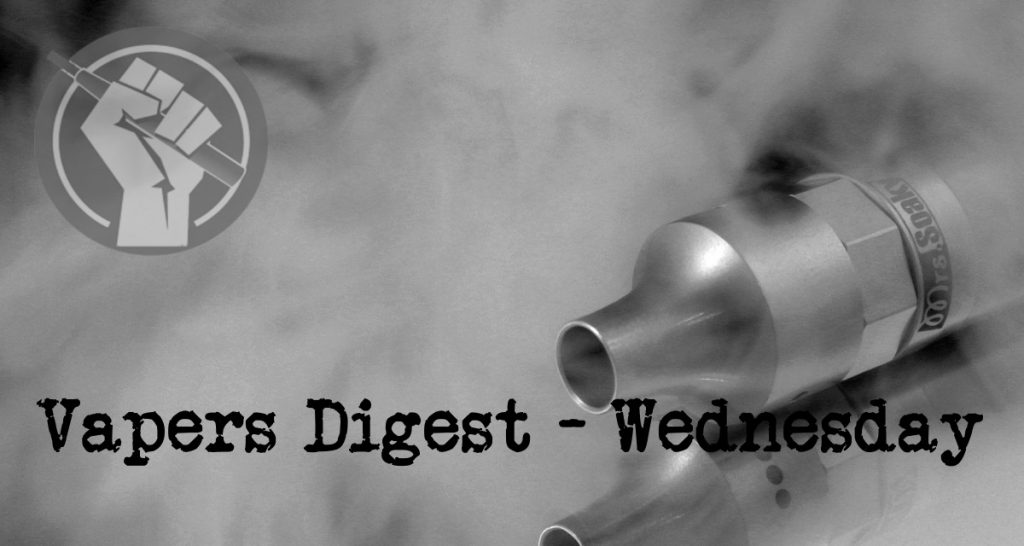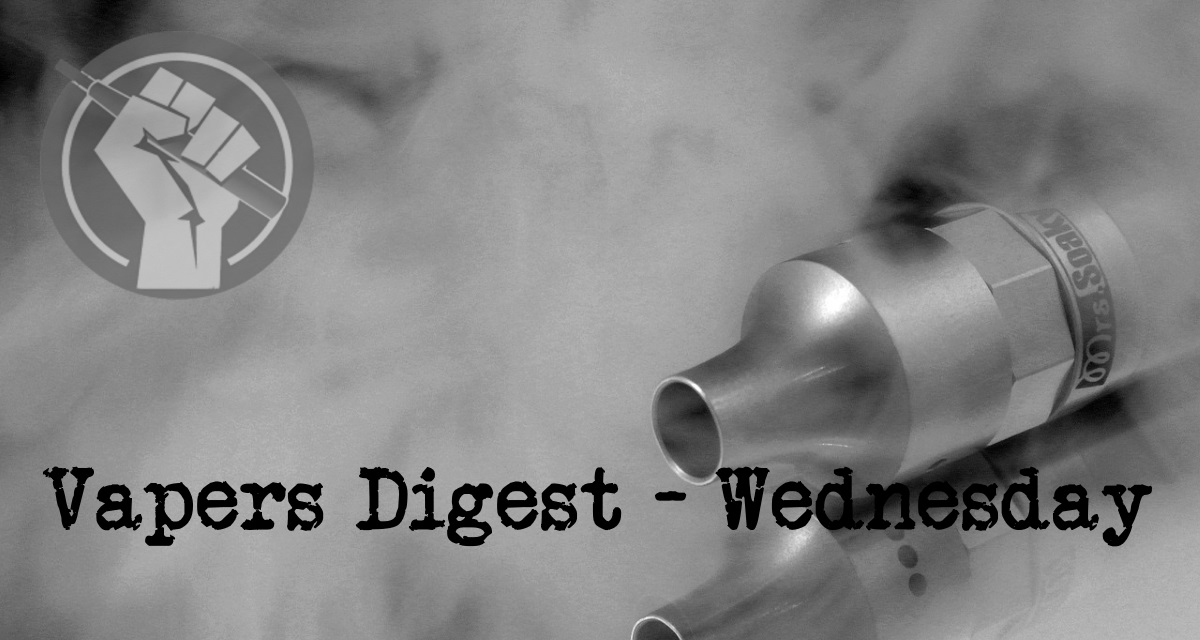 Wednesday's News at a glance:
Global Forum On Nicotine ~ Truth-telling, trust and e-cigarettes ~ Doctors Have An Ethical Obligation ~ Anti-Smoking Groups Need to Embrace E-cigs ~ Rendez-vous with Louise Ross ~ Is Teen Vaping Really An Epidemic? ~ Two leading Canadian anti-tobacco groups to shut down ~ Northeast NHS Vaping Problem ~ Double Oral Cancer Risk For Male Smokers ~ Second Sexual Harassment Case For Glantz ~ Stop smoking services called upon to support vaping ~ New research shows that primary school children have a good level of awareness of e-cigarettes ~ Call to stop vaping in smokefree areas ~ Zionsville Cracks Down on Tobacco, Vaping in Public Places
Programme highlights:
We are pleased to announce the programme and speakers for the fifth Global Forum on Nicotine. This is the biggest programme to date: there are over 60 speakers from 17 countries.

Programme highlights:
Plenary sessions:

Rethinking nicotine – policy and science
Science and the new understandings of nicotine
Neglected issues – and those who are left behind
Rachelle Annechino, Tamar Antin, Center For Critical Public Health
It should go without saying that public health institutions and researchers have an obligation to tell the truth. In principle, there aren't many stakeholders in e-cigarette research who would argue otherwise. But questions about whose truth and how information about e-cigarettes should be communicated have been highly controversial.

Partly this is because e-cigarettes haven't been around long (relatively speaking), and research takes time.
Diane Caruana, Vaping Post
Diane Caruana, Vaping Post
In March 2017, associate Health Minister Nicky Wagner had said that e-cigarettes would be legalized and that New Zealand was adopting a low risk approach since scientific evidence about the safety of e-cigarettes is still being developed. However, a year later, no formal action has yet been taken to initiate the legalization process.

Massey University researcher professor Marewa Glover is pointing out that this makes it impossible for government-funded health services to suggest the devices for smoking cessation, forcing people to turn away from such stop-smoking services and take matters in their own hands.
---

---
Philippe Boucher, THR Rendez-vous
Thank you Louise for accepting our rendez-vous. May I ask you to introduce yourself? 

Louise Ross: Until very recently, I was the Stop Smoking Service Manager at Leicester City Council. Previously part of the National Health Service, we moved to local government in 2015, but kept the same successful format to deliver the service to people who were (often literally) sick of smoking. We became very interested in e-cigarettes and vaping in late 2013, putting our instinctive interest into practice in 2014. There's more from me as a guest on The Counterfactual website but more importantly, do read Clive's fantastic blog for in-depth, punchy analysis
Lee Johnson, Vaping 360
---
---
Gloria Galloway, The Globe And Mail
The two award-winning Canadian non-profit groups that led the fight against smoking and tobacco products in Canada and around the world are preparing to close their doors after the money they expected to see in the most recent federal budget failed to materialize.

The Non-Smokers' Rights Association (NSRA) and Physicians for a Smoke-Free Canada (PSC) have been limping along on a combination of savings, provincial help, and the work of volunteers since their federal funding was cut by the former Conservative government in 2012.
---

---
 Mawsley, Planet Of The Vapes
The North Tees and Hartlepool NHS Foundation Trust (NTHFT) is proving that you can lead a horse to water but you can't make it drink. Despite bountiful evidence, Trust bosses are hiding the lack of a positive decision behind the cloud of public opinion.

In 2015, we wrote about how the NHS as a body was appearing to be ignoring sound advice in failing to cater for vaping. We asked: "what is it that prevents the NHS from adopting evidence-based tobacco control programmes?"
 Mawsley, Planet Of The Vapes
Cancer Research UK (CRUK) has released figures that indicate males are twice as likely as females to suffer from the development of oral cancers. Given that smoking features as one of the three biggest causes of this, encouraging them to switch to vaping has never been more important.

The oral cancers that CRUK state males run an increased risk of contracting includes cancers of the mouth, tongue, lips, tonsils and the oropharynx.

 Mawsley, Planet Of The Vapes
Stanton Glantz is the focal point for most of the anti-vaping pseudo-scientific literature. Involved in a stream of nonsense studies this year, and with one sexual assault case hanging over him, now faces a second woman's lawsuit and claims of creating a "sexually-charged and hostile work environment".

With the volume of ridiculous papers flying out of California in 2018, you would be forgiven for thinking that the anti-vaping movement is in full panic mode. A recent nonsense study from Glantz stated that his team had found evidence that linked teenage vaping to a progression to smoking, his holy grail – the gateway effect.
Massey University, New Zealand Doctor
Government funded stop smoking services will keep losing customers if they refuse to help people who want to try vaping, new research has found. The services are in a bind however because the legality of selling nicotine vaping products in New Zealand remains in doubt.

The previous National-led Government claimed nicotine vaping products could not be legally imported and sold in New Zealand, but late last year they promised new regulations to allow the sale of nicotine e-cigarettes and e-liquids. Last week National MP Nicky Wagner, who championed the promised law change, introduced a private member's bill to get vaping back on the Government's agenda.
---

---
Public Health Wales
The report, 'Is it all smoke without fire? Welsh primary school children's perceptions of electronic cigarettes', highlights that most children (95 percent) can distinguish between tobacco and electronic cigarettes, with many thinking that e-cigarettes are safer and better than tobacco cigarettes.

The report was commissioned by Public Health Wales to help understand children's awareness and views about e-cigarettes, compared with smoking tobacco.
 Chris Morris, Otago Daily Times
The Cancer Society wants vaping prohibited in smokefree parts of Dunedin, saying e-cigarettes do not send the right message.

The suggestion came from Sophie Carty, the health promotion and advocacy manager for the Cancer Society's Otago and Southland branches, in a submission on the Dunedin City Council's 10-year plan yesterday.

Ms Carty, responding to questions from Crs Mike Lord and Jim O'Malley, told the hearing the Cancer Society was due to release a national position statement on vaping and e-cigarettes shortly.
WIBC News Room, WIBC
he Town Council on Monday night passed an amendment to the town's smoking ordinance that bans tobacco, e-cigarettes, and vaping in in parks, public spaces, and workplaces. The newly-amended ban extends all municipal property owned or leased by the Town or the Zionsville Board of Parks and Recreation.
---
A look back at how things have moved on or otherwise….
Dick Puddlecote
On Friday, for some unfathomable reason, the Royal Society of Public Health (RSPH) decided it was a doozy of an idea to do the dirty on vapers who had put much store in their support of e-cigs.

As you may remember, it wasn't "the industry's code of conduct" but that of the Independent British Vape Trade Association (IBVTA) which makes up just a small proportion of the industry as a whole.

However, the RSPH made great play of this code of conduct and wanted to see it adhered to by every e-cigarette company and vendor nationwide. Specifically, they wanted e-cig businesses to never sell to non-smokers under any circumstances.
Michelle Minton, CEI
The battle over electronic cigarettes heats up even more this week as the Competitive Enterprise Institute's general counsel Sam Kazman argued in court today against a federal regulation banning use of electronic cigarettes on planes. The lawsuit, filed by CEI and the Consumer Advocates for Smoke-Free Alternatives Association (CASAA), says the Department of Transportation overstepped its authority when it decided to prohibit vaping on all airplanes. People may think health concerns must have spurred the regulator crackdown, but that is contrary to all the scientific evidence showing that vaping is relatively safe in the short term and certainly less harmful than smoking traditional cigarettes.

Until the DOT decided to ban the use of vapes on a plane (alleging that vaping counts as smoking), airlines were fully able to prohibit their use and most did. However, in March 2016, the agency decided to impose a new prohibition under Congress's anti-smoking airlines statute. The agency did this despite the fact the DOT itself admitted five years earlier that e-cigarettes neither burn tobacco nor produce smoke and without providing evidence of harm to passengers.
---
Visit Nicotine Science & Policy for more News from around the World

---