Vapers Digest April 13th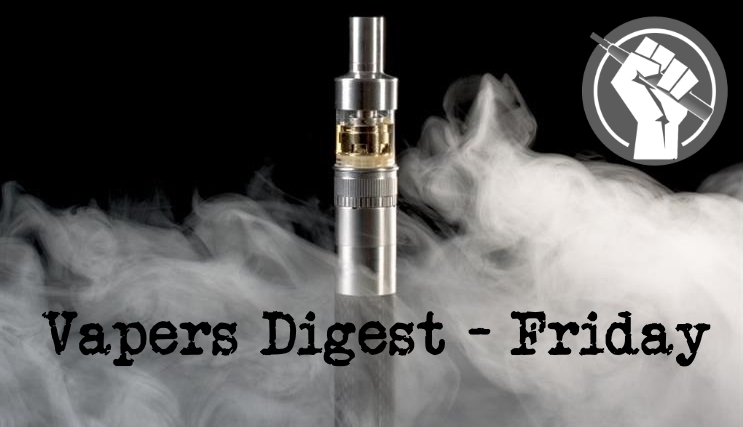 Friday's News at a glance:
Ban on smoking substitute snus can be upheld – Snus Ban: Let's Leave The EU, Sort It Out Later – Advocate General endorses continued prohibition – A new frontier for nicotine – Smoking Cessation Receives Boost in Parliament – Tobacco Controllers Again Silent – Another UC San Francisco Gateway Claim – Panic Over JUUL And Teen Vaping May Have Deadly Results – CASAA Announces 2018 Board Election Results – NSW joins other Australian states – Why WA must legalise vaping now – Consumers welcome Rajasthan govt's decision – Nicotine Science and Policy Daily Digest
New Nicotine Alliance
The European Union's ban on the smoking substitute snus can be upheld according to the European Court of Justice's advocate general. In his preliminary opinion, ahead of the court's decision this summer, Henrik Saugmandsgaard said that while the evidence for the ban was not clear cut, the European Parliament had the right to impose the ban in 1992. He said that he did not find that the ban was "manifestly inappropriate". (The opinionwas released this morning.)
Dick Puddlecote
As I reported in January, the UK government went in to bat for the EU in favour of upholding the ban on snus everywhere but Sweden when it was challenged in the ECJ.

Overwhelming isn't the word, snus has just about been given a clean bill of health in every aspect. A Lancet review spoke of no evidence of harm from long-term use of snus "for any health outcome" (p 1364).
Paul Barnes, Facts Do Matter
Back in January last year I scribbled about the EU and its ideologically founded belief that all forms of tobacco are a "bad thing".  Since then, the New Nicotine Alliance asked for, and received, permission to join the legal action brought about by Swedish Match in July 2016 in the UK.

As with any legal challenge, I expected a slew of articles to push a certain agenda – i.e. in favour of the status quo. Imagine my surprise when not very much happened. Until recently that is.
See also:
---

---
New Nicotine Alliance
On Tuesday evening, the New Statesman hosted a panel-based event in a lecture hall adjacent to Parliament Square entitled "When might England become Smokefree?". The subject matter was a report from Frontier Economics which calculated when the UK would achieve the government's stated 'smoke-free' target of 5% smoking prevalence or less, under various scenarios.
Mawsley, Planet of the Vapes
Politicians behind Early Day Motion 999 have congratulated the Scandinavian countries that have benefitted from smokers switching to snus, and are urging the government to end the snus ban. News of this comes as the New Nicotine Alliance (NNA) is set to hear how their European Court of Justice case is going.

The NNA took a case to the European Court of Justice on the 25th January as part of a push to overturn the ban on snus across European Union countries. It was argued that the current ban is "discriminatory, irrational and disproportionate".
---
---
About Glantz Misconduct Allegations – Carl V. Phillips
Late last year, Stanton Glantz, a professor at University of California San Francisco and probably the world's most prominent anti-vaping crusader, was sued for alleged sexual harassment, discrimination and other misconduct directed at a young woman he was supposed to be mentoring. As previously reported, the sexual misconduct allegations made the headlines but other aspects of the allegation pose a bigger threat to him and his multimillion dollar anti-tobacco enterprise.
Brad Rodu, Tobacco Truth
Last week I called for retraction of a flawed study by University of California San Francisco's Benjamin W. Chaffee, Shannon Lea Watkins and Stanton A. Glantz that appeared in the journal Pediatrics (here and here).

Once again using the FDA Population Assessment of Tobacco and Health (PATH) survey, the same authors exaggerated the gateway effect of e-cigarettes, hookah and smokeless tobacco in a January JAMA Pediatricsarticle (here).  I criticized at that time the omission of information that would have provided context for their findings (here).  The exaggerations were amplified in the media.
---

---
May Have Deadly Results – Sally Satel
Teens and electronic cigarettes are a combustible issue that's been heating up the headlines lately. "'I Can't Stop': Schools Struggle with Vaping Explosion," blares the New York Times. The Wall Street Journal announces widespread concern: "Schools and Parents Fight a JUUL E-Cigarette Epidemic." Meanwhile, CNN wonders whether vaping is the "health problem of the decade." 
We are pleased to announce that CASAA's Board of Directors recently elected Bruce Nye as President of the Board and Jennifer Berger-Coleman as Vice President of the Board. We are also excited to announce that Jim McDonald has joined our Board of Directors.
To recommend vaping to chronic smokers – Dr Colin Mendelsohn
Cancer action bodies are now flipping the switch and actively campaigning for chronic smokers to take up vaping as a safer alternative.

Smokers who want to switch to e-cigarettes to kick their habit currently need a prescription for nicotine vape liquid and can face fines and even jail if they're busted vaping illegally.

Tobacco Treatment Specialist Colin Mendelsohn says there should now be an ethical obligation for doctors to recommend e-cigarettes to patients who are trying to quit smoking.

Nardy Baeza Bickel, University of Michigan
The benefits of vaping to quit smoking far outweigh the health risks of youths moving from electronic to traditional cigarettes, a new study says.

An analysis by University of Michigan researchers Kenneth Warner and David Mendez from the School of Public Health found that in the most likely of several simulations they ran, nearly 3.3 million life-years could be saved by the year 2070.
Bans vaping in public spaces – Matt Young
Smokers have been slapped with another setback after the NSW government announced e-cigarette smokers will face fines of up to $550 if caught smoking in public spaces or public transport.
Why WA must legalise vaping now – Dr Joe Kosterich
In the George Orwell classic Animal Farm, there was a binary notion that the animals lived by – "four legs good, two legs bad".

This eventually morphed into "four legs good, two legs better" as the pigs who became the lead animals began walking on two legs like the evil farmer they had replaced
---

---
Decision to study health effects of e-cigarettes
Association of Vapers India (AVI), a national organisation that represents e-cigarette users, has welcomed Rajasthan government's plan to conduct a study to assess health effects of vaping before taking any decision about the future of the non-tobacco product. Rajasthan health minister KalicharanSaraf announced the state's decision on Thursday. If it (e-cigarette) is found harmful in the study, directions will be issued to ban it in the state, Saraf said.
Tom Henry
The Toledo-based Farm Labor Organizing Committee is launching a national boycott of Reynolds American, Inc.'s VUSE e-cigarette brand, with demonstrations planned this week outside convenience stores in more than 60 cities.
Mawsley, Planet of the Vapes
The debate surrounding harm reduction is hotting up in Australia. A latest study supports the idea that doctors should think about using ecigs to help struggling patients who can't quit smoking. Many Australian tobacco harm reduction advocates believe the opposition to vaping is running out of steam. Rangers Football Club has hit a snag with its new vape shop sponsor. Some are saying that vaping has become a teen epidemic, and a store in Manchester has a unique solution to troublesome kids.
---
A look back at how things have moved on or otherwise….
Robert Innes, Vaping Post
Dear Advocate, I think that if there is a single issue that all vaping advocates would agree on it would be that we are far too reactive and not nearly proactive enough in our approach to the challenges we face.

I cannot think of a single issue we have had to deal with in the past where we were not responding to some action or statement by Tobacco Control, some industry or regulatory body. We always seem to be, 'coming in' after the event.
Christopher Snowdon, Velvet Glove Iron Fist
Vice have produced a worthwhile video about the e-cigarette war in the USA in which chief protagonist Stanton Glantz is interviewed at his desk in San Francisco. Glantz has been fanatically opposed to e-cigarettes from the outset and has been as prolific in producing junk science to support his position as he has been in the past when he was promoting smoke-free movies and smoking ban miracles.
Head Rambles
The hypocrisy of some beggars belief. Our Hiqa [another bunch of tax funded clipboard carriers] commissioned a study into electrofags.

"Concerns vaping may act as 'gateway' to tobacco cigarettes"

Despite there being evidence to the contrary, what business is it of theirs anyway?
---
Visit Nicotine Science & Policy for more News from around the World

---