Vapers Digest April 16th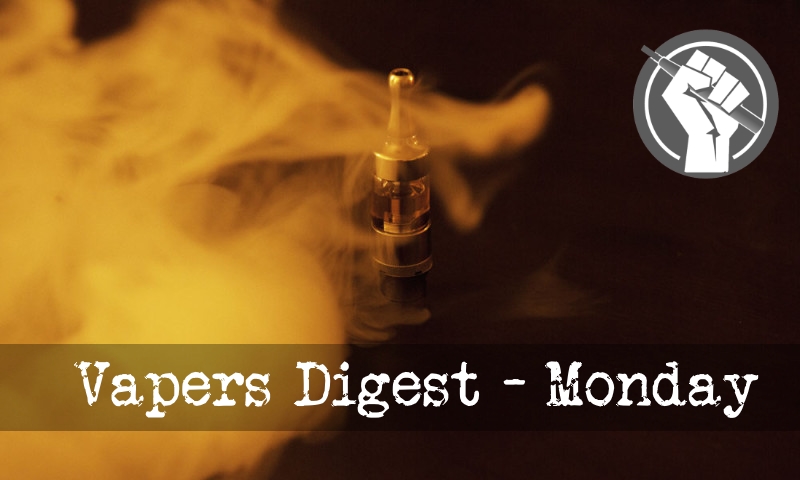 Monday's News at a glance:
NZ professor warns quit services to become vape-friendly – Snus won't rot your teeth, but watch out for truth decay -Illegal Cigarettes in Wales – Wrigley Beats Vape Co – Vaping's potential to benefit public health  – 2.6M power units being recalled – Clean Air Bylaw to include vaping – E-cigarettes could be banned in Romania – Vaping In The News – April 14th – Nicotine Science and Policy Daily Digest
To become vape-friendly, and FDA faces new criticism on Deeming
Fergus Mason, Vaping Post
One of New Zealand's top tobacco control researchers has warned stop smoking services that they face becoming irrelevant unless they take a more forward-looking approach to e-cigarettes. Meanwhile two Canadian groups which have pushed for tougher restrictions on vaping announced their closure this week after losing government funding. There are more problems on the horizon for California activist Stanton Glantz as another woman accuses him of sexual harassment, and a US legal journal has run an article that strongly criticises the FDA's approach to vaping.
But watch out for truth decay – Harry Shapiro
We start this week with the European Court of Injustice interim ruling playing fast and snus with smokers' health as part of a rather long blog (sorry) on what the Rand Corporation call Truth Decay. More on that below.

Anti-tobacco harm reductionists spend an awful lot of time claiming those who support tobacco harm reduction are simply the lackeys and stooges of Big Tobacco. But the truly insidious nature of morally driven (as opposed to health driven) tobacco control, is the degree to which those with the power to influence exploit the natural conservatism and caution of policy makers and legislators to deny access to a product with a clear public health benefit.
---

---
Mawsley, Planet of the Vapes
Wales is reported to be labouring with an illegal tobacco problem. Mark Drakeford AM picked up an award in December, but his adherence to misinformation and the opposition to vaping could have laid the groundwork to helping the principality's problem to thrive.

For two years, Mark Drakeford waged a war on vaping and harm reduction. Despite glaring evidence to the contrary, and expert testimonials, he persisted with a bastardised version of the cautionary principle and ignored the impact this would have on smokers.
---
New research from @FarsalinosK & colleagues: positive public health impact of #vaping in Greece, reassurance that vaping is not popular among never smokers but misconceptions about the relative risks compared to smoking need to be addressed : https://t.co/Q4kMNSLIpB

— IBVTA (@TheIBVTA) April 16, 2018
---
In Starburst, Skittles Flavors TM Row
An Illinois federal judge Thursday handed Wrigley's a quick win in its trademark suit against a no-show e-cigarette company that it claimed marketed flavors exploiting the Starburst and Skittles names, saying the Lanham Act violations of Get Wrecked Juices LLC were "willful, intentional and deliberate."

W.M. Wrigley Jr. Co. sought default judgment against Get Wrecked and its purported owner, Brian Edward Turner, after the defendants didn't respond to the candy maker's 

January complaint

.
---

---
Nardy Baeza Bickel
The benefits of vaping to quit smoking far outweigh the health risks of youths moving from electronic to traditional cigarettes, a new study says.

An analysis by University of Michigan researchers Kenneth Warner and David Mendez from the School of Public Health found that in the most likely of several simulations they ran, nearly 3.3 million life-years could be saved by the year 2070.
Ottawa Citizen
R.J. Reynolds Vapor Co. has issued a nationwide safety recall of all Vuse Vibe power units after consumer reports that batteries malfunctioned and caused the units to overheat and create a fire risk. No injuries have been reported.

R.J. Reynolds Vapor markets the Vuse brand of e-cigarettes. The subsidiary of British American Tobacco says owners should stop using the product or charging the power unit and contact the company to receive a refund.

Isabelle Raghem
People in support of vaping and cannabis are speaking out after the Capital Regional District (CRD) amended the Clean Air Bylaw to include burning or vaping of any substances, including cannabis, in public spaces.

"Amending the CRD bylaw is the logical next step in bringing provincial and local regulations into alignment," said CRD Board Chair Steve Price in a release. "As community leaders of the day, today we need to follow the good work that the leaders before us established with the current clean air bylaw."
Irina Marica
An MP representing the opposition party Save Romania Union (USR) has submitted to the Parliament a draft amendment to the law on preventing and combating the effects of tobacco products consumption, according to which both the electronic cigarettes and the tobacco heating devices would be banned in enclosed public spaces.

In the draft project, smoking is defined as any voluntary consumption of smoke, vapors or aerosols, and this would be banned in enclosed public spaces, public transport, indoor workplaces or children's playgrounds.
---

---
Billy Cantwell and Karen Sweeney, North Shore Times
Trent Zimmerman wants nicotine e-cigarettes to be made legally available in Australia.

The North Sydney federal Liberal MP says e-cigarettes could save "thousands of lives" if long-term smokers turn to them as an alternative to tobacco.

But he was one of just three dissenting voices against a parliamentary health committee majority who oppose legalising nicotine e-cigarettes.
Kevin Crowley, Vaping Links
Ten perverse intellectual contortions: a guide to the sophistry of anti-vaping activists ~ The crusade against JUUL and other vaping products is childish, even for tobacco control ~ Untangling The Preemption Doctrine In Tobacco Control ~ Brilliance ~ Speaking of nicotine… ~ FLOC to begin national boycott of Reynolds' e-cig product ~ FDA to offer a voluntary, more modern 510(k) pathway for enabling moderate risk devices ~ Cigar Trade Groups Petition Court to Delay Warning Label Requirements ~ CASAA Announces 2018 Board Election Results ~ So much to do ~ The Truth
---
A look back at how things have moved on or otherwise….
Christopher Snowdon, Velvet Glove Iron Fist
Via United Vapers, there's an interesting little video of Stanton Glantz and Philip Gardiner – two anti-tobacco activist-researchers at the University of California, San Francisco – doing the rounds. The pair are filmed speaking to vapers and vaping business owners who are suffering thanks to the US's insane e-cigarette laws. Those laws have come about, in part, because of the unspeakable junk science that has come out of California.
Monday, May 8, 2017
The inaugural holding of the US E-Cigarette Summit will take place at The Marriott Georgetown, in Washington, DC, on Monday, May 8, 2017.

Awareness of e-cigarettes is high among the public, but there is debate among experts and officials about whether e-cigarettes provide an opportunity to move smokers away from inhaling tobacco smoke or are a menace that will attract those not already using tobacco products.
---
Visit Nicotine Science & Policy for more News from around the World

---