Vapers Digest April 18th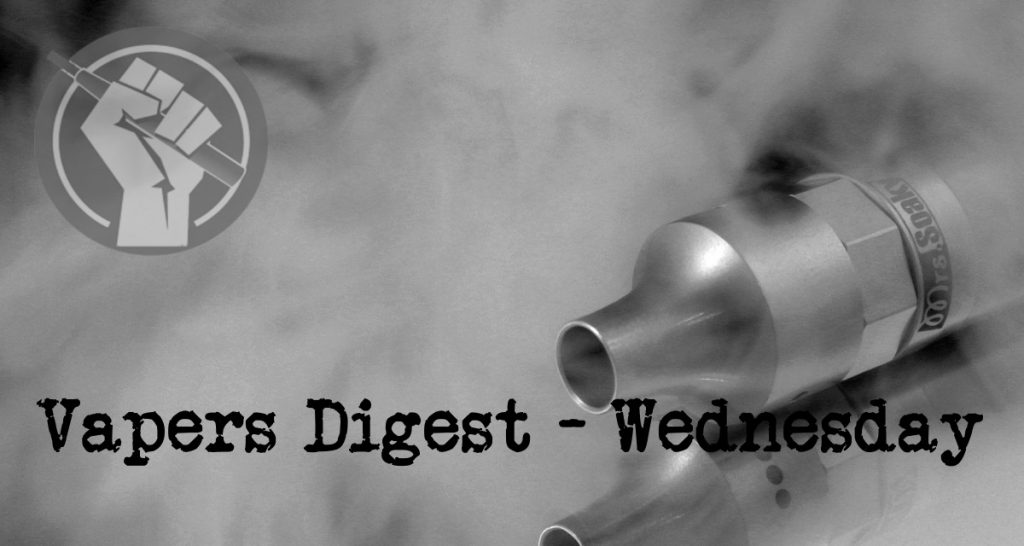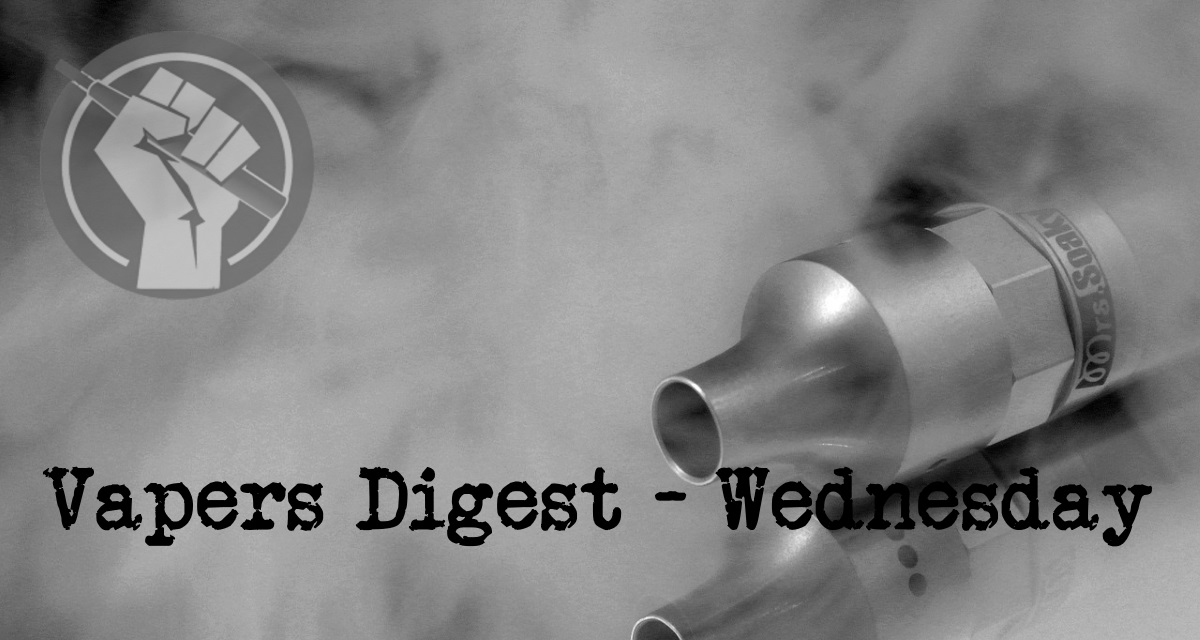 Wednesday's News at a glance:
Heat Not Burn Products – The New Nicotine Alliance Steps Into The Debate – Unpopular Opinion – An uncivil war -Wikipedia – encyclopaedic or idiotic?  – Towards a Smokefree England – Crusade Against Vaping And Juuling Continues – Pressure Group's Addiction Problem – Study Of Vapers May Change Policy – Crackdown on e-cigarettes coming – ECigarettes are less harmful than tobacco – Youth e-cig ban nears Alaska House vote – Nicotine Science and Policy Daily Digest
The New Nicotine Alliance Steps Into The Debate
Sarah Jakes, Ecig Click
In an explosive interview Sarah Jakes the Chair of the New Nicotine Alliance explains why the advocacy charity not only supports the use of heat not burn products to quit smoking but says vape shops should openly sell them alongside e-cigarettes.

If you're thinking I'm exaggerating by using the word 'explosive' – using phrases such as 'conspiracy theories' and my personal favourite 'bollocks with knobs on' shows the lady is not for turning or as debating opponents go – not one to be messed with
Paul Barnes, Facts Do Matter
This will probably piss a lot of people off and frankly, I don't particularly care so, I'm just going to say it:

If a vape shop wants to sell heat-not-burn in the form of IQOS, GLO or any other HnB product, have at it. If you abide by the relevant rules and regulations, go for it.

For one, it'll give IQOS users a broad array of places to get HEETS and the other accessories for the product, and that is no bad thing.
Headrambles
Why is there friction between Smokers, Vapers and those new kids on the block – the Heat not Burn [Scorchers?] crowd?

It makes no sense. If the Vapers are worried that the Scorchers are going to somehow put electrofags out of business then that is a patent nonsense. If there is a demand for electrofags then there will be a supply. No one is suggesting that Vapers be forced to become Scorchers?
---

---
Fergus Mason, Heat Not Burn
Everyone's familiar with Wikipedia – "the encyclopedia that anyone can edit". It sounds like a great idea, doesn't it? A vast, sprawling reference work that everyone in the world can add their knowledge to, with administrators and fact-checking mechanisms to make sure nobody's contaminating it with nonsense. In theory at least, it should end up containing all the open-source information in the world and be constantly checked for accuracy by thousands of dedicated users.
Diane Caruana, Vaping Post
Last July, the Tobacco Control Plan listed the government's plans for a "smoke free" England, hence reducing smoking rates to 5% or less, which would equate to roughly one in 20 people being smokers.

Tuesday's event, titled "When might England become Smokefree?", referred to data from a report by Frontier Economics which calculated when the UK would achieve this goal. Using reliable statistical data from the NHS and the Office for National Statistics as its base, the report indicates that if the current dramatic downward trend in smoking prevalence thanks to e-cigarettes is maintained…
---
---
Continues As Smoking Rates Plummet
Steve Birr, Daily Vaper
Officials with the Delaware Division of Public Health are the latest to speak out against the increasing prevalence of e-cigarettes — harm reduction devices helping millions of former smokers in the U.S. quit. Fred Gatto, chief of the Division of Public Health's Health Promotion Bureau claimed Sunday that, "there's really no evidence to prove that" vapor products are aiding in smoking cessation, reports Delaware Public Media.
Mawsley, Planet of the Vapes
The Campaign for Tobacco-free Kids has been dedicating itself to fighting the imaginary evils of harm reduction products, but the organisation has recently become addicted to Juul tweets. Moreover, the campaign seems to using the press articles generated from its press releases to justify its stance on vaping.

Nobody over the course of this year has done more to promote the Juul electronic cigarette than The Campaign for Tobacco-free Kids (CTFK). In fact, its Twitter account is posting pictures of Juul devices so often it's like the organisation is being paid to advertise them.
---

---
Carl V. Phillips, Daily Vaper
A new paper describes how New Zealand vapers feel "shocked" that they have been "abandoned by the health sector." Getting no support for their own smoking cessation efforts, let alone their attempts to help others, the vapers engaged in both political and grassroots public health actions. Vapers everywhere know how this experience creates both a sense of frustration and of well-deserved pride, as is described in the paper.

Martin Banks, EuReporter
Dr Polosa: "Even the most stubborn opponents in the tobacco control movement now acknowledge that e-cigarettes, although not risk-free, are considerably less harmful than smoking tobacco. Emissions and exposure data are unequivocally showing that their toxicological profile is of immaterial concern compared to tobacco smoke. Clinical findings on e-cigarette users who have been using these products long-term do not show any early sign of damage to the lung.
---

---
Robert King, Washington Examiner
The Food and Drug Administration will step up its crackdown on e-cigarette sales to teens, the head of the agency said Tuesday.

Lawmakers on a House Appropriations subcommittee grilled FDA Commissioner Scott Gottlieb about excessive use of e-cigarettes among youths. The FDA has the authority to go after e-cigarette makers and retailers if they violate a ban on sales to people under 18, but lawmakers questioned if the agency was doing enough.
James Brooks, Juneau Empire
Finance committee approves measure that would block sales to under-19s The Alaska House of Representatives is preparing for a final vote to prohibit Alaskans 18 and under from buying electronic cigarettes and the liquid used within them.

State law already prohibits stores from selling e-cigarettes with nicotine liquids to juveniles; Senate Bill 15 would extend that ban to cover liquids that do not contain nicotine.
---
A look back at how things have moved on or otherwise….
Jan Verleur, Daily Caller
Last year, the FDA announced it would extend federal regulatory control to e-cigarettes. As part of the ruling, government approval of all e-cigarette products and related consumables introduced after 2007, such as e-liquid, is now required. These products must go through a formal approval process to remain on the market. Winning a single approval could cost more than $1 million for a given applicant.

This is a virtual death sentence for mid-size and smaller electronic vapor brands. Some simply won't be able to bring products to market that offer reduced health risks compared to combustible cigarettes. Others will be forced to raise prices, diminishing their competitiveness. Let's not forget – this will likely also have a trickle-down effect on the thousands of vape shops and retailers nationwide that rely on product versatility to attract customers.
Fergus Mason, VapingPost
There was good news for vapers in New York state last week, as reports indicate that Governor Cuomo's planned crackdown on vapour products has been cut from his upcoming budget. A court case is also underway in an attempt to strike down the US government's ban on in-flight vaping. However, Australian nicotine opponents are arguing that vaping during pregnancy can cause asthma based on yet another study of mice. Meanwhile the CDC's own data shows that e-cigarettes are steadily replacing licensed medicines as a quit method, but the agency refuses to accept their effectiveness.
Haaretz
This week, an Israeli nonprofit filed a High Court petition against the Health Ministry following its surprising decision to exempt international tobacco giant Philip Morris' new e-cigarette, iQOS, from regulation.

Health Minister Yaakov Litzman's decision means that the e-cigarette can be marketed in Israel without any warnings or restrictions, and that it will not be subject to the usual taxes on tobacco products. A warm welcome into the Israeli market – courtesy of the Health Ministry.
---
Visit Nicotine Science & Policy for more News from around the World

---