Vapers Digest April 20th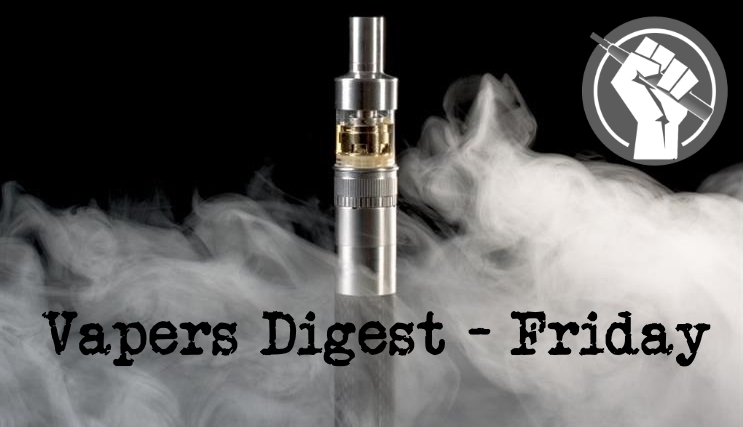 Friday's News at a glance:
Sticks & Stones – Government's policy on e-cigarettes – Do Increased Cigarette Prices Encourage Smokers to Quit? – Philip Morris loses 16% in value – FDA Is Targeting E-Cigarette Retailers – Why Did an NPR Show Lie – JUUL Popularity Drives 6% Decline – JUUL Threatened by Powerful Groups in Washington – How Low Will They Go? – Science Backs the FDA Down – Rendez-vous with Marewa Glover – Plain Packs Legislation Delay – Cigarettes out, vaping in  – Nicotine Science and Policy Daily Digest
Simon Thurlow, Midnight Musings
The last week has seen an extraordinary spat break out across social media all because it has been revealed that some vape stores are going to start stocking IQOS. Then a whole new level of stupid was reached by the (over) reaction from certain quarters to the news that the New Nicotine Alliance supports this move.

I have watched dumbfounded as people have declared open season on anyone who dares to show any kind of support for IQOS because (shock & horror) it is made by the tobacco giant PMI. I don't recall seeing the same reaction to ecigs such as Ploom, Blu, Vype etc – all of which are owned by tobacco companies.
Minister questioned on Government's policy on e-cigarettes
Science and Technology Committee holds its final evidence session for its inquiry into e-cigarettes. This session looks at recent and future guidance by the relevant health authorities, and the advertising regulatory body on risks and recommendations on e-cigarette use. This session will also see the Committee question the Minister, Steve Brine MP, on the Government's policy on e-cigarettes.
---

---
Encourage Smokers to Quit? – Diane Caruana
A recent study published in BMJ, suggests that increasing the cost of a pack of cigarettes by 50% would encourage millions to quit smoking. However actual figures from Australia, which boasts some of the most expensive cigarette prices around the globe, seem to indicate otherwise.

Study author Prof Prabhat Jha, from the University of Toronto and St Michael's Hospital, says that increased cigarette prices would not only save millions of lives, but also lead to an improved financial situation for many.
Mamta Badkar
Philip Morris shares were getting smoked on Thursday after the company behind Marlboro reported disappointing revenues as growth in its heated tobacco devices slowed and cigarette demand continued to decline. Shares in the company fell as much as 16.3 per cent to $84.86 and were headed for the worst single day performance since 2008. The fall wiped about $26bn from the company's market valuation.
---
---
Brad Rodu, Tobacco Truth
FDA Commissioner Scott Gottlieb reportedly testified at a House Appropriations subcommittee April 17 about "excessive use of e-cigarettes among youths…Gottlieb said the FDA will crack down on youths' use of e-cigarettes in the coming weeks.  'We are going to take some vigorous enforcement steps to try to perceive what we see is inappropriate use by youth,' Gottlieb said, refusing to elaborate on when the action will happen.
About YouTuber Abby Vapes? – Jim McDonald
Like just about every news outlet in the country, Boston public radio program On Point led its April 5 vaping segment with the two biggest vaping news topics: e-liquid flavors, and the supposed epidemic of teenage vaping, driven by use of the JUUL.

And, also like just about every other news outlet, On Point host Jane Clayson got the vaping facts wrong. Very, very wrong.
---

---
In US Cigarette Sales – Steve Birr
A recent analysis of the U.S. tobacco industry reveals alternative smoking technologies, specifically the JUUL, are causing declines in cigarette sales to accelerate.

In what should be welcomed news for public health advocates and tobacco controllers, researchers at Citi are attributing a 6 percent decline in U.S. cigarette volumes in the first quarter of 2018 to the stratospheric rise of the JUUL e-cigarette.
Jim McDonald, Vaping360
A letter sent to the FDA by six tobacco control organizations demands the agency "take immediate action to protect the nation's young people, and the public health, from the dramatic rise in teen usage of Juul electronic cigarettes." The letter reiterates the groups' demand in their lawsuit against the FDA that the agency reverse its decision to postpone premarket approval for existing vapor products until 2022.

Surveys As Propaganda, Not Research
Carl V. Phillips, Daily Vaper
Since the Nuremberg war crimes trials and the resulting establishment of modern health ethics, it has been considered unethical to try to cause impacts on people under the guise of doing research. The extreme case that motivated this was the Germans torturing and killing people and calling it research. But it was realized that less extreme manipulation of research subjects has similar ethical implications, and that a bright-line prohibition was necessary.
The FDA recently posted some non-binding guidance here.  In part it says on page #6:

"Examples of components or parts for which FDA does not intend to enforce the ingredient listing
submission requirement of section 904(a)(1) at this time include, but are not limited to, the
following:
Philippe Boucher
Fresh white clouds are chasing the last of the summer rays across the sky above me. I can smell the damp earth from last night's rain. The scent of flowers, the bush, the sea… these are the aromas of what is now our almost Smokefree New Zealand. If I'm bothered by particles blown on the breeze, it's pollen or the occasional whiff of smoke from a neighbour's chimney. It's a very different atmosphere to the one I grew up with which, from birth, smelt of cigarettes.
---

---
Diane Caruana, Vaping Post
As the plain packaging regulation has finally gone into effect, retailers have until the 6th of June to get rid of any remaining stock of branded cigarette packs, after which only sales in plain packaging will be permitted. In neighboring Australia, cool cigarette logos have been replaced by plain packaging and graphic warning image, from as far back as 2012. It was the first country that adopted this strategy and prompted many to follow suit.
Diane Caruana, Vaping Post
The study titled Electronic cigarette use in Greece: an analysis of a representative population sample in Attica prefecture, was led by renowned public health and anti-smoking researcher and expert Dr. Konstantinos E. Farsalinos. The aim of the research was assessing prevalence and correlates of electronic cigarette use in Greece during 2017.
Jodi Leese Glusco
In a letter to students, faculty and staff, Duke University President Vincent Price announced Monday that the Durham campus would be totally smoke-free effective July 1, 2020. The new policy will allow the use of e-cigarettes, chewing tobacco and smoking cessation aids that contain nicotine. Duke stores will cease the sale of tobacco products by July 1 of this year.
---
A look back at how things have moved on or otherwise….
Highlights from England – Clive Bates
On this page I set out some of the good things on tobacco harm reduction that have come from England.
Mawsley, Planet of the Vapes
Researchers from the Schroeder Institute (along with academics from John Hopkins Bloomberg and the University of Vermont) conducted a systematic review of 687 pieces of published empirical electronic cigarette research literature. Their findings were presented at The National Conference on Tobacco or Health, one of the largest gatherings of the United States tobacco control movement.
---
Visit Nicotine Science & Policy for more News from around the World

---