Vapers Digest April 23rd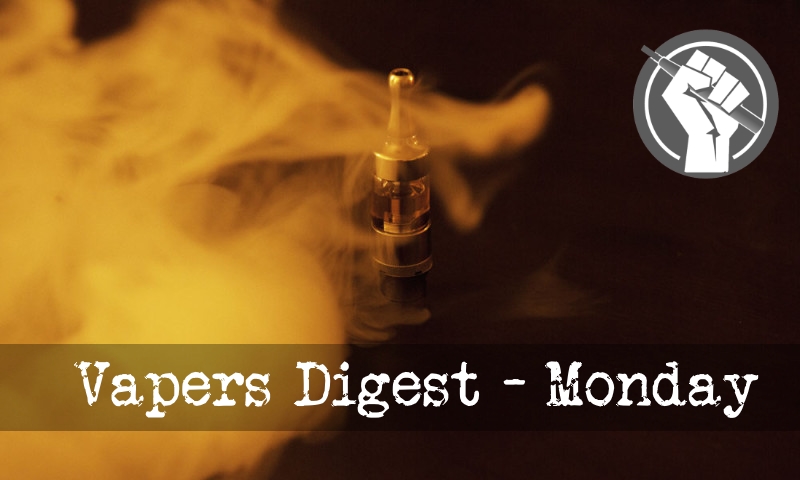 Monday's News at a glance:
UK vape scene hit by HnB row – No short-fill shortfall – Philip Morris Feels The Heat And Burn – Clinical Trial Evidence – Hubris before a fall – E-cigarette firm cashes in on vaping – MPs Sitting For The Final Time – Europe's anti-smoking obsession – eCigarettes are safer than smoking tobacco – We Must Save the Industry that Saved Us – School Takes Alarming Step – Comparative tumor promotion assessment – PH vapers hail US FDA – FDA Publishes Revised Ingredient Listing – How much does the FDA really do – Vaping In The News – Nicotine Science and Policy Daily Digest
Fergus Mason, Vaping Post
Vaping news in the UK, probably the world's most enthusiastic adopter of e-cigarettes, has been dominated for the last week by an online fight between harm reduction advocates and renegade YouTube personalities. Following a series of videos attacking harm reduction products they personally disapprove of, a small group has now moved on to attacking a leading advocacy group, claiming it's "in the pocket of Big Tobacco". Meanwhile the FDA seems set to toughen its already draconian anti-vaping rules, while Romania contemplates a public use ban.
Freddie Dawson, ECig Intelligence
So-called "short-fill" products have not caused a reduction in the number of nicotine-containing e-liquids being notified in the UK, according to an expert from the agency in charge.

In fact, the number of notifications for e-liquids in 2017-2018 is higher than the agency predicted, according to Craig Copland, e-cigarette unit manager at the Medicines and Healthcare Products Regulatory Agency (MHRA), which is responsible for EU Tobacco Product Directive (TPD) notifications in the UK.
---

---
Mawsley, Planet of the Vapes
The Philip Morris tobacco company is used to being attacked by public health campaigners. When it announced its intention to move away from traditional cigarettes, the news was greeted with cynicism and derision, but has its recent advertising campaign crossed yet another line in the sand?
Debunks The 'Vaping Impedes Smoking Cessation' Claim
Carl V. Phillips, Daily Vaper
One of the most damaging anti-vaping lies being told by tobacco controllers is that vaping or trying vaping causes smokers to become less likely to quit smoking. This is absurd on its face, given the low background rate of smoking cessation and the millions of former smokers who have switched to vaping. The evidence that supposedly supports the claim clearly does not do so.
---
---
Simon Clark, Taking Liberties
A Daily Telegraph investigation found Philip Morris, the maker of Marlboro cigarettes, is supplying newsagents across Britain with window posters promoting new iQOS tobacco heaters …

The iQOS posters are in breach of a strict long-standing ban on advertising tobacco and tobacco-related products, the Department for Health and the National Trading Standards Institute have confirmed.
UK MPs on the Science and Technology Committee sit for the final time on Monday to gather more evidence on e-cigarettes and vaping.

The session will be split into three parts with the last one giving the sitting MPs the chance to quiz Health Minister Steve Brine MP on the UK Government's current policy on vaping.
Julia Kollewe, The Guardian
One of Britain's biggest makers of liquids for e-cigarettes is aiming to cash in on the boom in vaping by listing its shares on the London stock market.

Manchester-based Supreme, which is 100% owned by its chief executive, Sandy Chadha, is expected to have a market value of £150m when it floats on Aim, the London Stock Exchange's junior market, in mid- to late May.
---

---
Riccardo Polosa
There has been much scaremongering around the increased uptake of eCigarettes, but the science speaks for itself. This may be a new phenomenon in Europe, but for over 10 years, scientists worldwide have been evaluating electronic cigarettes.

Looking at the evidence, health professionals and decision makers shaping public health policy must acknowledge the role that eCigarettes play in helping people quit smoking and work to dispel the misinformed news stories that surround them.
Tony Ottomanelli II
What if you had to opportunity to save lives and positively affect people daily while providing a life for your family and employment/career for people? This is what the vapor industry has done for my wife and I.

What if I told you that the same people that want people to stop smoking are also trying to shut down the industry that will do that better than any other form of tobacco harm reduction currently approved by the same governmental agency?
To Stop Vaping By Removing Bathroom Doors
Steve Birr, Daily Vaper
A Maryland school is facing criticism over privacy concerns after removing the doors from their bathrooms in an attempt to stop teens from vaping.

Officials at Broadneck High School in Annapolis, Md., said they are concerned about a rise in student use of vapor products and want to discourage students from vaping or "juuling," which refers to the poplar e-cigarette brand JUUL. The school removed half of their main bathroom doors Tuesday and said they will remain that way indefinitely, reported the Capital Gazette.

Bill Wirtz
The European Union does everything it can to reduce the number of smokers in its member states. What appears to be a laudable goal, has turned into a fact-free obsession in recent years. In fact, member states and EU regulations have made the market less transparent for the consumer, and have made harm-reducing products less appealing.
Of e‐cigarette and cigarettes using the in vitro Bhas 42 cell transformation assay
Damien Breheny Oluwatobiloba Oke Kamala Pant Marianna Gaça G. Umbezeiro
In vitro cell transformation assays (CTA) are used to assess the carcinogenic potential of chemicals and complex mixtures and can detect nongenotoxic as well as genotoxic carcinogens. The Bhas 42 CTA has been developed with both initiation and promotion protocols to distinguish between these two carcinogen classes. Cigarette smoke is known to be carcinogenic and is positive in in vitro genotoxicity assays. Cigarette smoke also contains nongenotoxic carcinogens and is a tumour promoter and cocarcinogen in vivo.
Press Trust of India
Nicotine addiction through e-cigarettes among young people may lead them to try conventional tobacco products, the Delhi High Court has been informed by the Union health ministry, which said it was considering a ban on the item.
Philippine Daily Inquirer
The country's vapers welcomed a push being made by the US Food and Drug Administration (FDA) to promote the development of less harmful tobacco products.

"We laud the US FDA for the agency's strong push for nicotine regulation, which paves the way for the development of innovative and less harmful tobacco products," said Tom Pinlac, president of The Vapers Philippines.
---

---
Last week on the 13th of April, the US Food and Drug Administration (FDA), released a revised ingredient listing guidance for tobacco products which exempts non-consumable product hardware, components and parts.
Lindsey Stroud
According to its mission statement, the Food and Drug Administration (FDA) is responsible for "advancing public health" by providing oversight to the drug development process. FDA has been tasked with helping to ensure there are "effective, safer, and more affordable" health products in America's market, which helps individuals "maintain and improve their health."
Are nearing their license deadline
The City Council passed legislation last August that requires all vape retailers to apply for a license by Wednesday. Only retailers who were selling e-cigarettes as of Aug. 28, 2017, are eligible. Pharmacies or businesses containing pharmacies are not eligible and will be prohibited from selling any related products beginning Aug. 23.
Kevin Crowley, Vaping Links
Wrigley Beats Vape Co. In Starburst, Skittles Flavors TM Row ~ E-cigarette brand's 2.6M power units being recalled ~ Heat Not Burn ~ Sticks & Stones ~ Vaping's potential to benefit public health exceeds its risks ~ Science Backs the FDA Down ~ Science Lesson ~ LIES, DAMNED LIES, & 400,000 SMOKING-RELATED DEATHS ~ CASAA FREE Membership Offered to Vapers ~ David Goerlitz ~ Clive Bates ~ FDA Inspection Proposal
---
A look back at how things have moved on or otherwise….
Dick Puddlecote
The Foundation for Economic Education published an interesting essay last week on the nature and politics of authoritarianism and how it is not the sole preserve of the politically left or right. The tract is primarily focussed on the US but it works just as well for this side of the pond.

Here are some extracts which will be easily recognisable by fellow jewel robbers….
But warns of impact of HSE delays – IVVA
The general motion, proposed by Dr Garrett McGovern and seconded by Dr Cathal O'Suilliobhain, both GPs, was carried with amendment, and reads:

The IMO recognises e-cigarettes as a potentially effective tool for smoking cessation and a far safer alternative to tobacco. The burden of tobacco harm in Ireland continues to be high and any intervention that reduces this toll should be welcomed….
The answer might surprise you… – Ashtray Blog
It's safe to say nicotine has a pretty bad reputation. From exaggerated claims about how toxic it is to the unfortunately widespread myth that it causes cancer, it's long been viewed as a menace. As soon as e-cigarettes came on the scene, they were viewed as a menace too, largely because most contain it. Nicotine is highly addictive, critics argue, causes heart problems, harms teenagers' brains and more…
---
Visit Nicotine Science & Policy for more News from around the World

---