Vapers Digest April 25th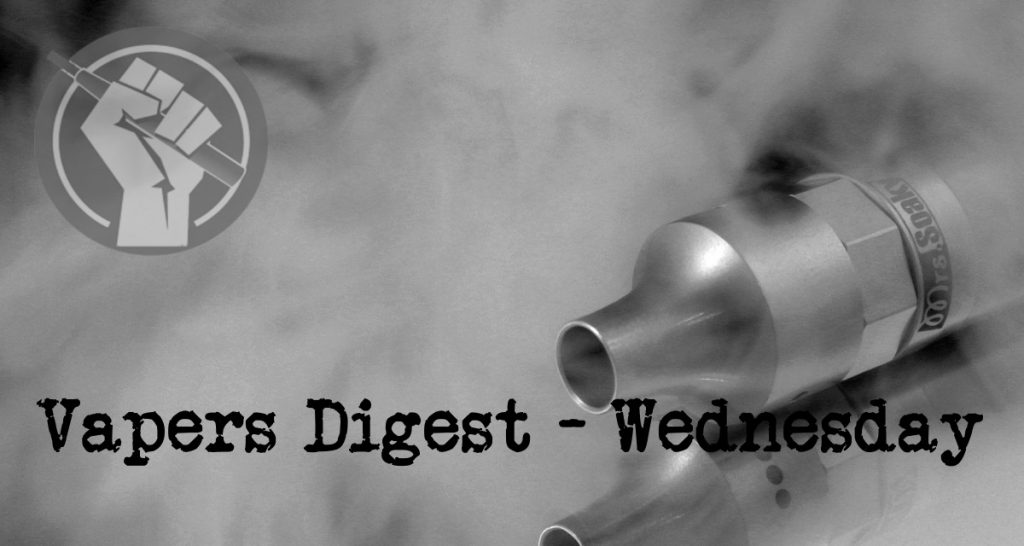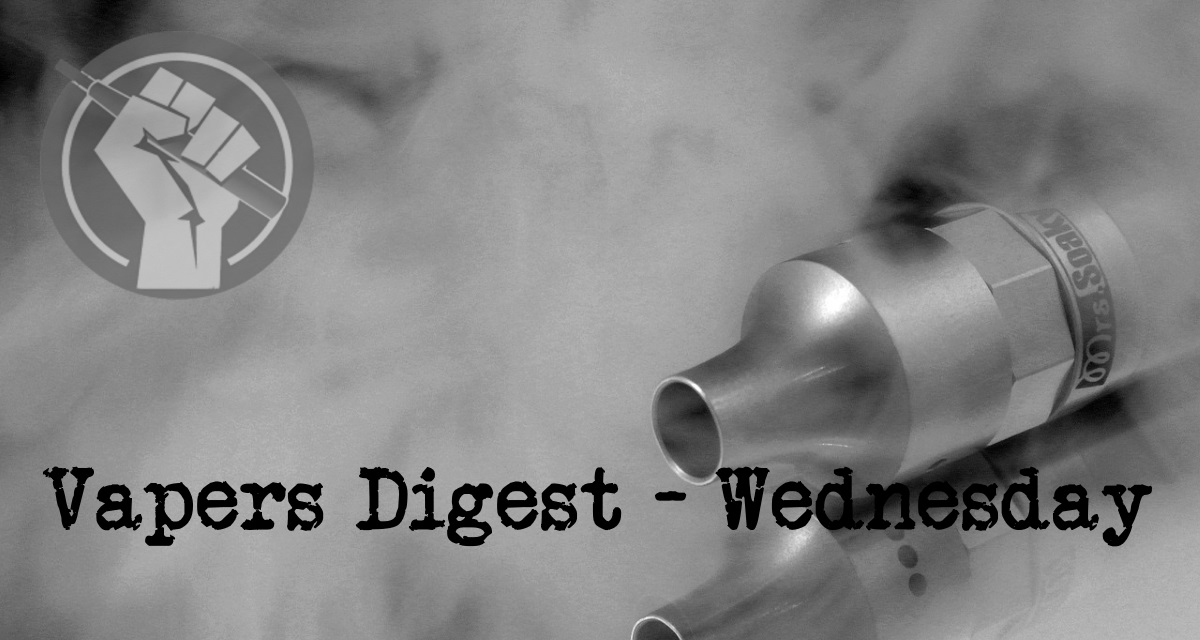 Wednesday's News at a glance:
Tobacco Control's Retarded Understanding of Economics ~ Heavy Metals ~ Queens Award for Li-ion Bags ~ 4th Oral Evidence Session of the Science & Technology Committee inquiry into e-cigarettes ~ Duke Bans Smokes, But Not Vapes ~ UK Vaping Industry Association Forum ~ FDA Crackdown | JUUl Targeted for Teen Use ~ FDA Joins Orchestrated Attack On Juul. Or Did They Start It? ~ FDA Sides With Stupid ~ Vaping companies called for crackdown on e-cigarette sales to minors ~ Will JUUL Fight the FDA or Just Give Up?
Dick Puddlecote
Things have been hectic at Puddlecote Inc recently hence the lack of content here, but some of that busy-ness is down to something quite momentous which could be on the horizon. The drafts have been piling up but I'll get round to them sometime.

Starting with this. Oh boy!

Next time any tobacco controller tries to tell you they understand everything about how the world works – because they always claim to – simply point them at this hilarious nonsense.
Mawsley, Planet Of The Vapes
A team from Greece has had a paper accepted for publication on the topic of heavy metals in vape juices. Eleni Kamilari, Konstantinos Farsalinos, Konstantinos Poulas, Christos Kontoyannis and Malvina Orkoula co-produced "Detection and quantitative determination of heavy metals in electronic cigarette refill liquids using Total Reflection X-ray Fluorescence Spectrometry" that will appear in Food and Chemical Toxicology.
Mawsley, Planet Of The Vapes
The Queen's Award for Innovation 2018 has been given to a company that has produced a product to combat the problems of lithium-ion (li-ion) batteries going in thermal runaway while on flights. While some like to point the finger at vape products, the mile-high fire problem covers laptop computers, mobile phones, tablets and anything else powered by a li-ion cell.
---

---
Jim McDonald, Vaping 360
Like many other American universities, Duke is going smoke-free. Unlike almost all the others, the wealthy private research school will not ban non-combustible tobacco — including vapes.

"The policy will prohibit the use of combustible tobacco products, including cigarettes, cigars, cigarillos, and hookahs, but it will not apply to non-combustible forms of tobacco such as e-cigarettes, chewing tobacco, or therapeutic products containing nicotine," says a message to students and staff from Duke's president Vincent Price.
The Freedom Association
I had the pleasure of attending and speaking at the first UKVIA Forum in London on Monday 23rd April. I was on the opening panel discussing regulation. Other panellists included Chris Snowdon from the IEA and Clive Bates, who amongst many other things, is a former director of Action on Smoking and Health (ASH). The session was expertly chaired by Mark Pawsey MP, the Chair of the All-Party Parliamentary Group for E-Cigarettes.

It was great to see the retail sector, smaller vaping businesses, tobacco companies, regulators, media, MPs, campaign groups and think tanks all under one roof.
Brent Stafford, Regulator Watch
It had all of the markings of a meticulously executed political attack campaign. After weeks of escalating news coverage, stoking fear over a reported frenzy of teen vaping, the FDA on Tuesday announced it was cracking down on sales of e-cigs to minors—vilifying the popular JUUL vape brand in the process.

What's driving this finely tuned hatchet-job against vaping?
---
---
Carl V. Phillips, The Daily Vaper
The concerted attack on Juul brand products just reached its predictable first-act climax, with the FDA joining the attack with announcements, press statements, and enforcement actions (further details were previously reported). FDA Commissioner Scott Gottlieb published a statement alleging that Juul Labs is marketing to minors after making similar public comments. This was accompanied by email announcements and a social media blitz. The New York Times and Washington Post published party-line articles about this within minutes of Gottlieb's statements, making clear that their endorsement of the FDA's message had been pre-arranged.
Mawsley, Planet Of The Vapes
The D in FDA may as well stand for 'dumb', 'disastrous' or 'death' as it announces its decision to "get tough" on so-called "Juuling". Scott Gottlieb looked to be pro-vaping when he became the 23rd Commissioner of the U.S. Food and Drug Administration but hope appears to have been misguided as he caves in to the lies and fear tactics used by the anti tobacco-harm reduction actors.

Unquestionably, in the States there has been an on-going coordinated attack campaign on the independent vape company Juul Vapour. Organisations like The Truth Initiative and Tobacco Free Kids have been issuing press releases then backing each other up with quotes to journalists.
---

---

Paul Blair, Washington Examiner
This week, the Food and Drug Administration announced that it was cracking down on the illegal sale of electronic cigarettes, namely JUUL, to minors across the country. Honest observers of this most recent move by the agency applauded the acknowledgment that the enforcement of current laws is the best way to promote public health. A contingent of Democrats and deranged activists, however, would like this to be the beginning of the end for an industry struggling to tell its side of the story.

In the April 24 press release, Commissioner Scott Gottlieb announced that the FDA would be moving forward with "a new Youth Tobacco Prevention Plan focused on stopping youth use of tobacco products, and in particular, e-cigarettes."
---

---
Jim McDonald, Vaping 360
After months of hinting, FDA Commissioner Scott Gottlieb announced actions yesterday that he says are intended to prevent teen vaping and address the concerns the agency has about JUUL. The announcement is obviously a response to coordinated pressure from special interest groups, rather than an effort to address any real problem.

Nevertheless, within a day, JUUL Labs responded by announcing plans to invest in programs to prevent not only underage use of JUUL, but even use by adults who have never smoked, and support for the Tobacco 21 initiative that promotes laws banning nicotine products to adults under age 21.
---
A look back at how things have moved on or otherwise….
Silence isn't support – Fergus Mason
The UK is in the grip of a moral panic deeper than any that's been seen since the medieval witch-burning craze, and about as firmly based in reality. The anti-sugar cranks are whipping themselves into a frenzy. Local government busybodies are incensed that restaurants are merely giving free tap water to anyone who asks for it, as they're legally required to do; they want waiters to actively offer it as the first choice, because some miserable cheapskate might be "too embarrassed" to ask for it….
MIT Brickman
What's an elephant doing in here? The current debate around "vaping" really is a fundamental argument about personal freedoms, and whether governmental involvement in every area of life is beneficial or not. It's ultimately about your individual right to live your life as you choose….
---
Visit Nicotine Science & Policy for more News from around the World

---