Vapers Digest April 27th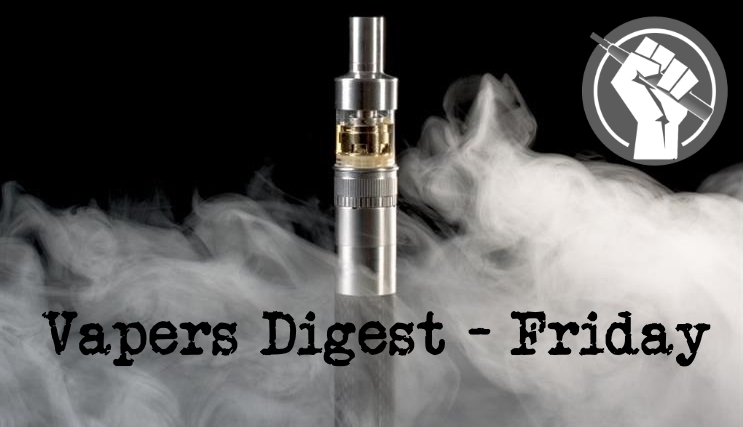 Friday's News at a glance:
Secretary Of State For Health Says Smoke 'Em If You Got 'Em – Harry's blog 58: Big Bang Theory – I'm not your Winston Man: David Goerlitz – FDA Investigation of Adolescent Juuling – JUUL Commits $30 Million – CDC NHIS Finds Record Low Smoking Rates – Italian MEP Promotes Vaping – Rendez-vous with Olivier Théraulaz – Should doctors recommend e-cigarettes – Using cigarette packets to promote vaping – Parliamentary Science & Technology Committee Pt.IV – Vaping law change needed now – Suspicions about vaping remain – Babylon bans use of e-cigarettes – Nicotine Science and Policy Daily Digest
Smoke 'Em If You Got 'Em – Dick Puddlecote
You may have watched this already, but the Science and Technology Committee of the House of Commons held a further session on e-cigs the other day. You can see the whole thing here.

Chaired by Norman Lamb, a former Minister of State, it was investigating the role of not just vaping but other harm reduction avenues. There were many revealing moments which tie in with my regular refrain that new nicotine products are scaring the living daylights out of the establishment because they simply cannot work out which way to turn…
Harry Shapiro
I recall hearing Martin Dockrell from Public Health England remark that he put 'popcorn' into Google and 'popcorn lung' came up before err…popcorn in the search bar. 'Popcorn lung' is so nice and catchy, like 'hippy crack' (nitrous oxide, honestly) and 'zombie spice addicts'.

The media love a good bad news e-cig story. Next in line is probably death by JUULing (you read it here first), followed closely I suspect by those delicious stories about exploding devices.
Kevin Crowley, Vaping Links
David Goerlitz announces the launch of his new show premiering Saturday, April 28th at 9:00 A.M. on Vape Radio.

In my search to make a determination of what is real or imagined in the controversy of safety, effectiveness, vaping, I accidentally found a blog by David Goerlitz on a cold winter night in 2014 – enlightening me to things I never thought I'd read.
---

---
Could Endanger Adult Smokers – Jacob Sullum
Juul, a discreet, streamlined e-cigarette developed by the innovative vaporizer company Pax Labs, is pretty cool. That's a problem for Juul Labs, which spun off from from Pax last year, because teenagers like cool things. Yesterday the Food and Drug Administration, responding to anecdotal reports of students who juul during school, announced that it is investigating whether the company is marketing its products to minors.
Over Three Years To Curb Youth Vaping – Steve Birr
JUUL Labs announced the investment Wednesday as part of a new strategy to keep their device out of the hands of youths. JUUL will back legislation at the state and local level that raises the minimum tobacco purchasing age to 21, the company statement also said. The move comes a day after the Food and Drug Administration sent warning letters to retailers selling to teens that specifically named the JUUL e-cigarette, The Wall Street Journal reported.
---
---
And Fails to Report Them – Diane Caruana
The Centers for Disease Control and Prevention (CDC), has released the NHIS smoking data for 2017. The survey indicates another new record low for adult smoking rates for the first nine months of 2017 at 14.1%, down from 15.8% in 2016. Godshall pointed out that similarly "CDC changed the NHIS in 2016, causing an artificial smoking rate increase from 2015."
Mawsley, Planet of the Vapes
First, the Lega Italiana Anti Fumo (LIAF) organised an event at the European Parliament to discuss the benefits of vaping. As a result, Giovanni La Via, an Italian MEP, has penned a powerful argument supporting the use of electronic cigarettes in The Parliament Magazine.
The Parliament Magazine is a fortnightly EU politics magazine covering European Parliament news, opinion and comment. It is distributed to all MEP's, the Council of Ministers, the European Commission and the European Court of Justice. Having Giovanni La Via write a supportive article is excellent news, but there's also a piece by Riccardo Polosa too.
---

---
Philippe Boucher
Olivier Théraulaz is Chair of Helvetic Vape, the Swiss Association of Vapers and CFO of INNCO, the International Network of Nicotine Consumers Organizations that recently relocated its headquarters in Geneva.

Thank you Olivier for accepting our rendezvous. May I ask you to introduce yourself by sharing a little bit of background about yourself and what brought you into vaping advocacy?
BMJ, EurekAlert
The National Institute for Health and Care Excellence offers guidance for doctors to advise people who are trying to quit smoking – that e-cigarettes are helpful tools when trying to quit. However, emerging evidence suggests that e-cigarettes as actually used, actually depress, not assist cigarette smoking cessation for most users, and are a gateway to youth smoking.

Julia Robinson, The Pharmaceutical Journal
Pharmacy minister Steve Brine has said he would consider suggestions to use cigarette packets as a vehicle for the promotion of e-cigarettes.

The proposal was put to the minister by MP Stephen Metcalfe at a House of Commons Science and Technology Committee hearing on e-cigarettes.
Mawsley, Planet of the Vapes
The Parliamentary Science & Technology Committee met for the final time as it gathered evidence for the current situation regarding vaping in the UK. This time it invited representatives from the Advertising Standards Authority (ASA), Public Health England (PHE), the National Institute for Health and Care Excellence (NICE), and the Medicines and Healthcare products Regulatory Agency (MHRA).
---

---
Nicky Wagner
As a country we have shown a long term commitment to being smokefree by 2025 and over the past few decades we have worked hard to meet this goal.

I do not need to reiterate the unquestionable harm smoking tobacco has done, and continues to do in our community. We have lost far too many New Zealanders over the years and the desire to stop this harm drives us towards Smoke Free 2025.
Jess Young
Despite being a common sight on streets across the world, confusion remains over the health dangers of electronic cigarettes.

The latest State of Smoking survey – released in March this year – found that people in countries across the globe believe vaping to be more harmful than smoking traditional cigarettes. Even in developed countries such as the UK and France, at least 50 per cent of those asked believed electronic cigarettes were equally or more harmful than normal cigarettes.
Denise M. Bonilla
The Babylon Town Board on Wednesday approved banning the use of e-cigarettes in public parks and also voted to limit stores that primarily sell such products to industrial areas of the town.

The town's code banning smoking in town parks, recreation areas, playgrounds, pools and beaches will now also include "electronic cigarettes, vape pens, vapors, e-liquids, other legal marijuana derivatives or other substances."
---
A look back at how things have moved on or otherwise….
And does it matter? – Ashtray Blog
TPD Compliance! TPD Regulations! TPD Sale! For those of us who battled the EU over vaping laws (a battle which ended in a messy compromise), the term TPD has become part of our vocabulary.

And now the term TPD now seems to be used on every vaping website and forum! But if you're new to vaping, you might well find it confusing.

So in this post, in plain English, we'll explain what the TPD is, how it affects you, and whether it matters if your e-cig is TPD compliant.
From FDA's deeming rule – Diane Caruana
Finally some much awaited positive news for vapers in the US. This new bill goes a step further than the renowned Cole-Bishop proposal, which is expected to be attached to Trump's spending plan, and could be voted on as early as this week. "Cole-Bishop is like gaining the inch, and Hunter's legislation the yard," said Joe Kasper, Hunter's chief of staff.
---
Visit Nicotine Science & Policy for more News from around the World

---