Vapers Digest April 30th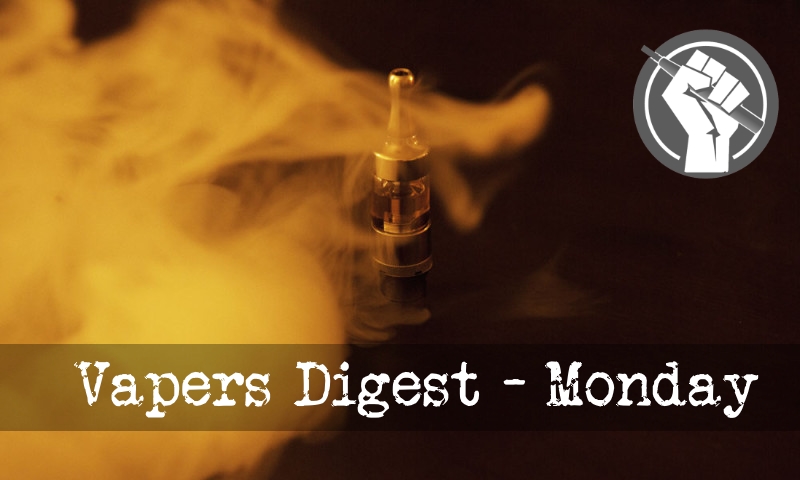 Monday's News at a glance:
Expo, Jam, Snus, Parrots and Panels – Court overturns Swiss ban on E-cigarettes – Who Uses Vape Shops? – FDA Blocks Consumer Access to New Smokeless Products – What Variables Should Be Controlled For? – E-Cigarettes, JUUL And The FDA – Parliament members chair at London vape conference – Nations consider re-think on e-cigarette legislation – Expect a fight over new smoking laws – Heart Disease Research – Cory Bernardi wins award for nicotine vaping advocacy – Could vaping ever become cool? – Vaping In The News – Banning of e-cigs urged until safe use is established – Nicotine Science and Policy Daily Digest
New Nicotine Alliance
Vaper Expo is taking place at the NEC in Birmingham next weekend and NNA will be there, in the Media Meet and Greet area. Trustees Andy Morrison and John Summers and Associates Martin Cullip and Sue Wilson plus NNA administrator Jessica Harding will be at the NNA stand and would very much like to see you there. The Expo organisers have, as always, made us very welcome and we would be as delighted to welcome you to our stand so please do pop by, to learn more about what we do or just for an idle chat.
swissinfo.ch
Switzerland's Federal Administrative Court (FAC) has overturned a ban on sales of electronic cigarettes with nicotine.

The decision came in response to an appeal by a company against the ban, which had been imposed by the Federal Food Safety and Veterinary Office (FSVO). This type of product is already on sale in the European Union.

"The FAC's decision on Tuesday authorizes with immediate effect the import and sale of flacons of liquid with nicotine for e-cigarettes," Judith Deflorin of the FSVO told Swiss broadcaster SRF on Friday evening.
---

---
Mawsley, Planet of the Vapes
Researchers at the UK Centre for Tobacco and Alcohol Studies, at the University of Nottingham, have conducted a study looking at who uses vape shops and what the stores offer. Despite the presence of online sources, the team found, bricks and mortar establishments are doing very well.

"The high street locations of vape shops make them an easily accessible option for smokers, and they are currently the most popular source for purchasing e-cigarettes in England," writes the group, citing the most recent 'Trends in electronic cigarette use in England' by West et al.
---
---
To New Smokeless Products – Brad Rodu
When Congress gave the FDA regulatory authority over tobacco in 2009, it specified that manufacturers wanting to sell a new product must get a "substantial equivalence" (SE) order demonstrating to the FDA that the product has the "same characteristics as a predicate tobacco product [i.e. on the market before February 15, 2007]; or has different characteristics than the predicate tobacco product but…does not raise different questions of public health." (here)
Carl V. Phillips, The Daily Vaper
A previous science lesson explained the concept of confounding and how variables are added to models to try to reduce the effects of confounding and thus sort out how much of an association is causal (the exposure caused the outcome) rather than confounding (e.g., some third factor caused the same people to have both the exposure and outcome). It was observed, but not explained, that "researchers just throw in whatever variables they happen to have, and claim this controls for confounding.
---

---
Seeing Through Smoke And Mirrors – Chuck Dinerstein
Through education and taxation, the struggle to end tobacco smoking has made tremendous gains over the last fifty years; some believe that we are entering the final phase of stopping the plague. Public health thinking has evolved too, cigarettes are now considered "nicotine delivery" systems and so they have taken on new forms – from the "low to no" nicotine cigarettes, to gum, patches, and vaporizers.
Vapor Voice Magazine
Members of parliament chaired three panel discussions as about 160 participants took part in a conference in London yesterday staged by the UK Vaping Industry Association.

Mark Pawsey, the MEP for Rugby and chair for the All Party Parliamentary Group for E-cigarettes, chaired a regulatory-landscape session that was enlivened and overshadowed by Brexit unknowns.

The theme of the conference was, Going for Growth, but considerable time was spent on discussing why e-cigarette growth had faltered and what was needed to get it going again.
Nick Webster
New Zealand has taken a similar approach towards e-cigarettes as that employed by the UAE and has seen mixed results in the number of smokers switching towards less harmful alternatives.

The country has around 550,000 daily smokers, and aims to be smoke free by 2025.

In 2017, the Cabinet of Social Policy Committee decided in principal to legalise the sale of e-cigarettes with appropriate controls, although a recent change of government has stalled those plans.
Tamar Kahn, South Africa
The Department of Health's new bill on tobacco products proposes a complete ban on smoking in outdoor public places' prohibits vending machines and brings e-cigarettes and other electronic nicotine delivery devices into the regulatory fold for the first time.

The Cabinet announced on Thursday that it had approved the Control of Tobacco Products and Electronic Delivery Systems Bill — the government's first significant reforms to tobacco control legislation in a decade. It is due to be gazetted for public comment this week.

For nicotine vaping advocacy – Tom Fedorowytsch
Australian Conservatives senator Cory Bernardi has accepted an award for promoting the legalisation of nicotine in e-cigarettes.
But the event has been blasted by a well-known public health expert, who described the South Australian politician as a "rather pathetic character" who was "not an authority" on the subject.
Mawsley, Planet of the Vapes
Stanton Glantz was a busy man in February. As well as dealing with the various legal actions being taken out against him and his employers, he was running around telling anyone that vaping doubles the risk of heart disease. Unfortunately for him, not even his friends at the American Heart Association can back him up with their latest study.
Dan Masoliver
A fog hangs in the air, its inescapable aroma – potent toffee popcorn reminiscent of a cinema foyer – cloys in the back of the throat. Every few seconds, another punter ejects a new plume of dense, sweet-smelling vapour – like a dragon that's gorged itself on pick'n'mix – which drifts gently upwards and adds to the thickening haze. There may be no proven dangers to inhaling secondhand vape, but it doesn't half give you a headache.
---

---
Kevin Crowley, Vaping Links
David Goerlitz ~ Would You Like Menthol or Non-Menthol? ~ Vape Timeline: We Must Save the Industry that Saved Us ~ Politics and the City: Proposed flavored tobacco ban could leave fiscal aftertaste ~ Age of Majority ~ AAFP Responds to FDA Nicotine Steering Committee ~ Rendez-vous with Marewa Glover ~ Tobacco Controllers Pump Juul ~ Anti-smoking groups sat on the sidelines ~ Cramer: Vaping is decimating the cigarette industry—and it could get even worse ~ E-Cigarettes No Longer Considered Tobacco Products Under Alaska Law
Until safe use is established – Chito Chavez
With doubts on the safety of the electronic nicotine delivery systems (ENDS), anti-tobacco use group the New Vois Association of the Philippines (NVAP) has strongly pushed for the temporary banning of electronic cigarettes (e-cigs) in the country.

Emer Rojas president of the Quezon City-based NVAP maintained that it is more logical for the government to momentarily prohibit the use of e-cigs in the country until its safety is fully determined by health experts.
Have the same flourishing gut flora – Newcastle University
The first study of its kind has found that people who vape have the same mix of gut bacteria as non-smokers, whilst smokers have significant changes to their microbiome.

The international team of researchers led by Newcastle University, analysed the bacteria of tobacco smokers, users of e-cigarettes and non-smokers from samples throughout the digestive tract, including in the mouth and gut.
Mawsley, Planet of the Vapes
An advocacy group is nominated for a consumer award, lies are made about a Moscow teen vaping problem and research asks why more smokers aren't switching. Vapes have been reclassified in Alaska, Moray Trading Standards unearth a deeply disappointing statistic and a chap sets fire to his carpet. It's just another week in the world of vaping.
---
A look back at how things have moved on or otherwise….
Dick Puddlecote
Before heading out this morning, I read this stunning statement in a BBC article about a new review of evidence (pfft) about plain packaging.

There was no evidence that changing packaging affected the number of young people taking up smoking, [Jamie Hartmann-Boyce, co-author of the report] said.

This is hardly surprising, because it is true. In fact I have written often about how the tobacco control lie-machine has tried very hard to avoid this unfortunate (for them) outcome of possibly the daftest 'public health' policy ever to have crept past lumpen-brained wooden-tops in parliament.
Or lying while staying accurate – RaithTech
Or, how to lie like a tobacco controller.

So, something I've noticed recently is an uptick in the number of 'accurate' but highly misleading claims being made by those who purport to be against tobacco harm. This normally takes the turn of stating an fact, but utterly removing the context.

Here are some examples….
---
Visit Nicotine Science & Policy for more News from around the World

---