Vapers Digest May 2nd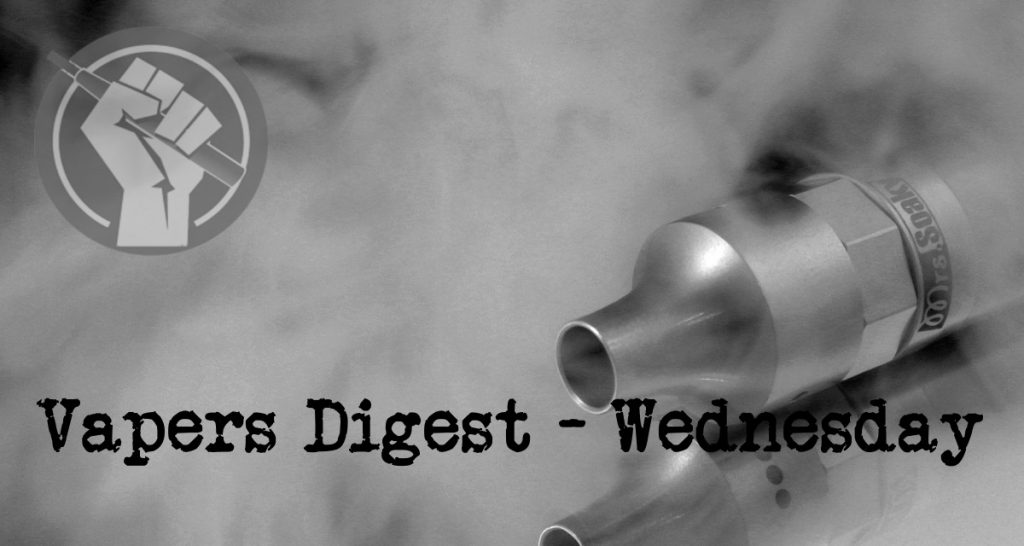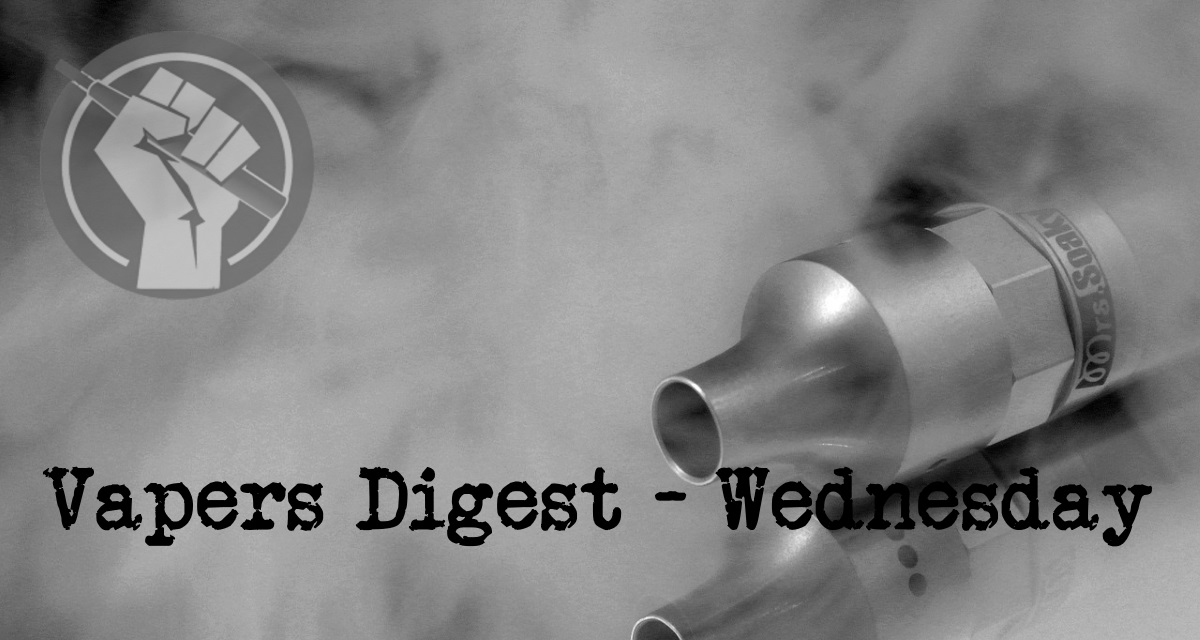 Wednesday's News at a glance:
The senseless war on snus ~ Ontario Liberals make it harder for smokers to quit ~ FDA & FTC Target Vaping Companies for Alleged Deceptive Marketing ~ FDA Takes Action On E-Liquid Labels ~ Blumenthal's Ban Call ~ Blumenthal Ignores Science ~ Another day, another polarising piece on e cigarettes ~ Special report: Medical opinion shifts from tolerating e-cigs to actively promoting them to smokers ~ Preparing for the EU General Data Protection Regulation ~ Public health, e-cigs and heat not burn. Why all the hatred? ~ Vaping Recommendations ~ Swiss Vape Ban Overturned In Court ~ Vape News ~  E-cigarettes inquiry
The Canadian Vaping Association
The Ontario government's new regulations dealing with electronic cigarettes will reduce access to a potentially life-saving technology for people who are trying to quit smoking, which will have a devastating effect on public health and the economy, according to officials with the Canadian Vaping Association (CVA), Canada's preeminent e-cigarette trade association.

In January, the Ontario government, led by Premier Kathleen Wynne, opened a public consultation on proposed regulations covering Bill 174, the Smoke-Free Ontario Act, 2017. However, on April 23, the Liberals announced that the draft regulations would be implemented without any amendments.
Gregory Conley, American Vaping Association
Today, the Food & Drug Administration and the Federal Trade Commission announced that they had jointly sent thirteen warning letters to manufacturers, distributors, and retailers of flavored vapor products, alleging violations of both the Food, Drug, and Cosmetic Act and the Federal Trade Commission Act.

The recipients of the letters include NEwhere Inc. (One Mad Hit Juice Box), Drip More, LLC (Candy King), and other companies that produce or sell e-liquid with packaging that appear to be directly inspired by what the FDA calls "kid-friendly food products." The FDA and FTC cite the products' potential appeal to children, including the risk that a child could incorrectly believe that the products are intended to be ingested, as a reason for acting. Both agencies have requested responses from the targeted companies detailing actions taken to address the concerns outlined in the letters, with further action to follow if the violations are not corrected.
---

---
Jim McDonald, Vaping 360
The FDA has expanded its enforcement actions on the vapor industry to go after e-liquid labels that look like recognizable food, candy, and drinks. And today's action may just be the first round.

"As part of ongoing efforts to protect youth from the dangers of nicotine and tobacco products," says the FDA press release, "today the U.S. Food and Drug Administration and the Federal Trade Commission (FTC) issued 13 warning letters to manufacturers, distributors, and retailers for selling e-liquids used in e-cigarettes with labeling and/or advertising that cause them to resemble kid-friendly food products, such as juice boxes, candy or cookies, some of them with cartoon-like imagery."
Mawsley, Planet Of The Vapes
Richard Blumenthal, the Democrat representative for Connecticut, has made yet another demand for an aspect of vaping to be banned. The latest outburst from the pharma-funded politician continues a train of nonsense stretching back five years.

While the vaping industry was still nascent, Blumenthal made a call for all flavours to be banned in 2013. Setting the agenda for battles to come, he said: "Vapour-producing devices, which are booming in popularity, have become gateway nicotine-delivery devices for children"
Juul continued on its meteoric rise as the top-selling U.S. electronic cigarette, soaring to a 60.1 percent market share for the four-week period that ended April 21. Wells Fargo Securities analyst Bonnie Herzog issued her latest report Tuesday, which is based primarily on Nielsen data. Juul, however, may be challenged to maintain that level after drawing the focus of the Food and Drug Administration in recent weeks and the intense criticism of anti-tobacco advocates.
---
---
Steve Birr, The Daily Vaper
Democratic Sen. Richard Blumenthal of Connecticut is calling for a major crack down from federal regulators on specific vapor companies that he deems are a danger to teens.

Speaking at a press conference in Connecticut Monday, Blumenthal demanded the U.S. Food and Drug Administration take oppressive action against vapor brands that manufacture flavors, which he suggests are purposefully marketed towards youth. Blumenthal is concerned about an increase in youth use of the devices while ignoring the impact vaping is having on smoking prevalence, reported WTNH.
Greg Fell, Sheffield DPH
Should we recommend e-cigarettes to help smokers quit. A useful, if polarised, yes / no article in the BMJ. The rapid responses are better, and more polarised.

Meanwhile the public get a confusing message.

I get there are differences of view, I get that we all want to do the right thing, there are different interpretations of "right" In this one.

Prof McManus's masterful blog – How and why I changed my mind on e-cigarettes – is as good a place as any to form a middle ground on. It has been exceptionally influential in this space in the view of many of my colleagues. I often encourage people to read the Science Media Centre for reaction to some of the most "interesting" stories. They don't cover everything, but they do cover a lot of stories in this space. Science on this is accumulation all the time, most recently from the US National Academies. Good summary here, note the concerns re long term net benefit.
---

---
Nick Webster, The National
E-cigarettes have become a dirty word in many countries, amid claims they encourage non-smokers to take up the habit – and make an unpalatable experience attractive to young people.

But at a meeting of leading medical experts in Washington DC this week, professional opinion seems clear: legalise but regulate them, promote them to hardened smokers, and hammer conventional cigarettes with high taxes.

Many countries, including the UAE and New Zealand, which have banned e-cigarettes and related devices, are likely to be watching closely.

The primary case study is the UK and at the E-Cigarette Summit in Georgetown, praise was heaped upon Public Health England by experts for its decision to officially promote to help smokers quit.
The new European Union (EU) General Data Protection Regulation (GDPR) replaces the Data Protection Directive on May 25, 2018 and will directly impact all companies, including vapor product retailers and businesses, that market and sell products to consumers in the EU and/or employ residents of the EU. The reforms will give European consumers new rights and control over the personal data collected from and about them, and impose new obligations on businesses within and outside of the EU that collect personal information from EU citizens, regardless of where they reside, or from individuals who reside in the EU, regardless of their nationality.

Given the magnitude of potential penalties for violations of the GDPR (supervisory authorities are authorized to impose fines of up to 4% of global annual turnover for serious infringements and 2% for less serious infringements), it is imperative that vapor product retailers and others selling into the EU or handling data about Europe-based individuals ensure they are GDPR-ready.

Tony, Heat Not Burn
Keep smoking we need the money.

We have been monitoring the entire public health movement since 2015 and we have decided to impart our thoughts on what we think about the cult of public health.

Firstly it is fairly obvious that public health stop-smoking groups do not want people to stop smoking, because if everyone stopped smoking they would all be out of a job. But it is much more complex than that. Public health have to be *seen* actively trying to get people to stop smoking so that they can continue to get rewarded with enormous grants, usual funded by public money.
Mawsley, Planet Of The Vapes
The British Medical Journal asked experts in the public health field to argue for or against recommending electronic cigarettes as a quit tool to smokers. Paul Aveyard (Nuffield Department of Primary Care Health Sciences at the University of Oxford) and Deborah Arnott (Action on Smoking and Health UK) argued in favour of vaping, University of Ottawa's Kenneth Johnson argued against.

"The National Institute for Health and Care Excellence (NICE) says that smokers should be told that many people have found e-cigarettes helpful aids to cessation, and the evidence indicates that e-cigarettes are substantially less harmful to health than smoking," began the pro-ecig pair.
---

---
Jim McDonald, Vaping 360
A federal court decision in Switzerland has overturned a years-long ban on vaping products. The law that was overturned prohibited the sale of e-cigarettes or e-liquid containing nicotine, although vapers were allowed to import products for their own use.

The Swiss Federal Administrative Court (FAC) sided with Swiss vape company InSmoke, which challenged the ban. According to the Swiss Broadcasting Corporation's Swissinfo site, the government was already in the process of ending the ban, but the court decision ends the nicotine prohibition immediately.
Mawsley, Planet Of The Vapes
New Zealand property landlords are being taken to task in light of an advert banning prospective tenants if they are vapers. The Daily Mail attempted to whip up a storm about insurance companies, but failed to do some simple research first. A leading investment advisor believes huge questions linger over the future of iQOS.
Parliament UK
The Science and Technology Committee examine the impact of electronic cigarettes on human health (including their effectiveness as a stop-smoking tool), the suitability of regulations guiding their use, and the financial implications of a growing market on both business and the NHS.
---
A look back at how things have moved on or otherwise….
Carrie Wade, Washington Examiner
I like Jolly Ranchers, especially cherry-flavored ones. The flavor doesn't dull as they dissolve, they last a few minutes, they are relatively low in calories, and they disrupt boring meetings. That's why it surprises me, a 38-year-old, when I hear that candy-like flavors are only meant to attract children.

In fact, cherry-flavored Jolly Ranchers helped me quit smoking a few years ago. While quitting made me crabby and resulted in some weight gain, I've shed some of the extra pounds and I'm in better health overall. I am lucky to be in the less than 10 percent of those who stay off cigarettes for the long term.
Carl V Phillips, Anti-THR Lies
This is a reprise of points I have made here before, including in the mission statement of the blog. It was inspired by this recent post by Steven Raith in which he, a relative newcomer to the tobacco wars, describes his realization of just how often tobacco control's lies consist of literally true statements. It is always nice to see people independently derive this observation, though I have been documenting that type of lie from "public health" (along with others) for most of two decades. Raith speculates that their use of such lies is increasing, but this does not seem to me to be the case; rather, once you become aware of the tactic, you notice it more. I will come back to the question of prevalence.
---
Visit Nicotine Science & Policy for more News from around the World

---