Vaping Digest 6th April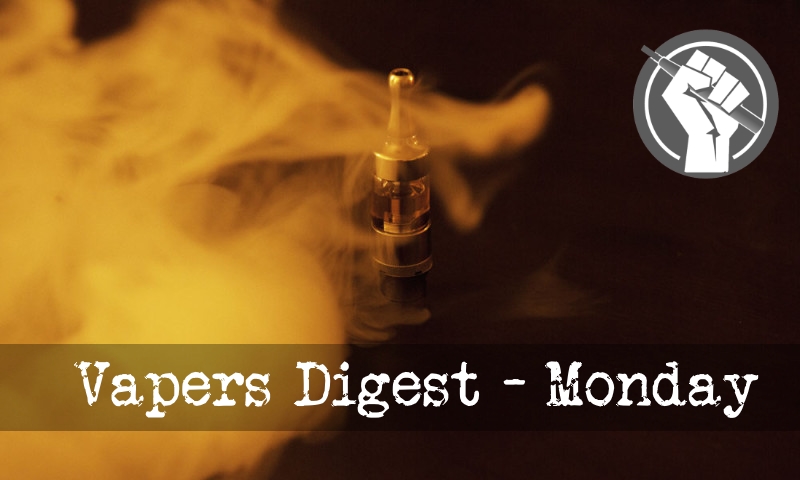 Monday's News at a glance:
Harry's Blog #99: Fear, loathing and COVID-19 – Can smoking protect you against COVID-19? – Beware the COVID-19 nannies! – Choose Vape – Scotland May Miss Tobacco-Free Target by 16 Years – Further Restricting Vaping Won't Help Fight the COVID-19 Pandemic – Vaping Bans Are Bad for Public Health – New Study Shows That Vaping Is More Effective Than Counseling for Smoking Cessation – Dean misses the point on smoking and small business – Tobacco and vaping: When one door closes – FDA and Media Spreads Fear About Fake Vape-COVID Connection – Nicotine Science and Policy Daily Digest
Harry Shapiro
Just when you thought that the 'public health' authorities could not sink any lower in their attempt to undermine tobacco harm reduction, they take advantage of one virus to spread a contagion of virulent lies and propaganda.

Already in recent years much damage has been done by doctors, public health officials and the lapdogs slavering after Bloomberg cash in order to increase uncertainty and confusion among smokers about the advisability of switching away from cigarettes to using demonstrably safer nicotine products. As these groups have poisoned the evidence wellspring, so increasing numbers of smokers believe that vaping is at least as dangerous (if not more so) than smoking, and that nicotine causes cancer and other diseases – a view held by an alarming number of equally confused health professionals.
Carl V. Phillips, Anti-THR Lies
Many of you will have already seen or heard about a paper by Farsalinos et al., in which they review some case series data from China and observe that for hospitalized COVID-19 patients, the recorded smoking prevalence is far lower than would be expected given the population prevalence. The US CDC also released data a couple of days ago that shows the same pattern. If the data is representative and accurate (but note that there are compelling reasons to question whether either of those is true), this strongly suggests that smoking is hugely protective against COVID-19 inflection and/or the resulting disease progressing to the point that hospitalization is required.
---

---
Christopher Snowdon, Spectator US
COVID-19 has suddenly made much of the western public health establishment effectively redundant. Unused to dealing with infectious disease, we have a legion of epidemiologists who have never studied an epidemic and a horde of public health professionals who are more comfortable discussing soda taxes than virology.

If you've spent your career believing that drinking, smoking and obesity are the real epidemics, a potentially fatal virus forcing billions of people into hiding could make you question your priorities. But if the nanny state lobby was disoriented at first, it has quickly learnt to adapt. The public are temporarily willing to sacrifice a bit of liberty for safety and the lifestyle regulators sense fresh opportunities.
Dave Cross, Planet of the Vapes
Dr Caitlin Notley, a harm reduction expert University of East Anglia (UEA), has issued advice to smokers attempting to quit during the COVID-19 lockdown. She says, "It's more important than ever for smokers to quit, and ex-smokers to remain smoke free."

Dr Notley leads the Addiction Research Group at UEA's Norwich Medical School and researches tobacco smoking cessation and electronic cigarette use. She also leads a Neonatal unit Smoking Cessation intervention development study.

She says that ex-smokers should resist the urge to relapse, given the likely higher COVID-19 risks for smokers, adding that those who have switched to vaping should not return to smoking. Dr Notley thinks that those who still smoke should be encouraged to switch to vaping.
---
---
By 16 Years – Diane Caruana
In 2017, the Scottish government had announced that it was setting in place a tobacco plan in order to become "smoke-free" by 2034. At the time, the University of Edinburgh and NHS Health Scotland had carried out an inquiry to determine whether efforts to reduce smoking were being effective. This had indicated that while the local tobacco control strategy was working, smoking continued to be a problem amongst low income communities.

"The evidence shows the positive impact of tobacco policy, ranging from the display ban which put tobacco out of sight in small shops and supermarkets to the introduction on smoke free NHS grounds," said Dr Garth Reid, principal public health adviser at NHS Health Scotland at the time.

Won't Help Fight the COVID-19 Pandemic – Michael McGrady
The COVID-19 pandemic is single handedly changing the face of day-to-day life. Their needs to be some clarification of how public health should respond to the crisis of the outbreak via policy.

The regulation of electronic cigarettes during a pandemic is an interesting case study. Public health departments have warned against the use of inhalants that combust or even aerosolize compounds into a human's lungs as a means to reduce the risks of the novel coronavirus further.

E-cigarettes are included in this advice, given the evidence that both smoking and vaping cause direct injury to the pulmonary system. Evidence review of the relative risks of e-cigarettes by Public Health England (PHE) confirms that e-cigarettes can serve as a tool to quit smoking.
About Fake Vape-COVID Connection – Robert Goldberg
The effective response to a pandemic requires limiting and slowing the spread of a virus. That in turn requires providing people with sound, evidence-based information about what causes coronavirus transmission. Above all, it is essential that health care professionals and institutions are able to focus their time and resources on those with the greatest medical need.

Spreading misleading information about what could increase the risk of virus-caused respiration infections can and has led people to panic and seek medical care they don't need at the expense of those that do.

In particular, several media outlets and public health organizations have promoted the fear that vaping causes or increases the risk of COVID-19, an assertion first made by New York City Mayor Bill DeBlasio.
---

---
John Kristof
Months after numerous states reactively banned or overly regulated e-cigarettes, researchers at Rice University's Baker Institute for Public Policy conducted a study and concluded that vaping offers significant health advantages over smokable tobacco, and that bans are an inappropriate response to a limited problem at the expense of society at large.

Unlike cigarettes and other conventional methods of smoking, vaping reduces or eliminates the tars and smoke that cause various cancers and illnesses. Vaping remains controversial, however, largely due to last year's rampant news coverage of "E-Cigarette and Vaping-Associated Lung Illnesses" (EVALI).
Is More Effective Than Counseling for Smoking Cessation
It's rare that we see positive studies on vaping these days, let alone ones that show how effective electronic cigarettes are compared to classic smoking cessation methods. And yet one just came out this week!

In a clinical trial presented at the American College of Cardiology's Annual Scientific Session Together with World Congress of Cardiology (ACC.20/WCC), a team of researchers showed that cigarette smokers who received counselling and used nicotine-containing e-cigarettes were more than twice as likely to kick the habit compared to those who received only smoking cessation counseling.

On smoking and small business – Robert Mallett
Ivan Dean's calls to raise the legal smoking age to 21 and to get smokers to "refrain from using any vaping product" (The Examiner, Friday March 22) when we are in the middle of an acute health crisis are both opportunistic and hopelessly out of touch with small business. While the article presents a tenuous and ill-timed argument for changing Tasmania's smoking laws, it is also a kick in the guts for small businesses just as many have been brought to their knees by the coronavirus.

I agree that traditional smoking is a key risk factor affecting people's chance of recovery after contracting COVID-19. But does Mr Dean really think rushing through legislation now to increase the age at which people can start smoking will address the problem of long-term smokers requiring additional healthcare during this crisis?
When one door closes… Gaelle Walker
The UK tobacco industry is certainly no stranger to legislative change and restrictions. However, the menthol and capsule cigarette ban on 20 May could well present its biggest challenge yet. Unlike the display ban and more recent packaging and format restrictions (including the ban on 10-packs and small RYO pouches), this new legislative prohibition will – for the first time – signal the overnight obliteration of an entire product category, and a far from insignificant one at that.

According to Imperial Tobacco, "menthol and crushball sales are collectively worth 26% of the total UK tobacco market".

In other words, that's one in four cigarette sales gone overnight, with no sell-through period and no excuses.
---
A look back at how things have moved on or otherwise…
To be better educated about nicotine – New Nicotine Alliance
Just last month, we published a blog describing how government messages on reduced risk products are not getting through to the NHS. You can read the whole thing here but this was the summation.

We are in the second decade of the 21st century but NHS trusts seem to be stuck in the past and not yet caught up on where the government is going. If NHS England truly seeks to reduce smoking by any means, it should be more imaginative in its approach and, if nothing else, at least listen to the messages coming from government and its institutions.

This week, we were also contacted by the Daily Express about new research that revealed only a pitiful 7% of GPs felt confident enough to recommend e-cigarettes to smokers who present themselves to surgery. The NNA was quoted in the article.
Harry Shapiro
When I was in Australia, my very good friend Dr Alex Wodak took me to one side and, in his typically low key, gentle manner, berated me for my attack on public health prompted by Ron Dworkin's article on how public health messaging has taken on the mantle of moral crusading (see Blog 83). Alex pointed out all the good that public health has done in improving health in many different areas, not least in tobacco control.
---
Visit Nicotine Science & Policy for more News from around the World

---