Vaping Digest 3rd April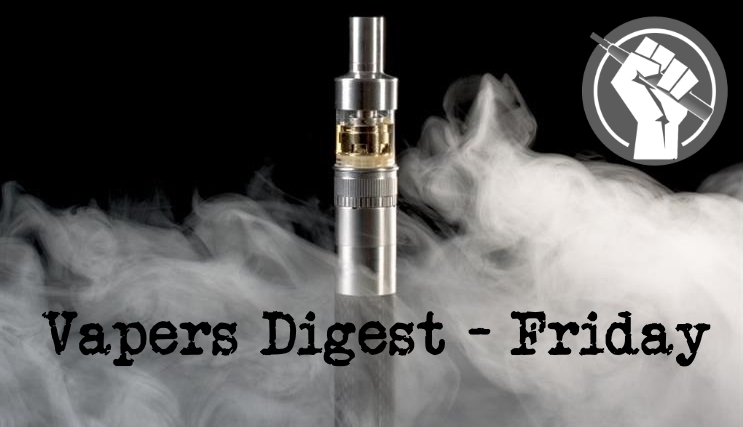 Friday's News at a glance:
British American Tobacco working on COVID-19 vaccine – Ban All Vapes During PMTA Delay – FDA Four-Month Delay Not Enough to Save E-Cigarette Industry – New York Bans Flavored Vaping Products – Vaping products should be labelled essential – Vaping sector 'open for business' – Govt Urged to Keep Vape Shops Open – Vape shop owners want to be considered essential – Shahab Urges Government To Change Policy – Open Irish Stores Plea – Big T's COVID Response – West Knocks Media Coverage – Rushed Bill "Grossly unfair" – While a Real Epidemic Raged – Opinions About E-Cigs Remain Skewed – Switching from Smoking to Vaping – Vaping enthusiasts hold virtual rally – Encouraging Transformation – Vapers ask Centre to revise position on E-cigarettes – Pushing Through Prohibition In a Time of Pain – Nicotine Science and Policy Daily Digest
Working on COVID-19 vaccine using tobacco leaves
British American Tobacco, the maker of Dunhill and Lucky Strike cigarettes, said on Wednesday its U.S. biotech unit was working on a potential vaccine for COVID-19 using proteins extracted from tobacco leaves.

Kentucky BioProcessing (KBP), the unit developing the vaccine, could produce between 1 million and 3 million doses per week starting in June, the company said, with support from government agencies and the right manufacturers. British American Tobacco said KBP, a division of BAT's U.S. unit Reynolds American Inc, would develop the vaccine on a not-for-profit basis.

The vaccine, currently undergoing pre-clinical testing, uses a cloned portion of COVID-19's genetic sequence to create an antigen that is then inserted into tobacco plants for reproduction.
Ban All Vapes During PMTA Delay – Jim McDonald
An Illinois congressman is urging the FDA to "temporarily" ban vaping products, supposedly to protect users from the added dangers vaping poses to COVID-19 victims. Democratic House Rep. Raja Krishnamoorthi sent a letter to FDA Commissioner Stephen Hahn on April 1, asking him to use the agency's enforcement discretion to "clear the market" of all vaping products.

On Monday, the FDA requested a federal judge allow the agency to delay the May 12 deadline for vaping manufacturers to submit Premarket Tobacco Applications (PMTAs). Krishnamoorthi wants the FDA to use its regulatory authority to prohibit sales of vapes during the four-month postponement (which hasn't been granted yet). He is not asking for restrictions on just the flavored vaping products he has previously advocated banning, but on all products.
To Save E-Cigarette Industry – Michelle Minton
Consumers are staying home and spending less as COVID-19 and social distancing mandates sweep across the globe. The extreme, necessary steps to control the spread of the virus have already taken an economic toll, and there certainly will be a long-term impact on individual businesses and workers. One industry, in particular, will likely fail without swift federal action: e-cigarettes.

Cigarettes may prove "pandemic-proof." Since they are often sold at outlets deemed "essential" under the current lockdown, cigarettes continue to be available and big tobacco companies have so far remained financially unscathed.
With No Public Debate- Jim McDonald
The New York State Assembly has passed a bill that will outlaw sales of flavored vaping products (except tobacco), and prohibit online sales of all vaping products. The bill was part of the larger budget bill that keeps the state running, and Gov. Andrew Cuomo is expected to sign it into law immediately.

The state did not ban menthol cigarettes or flavored cigars—just vapor products.

The ban was passed with no public debate. As we reported earlier this week, the legislators mostly met by video conference. The online sales ban and a loophole that will favor JUUL and products made by tobacco companies were added with no opportunity for comment by citizens.
---

---
Laura Nolan, The Northern Echo
AN MP has lobbied the Government to label stop smoking products as essential, so that people who have quit smoking can better access vaping products.

'Vape shops' should be treated as essential to help make sure ex-smokers do not turn back to tobacco products, wrote Stockton North MP Alex Cunningham in a letter to the Secretary of State for Housing, Communities and Local Government.

Whilst shops that sell tobacco are open and accessible to the public, those shops which sell successful stop smoking aids such as e-cigarettes have been identified as non-essential. This has caused a concern that any supply issues with e-cigarette liquids could cause people to turn back to tobacco, as they are often only stocked in small amounts.
Liz Wells, Talking Retail
The UK Vaping Industry Association (UKVIA), the trade body representing the vaping sector, has moved to reassure vapers and smokers that the industry is still very much 'open for business' despite the closure of shops following the government's lockdown.

The association reported that physical store owners are focusing on ramping up their e-commerce operations, while others have been setting up home delivery services, and online retailers and manufacturing facilities operating as usual.

John Dunne, a director at the UKVIA, said: "It is critical during these highly stressful times that vapers have access to vape products to prevent them from taking the backward step and reverting to smoking. Likewise, it enables smokers looking to quit to switch to vaping.
---
NEW UPDATE on recent misinformation, COVID-19 vs smoking and environmental vaporhttps://t.co/MvbPm5zNUk

#COVID19@carlvphillips, @CASAAmedia, @NotBlwngSmoke, @mbsiegel, @Amelia_RH, @LindaBauld, @europethra, @Filermag_org, @robertjwest, @cjsnowdon, @PHE_uk, @RegWatchCanada

— Roberto Sussman (@RobertoSussman) April 3, 2020
NEW YORK: (UPDATE) NY lawmakers have shamefully passed @NYGovCuomo's budget ban of flavored vapor products (shops & online,) unnecessarily putting the lives of nearly 3 million people in the state at increased risk. Read more about this atrocity here:https://t.co/c1AwOJcsDq

— CASAA (@CASAAmedia) April 3, 2020
THR Update: Experts Call for Retraction of Another Stanton Glantz Study

WATCH: https://t.co/1QFzKpw9Rj

— VIDA News (@VIDAdotNEWS) April 1, 2020
---
The UK government has been asked to keep vape shops across Britain open during the coronavirus lockdown, with a vaping association arguing they are an essential service people need at this time of public health crisis — so they don't start smoking again.

Smoking cigarettes is believed to put people who contract the Covid-19 virus at particular risk because their lungs are weaker, doctors believe. Around 3.6 million people in the UK currently use e-cigarettes — most of them former smokers who have managed to quit by vaping instead, because they get the nicotine they want while avoiding the many harmful chemicals given off by burning tobacco.
Mica Soellner,  Appleton Post-Crescent
Vape shop owners and customers cry foul that businesses specializing in e-cigarette products are not considered essential under the state's orders to close non-essential services amidst the coronavirus pandemic.

Gov. Tony Evers' Safer At Home order implemented last week mandated the closure of non-essential businesses, but what is and isn't considered essential has angered some, especially within the vaping community. For them, they say it's a matter of public health.

"My biggest concern with my customers is they need something to assist them when they're trying to quit smoking," said Ken Kempen, co-owner of EVapor of Appleton.

Five from Dave Cross, Planet of the Vapes
To Change Policy
University College London's Dr Lion Shahab has urged the government to extend "essential status" to vape shops, to prevent people from returning to smoking. Vape shops are currently being instructed to remain closed as part of the measures implemented to combat the COVID-19 pandemic.

Dr Shahab is an Associate Professor in Health Psychology at UCL who completed his doctorate by looking at the role of smoking-related biomarkers in smoking cessation, under the supervision of Professor Robert West. He is one of the country's experts when it comes to tobacco harm reduction research.
New Nicotine Alliance Ireland (NNA Ireland) says that Ireland has seen "some of the most stringent restrictions imposed on a population, outside of wartime." As well as the closure of pubs, schools, and sporting events, vape stores have been closed. NNAI believes that vape shops are a vital service and should be allowed to open during the COVID-19 pandemic.

NNA Ireland says, "It is essential that all of us follow the advice of government and health departments, keeping 'social distance' and minimising leaving our homes. These are stressful times and today further restrictions, closing all non-essential retail and business has been announced. We at the NNA Ireland recognise the necessity of these measures but hope the government recognises the role vape shops have to play in helping fight this virus."
No one knew about Philip Morris International's (PMI) donation of respirators to the Greek government until 'independent' journalists broke a story that sent tobacco controllers into a meltdown. The anger at PMI's generosity spiralled when anti-vape zealots discovered British American Tobacco (BAT) is working on a vaccine for COVID-19.

"Big Tobacco criticised for 'coronavirus publicity stunt' after donating ventilators," wrote The Bureau of Investigative Journalism (TBIJ).

It was some publicity stunt given that nobody knew about it. A subsidiary of PMI, Papastratos, donated 50 ventilators to the Greek healthcare system – "including 19 to intensive care units at the Sotiria General Hospital of Thoracic Diseases in Athens," according to the shocked TBIJ reporter.
Having donated life-saving ventilators to the people of Greece, tobacco companies are now trying to help homeless smokers by offering them free vaping gear. But apparently it's all a dastardly plot to undermine the almighty Article 5.3https://t.co/Hk2zVDRKCt pic.twitter.com/s3HcvL0qHp

— David Newell (@dnglos) April 3, 2020
Professor Robert West, University College London, has knocked media coverage of vaping and made a plea to legislators in India to consider the evidence rather than the hysterical opinions of ideological anti-vape campaigners.

"There is a lot of noise going around e-cigarettes but the evidence that is emerging now is very clear that it helps people to stop smoking. The only question is 'how much does it help?' So, we have evidence from randomised controlled trails, showing the e-cigarettes were more effective than licensed nicotine products in helping people to stop smoking in a clinic."
New Zealand vaping representatives have joined forces to condemn the Government continuing with its plan to rush legislation through Parliament to regulate vaping despite the Covid-19 lockdown. The Vaping Trade Association of New Zealand (VTANZ), New Zealand Vaping Alliance (NZVA), and Aotearoa Vapers Community Advocacy (AVCA) say their pleas for more time have been ignored, making the process grossly unfair.

Parliament has confirmed that public submissions for the Smokefree Environments and Regulated Products (Vaping) Amendment Bill will still close on 1 April after less than three weeks, with the Health Select Committee having to report back to the House by 2 June. The committee is expected to meet remotely from tomorrow, with oral submitters to present via videoconference.
---

---
The Surgeon General Was Spreading Misinformation About Masks and Vaping
Guy Bentley, Reason
On March 13, President Donald Trump stood in the Rose Garden and declared a national emergency in response to the coronavirus pandemic.

Flanked by leading public health officials, Trump said COVID-19 threatens to strain America's health care system and urged states to establish emergency operation centers. But there was one notable absence—the surgeon general.

The county's top doctor wasn't in D.C. but in New Orleans, soon to be a COVID-19 hotspot. Less than two hours before Trump took to the podium, Jerome Adams was speaking to a sparsely attended room at the Society for Research on Tobacco and Nicotine's (SRNT) annual conference.
Diane Caruana, Vaping Post
While panic and concern about vaping keeps spreading across the US due to the EVALI outbreak and concerns about teen vaping, British medical and health authorities, including the National Health Service and Public Health England, have fully endorsed vaping as a smoking cessation method and keep urging smokers to switch to e-cigarettes.

Sadly, this positive stance is still not rubbing off on the UK public as intended. The survey sought to identify the UK public's views on using e-cigarettes as a smoking-cessation tools, and whether they believe that the devices have a public-health benefit.
---
BBC HealthCheck UK Live 2nd April 2020
Thanks as always to @dnglos for the YouTubage
---
During lockdown is undemocratic
Public submissions for the Vaping Bill closed yesterday, one of 14 new pieces of legislation that are still going through Parliament even as MPs stay home.
The Vaping Bill aims to regulate vaping and vaping products. Among the changes, it would ban advertising of vaping products and smokeless tobacco and restrict the sale of flavoured vaping products and e-cigarettes to R-18 specialty stores.
Eric Crampton of pro-free-market think tank the New Zealand Initiative thinks it is undemocratic of the New Zealand Government.
Pandemics make it hard to host a protest, but critics of a flavored vape ban passed by the Legislature held a virtual rally to make their point.

The Florida Smoke Free Association saw supporters with home-made placards organize in front of webcams. Most waved signs made on home printer paper. Some donned face masks with the message "Veto SB 810."

It's the latest sign of how even sticking it to the man has adjusted to social distancing guidelines issued by the federal government.

In a Time of Pain – Dr Marewa Glover
Join Dr. Marewa Glover and tobacco harm reduction journalist Michael McGrady as they discuss the exploitation of the COVID-19 pandemic as a means to implement prohibition measures for restricting tobacco and alcohol access across the nation of New Zealand in a new interview. This interview podcast was directed and produced by Michael McGrady, in association with the Centre of Research Excellence: Indigenous Sovereignty & Smoking, in Auckland, New Zealand. Recorded, designed, and produced by Perihelion Creations in the USA.
Stefanie Rossel, Tobacco Reporter
In the end, it will be about the money—that's one expectation driving the Foundation for a Smoke-Free World's (FSFW) most recent initiative. To accelerate the reduction of harm caused by smoking, the foundation plans to introduce an index designed to incentivize tobacco manufacturers to develop and market less hazardous products. A good score on the index could help tobacco companies attract new investors.

The Tobacco Transformation Index (TTI) is designed to provide quantifiable evidence over time of what steps the world's 15 largest tobacco manufacturers—which account for around 85 percent of global cigarette volume—are taking toward achieving a world free of combustible cigarettes and other high-risk tobacco products as well as any actions they take to impede that progress.
Ahead of a global meet in November 2020, vapers in India have written a letter to the Union Ministers asking to revise the government's position on smoke-free nicotine products such as electronic cigarettes and snus.

In the letter, vapers asked the Union Minister for Health and Family Welfare Harsh Vardhan, Minister of Railways and Commerce Piyush Goyal, Minister of External Affairs Subrahmanyam Jaishankar and Minister of Finance and Corporate Affairs Nirmala Sitharaman dated March 13, 2020.
To clarify PH position on electronic cigarettes
A consumer organization asked Finance Secretary Carlos Dominguez III to clarify the position of the Philippine government on smoke-free nicotine products, such as electronic cigarettes, heat-not-burn tobacco products and snus ahead of a global meeting in November.

The Vapers Philippines sent a letter to Dominguez as the government prepares its position on ENDS, or electronic nicotine delivery systems, preparatory to the Ninth Session of the Conference of the Parties (COP9) to the World Health Organization's Framework Convention on Tobacco Control (WHO-FCTC) to be held in The Hague, Netherlands.
Of conventional smoking among Taiwanese male adolescents?
A time-trend population-based analysis for 2004-2017
In Taiwan, national tobacco use surveys show that e-cigarette use has increased since 2014 among youth, while, at the same time, conventional cigarette smoking has continuously decreased. The purpose of this study is to examine whether the increased popularity of e-cigarettes has undermined this favourable declining trend for cigarette smoking.

We examined conventional cigarette and e-cigarette prevalence among male high school students (aged 16-18 years) and adults from 2004 to 2017, using data from cross-sectional nationally representative surveys. Applying interrupted time series analysis, we assessed whether there was a change in trend in 2014, when e-cigarette use started to gain popularity from long-term trends in prior years (2004-2013).
---
A look back at how things have moved on or otherwise….
Hanna Geissler, Daily Express
MANY GPs and pharmacists are reluctant to recommend vaping to smokers due to confusion about safety, research suggests. For smokers attempting to quit, vaping can be a good alternative to cigarettes as it delivers the nicotine without other toxic substances like tar.
Matt Ridle, Free UK
Suppose that millions of Britons were driving a dangerous type of car that was killing 80,000 people a year. Suppose somebody invented a new car that was much, much safer, significantly cheaper, and emitted far fewer fumes, while performing just as well. Would you a) ban the new car, or b) encourage people to buy it?

Not that difficult a question, surely. Yet the reaction of many public health professionals and politicians has been to choose a) in an exactly analogous situation relating to nicotine. Why? Because they would rather you did not drive at all.
Michael McGrady, Inside Sources
South African criminologist Stanley Cohen authored the study Folk Devils and Moral Panics in 1972. Cohen examines the media controversies around the clashes between "mods" and "rockers," two separate British youth subculture groups formed in the early 1960s. The study comments on a violent confrontation between the two groups at a beach in a Southern England seaside town in 1964. While there were cases of property damage and some non-serious injuries, there was no significant case of violence. However, newspapers and broadcast media outlets released sensationalist reports about the incident claiming that the events were far worse.
---
Visit Nicotine Science & Policy for more News from around the World

---