Vaping Digest April 1st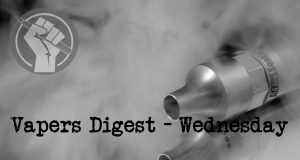 Wednesday's News at a glance:
We need help, but not yours ~ Antismokers want you dead ~ 'Public health' groups want you to die for their dogma ~ New online smoking clinic offers prescriptions for vaping ~ New online smoking clinic offers prescriptions for vaping ~ ENVI through the looking glass: A consumer's thoughts ~ ATHRA: No Evidence Of Risk ~ Expert Reaction to Vaping and COVID-19 ~ Open Irish Stores Plea ~ 88vape Cleared ~ FDA Asks Court to Allow a Delay of May PMTA Deadline ~ E-Cigarette Makers Could Get Extension on FDA Application ~ FDA Asks Court to Allow a Delay of May PMTA Deadline ~ NZ Initiative criticises Government for rushing new vaping legislation  ~ FDA and CDC's Irresponsible Covid-19 Actions and Inactions ~ Being a Smoker or Vaper in the Time of COVID-19 ~Closing Vape Shops Will Be a National Disaster ~ Local vape shop owner heading up hand sanitizer production ~ Vapril Goes Digital During Coronavirus Lock Down ~ Anti-Vaping Group Suspends Plan to Pay For 'Mom Tweets' ~ Top Vape Articles for March 2020
Paul Barnes, Facts Do Matter
Well, these are crazy times no? Practically every country worldwide has some kind of lockdown, either voluntary or enforced. Extreme authoritarian measures are rife (I'm looking at you Hungary) with police completely misinterpreting the law (I'm looking at you UK).

All the while, intensive care unit beds (ICU) are being filled at a rapid pace. Unlike previous pandemics, COVID-19 is a bastard. A right, real bastard. It is highly contagious for one and, if the various statistics are to be believed, a real killer – though I suspect that, in some countries, COVID-19 is simply being attributed as the cause of some deaths – just as smoking is attributed to cancer related deaths.
Underdogs Bite Upwards,
Philip Morris, the baccy sellers (and lately iQOS sellers too) have donated a load of respirators to a Greek hospital. The Greek health minister has thanked them for this. The antismoker response?
Christopher Snowdon, Velvet Glove Iron Fist
It's been encouraging to see the private sector using its money, ingenuity and supply chains to help tackle the coronavirus pandemic. Mercedes F1 has been producing breathing aids. Dyson is manufacturing 10,000 ventilators. Diageo and several e-cigarette companies have been turning their skills towards producing hand sanitiser.
---
Australian Tobacco Harm Reduction Association (ATHRA
AUSTRALIA'S first online medical service to help smokers quit is now available. The service offers prescriptions for vaping where appropriate.

Quitclinics provides best-practice medical care for smokers. Smokers should try to quit first with the approved treatments such as nicotine patches or gum or varenicline tablets. However, if other methods have been unsuccessful and you are interested in vaping, support and prescriptions for vaping liquids can be provided.
A consumer's thoughts on the ENVI Committee exchange of views on safer nicotine products
European Tobacco Harm Reduction Association
The Committee on the Environment, Public Health and Food Safety (ENVI) is the European Parliament Committee which is responsible for public health. The Committee met on the 18th of February and on their agenda was item 16, an exchange of views with the Commission on e-cigarettes and heated tobacco products. Damian Sweeney, New Nicotine Alliance Ireland trustee, gives his account of proceedings, how much (or little) our MEP's know about tobacco harm reduction and whether or not THR advocates should be worried.

---
Scientific review: Nicotine downregulates ACE2, the receptor coronavirus used to invade cells. https://t.co/f6mgBTWaBa

— Charles A. Gardner, PhD (@ChaunceyGardner) April 1, 2020
---
Some info and speculation, people are at least talking about this. https://t.co/8IyvuyKNjR

— Richard Pruen (@PruenRichard) April 1, 2020
---
Four from Dave Cross, Planet Of The Vapes
Colin Mendelsohn has stated that vaping does not increase the risk of contracting COVID-19. In a statement posted on the Australian Tobacco Harm Reduction Association (ATHRA) website, he said that vaping poses no more risk to vapers or bystanders than normal breathing.
University of Nottingham's Professor Ian Hall, Warwick Medical School's Dr James Gill, University of East Anglia's Dr Caitlin Notley, and University College London's Professor Robert West have responded to questions from journalists about vaping, smoking and COVID-19.
New Nicotine Alliance Ireland (NNA Ireland) says that Ireland has seen "some of the most stringent restrictions imposed on a population, outside of wartime." As well as the closure of pubs, schools, and sporting events, vape stores have been closed. NNAI believes that vape shops are a vital service and should be allowed to open during the COVID-19 pandemic.
The Advertising Standards Authority (ASA) received complaints that adverts on buses illegally targeted an underage market because they were used by school children. The ASA assessed the complaint and decided Vape Nation had not broken any of the standards.
---
Jim McDonald, Vaping 360
The FDA has asked a federal judge to allow a four-month delay of the deadline he imposed for submission of Premarket Tobacco Applications (PMTAs) by vaping manufacturers. If the judge grants the delay, the deadline will move from May 12 to Sept. 9.
Jennifer Maloney, The Wall Street Journal
The Food and Drug Administration wants to give a 120-day reprieve to e-cigarette makers who were facing a May deadline to either submit their products for federal review or take them off the market.
Iowa Attorney General, other signatories (PDF)
We were surprised and disappointed to see a statement about vaping and COVID-19 from an FDA spokesman published on Bloomberg's news service: Vaping Could Compound Health Risks Tied to Virus, FDA Says, March 27, 2020. According to the report, this statement was in the form of "an email Friday in response to questions from Bloomberg".
---
Voxy.Co.NZ
Rushing to deal with new vaping legislation during an unprecedented economic lockdown is not just folly, it is anti-democratic, according to a public submission by the New Zealand Initiative.

While most businesses and public services are shut down as a result of the Covid-19 pandemic, the Government has retained its deadline for public submissions about its tabled Smokefree Environments and Regulated Products (Vaping) Amendments Bill, due today.
---
Dr. Brad Rodu, Tobacco Truth
Long after today's Covid-19 crisis, Americans will remember the catastrophic failures of the Centers for Disease Control and Prevention, and the Food and Drug Administration, the two federal agencies tasked with protecting public health.
Annie Kleykamp, Filter
During a recent walk outside of the confines of my COVID-19 quarantine in Baltimore, I passed by someone resting on their marble front steps. As our eyes met, I could sense our shared heaviness, confirmed through our silent nods. An all-too-common exchange these days. The woman lit her cigarette, took a deep drag and exhaled. And I exhaled too.
---
Janson Q. Prieb, Real Clear Public Affairs
As the coronavirus continues to spread, states are taking drastic measures to curb its spread, such as shutting down all non-essential businesses. While slowing this pandemic is vital, some states might be closing the wrong types of stores. Colorado, for instance, closed all vape shops, while leaving cigarettes sold at convenience stores completely untouched. As smokers are very susceptible to having health complications from the coronavirus, effectively banning e-cigarettes will only force more people to return to smoking and will potentially add even more people to the overloaded healthcare system.
Rochester First, WROC
A local vape shop owner is preparing to produce around 500,000 bottles of hand sanitizers.

Bad Drip Labs is partnering with a CBD Production company to make the solution and two ounce bottles. A portion of those bottles will be donated to those on the front lines — others will be sold to local businesses.
---
Neil Humber, Ecig Click
Vapril goes digital during the coronavirus lock down and vape advocates say smokers MUST make the switch to vaping NOW!

Scientists and health experts say smokers are at greater risk of serious complications if they contract the virus, and hope this online campaign will help more smokers quit via vaping.
Michael Graham, Inside Sources
The Campaign for Tobacco-Free Kids (CTFK), a group funded in large part by Bloomberg Philanthropies, has suspended a social media "pay-for-play" marketing push that would have given moms $250 to send out anti-vaping messages in their personal feeds, InsideSources has learned.

The anti-tobacco organization had teamed up with an activist marketing group called We Are Women Online to get messages about kids and vaping onto social media platforms like Instagram and Twitter.
Saddle Horse Blues
We've rounded up some of the most interesting vape articles from March for quick reference. As always, we include a link to the article as well as an excerpt from the piece just below the link for easy browsing. Sally Satel's article, The E-Cigarette Revolution That Wasn't, is a particularly good read as is Jacob Sullum's The CDC's Shift From Vaping to COVID-19 Highlights the Crucial Differences Between Real and Metaphorical Epidemics if you're looking for recommendations. And if you haven't already, you'll of course want to read Public Health England's False fears preventing smokers from using e-cigarettes to quit.
---
---
A look back at how things have moved on or otherwise…
The many reasons why the #VApril campaign should be supported
New Nicotine Alliance
Today sees the launch of the second Vapril campaign organised by the UK Vaping Industry Association (UKVIA). The NNA was pleased to be consulted on the initiative in the months leading up to today and we wrote the campaign's "switch on to vaping plan" which the website accurately describes as "written by vapers for smokers".

Our contribution was to offer hints and tips from our personal experiences in switching and it is important to highlight why we believe that our input is, indeed, intended to be beneficial to smokers and not yet another hammer to beat them with.
Dave Cross, Planet of the Vapes
As part of VApril, TV's Dr Christian is in London calling for the medical profession to help grasp the public health prize presented by encouraging smokers to switch to vaping. The campaign is a nationwide drive to promote awareness and education about vaping. The aim is to encourage smokers to try switching away from tobacco.

VApril is established as the largest consumer awareness and education campaign dedicated to the vaping sector. It is designed to help the 7 million smokers in the UK to quit smoking by switching to a less harmful option (at least 95% less harmful according to Public Health England). VApril is a non for profit campaign run by the UK Vaping Industry Association.
---
Visit Nicotine Science & Policy for more News from around the World

---