Vaping Digest 30th March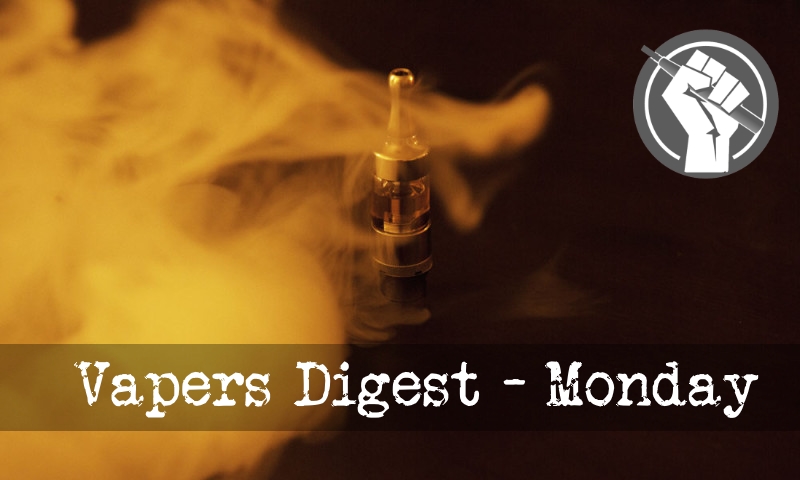 Monday's News at a glance:
Choose vaping to stay smoke free under lockdown, says UEA expert – expert reaction to questions about smoking and COVID-19 – Vaping In The News – March 29th – Vap'News : 29 mars 2020 – Sussman Advises Vapers – WHO's Fayokun In About-Turn – Media is Woefully Irresponsible – Vaping Use Associated with Greater Short-Term Cessation – "Vaping epidemic among teens is causing lung injuries" – Nigeria Is Crying Out for Vapes – CDC priorities left government unprepared for COVID-19 – Cardiovascular autonomic effects of electronic cigarette use – Rushed Vaping Bill During Covid-19, Grossly Unfair – Vaping on the brink? | Update With AVA's Greg Conley – Nicotine Science and Policy Daily Digest
Under lockdown, says UEA expert
It's more important than ever for smokers to quit, and ex-smokers to remain smoke free – according to smoking addiction expert Dr Caitlin Notley from the University of East Anglia.

Dr Notley leads the Addiction Research Group at UEA's Norwich Medical School and researches tobacco smoking cessation and electronic cigarette use (vaping). She also leads a Neonatal unit Smoking Cessation intervention development study.

Given the likely higher COVID-19 risks for smokers, Dr Notley says that ex-smokers should resist the urge to relapse. Those who have switched to vaping, should not return to smoking. And those who still smoke tobacco, should be encouraged to switch to vaping.
About smoking and COVID-19
There have been questions from journalists about smoking and COVID-19.

Prof Ian Hall, Professor of Molecular Medicine, University of Nottingham. Dr James Gill, Locum GP & Honorary Clinical Lecturer, Warwick Medical School. Dr Tom Wingfield, Senior Clinical Lecturer and Honorary Consultant Physician, Liverpool School of Tropical Medicine. Dr Caitlin Notley, Chief Investigator for The NeSCi Study. Prof Robert West, Department of Behavioural Science and Health at University College London. Prof Gordon Dougan, Department of Medicine, University of Cambridge.

All our previous output on this subject can be seen at this weblink:  www.sciencemediacentre.org/tag/covid-19/
---

---
Kevin Crowley, Vaping Links
Smoking, vaping and hospitalization for COVID-19 ~ Confusion, chaos and complacency ~ Cardiovascular autonomic effects of electronic cigarette use: a systematic review ~ Professional and Home-Made Face Masks Reduce Exposure to Respiratory Infections among the General Population ~ Yell at me on Twitter ~ Altria Asks FDA to Delay Regulatory Deadline Due to Coronavirus ~ Surgeon General: Speculate, Fabricate, Lie. Correlation Virus ~ Organizational Silence and Hidden Threats to Patient Safety ~ We Vape, We Vote ~ Tobacco Crackdown Leads to Smuggling Surge
Par Sébastien Beziau
IMPORTANT : de nombreuses boutiques de vape restent ouvertes ou assurent des services sur commande en drive. Pas de risques, #RESTEZCHEZVOUS, inutile de sortir pour « aller voir » si c'est le cas de la vôtre. TÉLÉPHONEZ d'abord, et si votre boutique pour vous aider, ils vous expliqueront exactement comment ça doit se passer : préparation de votre commande, consignes, paiement etc.

La France est un pays responsable, il n'a fallu que trois jours pour qu'un arrêté du gouvernement autorise l'ouverture. Ce n'est pas le cas partout, notamment au Canada ou en Belgique, des pays où la vente en ligne est interdite ! Situation intolérable pour les vapoteurs qui risquent vraiment de se remettre à la cigarette.
---
#ACC20/#WCCardio LBCT: Smokers who received #smoking cessation counseling and used e-cigarettes containing nicotine were more than twice as likely to successfully quit smoking compared with those who received counseling but did not use e-cigarettes. https://t.co/szl1szF203

— American College of Cardiology (@ACCinTouch) March 30, 2020
Even a home made mask reduces risk. It doesn't eradicate it, but that's what harm Reduction is all about – Reducing RISK. People deserve to receive honest, evidence based information. @JeromeAdamsMD do your damn job! https://t.co/o4f4Fvhngh

— JoodiG: Never knowingly understood (@JoodiG) March 28, 2020
---
Two from Dave Cross, Planet Of The Vapes
Roberto Sussman and Carmen Escrig have updated their fact sheet on information about COVID-19 and vaping to include descriptions of the aerodynamics of breathing, sneezing coughing and vaping. They say it is needed because the pandemic has provided "fertile ground for spreading misinformation on vaping and that vapers must be equipped with solid information and data to counterargue."
"Unfortunately, the spread of the SARS-CoV-2 pandemic follows the years long ongoing pandemic of serious misinformation on vaping," say Sussman and Escrig. "One of the main spearheads of this misinformation is undoubtedly Professor Stanton Glantz from the University of California at San Francisco."
Doctor Ranti Fayokun was made some absurd statements about vaping recently. In her role as a representative for the World Health Organisation (WHO), Fayokun has attended a series of congressional hearing in the Philippines. Finally, contradicting what she has previously said, Fayokun has admitted that vaping poses less risk to users than smoking cigarettes.

The Manilla Standard reports that Fayokun finally made her admission of vape's safety after pressure from harm reduction advocates.

At a previous session, Dr Konstantinos Farsalinos described her speech as, "a revealing and particularly embarrassing experience that I will remember forever."

On Supposed Link Between Vaping & COVID-19 – Elizabeth Sheld
The COVID-19 pandemic has provided the media another opportunity to foment vaping-related panic. Little is known as to why some victims of this new virus are more afflicted than others. Such ambiguity presents an opportunity for the media to pick up where they left off only months ago when they were ginning up anti-vaping hysteria via a different culprit: illegal, counterfeit THC cartridges. Journalists frightened the public only to be proven wrong after thorough investigation by the CDC. Have they learned their lesson? Let's have a look at what they are reporting about vaping and COVID-19.
---
Update With AVA's Greg Conley | RegWatch (Live)
---
With Greater Short-Term Cessation than Counseling – Kevin Kunzmann
Vaping may benefit a person's attempt to quit smoking. A combination of electronic cigarettes with nicotine and counseling delivered a two-fold greater success rate of smoking cessation than lone smoking cessation counseling, according to new findings from a multi-site trial in Canada.

In new data presented virtually at the ACC.20 Together with Word Congress of Cardiology (ACC/WCC) Scientific Sessions, investigators from the Jewish General Hospital in Quebec showed that cessation plans including either nicotine or non-nicotine e-cigarettes plus counseling were associated with significantly greater likelihood of user combustible cigarette cessation than just smoking cessation counseling over 12 weeks.
---

---
The Tired Narrative: – An epidemic of youth e-cigarette vaping is causing deadly lung injuries around the country. These lung injuries are caused by using "e-cigarette" and "vaping" devices. Specifics about precisely what devices or substances are being vaped (nicotine vs THC) and what is actually causing people to become ill are muddled and conflated. Some have cautioned that "there is no evidence that vaping is safer than smoking cigarettes."

The Informed Narrative: – The cause of the current outbreak is almost never linked to e-cigarettes (which is a specific term for vaping products containing nicotine). The outbreak of injuries (technically called e-cigarette, or vaping, product use–associated lung injury (EVALI)) has been most directly linked to vitamin E acetate, a substance recently introduced in (mostly) illicit manufacturing of cannabis "vape pen" cartridges…
That Smokers Can Afford – Uche Olatunji
To state the obvious, smoking kills. Tobacco smoking is the world's leading preventable cause of premature death. Here in Nigeria, there are at least 11 million smokers, and despite declining prevalence, a fast-growing population means that the actual number of smokers is on the rise. This is especially true of young adults, connected in part to our growing nightlife culture.

The harms of smoking persist despite the efforts of anti-tobacco advocates in the country over the past decades, despite Nigeria being a signatory to the WHO Framework Convention on Tobacco Control (FCTC) since 2005, and despite the country's adoption of the National Tobacco Control (NTC) Act in 2015. Nigeria suffers over 17,000 annual deaths as a result of smoking-related disease.

For COVID-19 – Michelle Minton
It was always a matter of when — not if — a new viral pandemic would make it to America. We are not immune to global outbreaks, evidenced by previous close-calls with SARS, H1N1 and Ebola. Epidemiologists even predicted the outbreak of COVID-19 with eerie accuracy.

Yet our government was unprepared for the novel virus now upending people's lives and livelihoods in the United States and around the world. Our health agencies had the information and the resources, so they should have been planning for this, but they weren't. The problem isn't because they're underfunded, it's that they are bloated and mismanaged.
Of electronic cigarette use: a systematic review
Phoebe D. Garcia, Jeffrey A. Gornbein, Holly R. Middlekauff
Nineteen studies were included in this systematic review, all of which used earlier generation EC devices. Acute EC vaping increased HR and BP less than acute TC smoking. Nicotine but not non-nicotine constituents in EC aerosol were responsible for the sympathoexcitatory effects. The results of chronic EC vaping studies were consistent with a chronic sympathoexcitatory effect as estimated by HRV, but this did not translate into chronic increases in HR or BP.

Conclusions
Electronic cigarettes are sympathoexcitatory. Cardiac sympathoexcitatory effects are less when vaping using the earlier generation ECs than when smoking TCs. Additional studies of the latest pod-like EC devices, which deliver nicotine similarly to a TC, are necessary.
New Zealand vaping representatives have joined forces to condemn the Government continuing with its plan to rush legislation through Parliament to regulate vaping despite the Covid-19 lockdown.

The Vaping Trade Association of New Zealand (VTANZ), New Zealand Vaping Alliance (NZVA), and Aotearoa Vapers Community Advocacy (AVCA) say their pleas for more time have been ignored, making the process grossly unfair.

Parliament has confirmed that public submissions for the Smokefree Environments and Regulated Products (Vaping) Amendment Bill will still close on 1 April after less than three weeks, with the Health Select Committee having to report back to the House by 2 June. The committee is expected to meet remotely from tomorrow, with oral submitters to present via videoconference.
---
A look back at how things have moved on or otherwise…
UKVIA
The UKVIA is very excited to invite you to the exclusive launch of VApril 2019 in London's glittering Leicester Square. Join the country's leading vaping trade association and a very special guest to see what makes this year's event bigger and better than ever.

With presentations and masterclasses throughout the day, there really is something for everyone on VApril launch day. Don't miss out on your chance to get the most exciting month of the vaping year off to the perfect start!
But Indian judges resist vape ban – Fergus Mason
San Francisco, already notorious for its opposition to tobacco harm reduction, has upped the stakes yet again as a city legislator pushes for a total ban on e-cig sales. Similar anti-vaping laws continue to spread across the USA, although one Wisconsin town has decided to exempt vape shops from their workplace vaping ban – and the fact that's seen as a victory tells us just how bad things are getting. There's been a bigger win in India though, where Delhi's High Court has frozen a national ban on vapour products.
---
Visit Nicotine Science & Policy for more News from around the World

---