Vaping Digest 27th March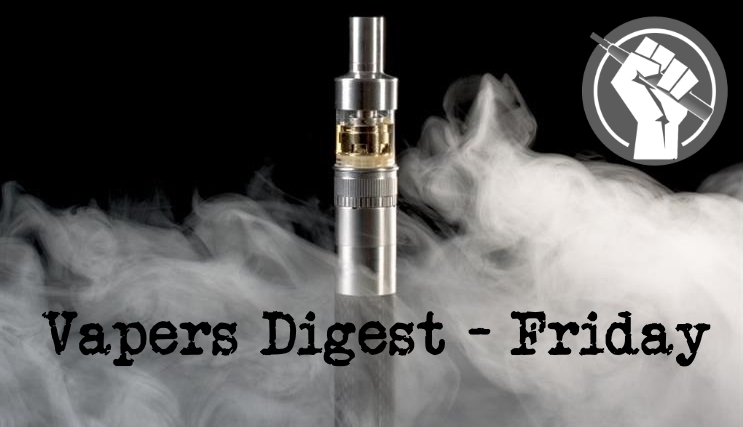 Friday's News at a glance:
NNA: Vape shops must stay open – Vaping, SARS-CoV-2 and COVID-19 – VPZ Closes All Stores – COVID-19: Experts Lie About Vaping – Proposal to Ban All Tobacco Products Wouldn't Help New York Fight Coronavirus – US FDA may relax PMTA deadline – Epidemics, Booze and Strip Clubs – Rhode Island Becomes the 3rd State to Ban Vape Flavors – Tobacco Crackdown Leads to Smuggling Surge – South Korean court delivers latest blow to e-cigarette makers – Chinese Hardware Makers Normalizing Operations – Amid Coronavirus, What Are the Risks to Vapers? – Coronavirus Has Closed Vape Shops – No evidence that vaping increases the risk of COVID-19 – Nicotine Science and Policy Daily Digest
Dave Cross, Planet of the Vapes
The New Nicotine Alliance (NNA), Britain's leading tobacco harm reduction charity, has joined in with the calls for the nation's vape shops to be allowed to remain open. The NNA mirrors statements from trade bodies the Independent Vape Trade Association (IBVTA) and the UK Vaping Trade Association (UKVIA) in highlighting the desperate need for the nations smokers and ex-smokers to continue to be able to reduce their exposure to harm from smoking.

It writes: "There is much talk of further measures to control the outbreak of Coronavirus, but closure of vape shops should on no account be considered."
Roberto Sussman and Carmen Escrig
The spread of the SARS-CoV-2 pandemic provides fertile ground for spreading misinformation on vaping. Vapers must be equipped with solid information and data to counterargue.

The relation between smoking and the progression to severe conditions of COVID-19 is still uncertain, though identified vulnerability conditions for this progression (cardiovascular and respiratory disease, diabetes) in mostly senior patients are strongly correlated with long term harms from smoking.

There is no evidence that vaping (intrinsically) increases the risk of infection or progression to severe condition of COVID-19. When evaluating risks on vapers it is necessary to consider that most are ex-smokers or still smokers. Vapers with a long previous smoking history could exhibit conditions seen in vulnerable patients. However, this would not be an effect of vaping but of previous smoking.
---

---
Two more from Dave Cross POTV
VPZ, the UK's largest retailer is to close all its 155 nationwide stores as of Tuesday 24th March. The firm which had expected the country to implement measures similar to those in other European nations by keeping vaping retailers open, were forced to announce the decision after the Government had failed to clarify its view on vaping stores. Online operations will continue as normal.

Doug Mutter, Director of Compliance and Manufacturing said: "We are disappointed with the lack of clarification from the Government regarding where vaping retailers stand. Other European nations had recognised the work vaping specialists do in reducing the stress on health services and kept the local stores open. We had expected this to be the case and had begun investing in new processes in order to manage our business in such an environment."
Nanotera Group's chief scientific advisor has misinformed the Scottish media that vaping can spread the COVID-19 virus. Dr Chris "The Naked Scientist" Smith clarified the truth during a 5-Live interview, but this was misrepresented by a Daily Express journalist. At a time when factual information is so important, it is despicable that energy is put into lies.

Tom McLean told Herald Scotland and the Glasgow Times that vaping is the same as "someone spitting in your face". The so-called chief scientific advisor forgot that vaping does not increase the volume of air or compounds expelled from the lungs or the likelihood of breathing in virus-bound air any more than breathing in normal exhaled breath.

He is reported as saying, "there was evidence that the properties of the vapour caused a weakened immune system – despite ex-smokers often turning to the devices as a 'safer' option."
---
Wise words from @LionShahab, urging government to extend essential status to vape shops pic.twitter.com/iMeBry7LQ3

— NNAlliance (@NNAlliance) March 26, 2020
Smoking and hospitalization for COVID-19. Update, 1 more study added to the analysis, results remain the same (and are even stronger). Remarkable consistency in all studies, very low prevalence of current smoking among hospitalized COVID-19 cases in China.https://t.co/rkBJSJC6Er

— K. Farsalinos (@FarsalinosK) March 26, 2020
---
Wouldn't Help New York Fight Coronavirus – Guy Bentley
New York state is at the epicenter of the COVID-19 emergency. As the state scrambles to ensure its health care infrastructure can handle the surging number of patients, it's disappointing to see some respected groups pushing for extreme policies that could exacerbate the crisis. The New York Daily News reports:

A group of doctors and medical professionals think forcing New Yorkers to kick the habit will help battle coronavirus.The New York State Academy of Family Physicians is urging Gov. Cuomo to issue an executive order banning the sale of all tobacco products, citing a study that found smokers are at an increased risk of being impacted by the respiratory illness.
For firms facing coronavirus problems – Barnaby Page
The US Food and Drug Administration (FDA) has hinted that it might push back the deadline for e-cigarette PMTA applications, or offer flexibility to companies struggling to meet the May target while coping with the effects of the coronavirus outbreak.

As the situation currently stands, premarket tobacco applications (PMTAs) for vapour products must be submitted to the agency by 11th May if the products are to remain on sale after that date. They would then be allowed to remain on the market for a year while the FDA considered the applications, which must be accompanied by comprehensive supporting materials.

Dave Cross, Planet of the Vapes
While many saw corrupt thought at play when Alabama administrators instructed toilets to be closed or expelled children caught vaping, but it is now obvious the corruption extended to other actions too. School administrators have been caught spending $700,000 on trips to strip clubs, buying alcohol, online gaming and fraudulently syphoning off funds for family members.

Alabama hid behind a "national vaping crisis" when it began making criminals out of children. Administrators decided it made sense to have head teachers call in the police if a child was found with a vape device and, in turn, to have the police levy a fine ranging from $10-$50.
To Ban Vape Flavors – Jim McDonald
Rhode Island became the third U.S. state to ban sales of flavored vaping products this week, after Governor Gina Raimondo used the Department of Health to bypass the state legislature and create a permanent rule. The new rule takes effect immediately, and prohibits the sale of any vapor product (including bottled e-liquid) in a flavor other than tobacco.

Raimondo had imposed a temporary "emergency" flavor ban last September. That ban, which was due to expire April 1, was passed during the panic over lung injuries caused by adulterated THC oil cartridges sold on the black market. The injuries were not caused by flavored nicotine vaping products.
---

---
Michael McGrady
The new crackdown on tobacco — from flavor bans on virtually all tobacco and nicotine products to a new era of 21-years-only sales — has created a new problem for law enforcement: Where to put all those cigarettes?

In Massachusetts, for example, state police have run out of space to store untaxed cigarettes that were seized by smugglers. As a result, tobacco tax enforcement in the Bay State has been stymied.

After years in which the state has interdicted millions of dollars in illicit cigarettes,  law enforcement officials have only seized over $30,000 in untaxed tobacco products since July of 2019.
---
Renowned Researcher Talks Vaping Policy & Panic | RegWatch (Live)
---
To e-cigarette makers
E-cigarette makers in South Korea suffered a further setback after the Constitutional Court swiftly dismissed a petition by an industry body challenging the government's warnings against the devices.

The court's decision, issued just two weeks after the original filing by the Korea Electronic Cigarette Association, comes amid increasing government pressure on the once-thriving industry, both in South Korea and elsewhere in Asia. Late last year, India banned e-cigarettes entirely.

The association's petition was a formal challenge to recommendations by the Ministry of Health and Welfare, and disputed the ministry's claim that e-cigarettes and heated tobacco products are not safer alternatives for smokers who are trying to quit conventional, or combustible, cigarettes.

Normalizing Operations – Tobacco Reporter
The hardware manufacturers in China that produce vapor products for the world market are back in business after a brief hiatus due to the COVID-19 pandemic. Based mostly in Shenzhen, the world's electronics and e-cigarette capital, companies say that they are implementing new standards and processes to keep employees and customers safe.

Several companies have also intensified their data-collection efforts for premarket tobacco product authorizations (PMTA) in U.S. market. "The coronavirus is indeed having an impact on the PMTA process," says Welford Ou, CEO for SmokTech, a major manufacturer. "For example, the behavioral investigations have been stopped, and it also taking more time for us to prepare all the products for the PMTA." As of this writing, PMTA applications are due to the U.S. Food and Drug Administration (FDA) on May 12.
What Are the Risks to Vapers? – Sally Satel
Does coronavirus present an incremental risk to people who vape? The notion is by no means irrational. While the aerosol produced by e-cigarettes contains vastly fewer toxins and carcinogens than cigarette smoke and those present exist at much lower levels, vapor is not comparable to fresh air.

However, early media coverage seems to be trending toward the kind of distortion that we saw with the vaping "epidemic" last fall. At that time, the frightening rash of lung disease and deaths were not due to commercial nicotine vaping products, as was alleged for months, but rather to contaminated THC.
Increases the risk of COVID-19 – Colin Mendelsohn
Vaping is no more likely to spread COVID-19 than normal breathing,  unless the vaper coughs or sneezes, according to Professor Neal Benowitz. [link]

COVID-19 is transmitted by coughing or sneezing. Large droplets of saliva containing the virus are expelled at high speed into the air and persist for longer periods.

However  vaping aerosol releases very small liquid particles of propylene glycol, vegetable glycerine and very low doses of chemicals at low speeds which disperse quickly. Vapour is expelled even more slowly from low-powered devices.

There is also some evidence that propylene glycol has anti-viral properties in aerosol form.
But Left Cigarettes Readily Available – Alex Norcia
As cities across the country have shut down in hopes of slowing the coronavirus, a few "essential" services have been allowed to remain open. Banks can fulfill financial needs. Restaurants can offer takeout. Pharmacies can have pain relievers on the shelves.

One type of business that has not always been allowed to stay running: vape shops. And that has become a source of frustration to a growing number of often-maligned vape shop owners and manufacturers in the burgeoning industry, who feel that it could lead to people returning to traditional and more harmful cigarettes.
---
A look back at how things have moved on or otherwise….
There is an old Platonic conceit that, since the advent of technocratic administration, has been blissfully forgotten: Prior to office, statesmen should develop an appreciation of the need for philosophic approaches to governance. The prescriptions we have grown so accustomed to, striking only in their formulaic sameness, as if our civil servants all graduated from the same GE training program, would have struck our ancient counterparts as insufficiently nuanced to deal with present social ills.
Say they encourage nicotine addiction, lobby sharing misleading information

Doctors across the country have joined hands to push the government to ban Electronic Nicotine Delivery Devices (ENDS) in India. As many as 1,061 doctors from across the country have written to Prime Minister Narendra Modi urging him to stop ENDS in India before they become an epidemic.

The doctors in their letter stated that ENDS such as e-cigarettes, vaping devices, e-sheesha, e-nicotine-flavoured hookah, and heat-not-burn devices are being promoted as safer alternatives to smoking, and have expressed concern about the increasing interest of the youth in ENDS.
Mary Ann LL. Reyes, PhilStar Global
Just recently, Health Undersecretary Eric Domingo reiterated the health department's  warning that the use of electronic cigarettes is not a good alternative to cigarette smoking and that because e-cigarettes or "vapes" contain nicotine, the DOH is concerned that vapers will get addicted to nicotine and then become cigarette smokers.Dr. Domingo's statement is hardly surprising. The DOH follows the World Health Organization (WHO) position that the only way to reduce smoking is for smokers to quit or die, and that anything less than an abstinence-only approach is unacceptable.
---
Visit Nicotine Science & Policy for more News from around the World

---