Vaping Digest March 25th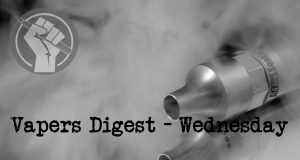 Wednesday's News at a glance:
VAPING AND SARS-CoV-2 AND COVID-19 – TECHNICAL INFORMATION FOR VAPERS ~ VAPING AND SARS-CoV-2 AND COVID-19 ~ The E-Cigarette Revolution That Wasn't ~ Vape shops are a vital service ~All UK Vape Shops Told to Close ~ NNA: Vape shops must stay open ~COVID-19: UKVIA Wants Vape Shops Kept Open ~A Victory for Italy ~ Vulnerable Risky Smoking Deadly Mix ~ Coronavirus: Vape shops ordered to close ~Vaping, smoking and coronavirus – the facts ~ Coronavirus and Vaping: Fear, Confusion, Disinformation and Lies ~ Surgeon General: Speculate, Fabricate, Lie. Correlation Virus
---
Sally Satel, National Affairs
In 2014, the Oxford English Dictionary christened "vape" the Word of the Year. The designation was a tribute to the impressive rise of the electronic cigarette, a battery-powered device that heats a flavored solution containing nicotine and converts it into an inhalable, or "vape-able," aerosol. By the close of 2013, six years after e-cigarettes became available in the United States, sales had surpassed $1 billion, prompting financial analysts to proclaim them a threat to cigarette sales. Observers hailed e-cigarettes as "among the most significant public-health innovations of modern times" and a "disruptive technology" poised to "revolutionize" public health.
That Got Me Thinking
As the Covid 19 pandemic has spread we have seen some of the most stringent restrictions imposed on a population, outside of wartime. Closure of pubs, schools, sporting events. Banning gatherings and the abandonment of once immovable annual events like the Eurovision.

It is essential that all of us follow the advice of government and health departments, keeping 'social distance' and minimising leaving our homes.
James Dunworth, AshTray Blog
Just a week ago I speculated that vape shops might not close in the UK.

It was not to be.

Last night vape shops, along with all other non-essential shops, were ordered closed by the government.

That's despite lobbying from both vape trade associations (IBVTA / UKVIA), who called for vape shops to remain open to help people stay away from smoking.
---

---
POTV now has a forum section for COVID-related vendor updates to help you know where you can access reduced harm products.https://t.co/JHQzrB00ND pic.twitter.com/EHKjgLkknE

— Dave Cross (@DaveM_POTV) March 24, 2020
---
Sadly becoming conventional wisdom despite zero evidence. Only study done on smoking, vaping, and hospitalization says it's unclear if smoking is responsible for adverse COVID-19 outcomes. There are no studies recording e-cigarette use status among hospitalized COVID-19 patients. https://t.co/QjMWjpYkPS

— Guy Bentley (@gbentley1) March 24, 2020
---
FOUR from Dave Cross, Planet Of The Vapes
The New Nicotine Alliance (NNA), Britain's leading tobacco harm reduction charity, has joined in with the calls for the nation's vape shops to be allowed to remain open. The NNA mirrors statements from trade bodies the Independent Vape Trade Association (IBVTA) and the UK Vaping Trade Association (UKVIA) in highlighting the desperate need for the nations smokers and ex-smokers to continue to be able to reduce their exposure to harm from smoking.
The UK Vaping Industry Association (UKVIA) has issued a call to keep the nation's vape stores open. Sir Kevin Barron, former MP and Honorary Fellow of the Royal College of Physicians, has given his backing to the industry call as closures could prove counterproductive and put further pressure on the National Health Service. UKVIA is pressing the matter following Boris Johnson's announcement last night.
Doctor Riccardo Polosa, a Professor of Internal Medicine and specialist of Respiratory Diseases and Clinical Immunology at the University of Catania, was angry when Italy closed all vape shops. He argued that the government's action to limit the spread of COVID-19 placed lives at risk of tobacco-related harm. Sense has prevailed and the stores have reopened.
Risky smoking practices and the coronavirus pose a deadly mix for the most vulnerable, Dr Sharon Cox tells the British Medical Journal (BMJ). While fake experts cluck about the possible dangers of vaping, Dr Cox is an authority on tobacco harm reduction and its potential in deprived communities.
---
Chris Dillon, Better Retailing
Stores selling "non-essential goods" have been told to close in a national TV address by the Prime Minister on Monday evening (23 March).

Shops that have been allowed to stay open include supermarkets, pharmacies, newsagents and post offices, while vape shops were not included on the government's list.

A statement by the UKVIA on LinkedIn and Twitter read: "The UKVIA is assessing the Prime Minister's statement as a matter of urgency.
Christopher Snowdon, Velvet Glove Iron Fist
Never letting a good crisis go to waste, a few prohibitionists have been exploiting people's fear of coronavirus to clamp down on vaping and smoking. The evidence that smoking increases the risk of dying from this disease is very weak – if anything, smokers seem to be have been under-represented in the coronavirus death toll in China (see here, here and here). The evidence against vaping is simply nonexistent; no studies have yet included data on vaping. Nevertheless…
---
"…I know, because I started some of them." https://t.co/6V6Sb4oJHB

— Carl V Phillips (@carlvphillips) March 23, 2020
---
Jim McDonald, Vaping 360
The U.S. Surgeon General Jerome Adams told The Today Show Monday that vaping might be a reason serious American coronavirus infections may skew toward younger age groups than in some other countries. If they do, that is.

NBC's Savannah Guthrie said that among the coronavirus cases in New York, 53 percent "were actually young people between the ages of 18 and 49, which, of course, is very different than the earlier understandings of this virus." She asked the Surgeon General if young people are "more at risk than previously thought."
Kevin Crowley, Vaping Links
In the midst of a global COVID19 pandemic, the Surgeon General was interviewed by Savannah Guthrie and decided (without examining anyone on air) to speculate, fabricate, and FALSELY identify, diagnose a cause linking vaping and COVID19. That's called negligent malpractice.
---
---
A look back at how things have moved on or otherwise…
Christopher Snowdon, Velvet Glove Iron Fist
In March, a question was asked of the European Commission which suggested that the World Customs Organisation (WCO) was looking to reclassify e-cigarettes as tobacco products…

I can find no record of an answer but on 16th May the World Customs Organisation published a document in which it discusses shifting e-cigarettes and vape fluid out of the chemicals category (Chapter 38) and into the tobacco category (Chapter 24). The document isn't freely available online yet, although it has been published on the WCO's member website and has been distributed by the International Chamber of Commerce to its members. I quote the most relevant sections below.
A dialogue on human rights, deception, and the use of smokeless tobacco as a substitute for cigarettes
The use of smokeless tobacco as a substitute for cigarettes raises many scientific and ethical issues, as the fictitious discussion below reveals…

Cast: Dr Acton—a physician and member of a leading smoking policy committee; Dr Wright—a scientist with interest in human rights ethics (both characters are fictitious and do not represent any individuals, living or dead).

Setting: Private room at a conference. These two colleagues have been allies for many years. Today they have been arguing in public. The argument starts up again.
Stephen Bitsoli
It's been a bad half-century for Big Tobacco, starting with the US surgeon general's report on smoking in 1964, the Federal Cigarette Labeling and Advertising Act of 1965, and the Public Health Cigarette Smoking Act of 1969. Together these led to mandating the US Surgeon General's warning be placed on cigarette packages and broadcast ads be banned.
---
Visit Nicotine Science & Policy for more News from around the World

---