Vapers Digest 12th April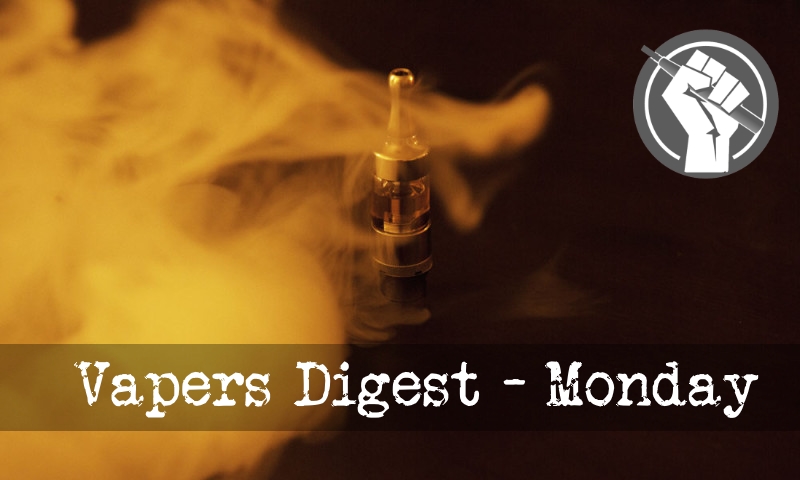 Monday's News at a glance:
Harm Reduction in the U.S. – ASH Calls For Smoking Cessation Training – A Sea Change is Underway – The New Nicotine Alliance – European Tobacco Harm Reduction Advocates – Effective behavioural support in 2021 and beyond – Crazy PAVeing: An Anti-Ecig Conference – UK E-Cig Stores Back Open – Bloomberg Philanthropy: charity or intrusion? – Bloomberg Anti-Nicotine Lobby  – Japan trounces smoking epidemic – Africa Must Ditch The Dogma To Reduce Tobacco's Toll – Taipei proposes ban on sale of vaping products – Chinese Vaping Billionaire Became One Of The World's Richest Women – Smokefree action plan must elevate vaping as a safe switch – Another study finds a good reason to switch – Juul Leaves Canadian Trade Association – Nicotine Science and Policy Daily Digest
A Sea Change is Underway – John de Miranda
Def. Sea change or sea-change is an English idiomatic expression which denotes a substantial change in perspective, especially one which affects a group or society at large, on a particular issue.

Some time ago I wrote an opinion piece titled: Dirty Words: Smoker, Vaper, Harm Reductionist? In the article I expressed my frustration that in government and NGO leadership circles publicly embracing harm reduction policy in the U.S. was still politically dangerous. Unfortunately, demonization of smokers, vapers or clean needle exchange programs is more likely to resonate with the public than nuanced discussions of proportional risk or the benefits of tobacco harm reduction strategies.
For Mental Health Staff – Diane Caruana
As serious concerns about mental health personnel not receiving adequate training to help patients quit smoking are raised, a new report published by Action on Smoking and Health (ASH) is urging local authorities to take action by implementing training programmes.

Data gathered across the globe keep indicating that mental health patients are more likely to smoke than individuals who do not suffer from psychological or psychiatric conditions. Moreover, these individuals are more likely to find it harder to quit. To this effect, they benefit greatly from having extra support in relation to smoking cessation and access to safer alternatives, that would at least lessen the chances of them also suffering from smoke-related conditions.
---

---
Dave Cross – VapeKit
The average vaper makes their purchase, uses their products, and rarely thinks about what is going on behind the scenes. In this article we introduce you to the New Nicotine Alliance (NNA) and the incredible work it does to educate politicians and fight to protect the rights of ecig users.

The NNA [link] is a non-profit charity set up by individual vapers who are ex-smokers. The board has changed over the years, but all the participants volunteer their time freely and the organisation runs on public donations – no money is accepted from pharmaceutical, tobacco, or vape businesses. This independence from industry interests means the NNA has achieved a high standing in the view of researchers and politicians.
---
I'm a moderator on a Facebook group, & we have people asking daily whether using nicotine eg in patches or by vaping means you are still smoking. No no no. It's the smoke in a cigarette that does the damage, not the nicotine. If you do not use cigarettes you are not smoking

— NCSCT (@NCSCT) April 11, 2021
IBVTA members all over the country were busy over the weekend preparing their #retail shops for reopening. Best of luck to everyone reopening their #vapeshops today, and getting back to what they do best – helping smokers to make the switch to #ecigarettes and #vaping! pic.twitter.com/ghXKFoe0oc

— IBVTA (@TheIBVTA) April 12, 2021
---
European Tobacco Harm Reduction Advocates
While the United Kingdom is an island, we do not exist in isolation and the world has an influence on who we treat nicotine and nicotine products. Pushing for common sense on the international stage is the European Tobacco Harm Reduction Advocates (ETHRA) consumer group, consisting of individual champions from across the continent.

ETHRA is a very recent organisation on the political scene, set up in September 2019. Within a month it had grown to seventeen members representing vapers and users of other safer nicotine products such as snus and heated tobacco products.

Three from Dave Cross, Planet of the Vapes
Action on Smoking and Health (ASH) held an online meeting to discuss smoking support services over the last year. Hazel Cheeseman, ASH's Director of Policy opened the proceedings and spoke about how this has been a year where smoking cessation services had to become very inventive in how they delivered support to quitters. Covid lockdowns also meant that smokers couldn't seek support from trained staff in their local vape stores.

The ASH(1) webinar couldn't hope to answer all of the questions due to the sheer volume of topics to be discussed, but began with Dr Jamie Hartmann Boyce, Nuffield Department of Primary Care Health Sciences at the University of Oxford, covering the findings from the Cochrane Review of behavioural interventions for smoking cessation
Parents Against Vaping E-Cigarettes (PAVe) have hosted their inaugural "Clear The Vapor Conference" last week. The organisation consists of a group of volunteer 'moms' with a venomous contempt for vapers, tobacco harm reduction, and telling the truth. Shamefully, they managed to obtain financial support from CVS Health and convinced a number of "experts" to take part and tell their distorted version of the truth.

PAVe began when the moms discovered "that a JUUL representative had entered their sons' high-school through an outside anti-addiction group" (1). The truth was that the educator was not a JUUL employee, as evidenced in the video below, but having a grasp on the facts isn't PAVe's strong point.
The UK Vaping Industry Association (UKVIA) has celebrated the fact that vape shops across England and Wales are expecting to welcome huge numbers of customers – including many smokers seeking expert help and guidance to quit – when they finally got to re-open this morning.

Over 2,000 vape shops across the UK have been preparing to reopen their doors to customers again ever since the Government confirmed the next stage of lifting lockdown restrictions would proceed as previously announced. Non-essential retail outlets including vape shops were able to reopen their doors from today across England and Wales. In Scotland however, non-essential retail must remain shut until Monday, April 26.
---

---
Charity or intrusion?
Philanthropy's role is to get things started, to make market forces work in favor of the poor. A well-targeted philanthropic activity triggers action from both business and government. That's how tech mogul and billionaire Bill Gates defines the good work of capitalism and its intended outcomes.

What makes Gates credible in putting forth the agenda of philanthropy is that he is no tycoon-cum-politician like the discredited former US President Donald Trump and former presidential candidate and New York City mayor Michael Bloomberg who apparently have overriding motives than the public good.
Among US Backers of Duterte's Drug War – Annie Kleykamp
He thought it was a clap of thunder as it echoed through the humid air between the river and mountains that surrounded him. But it was a shotgun blast, and it tore through his spine.

Panicked neighbors rushed to him and frantically hoisted his bloodied body onto a motorized tricycle for a desperate 15-minute ride to the closest hospital. But there was too much damage; he needed a neurosurgeon and the closest was hours away.

With ambulance sirens blaring, they rushed south through the Philippine countryside while he coughed and choked on his blood.
Experts say. It's not that simple – Marc Gunther
The Biden administration is under pressure to ban menthol cigarettes, and for good reason: A menthol ban will probably save hundreds of thousands of lives, many of them Black lives.

A ban would be the biggest change to tobacco regulation in years. Menthol cigarettes account for more than a third of all cigarette sales in the US, according to the CDC. Of African Americans who smoke, about three in four choose menthol.

In a 2020 editorial in the journal of Nicotine and Tobacco Research, scholars Cristine Delnevo, Ollie Ganz and Renee Goodwin describe a menthol ban as "a social justice issue" that "could have monumental implications for both the short- and long-term physical and mental health of communities of color."
With non-combustible alternatives – BusinessMirror
Japan emerged as model country for tobacco harm reduction when it reduced its smoking rate by nearly a third in a span of three to four years since the introduction of non-combustible alternatives to cigarettes in 2014.

A public health expert said Japan accomplished this milestone following the introduction of heated tobacco products (HTPs). Dr. Kumamaru Hiroya, vice director of the AOI Universal Hospital in Kawasaki, said this rate of decline in smoking incidence was not observed after years of trying nicotine replacement therapy (NTP).
Of vaping products, heated tobacco
Taipei health authorities have stepped up efforts to ban the sale of e-cigarettes and include heated tobacco products regulation under the law.

The Taipei City Government Department of Health (台北市衛生局) has drawn up draft amendments to the Tobacco Hazards Prevention Act (菸害防制法).

According to the health authorities, the draft has been sent to the Parliament and can be announced for implementation as soon as the second half of the year.

To Reduce Tobacco's Toll – Joe Magero
FAR TOO many Africans die as a result of smoking. Yet far too few Africans who try to stop smoking actually succeed in doing so.

It's clear that the 'quit or die' approach to tobacco control is not working on our continent, where cigarette consumption is on the rise in stark defiance of global trends.

If we are serious about saving lives, we'd do well to look at how that fight is being won in other parts of the world. And that means rethinking the way we look at nicotine.
AVCA
A leading vaping advocate has joined mounting pressure on the Government to take all the necessary steps available to achieve the country's decade-old smokefree ambition.

This comes as Associate Health Minster Dr Ayesha Verrall prepares to release a discussion document on a draft action plan to meet the Smokefree 2025 targets.

While the Cancer Society recently launched a petition to drastically reduce the number of tobacco stockists, the Aotearoa Vapers Community Advocacy (AVCA) is now calling on the Government to urgently rethink its approach to regulating vaping.
Became One Of The World's Richest Women In Three Years
Kate Wang, 39, jumped into the ranks of the world's richest when her vaping company RLX went public on the New York Stock Exchange in January. Now the Procter & Gamble and Uber veteran faces looming threats from Chinese regulators and skeptical investors.

In a period of 55 hours starting on the morning of March 22, shares in Chinese vaping company RLX Technology collapsed 54%, slashing more than $16 billion from the startup's market cap. The slump continued through the week as investors sold on the news of a potential industry crackdown by China's tobacco regulator and the Securities and Exchange Commission's announcement that it would start enforcing a law to require Chinese listed companies to provide audits or risk being delisted.
To switch from smoking to vaping – Brittany A. Roston
When it comes to harm reduction, switching from smoking cigarettes to vaping an electronic cigarette may be ideal for helping protect your health, at least according to a new study from Imperial Brands. That's not to say that vaping is a healthy activity, but when compared to smoking combustion cigarettes, the new research found good news when it comes to DNA damage potential.

The new study set out to evaluate the effects of cigarette smoke and vape aerosol on cells and their potential for DNA damage. The research involved the ToxTracker assays from Toxys; this is the first study to use the system to study vape aerosol and liquids. The study was peer-reviewed and published in Mutagenesis.
Amanda Polese & Jonathan Ciaccia
Vaping groups are fighting a Quebec plan to ban the sale of flavoured e-liquids to discourage young people from vaping.

"You are saying it is a matter of public health, but you are creating a crisis," says Valerie Gallant, director of the Association Québécoise des Vapoteries (AVQ).

When a 2015 vaping law was challenged in court, a judge ruled that e-cigarettes are a tool to reduce tobacco use and that vapers have the right to prioritize their health.
Tobacco Reporter
Juul Labs is leaving Canada's Vaping Industry Trade Association (VITA), citing nonalignment on critical policy issues.

"While we have appreciated the opportunity to collaborate with VITA , we will not be renewing our membership as we are not aligned on too many critical policy issues," Juul Labs wrote in a statement. "For example, we support Tobacco 21 legislation—raising the minimum purchase age of tobacco and vaping products to 21—enhanced access controls at retail and limiting flavor options."
---
A look back at how things have moved on or otherwise…
Charles Gardner, FSFW
Smokers are more likely to develop garden-variety colds and flus, so the above COVID-19 data are surprising. Smokers who become ill with COVID-19 are no more likely to be hospitalized than non-smokers. Notably, there is absolutely no evidence linking COVID-19 to nicotine vaping.

There is, however, no debate that people with 'comorbidities' like chronic obstructive pulmonary disease (COPD) and cardiovascular disease (CVD) are more likely to develop complications and die from COVID-19. Although the majority of smokers do not have COPD or CVD, most people with COPD are current or former smokers, as are many with CVD.
Finds e-cigarettes really can help – Rachel Davies
A case study, featured within the HealthCheck UK programme aired on BBC One at 10.00 am on Thursday April 2nd, shone some well-deserved light on the benefits of e-cigarettes. An impartial documentary segment in the programme showed the remarkable success story of a heavy smoker who was given an e-cigarette to help him quit; provoking thought for smokers who are yet to give vaping a try.

The segment followed a 30-year old man named Ace Langley on his journey to becoming smoke-free. The 40-60 a day smoker had tried and failed to quit smoking on numerous occasions, using patches and gum. However, Ace had little knowledge of vaping and was yet to give an e-cigarette a go.
---
Visit Nicotine Science & Policy for more News from around the World

---