Vapers Digest 14th April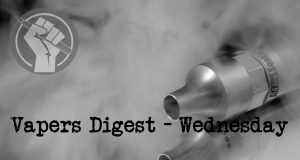 Wednesday's News at a glance: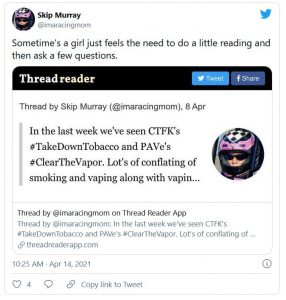 Skip Murray
In the last week we've seen CTFK's #TakeDownTobacco and PAVe's #ClearTheVapor. Lot's of conflating of smoking and vaping along with vaping nicotine and tons of other things (Pot, vitamins, etc.). Tons of support for flavor bans. As time permits, this will turn into a thread.
---
World Vapers' Alliance
Sometimes it may seem as if policymakers will never see the light and embrace vaping, but there is hope, just look at New Zealand's 180-degree turn. 

Not that long ago, the sale and supply of ALL nicotine vapes and e-liquids was banned in New Zealand through the widening of the scope of the Smoke-free Environments Act 1990 (SFEA).
---

---
TWO from Dave Cross, Planet Of The Vapes
MUSC Hollings Cancer Center researchers have released research making the dubious claim that 66% of vapers want to quit vaping. The paper is published this month on JAMA Network Open. Their findings conflict with a straw poll conducted on the Planet of the Vapes forum which has 60,000 members.
The ENDS (Electronic Nicotine Delivery Systems) Europe conference is set to take place from 20-21 April. The annual event is aimed at key stakeholders from the electronic nicotine delivery systems industry. This year will mark another success for Planet Of The Vapes (POTV) News as we've been invited to become an official media partner following a similar partnership with the UK Vaping Industry Association's VApril campaign.
---
RIGHTS 4 VAPERS
Juul Labs Canada has put its bottom line and relationship with the federal government ahead of the needs of its consumers by pulling out of the Vaping Industry Trade Association of Canada (VITA) and abandoning the fight to maintain a wide variety of flavours for adult vapers.

"By giving up on flavours, Juul has clearly demonstrated that adult consumers are less important to them than their desire to cozy up to the federal government," said Maria Papaioannoy, spokesperson for Rights4Vapers, Canada's leading vapers consumers' rights movement. "My heart breaks for the millions of adult vapers who look to Juul as a leader in the industry. These Canadians have been deceived by Big Vape."
Tobacco Reporter
E-cigarettes that deliver a cigarette-like amount of nicotine are associated with reduced smoking and reduced exposure to a major cancer-causing chemical in tobacco even with concurrent smoking, according to a new study led by researchers at Penn State College of Medicine and Virginia Commonwealth University (VCU).
---

---
C. Everett Koop, Surgeon General under President Ronald Reagan, was an ardent crusader against smoking. As he said of himself in 1998, "I frequently spoke of the sleazy behavior of the tobacco industry in its attempts to discredit legitimate science as part of its overall effort to create controversy and doubt." Koop was referring to doubt surrounding the relationship between smoking and lung cancer….
---
Visit Nicotine Science & Policy for more News from around the World

---