Vapers Digest 16th April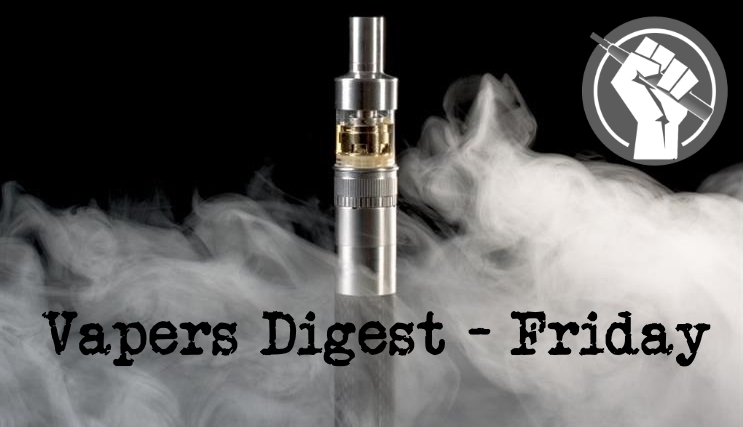 Friday's News at a glance:
NNA Welcomes Estonia's Decision to Suspend Excise Duty on E-Liquids – Plymouth Vaping Experiment – Four million smoking-related deaths a year – A Burning Issue for Asia – Report Details Failures to Scale Up THR in Asia – Covid stress leads to increase in smoking – UKVIA repeats its call to Government to review vaping regulations – POTV Teams Up With GFN21 – Tobacco Harm Reduction Conference – ELEVATE VAPING AS A SAFE SWITCH – Examining Public Health's Response to Vaping – Tobacco harm reduction and the high cost of misinformation – Govt's Smokefree Plan Overlooks Vaping Alternative – Dental group clarifies stand on e-cigarettes – Nicotine Science and Policy Daily Digest
To Suspend Excise Duty on E-Liquids – Diane Caruana
NNA Smokefree Estonia is an affiliate organisation of the New Nicotine Alliance (NNA) network. It is a member of the International Network of Nicotine Consumer Organizations (INNCO) and the European Tobacco Harm Reduction Advocates (ETHRA).

The Estonian Parliament has recently voted to suspend the excise duty on e-liquids between the 1st of April 2021 until 31 December 2022, with the aim of reducing cross-border trade and illicit trade. The NNA Smoke Free Estonia supports this decision.

When the Estonian excise duty of 0.2 euros per milliliter of e-liquid came into effect, local vapers started purchasing e-liquids from neighbouring Latvia and Russia, where prices are much lower.
Dan Preece, Gary Wallace
In Plymouth in recent years we have been developing ways of working that are person centred, asset based and that recognise both the complexity of people's lives and the failed utility of linear, top down approaches. This experiment came about because we wanted to try something different with a group of people traditionally characterised by public services as "entrenched" and "hard to reach". We saw the emergence of vaping as an ideal opportunity to challenge these characterisations and learn more about how people respond to bespoke approaches to prevention and harm reduction.

Above all else, surely public health is about change where it is most needed? The well-known thought experiment asks us: "If a tree falls in a forest and no one is around to hear it, does it make a sound?"
---

---
Yet potential solutions to Asia's tobacco crisis blocked
Tobacco Harm Reduction: A Burning Issue for Asia, by the Global State of Tobacco Harm Reduction (GSTHR), reveals the terrible toll of the tobacco crisis in Asia. 6 in 10 of the world's smokers and 9 in 10 users of dangerous oral smokeless tobacco (SLT) live in the region. Almost half the global deaths from smoking are in Asia: a devastating loss of four million people every year, and evidence of the continued failure of current tobacco control measures and the need for new, pragmatic solutions. The short report will be formally launched at a free online event, co-hosted by the GSTHR and Association of Vapers India, with leading regional advocates and tobacco harm reduction experts this Sunday 18 April.
A live debate and Q+A, Sunday 18 April 2021
Knowledge Action Change (K•A•C) and the Association of Vapers India (AVI) invite you to take part in the launch of the Global State of Tobacco Harm Reduction's latest briefing.

The focus of this GSTHR briefing is Asia. Sixty per cent of the world's smokers live in this region and almost half the global deaths from smoking occur here. Asia is also home to nine in every ten users of smokeless tobacco (SLT)

While waiting for the event to start on April 18, click here to watch the panellists' brief responses to the report
Tobacco Harm Reduction in Asia – Alex Norcia
On April 16, the Global State of Tobacco Harm Reduction (GSTHR) released its newest report—"Tobacco Harm Reduction: A Burning Issue for Asia"—detailing how countries in the region have largely failed to consider safer nicotine products (SNPs) to combat the smoking-related death toll.

While media and political focus on vaping tends to land on youth use in the United States and typically ignores the voice of tobacco harm reduction experts and consumer advocates, that leaves so much out. US smoking rates have steadily declined, and as of 2019, there were 34.1 million adult smokers in the country, according to the Centers for Disease Control and Prevention. Smoking still causes more than 480,000 deaths per year in the US.
---
Crikey. There are a LOT of people who claim to be public health experts who really should read that. https://t.co/LYgi38wYEI

— 🦋 Sarah J 🇬🇧 (@Twigolet) April 15, 2021
"NO thanks to those who used their voices to point out the lies and misinformation in our conference. We had one hell of a job deleting opposing views in the chat! But thanks again for the voices we *wanted* to hear and *allowed* to speak, the echo was superb!" https://t.co/3oA8jpVdht

— Jukka Kelovuori (@jkelovuori) April 15, 2021
---
The stress of Covid-19 has fuelled Britain's nicotine habit, with more than half of smokers "stress-smoking" more, and 10% lighting up again after quitting, a survey suggests.

Young people in particular are taking refuge in the habit, with 39% of smokers aged 18-34 saying they are now smoking more regularly, analysts Mintel reported.

Meanwhile, a further 10% of all smokers have started smoking again after quitting. Overall, 30% of smokers are smoking more regularly since the start of the pandemic.
To review vaping regulations
The UK Vaping Industry Association (UKVIA) has expressed its alarm at figures reported by ITV News indicating an increase in 'stress smoking' as a result of COVID-19, calling them "shocking in this day and age". The trade body has also repeated its call to Government to review vaping regulation which will allow smokers to better weigh up the comparative health risks between using conventional or e-cigarettes.

The data, based on a survey of 1,935 adults aged over 18 in October 2020, conducted by analysts Mintel, showed that 39% of smokers aged 18-34 said they are now smoking more regularly. The survey also indicated 10% of former smokers restarting the habit since the start of the pandemic.

Three from Dave Cross, Planet of the Vapes

Liverpool is set to host the 8th Global Forum on Nicotine (GFN21) in June, an annual event that was forced online during 2020 by the Covid pandemic. While travel restrictions remain in place, many will not be able to attend in person this year so it will combine a live event with a streaming provision. Planet of the Vapes is delighted to announce that it has been invited to be one of the official media partners for the conference.

The GFN21 (1) organisers say it, "is the only international conference to focus on the role of safer nicotine products that help people switch from smoking. Safer nicotine products include e-cigarettes (vapes), nicotine pouches, oral tobaccos such as Swedish snus, and heated tobacco products. This is a rapidly evolving area, with many new non-combustible products emerging over the past ten to fifteen years.
The Global Tobacco & Nicotine Forum (GTNF) Trust is extending an invitation to all with an interest in vaping and tobacco harm reduction (THR) to attend a special half-day online e-conference. The event will feature a number of well-known experts talking about a range of issues that face consumers and manufacturers during this "critical year".
The "In Focus: Tobacco Harm Reduction" e-conference takes place on:

April 27, 2021 – GMT 13:00-18:10

Patricia Kovacevic, Elise Rasmussen, and Joe Murillo will open the proceedings before hearing from the keynote speaker.
Aotearoa Vapers Community Advocacy (AVCA), a consumer group in New Zealand, is calling on the Kiwi government to ensure that vaping is square and centre in its smokefree action plan. The organisation says there is mounting pressure on the Government to take all the necessary steps available to achieve the country's decade-old smokefree ambition.

The request comes as Associate Health Minster Dr Ayesha Verrall is preparing to release a discussion document on a draft action plan to meet the Smokefree 2025 targets.
---

---
Professor Brad Rodu, DDS, School of Medicine, University of Louisville
Brent Stafford
Coalition of Asia Pacific Tobacco Harm Reduction Advocates (CAPHRA)

And the high cost of misinformation
Scientific studies increasingly show the value of tobacco harm reduction tools such as vapes for smokers, and yet legislative bodies continue turning a blind eye to the important role they play in smoking cessation.

At a time of critical decision-making around tobacco control legislation, this attitude could cost the health of many South Africans, says Asanda Gcoyi, CEO of the Vapour Products Association of South Africa.

Science is an evidence-based numbers game; the more research that's done to prove a theory, the more the theory becomes embedded in fact – and the more myths can be debunked when misinformation raises its ugly head.
Overlooks Vaping Alternative – AVCA
The Government's discussion document on 'Proposals For A Smokefree Aotearoa 2025 Action Plan' alarmingly reveals there's little intention to elevate vaping as a much safer and cheaper alternative to smoking, says a leading tobacco harm reduction advocate.

The discussion document was released today by Associate Health Minster Dr Ayesha Verrall for a six-week consultation period.

"It acknowledges vaping, but it fails to support it as a key factor to achieving a smokefree nation. There's a lot of talk about tougher rules and regulations for tobacco, but to achieve smokefree, smokers also need to be presented with a viable, less harmful alternative – and that's vaping,"
Red Mendoza
The Philippine College of Oral and Maxillofacial Surgeons (PCOMS), one of the biggest groups of dental professionals in the country, said that it respects the stance of some members who urged smokers to switch to non-combustible alternatives.

Dr. Fernando Fernandez, a member and former president of the group, spoke during the Scientific Conversations on Tobacco Harm Reduction that if patients cannot quit, they should shift to a "non-combustible nicotine delivery system."
---
A look back at how things have moved on or otherwise….
Tobacco is often viewed as a recession-resistant segment of the market because no matter how bad things get, smokers will typically continue smoking — perhaps even more so. Yet because COVID-19, the disease caused by the novel coronavirus, has been found to strike smokers harder than the rest of the population, many may begin rethinking their habit in earnest.
Diane Caruana, Vaping Post
The Executive Director for CAPHRA (Coalition of Asia-Pacific Tobacco Harm Reduction Advocates), believes that sadly the World Health Organisation's (WHO) rigid stance on vaping is costing millions of lives. Lives lost to smoke-related diseases, which could have been saved by switching from smoking to vaping.
---
Visit Nicotine Science & Policy for more News from around the World

---