Vapers Digest 19th April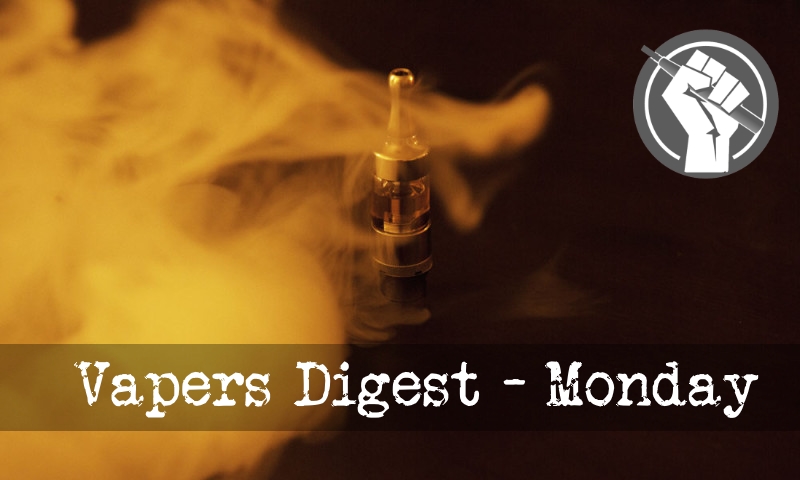 Monday's News at a glance:
Tobacco Products' Beneficial Antioxidant Properties – Smokefree Aotearoa 2025 Action Plan – In Overcoming Paralysis, Brussels Must Choose Harm Reduction – A critical review of high-impact studies of vaping – Why a medical expert embraced tobacco harm reduction – News-n-Views 13th/19th April – Another Media Partnership for POTV – YDKN Fact Checks Glantz' Nonsense Nicotine Claims – Calls to consider e-cigarettes a first line therapy – SJ flavored tobacco ban would hurt small businesses – VCU study finds e-cigs may reduce exposure to tobacco-related carcinogen – Legal uncertainties are cramping the industry – THR key to reducing Asia's smoking-related deaths – Asian countries told to be cautious about 'philanthropic colonialism' – Nicotine Science and Policy Daily Digest
Brad Rodu, Tobacco Truth
A PubMed search reveals thousands of articles on the myriad toxic chemicals present in tobacco products and smoke, but reports of health-positive tobacco attributes are rare.

In a 2000 study I co-authored with Boxin Ou of Brunswick Laboratories, we demonstrated that "manufactured tobacco products…have antioxidant capacity in moderate to high concentrations.  If these agents prove to be readily available and as easily absorbed from tobacco as nicotine, they may have demonstrable local and systemic health effects that are positive, especially for SLT users."  The article is available here.
Anyone can make a submission:
It is a decade since New Zealand adopted the goal to reduce smoking prevalence and tobacco availability to minimal levels, essentially making Aotearoa New Zealand smokefree by 2025. Over this time, smoking rates have continued to decline; however, much work still needs to be done, particularly to reduce smoking rates among Māori, Pacific peoples and those living in our most disadvantaged communities.

This document seeks comment on proposed actions to achieve the Smokefree 2025 goal, which will inform the development of the Smokefree Aotearoa 2025 Action Plan (the action plan).
---

---
Revelations that linked the AstraZeneca vaccine to blood clots in a very small number of those who had received the jab have led the European Commission to call for the development of a "coherent approach" with the European Medical Agency (EMA) on the matter. The demand for clearer and better coordination comes at a time when EU governments' have implemented their measures to using the vaccine, choosing to restrict it to people of different ages which has caused not only disparate measures across the EU but also increased mistrust and already considerable scepticism towards the AstraZeneca vaccine in the population.
Of Smokeless Tobacco
Carl V. Phillips
Journal papers are widely considered the most authoritative source of scientific information on a topic, but this perception is often incorrect. In particular, most of what someone might read in journals about vaping is more misleading than informative. To illustrate this, as well as to provide guidance for future authors to improve and to empower readers to recognize the problems, we conducted a systematic narrative review of popular journal papers about vaping. We used the ranking in Google Scholar as a measure of popularity and chose the most popular human subjects studies that addressed questions of vaping causing smoking cessation and vaping affecting smoking initiation, as well as a few papers on health outcomes.
---
---
A biomedical research expert who has attended to numerous patients suffering from smoking-related heart and lung conditions is now a leading advocate of tobacco harm reduction in Australia.

Dr. Alex Wodak has worked as a doctor in hospitals since 1971. "Inevitably that meant seeing a lot of patients with terminal smoking-related heart or lung conditions or cancers. That sparked my interest in public health and prevention," he says.

He was involved in biomedical research on alcoholic liver disease in London from 1980 to 1982. Since then, he has become more interested in public health approach to alcohol, tobacco, prescription and illicit drugs
Catania Conversation
We gather weekly the most important Vaping news:

INTERNATIONAL REGULATION – OPINIONS – SCIENTIFIC REPORTS – STORY OF THE WEEK

Two from Dave Cross, Planet of the Vapes
World Vape Day will take place on the 30th of May, organised by the World Vapers' Alliance. The event is celebrated around the world as vapers, advocates and consumer organisations share the great news about vaping. Conversations will revolve around how e-cigs have helped smokers to quit and the public health benefit from reducing tobacco related harm.

World Vape Day is primarily an online event involving streamed presentations and Twitter campaigns and the organisers promise there will be something that everyone can join in with to show their support.
Philip Morris International (PMI) recently asked the U.S. Food and Drugs Agency (FDA) to start telling the public the truth about nicotine. PMI was particularly concerned about false claims that nicotine causes cancer. Disgraced ex-academic Stanton Glantz is still beating his nonsense drum and offered his 2¢, which the makers of the film 'You Don't Know Nicotine' (YDKN) fact checked.

Stanton Glantz is known to vapers for his puritanical opposition to any form of nicotine use, his ability to play fast and loose with the truth, and his shameful behaviour while working for the University of California San Francisco
---

---
A first line therapy for smoking cessation – Charlotte Mitchell
E-cigarettes may be more effective in helping smokers quit than nicotine replacement therapies such as patches and gum, according to University of Queensland research.

Lead author Dr Gary Chan from UQ's National Centre for Youth Substance Use Research said there was increased global evidence to support the effectiveness of using e-cigarettes to assist smokers in quitting.

"E-cigarettes have the potential to accelerate the decline of cigarette smoking."
Would hurt small businesses – Khushvinder P. Singh
As a father, I appreciate the San Jose City Council's efforts to stop kids from smoking cigarettes and using e-cigarettes, also known as vaping.

Like members of the Council, I too care about my family and my community, and I believe tobacco products are not for young people. I'm sharing my concern today, however, about what I and many in the trade association I represent consider to be government overreach.

The City Council intends to introduce an ordinance to ban the sales of flavored tobacco products within the city limits. As the owner of a convenience store operating in San Jose since 2005, I do not believe this ban will achieve the desired result.
To tobacco-related carcinogen – Hannah Eason
E-cigarettes with similar nicotine levels to cigarettes may reduce smoking and lessen exposure to pulmonary carcinogen NNAL, according to a study led by researchers at Virginia Commonwealth University and Penn State College of Medicine.

Over a 24 week trial, more than 500 participants used an e-cigarette device with either no nicotine, a low nicotine level at 8 mg/ml, or a cigarette-like level at 36 mg/ml. They were also told to reduce smoking.

At weeks 0, 4, 12 and 24, the researchers sampled the participants' urine for a tobacco-related carcinogen, 4-(methylnitrosamino)-1-(3-pyridyl)-1-butanol, also known as NNAL.
Are cramping the vaping industry worldwide
Recent changes in regulatory approach in some big vaping markets, uncertainty over new approaches to tobacco alternatives in some territories, and the rise in compatible products are major current challenges for big players in the e-cigarette industry.

Among those is the manufacturer Relx International, which has seen a recent increase in governments' attention to electronic cigarettes.

"Sometimes it gets a bit challenging in terms of ensuring that we are compliant with the different regulations," Jonathan Ng (pictured), global head of external affairs for Relx International, told ECiginIntelligence.

To reducing Asia's smoking-related deaths
Consumer advocates and tobacco harm reduction (THR) experts called on the World Health Organization (WHO) and governments in Asia and the Far East (A&FE) to allow smokers to choose safer alternatives, following the latest report that more than half of global smoking-related deaths occur in the region.

They made the statement during the launch of the latest Global State of Tobacco Harm Reduction (GSTHR) report held by public health agency Knowledge Action Change (KAC) and the Association of Vapers India (AVI).
A Burning Issue for Asia
About 'philanthropic colonialism'
A regional group of consumer advocates denounced what it called "philanthropic colonialism" perpetuated by well-funded foundations to mislead many countries in Asia and the Pacific into adopting restrictive policies against vaping and heated tobacco products (HTPs) which in effect deprive smokers of safer alternatives to combustible cigarettes.

The Coalition of Asia Pacific Tobacco Harm Reduction Advocates (CAPHRA) said western charities like 'philanthropic colonialism' and The Bill & Melinda Gates Foundation were pouring millions of dollars to discredit tobacco harm reduction—a public health strategy that encourages the use of safer alternatives to combustible cigarettes such as e-cigarettes, HTPs, and Swedish snus.
---
A look back at how things have moved on or otherwise…
Consumers being locked out of the TPD review
The Tobacco Products Directive (TPD) is the European directive which places limits on the sale and merchandising of tobacco and tobacco related products in the EU. Many of us consumers remember the drama around the last TPD, when we mobilised ourselves and successfully prevented the most damaging proposals from being adopted.

That feels like such a short time ago but five years have already passed since TPD came into force, and the evaluation report is due in May 2021 (see Article 28 in the TPD).  The TPD may be reviewed or adapted, depending on the proposals in the report.

One of the aims of the TPD is to "ensure a high level of health protection" for EU citizens. Although the most damaging proposals for TPD2 were defeated, much of what was left is concerned with cumbersome regulations and arbitrary restrictions, resulting in less effective products and, ultimately, in more smoking.
New Nicotine Alliance
It has come to our attention that Kind Consumer – the company behind medicinally licensed smoking cessation device, Voke – is exploiting deaths attributable to black market THC liquids in the USA to promote its product.

A slide presentation to investors by the company made the claim that Voke is preferable to e-cigarettes because there have been "numerous recent cases of lung disease and death in individuals who use vape products". This is completely untrue of legal vaping products and we unreservedly condemn their approach.
---
Visit Nicotine Science & Policy for more News from around the World

---