Vapers Digest 21 April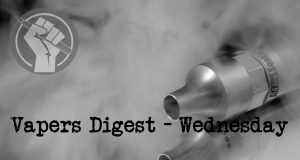 Wednesday's News at a glance:
---

---
 THREE from Dave Cross, Planet Of The Vapes
A new Global State of Tobacco Harm Reduction (GSTHR) briefing has been released covering potential solutions to Asia's tobacco crisis. Current approaches side-line tobacco harm reduction products and maintain a death toll of four million smoking-related fatalities a year. Research has revealed a huge inequality between the number of smokers and number of vapers in Asia; the authors argue for the increased adoption of harm reduction alternatives like vaping.
The UK E-Cigarette Research Forum (UKECRF) is an initiative developed by Cancer Research UK in partnership with Public Health England (PHE) and the UK Centre for Tobacco and Alcohol Studies (UKCTAS). Among other things, it brings together genuine experts to look at research related to vaping and tobacco harm reduction.
Vape industry brands Nzo and RELX are supporting ecig retail brick and mortar retailers and the convenience sector to make the most of the UK Vaping Industry Association (UKVIA) VApril campaign. They are offering support to help the shops help smokers to make a successful switch to vaping.
---
Jim McDonald, Vaping 360
The Biden administration is considering a revival of former FDA commissioner Scott Gottlieb's plan to reduce nicotine in cigarettes, according to the Wall Street Journal. The White House and FDA must also decide soon whether to ban menthol flavoring in cigarettes.

Proposing either policy would almost certainly lead to years of legal challenges from the tobacco industry. Meanwhile, anti-nicotine activists will be busy fighting to eliminate the alternative product most attractive for smokers to migrate to: flavored e-cigarettes.
Alex Norcia, Filter Magazine
On April 19, the United States Postal Service (USPS) offered new guidance for vape businesses ahead of a rule that would make it difficult for their products to be shipped by mail to consumers.

The notice, published in the Federal Register, gave some clarity on the forthcoming policy and outlined potential exceptions, which could include legal hemp and its derivatives.
---

---
Dick Puddlecote
The Foundation for Economic Education published an interesting essay last week on the nature and politics of authoritarianism and how it is not the sole preserve of the politically left or right. The tract is primarily focussed on the US but it works just as well for this side of the pond.

Here are some extracts which will be easily recognisable by fellow jewel robbers….
The answer might surprise you… – Ashtray Blog
It's safe to say nicotine has a pretty bad reputation. From exaggerated claims about how toxic it is to the unfortunately widespread myth that it causes cancer, it's long been viewed as a menace. As soon as e-cigarettes came on the scene, they were viewed as a menace too, largely because most contain it. Nicotine is highly addictive, critics argue, causes heart problems, harms teenagers' brains and more…
---
Visit Nicotine Science & Policy for more News from around the World

---