Vapers Digest 23rd April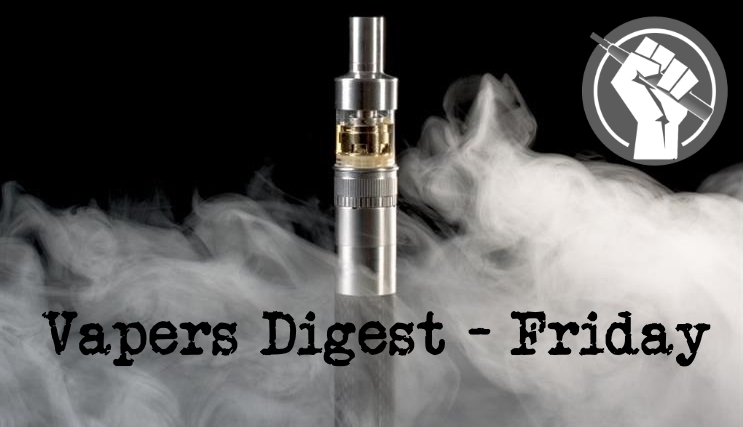 Friday's News at a glance:
Clive Bates interview: Fighting for vape's good name – Europe's Beating Cancer Plan: A Missed Opportunity – Vaping in New Zealand Versus Vaping in New Zealotsville –Japan cigarette sales plummet after launch of safer alternatives – Indiana Passes a Vaping Tax Without Public Input – The 6 Most Expensive Places to Vape – NNA Estonia Welcomes E-Liquid Tax Suspension – Venezuela Takes The Lead On Vaping – E-Cigarette Summit USA Plans Revealed – UKVIA Calls On Government To Act – Higher-Nicotine Vapes Seem Better – Biden Must "Listen to the Science" – Smoke-free or nicotine-free? – International governments intensify support – Philippines FDA urged to cut ties with anti-vaping foundations – Nicotine Science and Policy Daily Digest
Clive Bates interview:
Tobacco control expert Clive Bates has been a key figure in the push back against misinformation in the debate about vaping. He tells Tom Gockelen-Kozlowski why retailers should back the industry in the years ahead

Even before a spate of lung injuries was wrongly apportioned to conventional vaping in 2019 (the so-called EVALI, or e-cigarette and vape associated lung injury, crisis), the industry has been a magnet for sensationalist and scaremongering headlines.
A Missed Opportunity – Stefanie Rossel
In February, the European Commission (EC) presented its Beating Cancer Plan (BCP), which named tobacco as the top avoidable risk factor. According to the EC, tobacco use is responsible for 15 percent to 20 percent of all European cancer cases, which corresponds to 525,000 to 700,000 new diagnoses each year. The BCP aims for less than 5 percent of the EU population to use tobacco by 2040, thus creating a "tobacco-free generation."

To achieve this, the EC wants to tighten tobacco regulations, increase minimum taxation rates on tobacco products and harmonize the taxation of novel products. "As well as dealing with traditional tobacco products…
---

---
Vaping in New Zealotsville – Brad Rodu
Since 2015, the British government's position has been that "e-cigarettes are considerably safer than smoking cigarettes, are popular with smokers and that they have a role to play in reducing smoking rates."  Overzealous U.S. authorities, in contrast, have waged total war on these vastly safer products (here, here, here, here, here).  New developments in the U.S. and New Zealand put the American travesty in sharper focus.

The U.S. FDA Center for Tobacco Products spends about $160 million annually, some 22 percent of its budget, on anti-tobacco, anti-vaping campaigns like "Real Cost."  The agency has previously demonized e-cigarettes by showing them invading teens' bodies as worms (the original material has been removed by the FDA, but this image is still available) and depicting a magician converting e-cigarettes into combustible cigarettes (here).
After launch of safer alternatives – Snusforumet
Offering a less-harmful alternative to deadly smoking has prompted a drop in to buy fewer cigarettes, sending cigarette sales down by 34 percent.

"Japan has the makings of a great tobacco harm reduction case study," says Patrik Strömer, Secretary General of the Association of Swedish Snus Manufacturers.

According to figures from the OECD. 17.8 percent of Japanese adults were daily smokers in 2019. At the same time, cigarette sales have been declining since 2011 in line with trends in other wealthy nations.
---
---
Without Public Input – Jim McDonald
The Indiana budget bill being passed today will include a tax on vaping products that was negotiated by the state legislature and governor without any opportunity for public input or debate. The state house has already approved the bill by a vote of 96-2. The state senate will approve it later, and Governor Eric Holcomb will sign it into law.

The tax, which will take effect July 1, 2022, is split between wholesale and retail, with closed-system products like prefilled pods assessed 25 percent of the wholesale cost, and open-system products like bottled e-liquid being taxed at 15 percent of the retail price (a sales tax).
Kayleigh Jenkins
Imagine you're a smoker who wants to switch to vaping for the sake of your health.. You head to your local vape shop eager to start your vaping journey… only to discover a vape device costs 75 TIMES as much as a pack of cigarettes!

Here in the UK, vaping will not only help your health but also save you money compared to smoking. You can get set up with a vape for as little as £10. Assuming you go through 1-2 bottles of e-liquid and 1 coil a week, you'll probably only pay around £30 a month (or £1 per day) for your vaping habit. This amounts to the cost of just 2 packs of cigarettes – making vaping a much cheaper option!

Four from Dave Cross, Planet of the Vapes
Venezuela is taking a lead in South America by ignoring pressure from various Bloomberg organisations. It has announced it is mapping out a plan for favourable regulation for vaping and other tobacco harm reduction products. Bloomberg organisations are active in the continent, pressing governments to restrict or ban alternative nicotine devices.

Mariam Bolívar, president of the Association of Vapeo de Venezuela, relayed the news through her personal Instagram account
NNA Smoke Free Estonia has commended the government's decision to suspend tax on E-liquid and says other countries should follow and embrace less harmful nicotine alternatives. The Estonian Parliament has voted to suspend the collection of duty on vape juice from 1 April 2021 until 31 December 2022. The move has been carried out to try to reduce cross-border trade and the booming black market.

European politicians ought to heed what has happened in Estonia as they push to increase the tax on e-liquid across the European Union. Estonia witnessed an explosion in illegal trade and cross-border activity as a result of their similar measures and have finally realised that ending the approach is the best way to ensure product safety for consumers.
Organisers have confirmed the full programme for the E-Cigarette Summit USA. The event is set to take place virtually for the second successive year due to the Covid pandemic. It will take place in May but is primarily aimed at experts and policy makers working in the tobacco harm reduction/public health sphere.

E-Cigarette Summit USA will take place over 25-26 May 2021. Interested parties can register for the event now (1), ticket prices range from $295.00 to $895.00 with early bird pricing ending on 30 April.
The UK Vaping Industry Association (UKVIA) has expressed its alarm at figures reported by ITV News indicating an increase in 'stress smoking' as a result of COVID-19, calling them "shocking in this day and age". The trade body has also repeated its call to Government to review vaping regulation which will allow smokers to better weigh up the comparative health risks between using conventional or e-cigarettes.

ITV News reported (1) reported on data obtained from a survey of 1,935 adults aged over 18 in October 2020, conducted by analysts Mintel, showing that 39% of smokers aged 18-34 said they are now smoking more regularly.
---

---
At Helping Smokers Quit Cigarettes – Alex Norcia
A new study published in The Lancet, one of the world's oldest and most highly regarded peer-reviewed medical journals, suggests that smokers given higher-nicotine vaping products consume fewer dangerous carcinogens through continued smoking compared with their peers given lower-strength vapes.

The study—funded by the National Institutes of Health (NIH) and the Food and Drug Administration (FDA)—looked at how smokers' use of electronic nicotine delivery systems (ENDS) could help them cut back on cigarettes.
On Nicotine Use – Lindsey Stroud
Even before being elected, President Joe Biden urged the American public to listen to the science regarding the COVID-19 pandemic. In April 2020, Biden announced he would wear a mask in public and that "it's important to follow the science. Listen to the experts. Do what they tell you." An October 19 Biden-Harris campaign ad mocks President Trump for not listening to the science and ends with a funeral scene. Prior to that, he remarked he would urge Americans to wear masks for 100 days, stopping short of a national mandate and that he would "encourage people to do the right thing." And if there was any doubt on Biden "following the science," he put science at the top of his agenda.

That's the question the WHO must consider – Aidan Semmens
Does the World Health Organization (WHO)'s unbending opposition to vaping truly serve the cause of global health? Not everyone thinks so.

The UK's All Party Parliamentary Group (APPG) for Vaping is perhaps not as all-party as it might be, with five of its six members being members of the Conservative Party. Nevertheless, its report on its Inquiry into the Framework Convention on Tobacco Control Conference of the Parties 9 (more succinctly known as COP9) states and justifies the country's position with admirable concision and clarity.
Towards science-backed reduced-risk tobacco alternatives
Uruguay joins the list of progressive countries like Japan, the US and the UK, as it reverses ban on import and sale of heated tobacco products

The World Health Organisation (WHO) predicts a staggering over 1 billion smokers into 2025 and beyond, indicating that tobacco control measures which are aimed at curbing adoption and encouraging quitting are proving to be not as effective. Countries are hence rethinking their traditional tobacco control policies; by adding a 'harm reduction' approach, to offer adults who would otherwise continue to smoke, scientifically substantiated less harmful products as alternatives.
With anti-vaping foundations
Vaper Ako, Nicotine Consumers Union of the Philippines (NCUP) and the Philippine E-cigarette Industry Association (PECIA) issued the challenge as the FDA, the main agency in charge of drafting the regulations of electronic cigarettes and heated tobacco products (HTPs) in the Southeast Asian country, confirmed receiving funds from a non-government organization funded by Bloomberg Philanthropies.

The FDA confirmed in a congressional investigation on March 16, 2021 that it solicited and received money from the International Union Against Tuberculosis and Lung Disease (The Union), a foreign anti-tobacco organization funded by Bloomberg Philanthropies—the charity of American financial services of billionaire Michael Bloomberg.
---
A look back at how things have moved on or otherwise….
Véronique Julia, France Inter Editor's note: Translated English Version)
Does Nicotine Protect Against Covid? This is the very serious hypothesis of a Pitié-Salpêtrière team and a world renowned neurobiologist. It should soon be the subject of a clinical study: nicotinic patches will be administered to patients and caregivers to measure the effects.
Original (French) Article is found here: La nicotine, une arme contre le Covid ?
Ronald Bayer, Amy Fairchild, Virginia Berridge, Wayne Hall, Coral Gartner, Health Affairs
The summer of 2019 witnessed a dramatic amplification of the controversy in the United States over the potential threat to the nation's youth posed by e-cigarettes. After years of festering debate, a summer outbreak of vaping-related injuries imperiled the idea that e-cigarettes could serve to advance the role of harm reduction for cigarette smoking.

We consider the responses in two countries that stand at opposite policy poles when it comes to tolerance for e-cigarettes as harm reduction for those who smoke combustible cigarettes.
Diane Caruana, Vaping Post
As in many places vape shops have been deemed "non-essential" and forced to close as part of the current lockdown, many small independent vape businesses are fearing their survival, and their customers, most of which are former smokers, are worried about not being able to obtain their smoking cessation aids.
---
Visit Nicotine Science & Policy for more News from around the World

---