Vapers Digest 26th April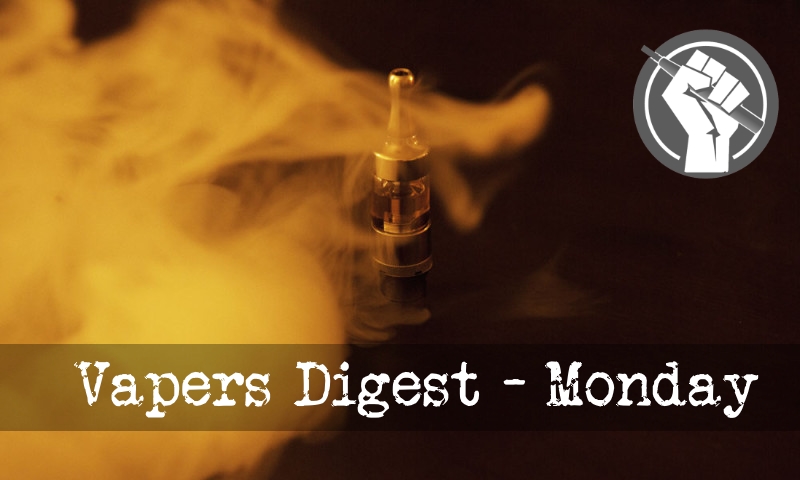 Monday's News at a glance:
E-cigarettes: what we know and what we don't – Tobacco & Vaping 101: 50 State Analysis – Defund the World Health Organisation! – Durbin Introduces Bill to Tax Vapes Like Cigarettes – Reduced Nicotine Cigarettes For NZ – Why Should Smokers Switch To Vaping? – Future for Nicotine | GFN21, Global Forum on Nicotine – A world free of addictions is utopia – The knowledge gap of a smoker – Nicotine Science and Policy Daily Digest
Alice Davies, Cancer Research UK
It's been a decade since e-cigarettes first gained popularity in the UK. Since then, the types of devices available and the number of people using them has risen sharply.

And as the popularity levels of e-cigarettes grew, so did the debate around them.

The big selling point for e-cigarettes is they're a way to help people stop smoking and reduce harm from the biggest cause of cancer in the world, tobacco.

But it's a balancing act. E-cigarettes contain nicotine and so it's important to make sure that people who have never smoked, particularly young people, don't start to use them.
Lindsey Stroud
As lawmakers across the country seek to reduce youth tobacco and vapor product use, many have introduced and passed legislation that regulates, taxes, and in some cases, prohibits the sales of such products.

This analysis includes state specific information on tobacco and vapor product use among adults in youth in all 50 states, as well as Washington D.C. Each paper examines smoking rates among adults in the respective, youth use of tobacco and vapor products, and the effectiveness of tobacco settlement payments, taxes, and vapor products on reducing combustible cigarette use.
---

---
MPs put pressure on Boris to act over vaping attack
ANGRY MPs have called on the Government to defund the World Health Organisation unless it ends its hostile attitude towards vaping as a way of helping smokers quit. A cross-party committee is furious the WHO is considering branding e-cigarettes as dangerous as smoking – even though scientists insist they are 95 percent safer and have helped millions of Britons kick the killer habit.

Leaked papers reveal the organisation, which is already under fire for its COVID-19 response, looks set to urge countries to take an aggressive anti-vaping stance at an upcoming summit. The MPs view the WHO report as a threat to what has been one of Britain's biggest health success stories – a strategy of using vaping to help smokers quit.
---
---
Jim McDonald, Vaping 360,
Congressional Democrats have introduced a bill that would impose the first federal tax on vaping products, and increase other tobacco taxes for the first time in a decade. Currently, about half of U.S. states have some kind of vaping product tax, but there is no federal tax.

The bill is supported by longtime Illinois vaping foes Senator Dick Durbin and Representative Raja Krishnamoorthi, and co-sponsored by a handful of the usual Senate vaping opponents. The Tobacco Tax Equity Act Of 2021 (S.1314) will close "loopholes that the industry has exploited to target our children" by doubling the cigarette tax and then increasing taxes on other tobacco products to bring them into "tax parity" with cigarettes, according to Durbin.

Two from Dave Cross, Planet of the Vapes
Described as a "bold new proposal", the New Zealand government has decided that drastically reducing the nicotine contained in cigarettes is the best way to help it achieve its 2025 smokefree target. Although still at the discussion stage, the move has managed to gain support with some experts in smoking cessation.

Professor Chris Bullen told the AM show (1): "[Reducing the nicotine content of cigarettes] does work. There's plenty of research from overseas and here in New Zealand to show that it does help – even people who don't want to quit.
Freedom Organisation for the Right to Enjoy Smoking Tobacco (FOREST) has been campaigning for 40 years since Air Chief Marshal Sir Christopher Foxley-Norris became concerned about "the Government and other do-gooding bodies" interfering in people's lives. Coinciding with VApril, it is hosting a free to attend webinar on the subject of "Why Should Smokers Switch To Vaping?"

FOREST (1) has attracted celebrity support from the likes of artist David Hockney, inventor Trevor Baylis, musician Joe Jackson, and chef Antony Worrall Thompson. Following smoke-free regulations being imposed on pubs, its 'Save Our Pubs and Clubs' garnered support from the Working Men's Club and Institute Union, the Adam Smith Institute, and the Manifesto Club.
---

---
Global Forum on Nicotine | RegWatch
---

Jindrich Voboril
As a young idealist I was confronted with the world of drug addiction which ultimately shaped me to help those who can't stop. Living behind the Iron Curtain, the knowledge available was very limited. After the fall of the communist totalitarianism, we went westward in search for a world free of drugs. This ideal was challenged after I co-founded the largest Czech drugs service provider and served as Czechia's National Drugs Coordinator. Confrontation with the dramatic figures of tobacco, alcohol and illegal drugs use enlightened my views on the cause and solution to this pandemic.
Mobashir Sandila
The right to information is a fundamental consumer value, may it be any form of product; the benefit to the consumer has to be at the heart of it. Today's consumer is increasingly health conscious, from food to skincare to health and work-life balance – every aspect of life is now a well thought out, researched and self-aware decision. There are more than 1 billion smokers worldwide. And while everyone knows the negative impact of smoking on health, not many know why or of a solution, if they can't quit smoking.

A cigarette burns shredded tobacco leaves at temperatures in excess of 600 degrees, producing a complex mixture we call smoke. Cigarette smoke contains flavours from the tobacco blend, as well as nicotine, which exists naturally in tobacco leaves. It is these elements in the smoke that consumers enjoy while smoking.
---
A look back at how things have moved on or otherwise…
French scientists investigate – Christopher Snowdon
Nothing could rescue the Banter Era from the clutches of the coronavirus pandemic like the news that nicotine is the cure. In recent weeks, I have watched with mounting interest as evidence comes from different countries, all showing the same thing: smokers are significantly under-represented in COVID-19 wards.

It started when Konstantin Farsalinos spotted the trend in a succession of Chinese studies. Things got more interesting when the CDC found remarkably few smokers among COVID-19 cases in the USA. This was followed by a large study of over 4,000 cases in New York which showed that people with a history of tobacco use were 29% less likely to be hospitalised with the disease (the reduction in risk was even higher among current smokers).
More Research Needed – Charles Gardner
David Hockney is not a scientist. He is one of the most important British painters of the twentieth century, best known for his contributions to the 1960s pop art movement. As an artist, his contrarian views on Vermeer's possible use of a camera obscura should be taken seriously. As a contrarian on the subject of smoking, his views on smoking and COVID-19 should be taken with a grain of salt.

COVID-19 myths are potentially contagious and liable to 'go viral' worldwide. The last thing we need now is a 'misinfodemic' in the midst of the COVID-19 pandemic. What the world needs is more research, more evidence. The Foundation for a Smoke-Free World supports such research, and welcomes discussion with potential new research partners in this field.
---
Visit Nicotine Science & Policy for more News from around the World

---