Vapers Digest 28th April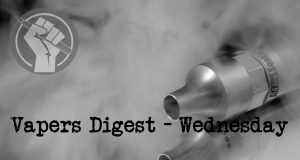 Wednesday's News at a glance:
---

---
THREE from Dave Cross, Planet Of The Vapes
The German Government plans to triple the price of vaping liquids and the World Vapers' Alliance says this will have a "catastrophic effect". Introspective policies such as this ignore the experience of other nations such as Italy where ex-smokers were forced back to tobacco use until the politicians saw sense.
Europe placed an evidence-free, arbitrary cap on the volume of nicotine in e-liquid. Latest evidence shows higher nic levels work and reduce carcinogen exposure. The findings come as the UK government is considering what changes need to be made to vape legislation and brings to mind the sage words of the New Nicotine Alliance (NNA) in 2016.
The UK Vaping Industry Association (UKVIA) launched an online logistics survey for the vaping industry on Monday 26 April. The Association is concerned about a growing number of reports from different distribution companies who have stopped carrying shipments of vaping products for various reasons.
---
Smokeless sales, driven by the spitless segment, are trending up at convenience stores with help from ongoing innovation in the segment.

Dollar sales in the convenience channel rose 8.9% for the 52 weeks ending Feb. 27, 2021, totaling $7.37 billion, up from $6.77 billion for the previous year, according to data from NielsenIQ. Unit sales for the same period rolled in flat (0.8%), a dip of 0.1% over the previous year.
24 Share Updates
Asia accounts for the majority of the world's smokers and also for the most deaths related to the smoking epidemic which remains unabated. Asian smokers, bereft of options, are sprinting—into the abyss.

The region is home to 4.1 billion people, representing two-thirds of the global population, according to the United Nations estimates
is earning country £800m windfall every year, new report shows
The vaping sector supports nearly 18,000 jobs in the retail supply chain and is contributing £805 million per annum to UK GDP, as the UK reaps the benefits of its far-sighted investment in vaping and other alternative nicotine products, according to a new report.

Alternative nicotine products – including vaping products (i.e. e-cigarettes), tobacco-free oral nicotine pouches and tobacco heating products – deliver nicotine without the need to burn tobacco, making them potentially less risky than traditional combustible tobacco products.
Guy Bentley, Reason Foundation
For a time in 2019, the U.S. media was flooded with reports suggesting people were suffering vaping-related lung injuries. But there were reasons to doubt these claims. Although e-cigarettes had already been on the market for over a decade, never before had there been an outbreak of injuries and deaths resulting from the use of these devices. Additionally, there weren't claims of similar outbreaks in other countries where e-cigarettes were also widely used, such as the United Kingdom.
---

---
Or lying while staying accurate – RaithTech
Or, how to lie like a tobacco controller.

So, something I've noticed recently is an uptick in the number of 'accurate' but highly misleading claims being made by those who purport to be against tobacco harm. This normally takes the turn of stating an fact, but utterly removing the context.

Here are some examples….
Takes on FDA over e-cigarette regulations
Kathy Hoekstra – Washington Examiner
Lou Ritter wants to see people stop dying from smoking cigarettes.

"I want to see people have the same opportunities to get away from tobacco that I had. And see if we can advance harm reduction," he told the Hartland, Wis., Board of Trustees Thursday night.
---
Visit Nicotine Science & Policy for more News from around the World

---