Vapers Digest 30th April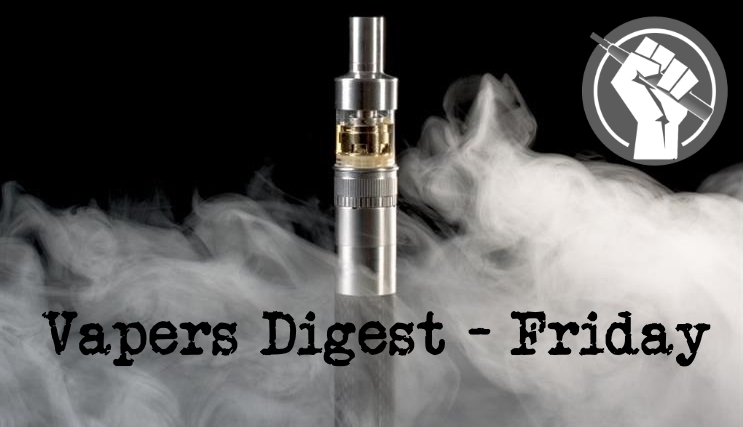 Friday's News at a glance:
Free e-cigarettes in A&E trial – USPS Postpones Ban On Vape Mail – Guess WHO? – EU scientific committee ignores the science – A backwards step for public health – Nicotine illiteracy – Research Retraction Provokes Angry Response – Vaping Missing From Smoke-free Plan – Vaping and the Scottish Parliament Election – Chapman and Daube Slammed By Politeness – Montana Legislature Approves Bill – Small Businesses Scrambling – FDA Will Ban Menthol Cigs: – Biden's Menthol Cigarette Ban – COVID-19 And Teen Vaping – N.W.T. divided on regulating vape flavours – Legislators lambaste NGOs – Ill-advised Gamble for Public Health – Can THR Work for India's Poor? – Nicotine Science and Policy Daily Digest
BBC News
Smokers attending emergency departments will be given free e-cigarettes and taught how to use them, in a trial designed to help people quit.

Patients will be offered a device, enough e-liquid supplies for a week, and referral to local smoking-cessation services, alongside medical advice. Hospitals in Norfolk, London, Leicester and Edinburgh will participate.

E-cigarettes are not available on the NHS, other than in trials, but health experts say they can help people quit.
Growing evidence supports their use in smoking cessation, Public Health England says, with an estimated 50,000 smokers quitting a year in England with the help of vaping.
Michael McGrady
In an exclusive to Marijuana Business Daily, a spokesperson for the United States Post Service said that a ban on sending vape products in the mail needs "more time to review how to implement the changes ordered by Congress."

The ban was supposed to take effect Monday and apply to all vaping companies, including those shipping products without nicotine.

"Despite our best efforts, in order to ensure thorough and thoughtful consideration of the complex issues and voluminous comments by industry, individual, and governmental stakeholders, the Postal Service is unable to publish a final rule by today's target date," said David P. Coleman, a USPS spokesperson, in an email to Marijuana Business Daily.
---

---
Vaping, harm reduction & the World Health Organisation
James Dunworth, Ashtray Blog
The World Health Organisation can sound pretty negative on vaping at times. So it might surprise you that harm reduction (such as switching from smoking to vaping) is embedded in its tobacco control charter.

It might surprise you even more to find that one of the biggest influences on WHO policy is from an individual in a country that has not ratified the WHO tobacco framework.

You'll also see, at times, a disconnect between the WHO's statements and its policies. That's because WHO officials might guide (or at least try to guide) policy, but they don't actually make it.
Threatens pouches' harm reduction potential – Snusforumet
Nicotine pouches have the potential to be a "credible, viable, and safer" alternative to deadly cigarettes, but nicotine illiteracy and a lack of research need to be addressed for the category to reach its full potential, a new report has found.

Nicotine pouches have experienced explosive growth since their introduction in 2014. In the US, average weekly nicotine pouch volumes grew from just under 100,000 units in January 2019 to more than 2.5 million in July 2020, according to statistics cited in the report.
---
---
Independent European Vape Alliance
The European Commission has today missed an opportunity to bolster its Beating Cancer Plan and recognise the importance of vaping in reducing smoking-related diseases among Europeans.

A report from the Scientific Committee on Health, Environmental and Emerging Risks (SCHEER)[1] has failed to compare the risks of electronic cigarette use with the risks of smoking. Such an omission renders the report of little use to policy makers. An assessment of the impact e-cigarettes have had on European public health must be informed by this evidence.
A backwards step for public health – WVA
The EU Scientific Committee on Health, Environmental and Emerging Risks (SCHEER) final report on e-cigarettes is a  step backwards for Europe, according to the World Vapers' Alliance. Based on weak data, it ignores crucial scientific evidence, experience from consumers and the expert opinions received in the consultation period.

Commenting on the report, Michael Landl, Director of the World Vapers' Alliance (WVA) said:

"This report is a tragedy for public health and will have dire consequences for smokers and vapers alike. SCHEER ignores a large amount of scientific evidence on vaping, all of which was provided by experts and consumers to SCHEER during their consultation earlier this year. They chose to ignore it. This is a slap in the face of vapers and of common sense."
ETHRA's monthly round up of news. The main event is the publication of the long awaited SCHEER Final Opinion. A close second is the urgent need for consumers to respond to the tax consultation, which is still open. Read on for more about those and other news too.

Four from Dave Cross, Planet of the Vapes:
Hospital admissions for COVID-19 sparked interest in the research community when it appeared as though smokers weren't presenting in the numbers expected. While not attempting to say that smoking prevented contracting the virus or exhibiting severe symptoms, many teams began to investigate to see if nicotine played a role. One paper, by Konstantinos Farsalinos, Theo Giannouchos, Roberto Sussman and Konstantinos Poulas has just ben retracted by the publication.

The European Respiratory Journal (ERJ) has pulled the paper (1) that found that smokers were significantly less likely than non-smokers to be admitted with severe Covid-19 symptoms. It says the reason for this is due to undisclosed tobacco industry funding.
The Government's discussion document on 'Proposals For A Smokefree Aotearoa 2025 Action Plan' alarmingly reveals there's little intention to elevate vaping as a much safer and cheaper alternative to smoking, according to the Aotearoa Vapers Community Advocacy (AVCA) consumer group. The discussion document was released last week by Associate Health Minster Dr Ayesha Verrall for a six-week consultation period.

Rounding on the plan, co-director Nancy Loucas said: "It acknowledges vaping, but it fails to support it as a key factor to achieving a smokefree nation. There's a lot of talk about tougher rules and regulations for tobacco, but to achieve smokefree, smokers also need to be presented with a viable, less harmful alternative – and that's vaping."
The Scottish Parliament election takes place on the 6 May and Planet of the Vapes looks at the position the parties are taking on tobacco harm reduction and vaping. While most of the discussion centres on the possibility of another independence referendum, politicians need to focus on the importance of electronic cigarettes in achieving the 2034 smoke-free Scotland ambition.

The SNP limits all mention of vaping and tobacco harm reduction to one sentence: "We reaffirm our commitment to the 2034 smoke-free Scotland ambition and will publish a new tobacco strategy."
Australian "Anti-vaping pensioners" Simon Chapman and Mike Daube have been on the receiving end of a heavy dose of politeness as their shortcomings were pointed out by researchers. A leading harm reduction advocate said, "this should be used for training civil servants – ostensibly polite, larded with perfectly moderated scorn."

In their paper (1) comparing the UK with Australia, Virginia Berridge et al. write: "The United Kingdom and Australia have developed highly divergent policy responses to electronic nicotine delivery systems (ENDS)…."
---

---
To Block Local Flavor Bans – Jim McDonald
The Montana legislature has passed a bill that would prevent local governments in the state from imposing flavor bans or otherwise restricting the sales of vaping products. The bill will now go to Governor Greg Gianforte, who is expected to sign it into law.

The bill, SB 398, passed the state house Monday by a 59-40 margin. It had already been approved by the senate earlier this month by a vote of 26-23. The governor, a conservative Republican, is expected to support it.
New State Vaping Rules And Taxes – Liz Farmer
A provision tucked into the Covid Relief bill passed by Congress in December 2020 now has vaping businesses and states regulatory departments scrambling to meet new federal requirements. And in many cases, it will increase the cost of doing business.

"For the vape industry, this was the worst Christmas present ever," said Avalara excise tax expert John Beaty.

The provision added vaping products sold online and in vape shops to the Prevent All Cigarette Trafficking ("PACT") Act, which regulates the sale of tobacco products. It means that anyone who sells, transfers, or ships e-cigarettes must comply with various complex registrations in every state they sell to, comply with various reporting requirements, and collect excise and/or sales tax in those states.
Will There Be Flavored Vapes to Switch To? – Jim McDonald
The FDA Center for Tobacco Products will begin the process of banning menthol cigarettes and flavored cigars—more than a decade after Congress passed the Tobacco Control Act and tossed the menthol hot potato in the FDA's lap.

The agency was sued last year by tobacco control groups to force a response to a 2013 Citizen Petition demanding a menthol ban, and the court ordered the FDA to respond by April 29. All other "characterizing flavors" in cigarettes were banned in 2009.
Will Fail Without Harm Reduction – Gregory Conley
This morning, the Washington Post reported that the Biden Administration is expected to announce plans for the Food & Drug Administration to ban the sale of menthol cigarettes and flavored mass-produced little cigars. With combustible tobacco products killing over 450,000 people each year, it is clear that a policy like this has the potential to save lives. However, many news reports on the possible ban are ignoring a key question — how will America's 10 million-plus adult menthol smokers and several million little cigar users respond to a ban?

Do E-Cigarettes Boost Infection Risk? – Cameron English
The COVID-19 pandemic has spurred a new level of interest in lung health. As part of that trend, tobacco researchers and anti-smoking advocates are attacking electronic cigarette use ("vaping") on the grounds that it could elevate your risk of coronavirus infection.

Writing in the Denver Post, Robin Deterding, medical director of the Breathing Institute at Children's Hospital Colorado, outlined this argument in the context of teenage vaping:
John Last · CBC News
Residents of the Northwest Territories are divided when it comes to banning certain flavours of vapes, a recent public consultation by the territory's Health Department shows.

A report on the consultation released Tuesday shows that 51 per cent of more than 500 respondents opposed the development of new regulations to limit the number of flavoured "vapour products."

The report frames the findings as "approximately half" of respondents supporting the idea of further regulation "to better protect the health of N.W.T. children, youth and non-smokers."
---
---
An Ill-advised Gamble for Public Health – Doug Moursay
West Virginia, one of the poorest states in the United States, is facing a twin crisis – it's at once the epicentre of America's opioid crisis and the site of a significant HIV outbreak. The situation is particularly tragic because the public health emergency likely could have been avoided, had policymakers looked at the science and endorsed successful harm reduction initiatives rather than vilifying them.

Sadly, this is just a particularly acute example of a worrying trend around the world. Even in Europe, overall more forward-thinking on public health issues, lawmakers are falling short by failing to integrate reduced-harm products like e-cigarettes into their efforts to stamp out the tobacco habit that claims the lives of 700,000 Europeans each year.
Samrat Chowdhery
Tobacco use is a poor person's problem. People with low incomes consume and grow it the most and suffer the gravest consequences from its trade and use. Yet tobacco control policies do not adequately address their needs, merely using them as statistics to highlight the enormity of problems rather than implementing measures to benefit them.

Globally, 84 percent of smokers now live in low- and middle-income countries, which are also where around 90 percent of tobacco farming takes place. Even in the West, smoking is more prevalent in economically disadvantaged communities. This worldwide class disparity is set to grow. While tobacco use is declining in the West, it continues to increase in LMICs, which are projected to suffer three times the wealthier world's death toll by 2030.
24shareupdates
Two legislators have lambasted the grant-for-policy tactics employed by foreign private organizations and described them as an assault on the sovereignty of the Philippines.

House of Representatives Deputy Speaker Deogracias Victor Savellano and Party List Rep. Jericho Nograles gave the warning during a Congressional hearing conducted by the House Committee on Good Government and Public Accountability on March 16, 2021, where Food and Drug Administration (FDA) Director General Dr. Eric Domingo admitted receiving grants to support policy development from foreign anti-tobacco groups under the Bloomberg Philanthropies.
---
A look back at how things have moved on or otherwise….
Guy Bentley, Washington Examiner
One assumption about COVID-19 that's been accepted as so obvious it needn't be supported with data is that smoking heightens the risk of infection, hospitalization, and death.

Cigarettes are one of the most lethal products on the market. Their hazards are so various and well-known that it seems intuitive that smokers would be at severe risk for the coronavirus. In March, New York City Mayor Bill de Blasio asserted smokers and vapers are more vulnerable to COVID-19. In a television appearance, the surgeon general speculated vaping could be the reason why more young people were hospitalized in New York than anticipated.
Alex Norcia, Vice
The Chinese smoke. Well over half the nation's men are smokers, and the World Health Organization (WHO) estimates that one third of the planet's cigarettes are smoked in China. But earlier this year, Konstantinos Farsalinos noticed something odd: Very few of those hospitalized for the coronavirus in the country appeared to be smokers.
, Slate
Are smokers and vapers more likely to die of COVID-19? To judge by news coverage of the topic, the answer is an unequivocal yes. The New York Times, Wired, CNN, Bloomberg, and numerous other publications have run stories warning that smokers and vapers are at higher risk. Anti-tobacco groups are using the pandemic as an opportunity to push for new restrictions on nicotine, ranging from bans on vapor products to the complete prohibition of cigarettes. At least one senator, Richard Blumenthal of Connecticut, is citing the disease as justification for a national ban on flavored e-cigarettes, while House Democrats are urging the FDA to temporarily ban e-cigarettes entirely.
---
Visit Nicotine Science & Policy for more News from around the World

---