Vapers Digest 5th May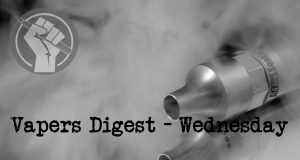 Wednesday's News at a glance:
---

---
 FOUR from Dave Cross, Planet Of The Vapes
Swedish snus is the mother of the expression "The Swedish Experience" and is the reason Sweden has succeeded in combatting tobacco harm where other European Union countries have failed. Sweden has the lowest smoking prevalence in Europe with only 5% daily smokers according to the EU financed Eurobarometer as compared to the European Union average of 24%. Swedish men have less than half the rate of all tobacco caused cancer forms and the lowest tobacco mortality in the high- and middle-income world.
A new research report by Oxford Economics has uncovered the extraordinary success story of vaping and alternative nicotine products in the UK. Alternative nicotine products – including vaping products, tobacco-free oral nicotine pouches and tobacco heating products – deliver nicotine without the need to burn tobacco, making them potentially less risky than traditional combustible tobacco products.
It's not long until the 8th Global Forum on Nicotine (GFN21), taking place in Liverpool on 17th and 18th June and streaming online at the new GFN•TV platform. The conference organisers are inviting you to share news and views about using nicotine in 2021 by contributing to their GFN Fives slot.
Five NHS Accident & Emergency departments across the United Kingdom are taking part in a vape trial being conducted by researchers at the led by the University of East Anglia. Some patients will be offered e-cig starter kits to compare how effective compare how effective e-cigarettes are in helping quit attempts when compared to traditional forms of advice.
---
Alex Norcia, Filter Magazine
In June 2016, months before Donald Trump would win the presidential election in the United States, the United Kingdom narrowly voted to leave the European Union (EU). Since the decision to Leave and the long, fraught start-and-stop departure that followed, some observers have labeled the decision as "out of date"—a poorly timed move that echoes the anti-immigration impulses of other elections around the world and will serve to isolate the nation.
, Adam Smith Institute
Despite decades of public policy aimed at reducing smoking, there remain 7 million smokers in the UK (14.1% of adults, down from 14.7% in 2018)

According to ONS data the average annual decline in the smoking rate from 2011 to 2019 was 0.76 percentage points.

The UK's public health consensus in favour of e-cigarettes as a smoking alternative has played a significant role in accelerating the decline in smoking rates over the past decade
---
---
Mira Miller, BlogTO
Toronto's CN Tower lights up in different colour schemes nightly to honour a variety of different causes, but tonight's theme is causing a bit of an uproar among the city's vape enthusiasts.

The CN Tower's official Twitter account shared a post Monday morning stating that the landmark would light up in yellow and black for Anti-Vaping Awareness Day on the evening of May 3, resulting in backlash among those who say that vaping has been life-saving for former cigarette smokers, and that discouraging it could lead to more deaths.
Joe Magero, The Standard
Far too many Africans die as a result of smoking. Few who try to stop smoking actually succeed. It's clear that the 'quit or die' approach to tobacco control is not working on our continent, where cigarette consumption is on the rise in stark defiance of global trends. If we are serious about saving lives, we'd do well to look at how that fight is being won in other parts of the world. And that means rethinking the way we look at nicotine.
Daily FT
The Global State of Tobacco Harm Reduction (GSTHR) issued its latest report 'A Burning Issue for Asia and the Far East' recently, which found that health agencies like the WHO together with anti-lobby groups such as Bloomberg Philanthropies exert tremendous pressure on governments to make it difficult to promote Tobacco Harm Reduction (THR) as a public health strategy. This results in policies that are more restrictive than regulation for traditional cigarettes, and discourage smokers from switching from combustible cigarettes to less harmful alternatives, it adds.
Conscienhealth
Dialing up emotions about health can be very unhelpful. Especially if the goal is to make good decisions and good policy. But today, we have many examples of strong emotions getting in the way of clear thinking about public health. Face masks and vaccination come to mind. Nicotine, tobacco, and obesity are also subjects that arouse strong feelings. These three subjects came together in a recent paper on the relationship between smoking, vaping, and BMI.
---

---
Are a Disaster for Public Health – The Rest of the Story
Ninety minutes ago, the FDA released its long-awaited electronic cigarette deeming regulations. Sadly, the "deeming regulations" would better be called "The Cigarette Smoking Promotion Regulations of 2016." They regulate tobacco-free and smoke-free electronic cigarettes much more stringently than real tobacco cigarettes….
Guy Bentley – Daily Caller
The Food and Drug Administration (FDA) published long-awaited rules Thursday that could ban 99 percent of e-cigarette products and wreck industry innovation for years to come.

Passed in 2009, the Tobacco Control Act says all e-cigarette products released after February 15, 2007, (predicate date) will have to go through the Pre-Market Tobacco Applications process (PMTA). FDA officials claim they cannot change the predicate date….
---
Visit Nicotine Science & Policy for more News from around the World

---