Vapers Digest 7th May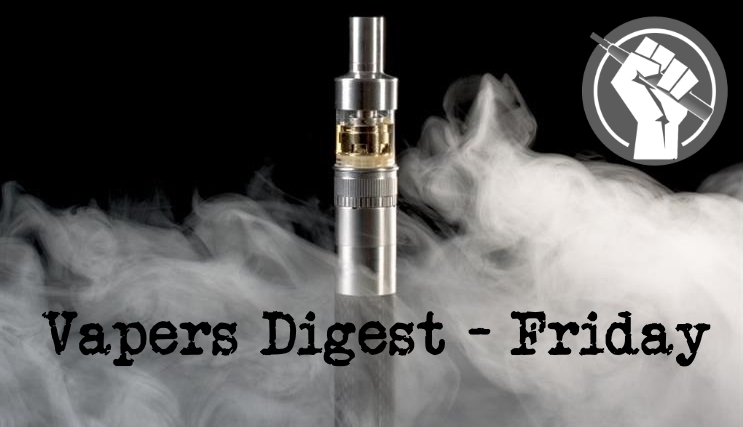 Friday's News at a glance:
EU SCHEER report misses the mark on vaping – Another Challenge to FDA Could Be Heard by the Supreme Court – COVID Relief Bill Cuts E-Cigarette Access – New Evidence Links "EVALI" Vaping Misinformation With Increased Cigarette Smoking – JUUL Busy Producing Research – Vaping is a friend and not a foe – WVA Show Of Fitness – Dangerous SCHEER Drop – Will nicotine be the next menthol? – Effect of Massachusetts House Bill No. 4196 – A smoker's right to choose better health – Consumers express alarm – Between 2 Vapes Episode 2 Professor David Sweanor – Nicotine Science and Policy Daily Digest
Michael Landl
The EU Scientific Committee on Health, Environmental and Emerging Risks (SCHEER) final opinion on e-cigarettes is a step backwards for vaping and for public health. It is based on weak data, ignores crucial scientific evidence and experience from consumers, and has been designed in such a way that it ignores vaping's biggest strength – its power to reduce the harm from smoking.

Last year, SCHEER was appointed by the European Commission to produce a report on vaping and its health impacts. Their preliminary report, released in September, was met with widespread criticism from scientists, public health experts and vapers. Riddled with old data, cherry picked studies and a general lack of knowledge about vaping, it painted a bleak picture.
Could Be Heard by the Supreme Court – Jim McDonald
A group of small vaping companies has petitioned the U.S. Supreme Court to review its lawsuit challenging the validity of the FDA's vaping regulations, after the action was rejected previously by a federal district court and circuit court of appeals.

The lawsuit, Moose Jooce, et al v. Food and Drug Administration, challenged the FDA Deeming Rule on grounds that it violates the Appointments Clause and First Amendment of the Constitution. The action, which consolidated three separate complaints by small vaping businesses, was decided in favor of the FDA in February 2020 by a U.S. District Court judge. On Dec. 1, 2020, a three-judge panel of the District of Columbia Circuit Court of Appeals upheld the earlier decision.
---

---
Cameron English – ACSH
Shipping regulations passed in December 2020 and poised to take effect in the near future will greatly restrict access to electronic cigarettes. Since the law was enacted, additional research has shown that smokers who switch to vaping have a good shot at giving up cigarettes, and maybe even nicotine, forever. Congress is hindering this important public health victory.

Buried deep in the December 2020 COVID relief bill was an odd provision that had nothing to do with helping Americans financially crippled by the pandemic: a regulation (p 5,139) prohibiting the U.S. Postal Service from shipping "electronic nicotine delivery devices"—e-cigarettes. The final rule, once implemented, won't prohibit all mail carriers from delivering tobacco alternatives, but it will raise the associated compliance costs.
---
---
With Increased Cigarette Smoking – Alex Norcia
As kids went back to school in the fall of 2019, parents, educators, public health experts and lawmakers were growing more concerned by the day. A string of "e-cigarette or vaping product use-associated lung injuries," or EVALI, was appearing across the United States, and no one—not even the Centers for Disease Control and Prevention (CDC)—had a handle on what was happening.

Eventually, in November, the CDC belatedly identified a "very strong culprit": vitamin E acetate, a compound that had been found as an adulterant in illicitly manufactured THC cartridges. That is, not nicotine vaping products. (Two months earlier, police had arrested two brothers in Wisconsin for what the local sheriff called an "empire" of illegal, vapable THC.)

Four from Dave Cross, Planet of the Vapes
Following its submission of the Premarket Tobacco Product Application (PMTA) to
America's Food & Drug Administration (FDA) last summer, JUUL Labs focussed on completing a swathe of peer-reviewed research. The company has just published 11 studies in a monograph edition of the American Journal of Health Behavior (AJHB).

JUUL Labs told POTV that it is, "committed to working collaboratively with regulators, policymakers, public health leaders, and other stakeholders as we work to reset the category and company and strive to earn a license to operate in society. This includes scientific exchange with these stakeholders as we advance a science and evidence-based dialogue."
The Government's Smokefree Aotearoa 2025 Action Plan provides the country with the best opportunity to deliver on the 2011 national smokefree ambition, says Nancy Loucas. However, if we are to succeed, we need to use all the tools in our toolbox and follow the evidence, not the emotion. Thankfully, new Associate Health Minster Dr Ayesha Verrall intimately understands public health and tobacco harm reduction.

Verrall's recently released action plan discussion document showcases the bold measures that need to be taken if we are to become smokefree – meaning 5% or less smoking.
The GoTheExtraMile run is set to take place on World Vape Day to demonstrate and celebrate the health benefits of vaping. "Let's show the world what vaping can achieve," says The World Vaper's Alliance director Michael Landl. "Let's show the world what vaping can achieve. Join us and run, jog or walk a mile with us."

The World Vapers' Alliance says it "amplifies the voice of passionate vapers around the world and empowers them to make a difference for their communities. Our alliance includes groups representing vapers – our partners – as well as individual vapers from around the world."
The Scientific Committee on Health, Environmental and Emerging Risks (SCHEER) has published its Final Opinion about electronic cigarettes and vaping. The report contains minor changes from the original report, but the main points remain unchanged. European Tobacco Harm Reduction Advocates says: "The SCHEER have not just ignored the comments and concerns of consumers, they have also shown a complete disregard for science."

The Final Opinion will now feed into the formation of the next version of the EU's Tobacco Product Directive. Its Preliminary Opinion (1) drew widespread condemnation for its exceptionally selective use of the evidence about vaping.
---

---
Barnaby Page
The big news from the US Food and Drug Administration last week was a ban on menthol in combustible cigarettes, closing off a loophole that had allowed this one flavour to be marketed even after all others were forbidden. It may not happen any time soon – the agency's cautiously-worded announcement said only that it is "working toward issuing proposed product standards within the next year", language that allows for plenty of delay – but it must now be inevitable.

Menthol had long been a glaring and irrational exception to the overall prohibition of flavours, and the spotlight that has been shone on the situations of minorities in the United States over the last couple of years made it all the more so.

On electronic cigarette use: a mixed-methods study
To determine the impacts of several events, such as the e-cigarette and vaping-associated lung injury (EVALI) outbreak and implementation of the Massachusetts e-cigarette tax, on e-cigarette and cigarette purchasing, we conducted an interrupted time-series analysis of year-on-year consumer purchasing data to impute changes in e-cigarette and cigarette purchasing in the Greater Boston area and the entire USA after several intervention points. We then surveyed a subset of people who used e-cigarettes to evaluate the plausibility that some e-cigarette consumers would travel out-of-state to purchase e-cigarettes.
Professor David Sweanor
Ali Altaf
Pakistan is one of 15 countries worldwide with a heavy burden of tobacco-related ill-health. Despite considerable tobacco control efforts, the smoking incidence in the country is not decreasing fast enough. Which is why tobacco harm reduction needs to be an additional measure complementary to the existing tobacco control efforts in the country. Advances in science and technology have enabled the development of better alternatives to smoking, presenting a huge opportunity for improving public health, if acted upon.

While smoking can cause serious diseases, a large proportion of consumers find themselves unable to quit smoking altogether. However, many adult smokers are looking for better alternatives to smoking – how can the same ritual, taste, and experience be delivered, but with reduced risk?
Director, University of Michigan Tobacco Research Network
Over foreign charities' attempts to defy PH sovereignty
Philippines — Five consumer advocacy groups expressed alarm over the revelation of two lawmakers about multiple attempts by foreign charities to disburse money to government agencies to influence local policies in violation of the Constitution and Philippine sovereignty.

The groups — which sent a statement sent to INQUIRER.net on Wednesday — are the Coalition of Asia Pacific Tobacco Harm Reduction Advocates (CAPHRA), Nicotine Consumers Union of the Philippines (NCUP), Vaper Ako, and the Philippine E-cigarette Industry Association (PECIA).
---
A look back at how things have moved on or otherwise….
Good news … and bad news.

The good news is that earlier today I received the data tables for the ASH/YouGov survey that was published yesterday.

The poll generated quite a lot of headlines including 'More than 300,000 UK smokers may have quit owing to Covid-19 fears' (Guardian), 'More than 300,000 Britons quit smoking over Covid-19 fears' (ITV News), 'Surge in motivation' sees 300,000 smokers kick the habit (Yorkshire Post) and 'More than 300,000 Brits quit smoking amid coronavirus fears, study shows' (The Sun).
Li Volti, CoEHER
A recent study by Prof. Brake SJ studied the correlation between smoking and the angiotensin converting enzyme 2 and its implications to COVID-19. The author's hypothesis suggests an increased risk of COVID-19 for smokers. But it is not so.

This is demonstrated with a new publication by researchers at CoEHAR.
Widespread use of snus puts Sweden in a unique position to help the world better understand the relationship between nicotine and Covid-19 argues Mark Oates of the New Nicotine Alliance (NNA) in a Snusforumet guest column. He calls for releasing more data on the nicotine use of Sweden's coronavirus patients.

Unbeknown to most Swedes and particularly the Swedish Government, Sweden is much admired among tobacco harm reduction advocates around the world thanks to Swedish-style snus and nicotine pouches.
---
Visit Nicotine Science & Policy for more News from around the World

---