Vaping Digest May 6th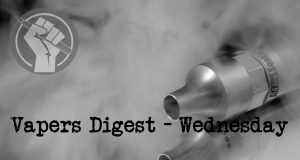 Wednesday's News at a glance:
How ASH turned the views of just SIX smokers into a headline-grabbing 300k ~ We cannot talk about the correlation between smoking and COVID-19. ~ Nicotine and Covid-19: the world needs Sweden's help ~ Nicotine Policy Should Not Be Exempt From Science ~ Deadly agency nominated for award ~ Lessons From the Public Health Responses to the US Outbreak of Vaping-Related Lung Injury ~ Federal Court Rejects Vaping Industry Appeal of PMTA Decision ~ Another $hifty $tory ~ Lockdown Starter Kit Boom ~ Essential Harm Reduction ~ Vaping in the Northern Territory. The good, bad and the ugly ~ Melbourne City Council Proposed Vaping Ban Ignore Facts ~ 'Not convinced': CBD e-cigarette ban to be put to public ~ E-cigarette maker Juul Labs to exit S. Korea 1 yr after entry
Simon Clark, Taking Liberties
Good news … and bad news.

The good news is that earlier today I received the data tables for the ASH/YouGov survey that was published yesterday.

The poll generated quite a lot of headlines including 'More than 300,000 UK smokers may have quit owing to Covid-19 fears' (Guardian), 'More than 300,000 Britons quit smoking over Covid-19 fears' (ITV News), 'Surge in motivation' sees 300,000 smokers kick the habit (Yorkshire Post) and 'More than 300,000 Brits quit smoking amid coronavirus fears, study shows' (The Sun).
"We only create confusion"
Li Volti, CoEHER
A recent study by Prof. Brake SJ studied the correlation between smoking and the angiotensin converting enzyme 2 and its implications to COVID-19. The author's hypothesis suggests an increased risk of COVID-19 for smokers. But it is not so.

This is demonstrated with a new publication by researchers at CoEHAR.
Mark Oates, SnusForumet
Widespread use of snus puts Sweden in a unique position to help the world better understand the relationship between nicotine and Covid-19 argues Mark Oates of the New Nicotine Alliance (NNA) in a Snusforumet guest column. He calls for releasing more data on the nicotine use of Sweden's coronavirus patients.

Unbeknown to most Swedes and particularly the Swedish Government, Sweden is much admired among tobacco harm reduction advocates around the world thanks to Swedish-style snus and nicotine pouches.

---
Jeff Stier, Taxpayers Protection Alliance
There seems to be an inclination among policy-makers that adherence to evidence-based policy-making is a luxury we can only afford when not in a crisis.

After the U.S. Food and Drug Administration and Centers for Disease Control bungled last year's "EVALI" outbreak, one might have thought federal officials would have exhibited some humility. Or at least limited their statements to those supported by science.

But when it comes to tobacco and vaping policy, that's just not the case.
Christopher Snowdon, Velvet Glove Iron Fist
Having written about the 'public health' racket for well over a decade, I am not easily shocked by lies and corruption, but some stories still have the capacity to knock me for six.
Yesterday, Peter A. Briss of the Centers for Disease Control and Prevention (CDC) was nominated for a Service to America medal in the Science and Environment category. He is a finalist, and may yet win it, because he supposedly…
---
---
"Research projects exploring the use of vaping as a smoking cessation tool or as a harm reduction strategy are not eligible for this funding opportunity." https://t.co/9MTbVBP26L

— Phil (@phil_w888) May 6, 2020
---
Jim McDonald, Vaping 36
A federal appeals court has denied a vapor industry coalition's appeal of last year's district court decision that moved the PMTA submission deadline for vaping manufacturers up from 2022 to 2020. The deadline imposed in that July 2019 order by federal district court Judge Paul Grimm was May 12, 2020.
---
THREE from Dave Cross, Planet Of The Vapes
"Underage vaping spikes in the north of England", says The Bureau of Investigative Journalism's Matthew Chapman. It's another in a recent series of negative articles that the TBIJ has produced ever since it obtained funding from billionaire Michael Bloomberg's Vital Strategies organisation. Balance is given short shrift as the Bureau plugs Bloomberg's biased agenda.
The largest Kiwi vape company says its sales of ecig starter kits are up by 30% during the New Zealand COVID-19 pandemic lockdown. The boom in sales coincided with the government shifting measures from the Level 3 to the Level 4 lockdown.
The King County COVID-19 quarantine site in Washington, USA, drew many complaints for providing patients with cigarettes, beer and marijuana edibles. Meanwhile, at home, the Sheffield Health and Social Care NHS Foundation Trust has been forced to apologise for allowing patients to smoke in their bedrooms.
---

---
Australian Tobacco Harm Reduction Association (ATHRA)
The good news.

Vaping is on the political agenda in the Northern Territory with the new Territory Alliance Party announcing plans to legalise vaping if it is elected to power in August 2020. The Territory Alliance is led by Terry Mills, a former Chief Minister and is the largest opposition Party in the Territory.
Fiona Patton MP, Fiona Patton
Leader of the Reason Party and Member for Northern Metropolitan, Fiona Patten, has joined with other organisations around Australia in an effort to halt the vote on a proposed ban on vaping in parts of the CBD of Melbourne, saying that Melbourne City Councilors have simply not been given the right information.
Paul Sakkal, The Sydney Morning Herald
Opponents and proponents of vaping will have a chance to lobby Melbourne City Council before it decides whether to ban e-cigarettes from smoke-free areas.

The public will have about a month to make submissions to the council on a local law to make vaping illegal in the 11 smoke-free zones in the CBD, including at Bourke Street Mall and along the Tan running track.
Kim Han-joo, Yonhap News Agency
U.S.-based electronic cigarette maker Juul Labs Inc. said Wednesday that it will pull out of South Korea one year after its launch here following controversies over health concerns. Juul — which packages nicotine salts from leaf tobacco into one-time use cartridges — was launched in the country last May.
---
A look back at how things have moved on or otherwise…
Vapers in Power get a mention in the Guardian:

For Liam Bryan, standing for the pro-electronic cigarette party Vapers in Power in Kingswood, near Bristol, the large number of independents is part of something wider. "People have been feeling disenfranchised and removed from all the main political parties," he says.
Opposing view- E-cigarettes are a viable solution to smoking.
Let's be clear. E-cigarettes are intended only for adult smokers and adults who vape. We are adamantly opposed to minors using vapor products, and we support federal, state and local restrictions on their use by underage consumers….
---
Visit Nicotine Science & Policy for more News from around the World

---